If you are planning a trip to Milan, one of Europe's trendiest cities, then there are plenty of places to explore and activities to enjoy. This is the ultimate Milan travel guide that you need whether it's your first time or you're a frequent traveler.
Jump To
Where is Milan located?
Milan is the capital of Lombardy and situated in northern Italy. It lies at the heart of the Po Valley, between the Adige and Ticino Rivers. Milan is an important transport hub, being served by two international airports—Malpensa International Airport and Linate Airport—as well as several railway links.
Milan, Italy map
Tourism in Milan
In the summer months, like any other city in Italy, you can expect to see a larger crowd of tourists. However, it is not as busy as Venice or Florence. If you ever feel like it is too crowded or you want a break from the city life, you can take a 1 trip over to Lake Como and enjoy the beautiful water.
Milan Italy vs Rome
Milan is known for its modernity and fashion-forward style, while Rome is celebrated for its ancient monuments and artwork. In terms of population, Milan outnumbers Rome by almost 800,000 people. Milan is also more business-oriented than Rome and boasts a vibrant nightlife scene.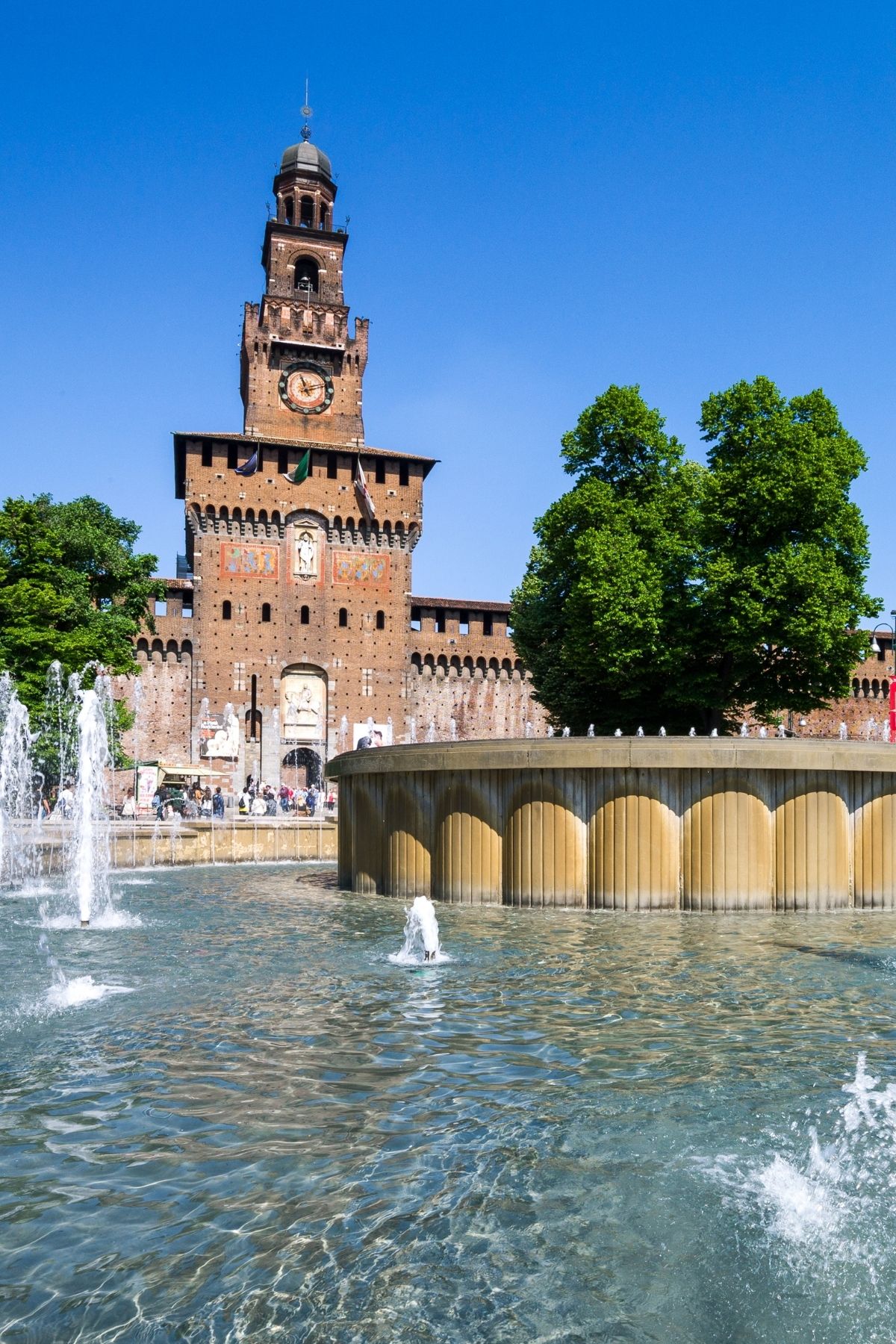 Milan Italy vs Florence
Florence is known as the birthplace of the Italian Renaissance, while Milan is a major financial and business center. Milan is larger than Florence with a population of over 1.3 million people, compared to just 365,000 in Florence. The two cities also differ in their architecture: Milan offers modern skyscrapers and historic buildings from its time under Napoleon and the Austro-Hungarian Empire, while Florence is known for its many churches and cathedrals.
Milan Italy vs Venice Italy
The two cities are both located in northern Italy, but they have different vibes. Milan is known for its modern fashion and business districts, while Venice is best known for its canals and picturesque gondola rides. Additionally, Venice is a popular tourist destination due to its monuments and museums, while Milan attracts more business travelers. Venice is a lot more populated in the summer months, so if you are looking for something less chaotic, Milan is a better option.
Things to know before visiting Milan
Currency: The official currency of Italy is the Euro.
Language: Italian is the main language spoken in Milan, though English is widely understood in most areas. Weather: Summers are usually warm with temperatures between 18-30 °C (65-85 °F). Winters are mild with temperatures ranging from 0-15°C (32-60°F).
Public Transportation: Milan has an extensive public transportation system, including buses, trams, and two main metro lines. It is recommended to buy a MilanoCard for the duration of your stay which gives you free access to public transport and discounts on many attractions.
Time Zone: Milan follows Central European Time (CET).
Italian Visa: Depending on where you are from, you may need to obtain a visa before entering Italy. You should check with your local Italian embassy or consulate for more information. If you are an American, Canadian, or Australian citizen, you will not need a visa for visits of up to 90 days.
Electricty Socket: Electrical outlets in Milan are Type F, which accept plugs with round pins or Europlug adapters. The voltage is 230 V and the frequency is 50 Hz.
Italy SIM Card: It is recommended to get a local SIM card when travelling in Italy. This will give you the best coverage and access to data services while roaming.
Car Rentals: If you are planning on renting a car in Milan, it is important to do your research beforehand. There are several rental companies that offer competitive rates and good customer service. I recommend this car rental service.
Get more italy travel tips
What's the best airport for Milan?
The main airport for Milan is Malpensa International Airport (MXP), which is located about 40 kilometres from the city centre. There's a train that takes you directly into the city center. Otherwise, taxis can be over 100 euros. It is well connected to the city via train and bus services.
Linate Airport (LIN) is also a popular option, being only 8 kilometres from the city centre. You can take the bus or a taxi from the airport to your destination.
Where to stay in Milan?
Milan is a big city, so it can be overwhelming to choose where to stay. It's best to decide which area you would like to stay in and then narrow down your options.
Some popular neighbourhoods for tourists include Navigli, which has a lively nightlife scene; Brera, which has many galleries and restaurants; Duomo, home to the famous Cathedral and its shopping streets; and Isola, a picturesque area with cobbled streets.
For a list of great apartments check out some here.
Top Milan Italy travel destinations
Milan is full of attractions and activities, from world-class museums to scenic parks. Here are some of the most popular places in Milan:
Duomo di Milano (Milan Cathedral): Built between 1386 and 1965, this magnificent Gothic cathedral is one of the symbols of Milan. It's located in the Piazza del Duomo and is a must-see.
click here for a skip-the-line tour
Sforza Castle: This 15th century castle served as the home of Duke Francesco Sforza and his family, and now hosts several art collections and exhibitions.
Galleria Vittorio Emanuele II: This beautiful 19th century shopping arcade is home to many high-end stores and restaurants.
Parco Sempione: This large park is the perfect place to relax and enjoy some fresh air. It features a beautiful lake, lush green lawns, and plenty of playgrounds for kids.
Santa Maria delle Grazie: This 15th century church is home to Leonardo da Vinci's famous fresco, The Last Supper.
Teatro alla Scala: This world-famous opera house is one of the most important cultural institutions in Milan. It hosts a range of performances from operas to ballets.
Navigli: These canals are a popular destination for visitors, lined with restaurants, bars, and cafes. It's a great place to explore on foot or take a boat tour.
Other Attractions: Milan is home to many other attractions including the Brera Art Gallery, La Scala Museum, Pinacoteca di Brera, Fashion District, and Cimitero Monumentale.
Best places and things to do in Milan
There are plenty of things to do in Milan and many places to explore. Here are some of the top attractions and activities you can enjoy when visiting:
Skip the line tour at the Duomo
See Leonardo da Vinci's famous painting, The Last Supper, at Santa Maria delle Grazie with a guided tour
Visit one of the many art galleries and museums, such as the Pinacoteca di Brera or the Brera Art Gallery.
Take a day trip to the beautiful Lake Como
Go shopping in the city's famous fashion district.
Take a stroll along the canals of Navigli.
Make fresh pasta!!
Enjoy a meal at one of Milan's top restaurants.
Catch a performance at the Teatro alla Scala.
Go to a football match at one of Milan's two major stadiums, San Siro and Giuseppe Meazza.
Spend a day in Parco Sempione or Trenno Park.
Explore the city's many churches and cathedrals.
If you are looking for a complete guide of things to do in Milan, check out my post here.
Best Milan Tours
Is Milan safe for travelers?
Yes, Milan is generally a safe place for travelers. However, like any other city, there are certain areas that you should avoid at night and be aware of pickpocketing. It's also important to stay aware of your surroundings and keep your valuables secure.
What is the best travel insurance for Italy?
There are a number of different travel insurance companies that offer coverage for Italy. Before purchasing a policy, it is important to do your research and compare policies to make sure you are getting the best coverage for your needs. Some popular choices include World Nomads, Allianz Travel Insurance, and Travelex Insurance Services.
Learn more about Italy travel
Milan, Italy Frequently Asked Questions:
What is Milan Italy best known for?
Milan is best known for its fashion and design, being home to some of the world's top designers. It also has a long history as an important cultural centre, with many famous landmarks such as the Duomo di Milano and the Galleria Vittorio Emanuele II. Additionally, Milan is home to two major football teams, AC Milan and Inter Milan.
Is English spoken in Milan?
Yes, English is widely spoken in Milan. Many locals will be able to communicate with you in English and most restaurants and shops have English-speaking staff. Additionally, most tourist attractions and tour operators will have English-speaking guides.
How do Italians view Americans?
In general, Italians have a positive view of Americans. Italy and the United States have a strong relationship, with many Italian-Americans living in the US. Italians often view Americans as friendly, open-minded and generous people, who bring positive energy to the country.
Is Milan cheap for tourists?
Milan is known to be a more expensive city for tourists. Accommodation, food and entertainment in the city can be quite costly. However, there are ways to save money such as visiting during the off season, eating at local restaurants, and taking advantage of free attractions.
What is the best month to visit Milan?
The best time to visit Milan is typically between April and June, when the weather is mild and there are fewer crowds.
How much does a pizza cost in Milan?
The average price of a pizza in Milan is between €8 and €12. Prices will vary depending on the size and toppings you choose.
How many days in Milan is enough?
2 nights is enough to get a good overview of Milan, but if you want to explore more of the city's culture and attractions then 3-4 days is recommended. That way you can take a day trip to Lake Como or the Italian Riviera and really make the most of your time in Milan.
Is Milan a walkable city?
Yes, Milan is a very walkable city. The central area of the city is easy to navigate on foot and many of the main attractions are within walking distance of each other. This makes it the perfect city to explore by foot and discover all its hidden gems.