Braided Italian Easter Bread (Pane di Pasqua) is one of our all-time favorite breads! It seems to never fail that when I'm finally over the shock of a new year beginning, it is already time to plan for Easter and start baking some Italian Easter bread.
Easy Italian Easter Bread Recipe
And when I say plan, it's usually all about our baking production! I couldn't wait to tackle this lovely Easter sweet bread yet again. This is a family favorite recipe I've been making for years. It's a recipe my mother-in-law makes for us when she is here visiting from Italy for Easter.
She is not too much into the colored eggs or even the sprinkles, but she does know how to make some really cool designs and shapes. She cranks out this Easter egg bread and I am finally starting to catch up with her speed — well, just a little.
Braided Italian Easter Bread-Pane di Pasqua
We were so lucky to have my in-laws spend a few Easters here with us. Since we couldn't go to Italy this year, it was just as good to have a little taste of Italy here as soon as they arrived at the airport. My mother-in-law is just the best!
She barely brings any clothes (a totally no-fuss, low-maintenance kind of a lady) and instead brings a suitcase FILLED with goodies for all of us. And I mean, GOODIES!
When I say goodies, I mean just food things. Like pasta and different chocolates. She brings us various canned goods that she makes.
Oh, and a ton of hot peppers that she grows! She makes a sauce with them and also brings them whole and dried. There are still some left from their visit to us last April.
Since my in-laws couldn't make it to visit this year for Easter, I had to get started a little early on the baking!
The kids were wondering when we would color eggs and when they could shape their own rolls. This Italian Easter bread is so wonderful that my mother-in-law even makes it in the summer when we are there (minus the Easter eggs). It's the perfect sweet bread to enjoy with a hot cappuccino!
What's Needed for Italian Easter Bread?
Don't let the pretty appearance of this braided Easter bread fool you into thinking it has a lengthy ingredients list! Here's everything that goes into this Italian Easter bread recipe:
Milk

Active dry yeast

Eggs

Vanilla extract

Granulated sugar

All-purpose flour

Lemon zest

Kosher salt

Unsalted butter

Dyed eggs
How to Make Pane di Pasqua
I've given detailed instructions on how to make Italian Easter bread in the recipe card below, but here are the basic steps for making this Easter sweet bread:
Dye the Easter eggs.

Mix together the yeast and warm milk. Set aside until foamy.

Add the eggs and vanilla to the milk mixture.

In a separate bowl, whisk together the flour, lemon zest, and salt.

Using an electric mixture with a dough hook attachment, add the milk mixture to the flour mixture.

Add the butter to the dough a little at a time.

Once the dough comes together, turn it onto a floured surface and shape into a ball. Place in an oiled bowl and let rise for an hour to 90 minutes.

Once risen, gently punch down the dough and shape into the braided Easter bread (I've given specific instructions on how to shape the dough in the recipe card below).

Brush the braided dough with egg wash, then let rise for a second time.

Bake the Italian Easter bread until golden.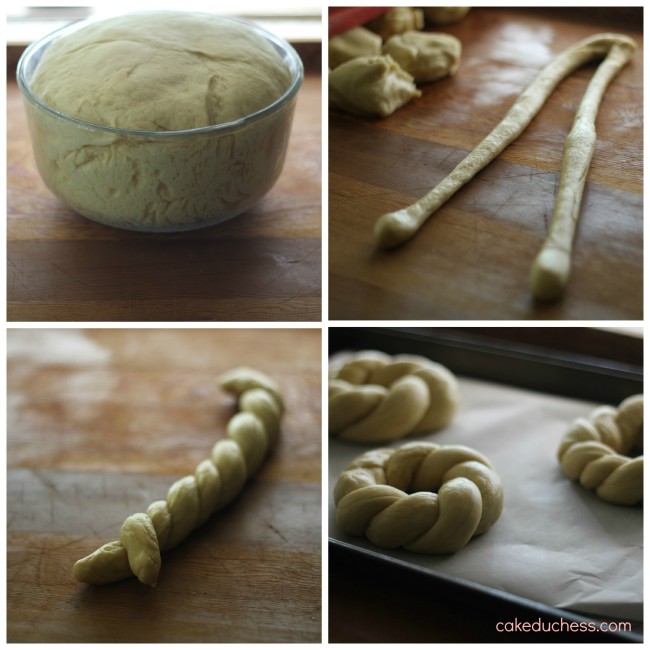 Should I Use Raw or Hard-Boiled Eggs?
I color the eggs while they are uncooked. When you nestle them into the dough and place in the oven to bake, they will be completely cooked when you take it out. If you do have hard-boiled eggs and decide to use them in the bread, the eggs will be very cooked after it bakes inside the bread. I think the texture of the eggs when you put them uncooked in the bread and bake them is the right texture.
Our host this month is Rossella from Ma ch ti sei mangiato, and our theme is Italian Breads. For more bread recipes, or check out last month's mouthwatering selection of #TwelveLoaves Olive Breads!
Tips for Making Italian Easter Bread
Shaping the ropes. When you make the ropes, make sure you don't make them too long, otherwise your little nests to hold the eggs will be too wide. The dough ropes do shrink as you roll them and then shrink again when you stop. I would measure them and make sure they're not over 12 inches long. If the ropes are too skinny, the nests will be too wide.
Measuring the flour. I use between 4 1/2 and 5 cups of flour, but never more than 5 cups. If you add more than 5 cups, the dough will be too dry. I do mention in the recipe to start with 4 1/2 cups and add a tablespoon more of flour at a time until it is a pliable dough, not too sticky, and not dry.
Sweetening the bread. For the sweetness, 1/2 cup of sugar is perfect for our taste. You could add another 1/4 cup if you like your dough more sweet. You could also add a powdered sugar glaze on top after baking and add sprinkles on top (if you do the glaze, don't add sprinkles before baking). The sweetness depends on your taste.
Tips to store and make this Easter bread ahead of time:
How to store Italian Easter Bread?
This bread will stay fresh in large zipped lock bag or in an airtight container, for up to 5 days. Stores for up to 2 months in the freezer. Make sure it is wrapped tightly. Do not freeze the bread with the eggs.
Can the dough be made ahead of time?
Yes, the dough could be put together a day before. Store the dough in the refrigerator overnight. When ready to bake the next day, remove the dough and allow it to get to room temperature. Once it's room temperature, shape it in to the braided nests.
The other way is to shape it into the braided nests and store in the refrigerator over night. Remove next day when ready to bake, and let it do the final rise.
Can I freeze braided Italian Easter bread?
Yes, you can freeze the dough. Shape it into the braided nests and freeze before baking. The other way to do it is freeze it after it's baked (but do not freeze the eggs).
Easiest way to freeze them is to place braided nests on a baking sheet and freeze. Once they are frozen, wrap each one individually in plastic wrap and store in a large zipped lock freezer bag.
When ready to bake, remove the plastic wrap and place them on a baking sheet so they can thaw out. As soon as they're thawed out, let them complete the final rise and bake according to the directions in recipe.
More Easter Recipes:
Italian Easter Bread (Pane di Pasqua)
Italian Easter Bread (Pane di Pasqua)is one of our all-time favorite breads! My Italian mother-in-law gave me her recipe and it was one we make every year and is a family tradition.
Ingredients
1

cup

milk

1

packet

active dry yeast

(1/4 ounce envelope)

4

eggs

, room temperature

1

tsp

vanilla extract

1/2

cup

granulated sugar

4 1/2

cups

unbleached all-purpose flour

(may need more as mixing)

1

Tbsp.

lemon zest

1

tsp

kosher salt

8

Tbsp.

butter

, melted and cooled

7

dyed eggs

(follow instructions on the food coloring)
Instructions
If you are adding colored eggs, now is the time to color them. Follow the dye directions on the box or use natural dye and let the eggs sit for an hour. The longer they sit the more vibrant the color.

In a small saucepan heat the milk over medium to 110 F (I just test the water with my finger and know it's the right temperature…warm like the temperature of a baby bottle, not hot). Add the yeast to a small bowl with the warm milk and whisk it around with 1 tablespoon of the sugar. Let sit until foamy (about 5 minutes).

Whisk in the eggs and vanilla and set aside.

In a large bowl whisk together the rest of the sugar, flour, lemon zest, and salt.

Pour the flour mixture in the bowl of a mixer. With dough hook attached and mixer on medium speed, slowly add the milk mixture (*the milk mixture has the milk, yeast, 1 tbsp sugar, eggs, vanilla) to the flour mixture.

Hold onto your mixer! Now you will add the butter 1 tablespoon at a time. I tell you to hold onto it because it will move around if you are mixing it on too fast of a speed. Start on medium-low speed. If you notice the mixer moving too much, you can lower the speed and let the butter get gently incorporated into the dough. If you have the mixture at a faster speed at this point…do not leave it alone while it's mixing. It could bounce off the counter.

Be sure to mix well when all the butter is added (about 3-5 minutes). You may need to add more flour. (Start with 4 1/2 cups of flour. If you need more flour, add more a Tablespoon at a time until it is no longer sticky. Don't worry about the total amount of flour, keep adding until your dough is stiff and elastic, and it is not sticky.)

Put a little flour onto a clean counter and scrape the dough out of mixer onto the counter. Knead the dough a little and shape the dough into a ball (you won't be kneading the dough too much…just a bit to shape it into an elastic ball of dough).

Oil a large mixing bowl and place the dough into the bowl.

Rub a little oil on top of the dough and cover it to rest in a draft-free area for a bout 1-1 1/2 hours.

Punch down the dough.

Divide the dough into 14 portions. Roll each portion into a strip about 12 inches long. You could also make one large braid with this dough. If you are making one large braid, roll each piece into strips about 15 " long. If you are making two braids, the strips will be a bit smaller (sorry, I did not measure the strips)

Start with two pieces: pinch the ends together of the first 2 ropes to secure the strips together Bring one side over to the other and tuck it in to make a small ring shape. You're making a little nest for your colored egg to nestle into. Make sure your ring is not too big and not too tight.

Preheat oven to 350 F.

Repeat process with the next 6 sets of 2 ropes that you will make. You will have 7 little nests to hold your eggs.

Place on two baking sheets lined with parchment paper (or a silpat mat).

In a small bowl, whisk together the egg and water for the egg wash. Brush on the egg wash.

Cover the dough with a kitchen towel to proof for about 40-45 minutes.

When dough is ready to bake, brush on some more egg wash. Sprinkle on the sprinkles. Place an egg in the middle of each little nest.

Bake for about 18-20 minutes. If you are making one very large wreath, it should be done in 25-30 minutes.

Don't forget to eat the yummy eggs that are baked in the middle of the bread. My kids fight over them! In order for the raw eggs to cook, they will need 18-20 minutes in the oven. If you prefer to add eggs already cooked, hard boil them and color them (according to color instructions)and add them already cooked to the bread. *If you have left bread out with eggs for a couple hours, just discard the eggs, and eat the bread.
Nutrition Disclaimer
Please keep in mind that the nutritional information presented below is an approximation and may vary depending on the exact ingredients used.
THIS POST CONTAINS AFFILIATE SALES LINKS