This Easy Italian Lemon Ricotta Cake is bursting with fresh lemon flavor thanks to the lemon zest and freshly squeezed lemon juice in the batter. Super soft from the luscious ricotta. Perfect for breakfast or Sunday brunch.
Jump To
Why you'll love this traditional Italian ricotta cake?
If you are searching for a traditional recipe for Italian Lemon Ricotta Cake, look no further! Our Lemon Ricotta cake will become your favorite! It is the perfect dessert to serve at the end of an Italian dinner, like our Slow Cooked Beef Short Ribs Pasta Sauce.
There are so many wonderful things to cook and bake with ricotta cheese, like this flavorful cake. This lemon bundt cake is loved by everyone!
Full of creamy ricotta cheese, it is super soft.
Bursting with real lemon juice flavor! If you're a lemon lover, you will fall in love with cake at first bite!
So easy to make. This Bundt cake truly is no-fuss. NO need for a mixer! Just a mixing bowl and a mixing spoon is all you'll need.
A perfect cake to bake for guests.
Beautiful for brunch with friends or family. Serve with fresh berries and it is sure to impress!
Keep this recipe on hand for when a holiday like Mother's Day is coming up! You could bake this lemon cake recipe from scratch for your mom or any special person you love and want to impress. It's so easy to put together.
I originally shared this delicious cake in April 2015 and it's been updated for content June 2023.
This original recipe that inspired this lemon ricotta cake was a lemon pound cake my mom used to bake for us growing up. (A pound cake is traditionally made with a pound each of flour, butter, eggs, and sugar — or a 1:1:1:1 ratio of the ingredients).
Baking the lemon bundt cake as instructed was nice, but it was a bit too heavy and too sweet for me. I had to change it up a bit. The lighter version I'm sharing today is, in our opinion, the way to go!
Mom agrees too! She loves this ricotta cake the best!
What ingredients are in a ricotta cake?
All you'll need to make this easy lemon cake recipe is:
Butter: To give a rich flavor and create a creamy texture.
Cake Flour: Gives the cake light and tenderness.
Baking Powder: Leavens cake so it rises while baking.
Kosher Salt: Enhances all the flavors in the cake batter.
Ricotta Cheese: For a creamy filling.
Granulated Sugar: To sweeten the cake.
Eggs: Binds ingredients and provides structure in cake baking.
Vanilla Extract: Adds a subtle sweetness and aroma to the batter.
Lemon Zest and Juice: Enhances flavors in cake with a subtle citrus tartness.
How to make an easy Italian ricotta cake?
This show stopping cake is a breeze to make and requires just 10 minutes of hands-on prep work! Here are the basic steps to make this lemon ricotta bundt cake recipe (Full printable recipe is below):
Once you gather all the ingredients, heat the oven to 350ºF and prep your Bundt pan (see my tips below for how to properly grease a bundt pan).
Step 1: Place the flour, baking soda, and salt in a bowl and stir together.
Step 2: In a separate bowl, cream the butter and sugar. Add in the ricotta and combine with the butter and sugar. Incorporate the ricotta with the butter and sugar for a few minutes. If you're using a mixer, or by hand with a mixing spoon, it will take a few minutes to really combine the ingredients.
Step 3: Beat in the eggs one at a time.
Step 4: Mix in the vanilla, lemon juice and lemon zest.
Step 5: Add the dry ingredients in small amounts. Be sure to stop the mixer and use a spatula to scrape the sides and bottom of bowl to combine well.
Step 6: Spoon the batter into the prepped Bundt pan.
Step 7: Bake on 350F for 30 mins. Lower heat to 325F for the final 20 minutes.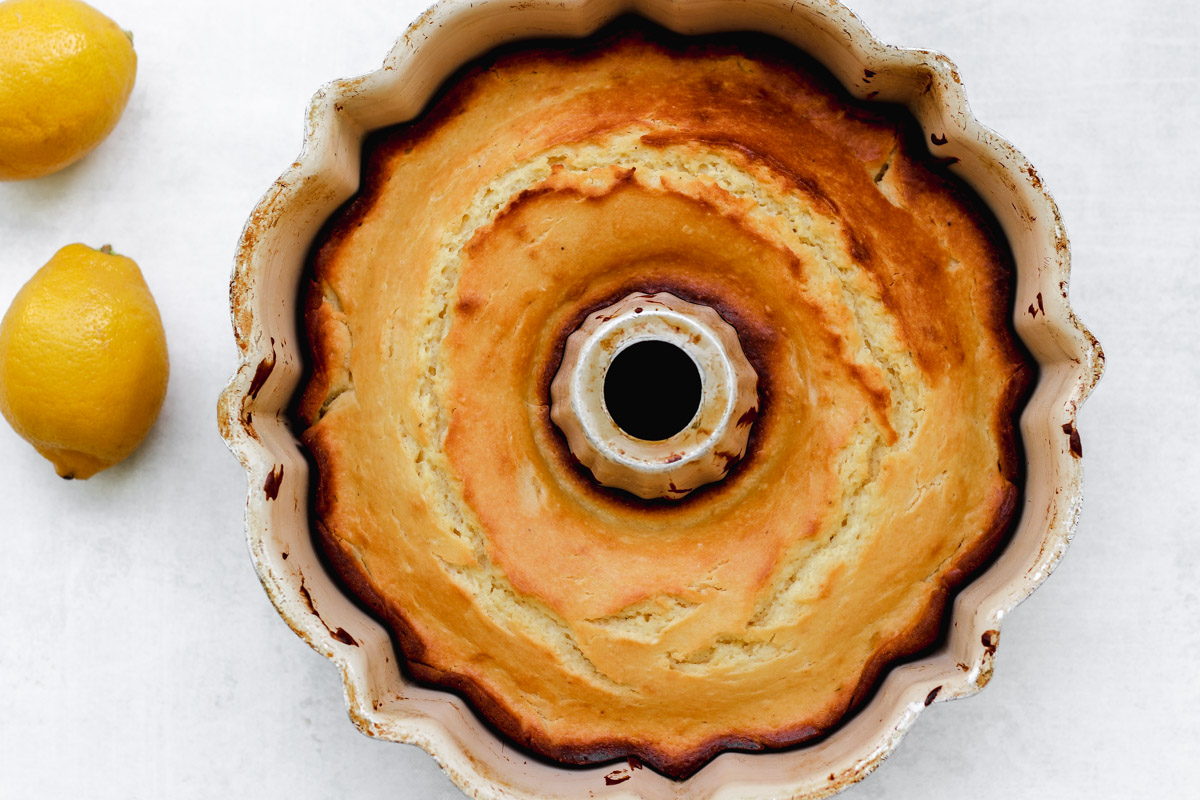 Step 8: Carefully invert the cake onto your serving plate. Once the cake has cooled, dust powdered sugar on top or drizzle with a simple lemon powdered sugar glaze.
Every time I bake a Bundt cake, there's complete silence when I flip it onto the plate. It's sheer joy when I hear that very quiet thump when the cake hits the serving plate.
How to prep a Bundt pan?
I really like to use baking spray and never have any problem. More info below in the post on other Bundt pan prepping tips.
Should I overfill a Bundt pan?
No, do not overfill the Bundt pan. There are different Bundt pan sizes, so if you have extra batter, pour it in a cupcake pan and bake according to cupcake timing.
Can I make a gluten-free ricotta cake?
Yes, you can. Just sub the flour for King Arthur's 1-1 Gluten-Free baking flour (or whatever gluten-free flour you like).
Is this a vegan cake recipe?
No, this is not a vegan recipe, but it is vegetarian.
Can I use all-purpose flour instead of cake flour?
No, I've made this lemon ricotta bundt cake once with regular flour and I didn't like the results. It wasn't nearly as fluffy and light, which is why I recommend using cake flour to make this lemon cake recipe from scratch
How to make my own cake flour?
It's very simple. The formula is for every cup of cake flour called you need in a recipe, measure out one cup of all-purpose flour. From the cup, remove 2 tablespoons of the flour (set aside the amount you remove)and add the cup (minus the 2 tablespoons of flour) to a bowl. Add in 2 tablespoons of cornstarch and whisk together.
Can I substitute the ricotta for something else?
No, there is no substitute for the ricotta cheese. Be sure to invest in a better quality ricotta, if you can find one, to get the best results.
What is an Italian lemon ricotta cake?
A lemon ricotta cake isn't the same as a traditional lemon cake. A traditional lemon cake is a bit sweeter. A lemon ricotta cake is more dense and usually served at breakfast, or at the end of meal with some fresh fruit.
How to prep a Bundt cake pan
Are you afraid to bake a bundt cake because your cake always sticks to the pan? I know that feeling when you flip the pan and the cake doesn't release all the way.
Here is a really foolproof method to prep your pan to ensure an easy release of the cake:
Mix 1 Tablespoon of cooled, melted butter (or margarine) with 1 Tablespoon of flour.

Use a pastry brush (or your fingers) to grease the Bundt pan. This creates a coating that prevents the cake from sticking to the pan

.
Such a great baking tip, especially for bundt pan bakers that sometimes encounter a problem with the pan! It truly works and you will be thrilled each time your bundt pops right out onto your serving dish — no more waiting in fear to see if it sticks or not!
Tips for making lemon ricotta cake
1. For the best flavor and texture, use full-fat ricotta cheese and not low-fat.
2. Make sure to use fresh, room-temperature eggs for the best results. The bottled stuff just isn't the same!
3. Use freshly squeezed lemon juice and zest for maximum flavor!
4. Make sure the butter is at room temperature for easier incorporation.
5. Enjoy with a dollop of whipped cream and a sprinkle of lemon zest!
6. If desired, you could use orange juice and zest in place of the lemon to make an orange ricotta cake.
How to store ricotta cake?
Since it has ricotta cheese, I suggest storing it covered at room temperature for up to a day. If it's not devoured before that, store in an airtight container in the refrigerator for up to 5 days.
can you freeze lemon ricotta cake?
Yes, you can freeze this lemon bundt cake. Once the cake is completely cool, simply wrap it in foil then place it in a zip-top freezer bag or even a Tupperware container. To thaw, let it defrost overnight in the refrigerator the day before you're ready to serve it. Then proceed to dust with confectioner's sugar or ice it as desired.
more lemon dessert recipes:
Did you make this? Please RATE THE RECIPE below:)
Please Subscribe and give a follow on Instagram, Facebook, Pinterest, and TikTok xx
This post contains affiliate links. As an Amazon Associate I earn from qualifying purchases. See my privacy policy for details.
This post contains affiliate links. As an Amazon Associate I earn from qualifying purchases. See my privacy policy for details.
Easy Italian Lemon Ricotta Cake
This Easy Italian Lemon Ricotta Cake is bursting with fresh lemon flavor thanks to the lemon zest and freshly squeezed lemon juice in the batter. Perfect for breakfast, Sunday brunch, Mother's Day, and Easter! The perfect cake to enjoy after an Italian lunch or dinner.
Ingredients
½

cup

unsalted butter

, at room temperature (plus more to grease the baking pan)

2

cups

cake flour

2 ½

teaspoons

baking powder

1

teaspoon

kosher salt

1½

cups

whole-milk ricotta cheese

1

cup

granulated sugar

3

large

eggs

1

teaspoon

pure vanilla extract

zest of 1 to 2 lemons

2

Tablespoons

freshly squeezed lemon juice

(less than 1 lemon, usually)
Instructions
Preheat the oven to 350ºF. Grease and flour Bundt pan (or you could use baking spray, as I did).

In a medium bowl, combine the flour, baking powder and salt. Stir to blend.

Using a mixer (or by hand), cream the butter, ricotta and granulated sugar until blended, about 3 minutes — I never really go over three minutes, and it's ok if there are some visible pieces of butter. In other words, the batter will not look entirely smooth (see photo). With the machine running, add the eggs 1 at a time.

Add the eggs 1 at a time.

Add the vanilla, zest and lemon juice until combined. Add the dry ingredients, a small amount at a time, until just incorporated. Stop the mixer and use a spatula to scrape the sides of the bowl after each addition of the dry ingredients.

Pour the batter into the prepared pan and place on middle rack of oven.

Bake for 25 minutes on 350. Lower heat, bake about another 20 minutes on 325, or until a toothpick comes out clean and the cake pulls away from the sides of the pan. I always have to lower my oven to 325 with cakes. My cakes bake too fast if I bake all the way on 350.

Carefully invert the cake onto your serving plate. Dust with confectioner's sugar, or make a lemon glaze with fresh lemon juice.
Nutrition Disclaimer
Please keep in mind that the nutritional information presented below is an approximation and may vary depending on the exact ingredients used.
Nutrition
Calories:
272
kcal
|
Carbohydrates:
38
g
|
Protein:
5
g
|
Fat:
11
g
|
Saturated Fat:
6
g
|
Polyunsaturated Fat:
1
g
|
Monounsaturated Fat:
3
g
|
Trans Fat:
0.4
g
|
Cholesterol:
80
mg
|
Sodium:
362
mg
|
Potassium:
50
mg
|
Fiber:
1
g
|
Sugar:
20
g
|
Vitamin A:
365
IU
|
Calcium:
74
mg
|
Iron:
1
mg