Matera? Definitely worth a visit! This charming city in the Basilicata region of Southern Italy often goes unnoticed, but it's truly a hidden gem waiting to be discovered.
What's so special about this marvelous city is its history, culture and ancient architecture. Not only is Matera known for its unusual dwellings - called 'sassi' - but it also boasts incredible natural beauty.
It is also the oldest city in Italy and the caves, that are located nearby the city, are almost 10,000 years old. They are currently uninhabited, but much worth the visit.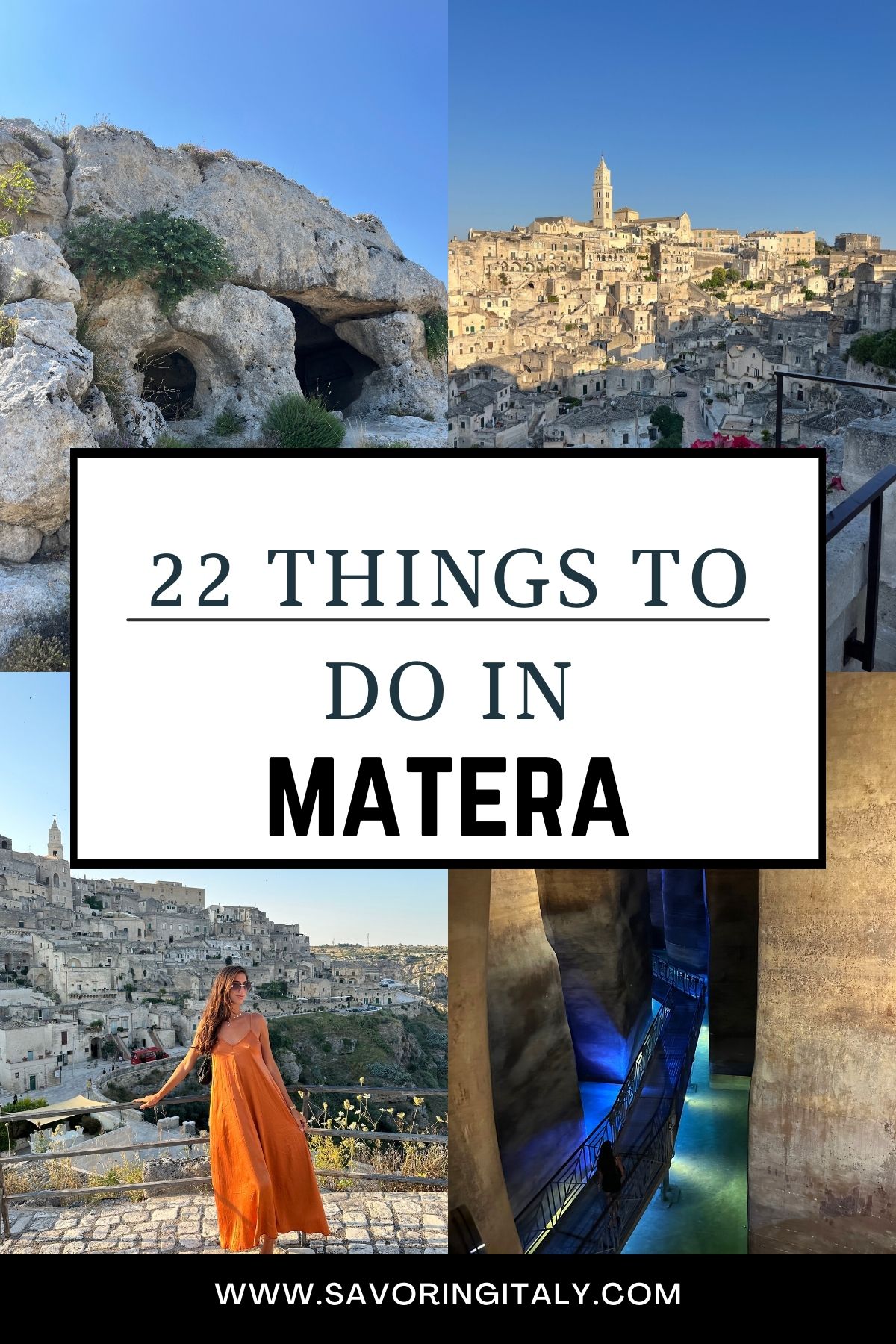 Jump To
Where is Matera?
Matera is located in the southern part of Italy, specifically in the Basilicata region. The city is situated on the edge of the Gravina di Matera Canyon, overlooking a breathtaking panorama.
To visualize its layout, imagine the city divided into four main areas: Sasso Barisano, Sasso Caveoso, Civita, and Piano. The sassi, the city's unique cave dwellings, are found in the Barisano and Caveoso districts, while Civita is the elevated part where the wealthy once resided.
What is Matera known for?
Matera's distinctiveness is rooted in its sassi, cave-like dwellings that have been carved into the landscape for millennia. These structures served as homes, hotels, restaurants, shops, and more, forming a captivating underground city.
How old is Matera?
The city's history dates back over 10,000 years, making it one of Italy's oldest settlements and possibly one of the world's oldest. The caves date back to the Paleolithic period. Matera's transformation from a national disgrace to a European Capital of Culture in 2019 is a testament to the enduring spirit of its inhabitants.
How many days do you need in Matera?
I recommend 2-3 days to see the old city. I stayed 2 nights July 2023 and thought it was the perfect amount of days. However, I would have rather went in April or October because it was very hot.
History of Matera: From Prehistoric Roots to Modern Marvel
Archaeological evidence suggests that Matera's caves were inhabited for thousands of years (almost 10,000), dating back to pre-Neolithic times. These caves provided shelter and were ingeniously expanded upon over the centuries.
The region's dry climate prompted the creation of cisterns that supported the city's water supply, showcasing remarkable engineering ingenuity.
Rome conquered Matera in the 3rd century BC, and it remained a part of the Roman Empire until its fall. The Byzantine-era Basilica di San Giovanni Battista was built by Justinian during this period, which is still standing today. During the Middle Ages, Matera had been fought over by various regional rulers before finally becoming part of the Kingdom of Naples in the 14th century.
Matera thrived as a significant stop on the transumanza and played a vital role in the wool trade. However, the 20th century brought challenges, with the introduction of artificial fabrics and cheaper wool sources leading to the city's decline. The living conditions in the sassi deteriorated, earning Matera a reputation as a national disgrace.
Author and activist Carlo Levi's book "Christ Stopped at Eboli," published in 1945, shed light on Matera's plight, sparking national attention. In 1954, the Italian government relocated thousands of residents from the sassi to new public housing areas, igniting a slow revival. Pier Paolo Pasolini's film "The Gospel According to Matthew" revived interest in Matera's beauty, eventually leading to its resurgence.
The 1980s saw restoration efforts supported by government grants, culminating in Matera's designation as a UNESCO World Heritage Site in 1993. Today, the sassi house luxury accommodations, museums, and arts organizations, proving Matera's worth as a national treasure.
Weather in Matera and the Best Time to Visit
Matera enjoys a Mediterranean climate with mild winters and warm summers. Here's a monthly breakdown of temperatures:
January: 36°F (2°C) - 48°F (9°C)
April: 43°F (6°C) - 61°F (16°C)
July: 63°F (17°C) - 86°F (30°C)
October: 50°F (10°C) - 66°F (19°C)
The best time to visit Matera is during the spring (April to June) and fall (September to October) when the weather is pleasant for exploration. Avoid the scorching summer months of July and August, as temperatures can be uncomfortably high. I was recently there in the middle of July, and it was unbearably hot. I would much rather go in October.
How to get to Matera
By Car:
Depending on your starting point, you can use several highways to reach Matera. If you are coming from Bari, take the SS96 and SS99 highways. From Naples, use the A3 and E847 highways. Matera is also accessible from Rome via the E45. Car rentals are widely available in most cities.
By Train:
Matera is well-connected to the Italian rail network. Trenitalia, Italy's national train service, offers daily trips from major cities like Rome, Naples, and Bari. Remember to transfer in Bari, from where you can take a local train to Matera.
By Plane:
The closest airport to Matera is Bari Palese Airport, about 60 km away. It is served by several international airlines. From the airport, you can take a taxi or bus to Matera, or rent a car.
By Bus:
Several bus companies operate services to Matera from various Italian cities. Flixbus has regular routes from cities like Rome, Naples, and Bari. Local bus company Ferrovie Appulo Lucane offers services from Bari to Matera.
*I got to Matera by bus. I came from Bari with a Flixbus and it took 1 hour. I then walked 30 minutes into the town because I could not get a taxi.
Car Rentals:
If you are planning on renting a car in Bolzano, it is important to do your research beforehand. There are several rental companies that offer competitive rates and good customer service. I recommend this car rental service.
Get more italy travel tips
Visiting Matera in 2023
Matera offers a distinctive experience that transports visitors back in time. To fully appreciate the city's charm, spend at least two to three days exploring its streets and surrounding areas. The terrain is hilly, so comfortable walking shoes are essential for navigating the stone steps and pathways that wind through the city.
22 Unmissable Things to Do in Matera:
1.Discover Matera's history at Casa Noha and Museo Laboratorio della Civilta Contadina.
Casa Noha is a collection of 13th-century houses that have been painstakingly restored. Wander through the ancient dwellings and discover how people lived centuries ago. The Museo Laboratorio della Civilta Contadina provides insight into Matera's rural culture, with artifacts from the 19th and 20th century on display.
2.Wander along Matera's main road, Via del Corso, for shops and restaurants.
Matera's main road, Via del Corso, is a great place to explore and find souvenirs or pick up local delicacies. This busy thoroughfare is lined with shops, restaurants, and bars for the perfect combination of sightseeing and relaxation.
3.Explore Matera's caves on a guided tour.
Climb through Matera's cave dwellings and delve into its history on a guided tour. The knowledgeable guides provide insight into the city's culture and lifestyle, as well as its socio-economic challenges.
This is the exact tour that I went on: Sassi di Matera.
It was around 1 and a half hours and the tour guide was great! We got to see some of the 10,000 year old caves.
4.Explore the unique rock churches like Santa Maria de Idris and San Pietro Barisano.
Matera's impressive rock churches are must-sees on any visit. The Santa Maria de Idris and San Pietro Barisano were carved directly into the landscape to create spaces of worship for Matera's residents. Step inside these awe-inspiring structures and appreciate their intricate details.
5.Experience the awe-inspiring Cava Del Sole, an old abandoned quarry.
A visit to Matera is incomplete without a trip to the Cava Del Sole. This old abandoned quarry, located in the Barisano district, showcases stunning natural formations and provides an immersive experience of nature's power.
6.Get drinks at Zipa Cafe
Zipa Cafe is an eclectic bar located in the ancient sassi district. Enjoy drinks and snacks while you soak up the atmosphere of this unique spot. The bar also hosts regular events such as music performances and art exhibitions.
7.Marvel at the Palombaro Lungo cisterns, a unique water collection system.
The Palombaro Lungo cisterns are located in the Sasso Caveoso district. These ancient reservoirs were ingeniously built to collect water from nearby springs and provided Matera's residents with a reliable source of water for centuries.
*I HIGHLY recommend seeing this. It costs 3 euros, you only need 20 minutes to go through it. I thought it was so beautiful.
8.Enjoy a traditional meal at one of Matera's trattorias or ristorantes.
Matera is renowned for its traditional cuisine. Sample the city's specialties such as their famous orecchiette pasta dish and Materano ham at one of the restaurants in the historic center.
9.Find your favorite viewpoint, such as Belvedere Piazzetta Pascoli or Belvedere Luigi Gurrigghio.
Matera's viewpoint offer some of the best views of the city and its surroundings. Take in the breathtaking panoramic vistas from Belvedere Piazzetta Pascoli or Belvedere Luigi Gurrigghio and get lost in a moment of awe-inspiring beauty.
10.Tour Matera's underground aquarium, Grotte di Santa Maria de Idris.
The Grotte di Santa Maria de Idris is a unique underground aquarium located in the sassi district. Here, you can explore an array of fascinating marine life from squids and jellyfish to colorful coral reefs.
11.Visit the archaeological site of Matera with its ancient tombs
The archaeological site of Matera is home to ancient tombs, stone tools, and other artifacts that date back thousands of years. Uncover the secrets of this remarkable city on a guided tour with an experienced guide or explore independently at your own pace.
12.Climb the Duomo Tower for a bird's-eye view of the gorge.
Matera's Cathedral, known as Il Duomo, is the Cattedrale di Maria Santissima della Bruna e Sant'Eustachio. Located at the highest point in the old city, on a ridge between the two sassi, it was constructed in the 13th century. The cathedral's bell tower gracefully dominates the Matera skyline.
The Romanesque exterior of the cathedral is elegantly simple, showcasing a stunning rose window. Centuries later, intricate interior decorations were added, featuring lavish golden accents and captivating ceiling frescoes. Access to this architectural marvel is available at a nominal fee of €1.
Should you find yourself in need of refreshment or a moment of respite, the Duomo Café on the piazza offers a surprisingly affordable experience, given its picturesque surroundings.
13. Visit Casa Grotta
This was an old house that people in the 1950's were inhabiting. It was around 7 euros per person and you got to see the conditions in which the people lived in.
The cave was home to an entire family, consisting of about six members, along with mules, chickens, and pigs. Within these one-room museums, you can marvel at the furniture, tools, and artifacts from that time, providing a captivating glimpse into life in the sassi. Pairing this experience with the film at Casa Noha enhances the understanding of this unique lifestyle.
While Casa Grotta di Vico Solitario, conveniently situated near the cave church Santa Maria di Idris in Sasso Caveoso, remains a popular choice among visitors, it tends to get crowded with tour groups. During our last visit, we discovered a quieter yet equally fascinating gem: Casa Grotta C'era Una Volta in Sasso Barisano.
14.Visit Matera's churches, such as San Giovanni Battista and San Francesco d'Assisi.
Matera is home to several grand churches that reflect its rich history. Explore the ornate churches such as San Giovanni Battista and San Francesco d'Assisi, both of which contain stunning works of art.
15.Hike along the Gorge in the Parco Regionale della Murgia Materana.
The Parco Regionale della Murgia Materana is a protected nature reserve in the Murge region. Take a hike along the Gorge and enjoy stunning views of the landscape as you make your way through this unique area.
16.Explore the Rupestrian Churches in Murgia Materana Park with a local guide.
Take a guided tour through the Rupestrian Churches in Murgia Materana Park. Learn about the history and stories that accompany these ancient structures, as well as their unique features such as frescoes and carvings on the walls.
17.Visit the Crypt of the Original Sin, also known as the "Sistine Chapel of Rupestrian Churches."
The Crypt of the Original Sin is a treasure trove of religious artifacts from centuries ago. Explore this fascinating structure, also known as the "Sistine Chapel of Rupestrian Churches" and admire its intricate details.
18.Immerse yourself in art at MUSMA, the Museum of Contemporary Sculpture.
MUSMA, the Museum of Contemporary Sculpture is a must-visit when in Matera. Explore the museum's vast collection of modern and contemporary sculptures from artists around the world.
19.Dine at local eateries like Trattoria del Caveoso and Dimora Ulmo.
Indulge in the city's delicious cuisine at local eateries such as Trattoria del Caveoso and Dimora Ulmo. Try traditional dishes like Senise peppers and Caciocavallo cheese, or pick up local delicacies to take home with you.
20.Indulge in gelato at I Vizi degli Angeli, a colorful and quirky gelateria.
Experience the flavors of Matera's gelato culture at I Vizi degli Angeli, a colorful and quirky gelateria. Sample delicious handmade ice cream in unique flavors like fig or almond, as well as classic favorites such as chocolate and strawberry.
21.Experience the Festa della Bruna, Matera's vibrant patron saint celebration.
Matera's Festa della Bruna is an annual celebration in honor of the city's patron saint. During this weeklong event, locals and visitors alike come together to enjoy parades, religious processions, games, and delicious food.
22.See how they would make olive-oil
MOOM, the Matera Olive Oil Museum, is a cool family-run museum located in an underground oil mill that dates back to the 15th century. Here, you can check out how olive oil used to be made, not for eating but as lamp oil.
Inside, there's a stable where two hardworking donkeys operated a circular stone mill to crush the olives into a paste. This paste was then put into woven bags and placed under massive wooden presses to extract the oil.
Imagine, these workers labored tirelessly 24/7 during the olive harvest season, catching just a few hours of sleep between shifts. Talk about dedication!
After the tour, don't miss out on a tasting of the owner's delicious olive oil, made on their farm just outside Matera. And if you're interested, prices for purchasing some are pretty reasonable too.
Tours in Matera
Where to Stay in Matera
Matera offers a range of accommodations, including unique cave hotels like Sextantio and modern options like The View Matera.
If you don't mind the stairs, I would choose a spot right in the center of the old city. The views are amazing and you will typically be staying inside a cave.
Best restaurants in Matera
When it comes to dining here are some restaurants:
Regional specialities

Trattoria del Caveoso
La Nicchia nel Sasso
La Lopa
Tipicamente Matera
Taverna La Focagna

For a gourmet experience

Dimora Ulmo (BEST RESTAURANT)
Vitantonio Lombardo

Best Gelato

I Vizi degli Angeli - Gelateria Artigianale
Best bars and nightlife in Matera
Some of my favorite spots are:
Zipa Cafe
Area 8
Charlie's Speakeasy
Visiting Matera with Your Partner
Matera's enchanting atmosphere makes it an ideal destination for couples. Wander through the city's romantic alleys, share a meal at a charming local restaurant, and enjoy breathtaking sunset views. Stay in luxurious cave hotels and create memories that will last a lifetime.
Visiting Matera with Kids
While Matera's terrain can be challenging for young legs, kids will enjoy exploring the city's unique cave dwellings and learning about its history. Make sure to visit family-friendly attractions like Vico Solitario Museum and Sassi in Miniatura. The underground cisterns and Matera's gelato shops are also bound to delight children.
Events in Matera
Matera hosts various events throughout the year, but the standout is the Festa della Bruna, celebrating the city's patron saint each July 2nd. The event features illuminated alleyways, parades, and a mesmerizing fireworks display.
Movies Filmed in Matera
Matera's captivating sassi have provided the backdrop for several notable films, including "The Passion of the Christ," "Ben Hur," and "No Time To Die." Walking through the city, you may recognize scenes from these cinematic masterpieces. Some more movies are:
"The Nativity Story"
"Medici: Masters of Florence"
"Wonder Woman 1984"
"Troy"
"Clash of the Titans"
"The Odyssey"
"Robin Hood: Prince of Thieves"
Matera also has its own International Short Film Festival, held each year in April. The competition showcases works by international filmmakers and provides a platform for emerging talent.
Matera, Italy, is a hidden gem that beckons travelers to explore its ancient streets, delve into its rich history, and experience its unique culture. With its remarkable cave dwellings, stunning viewpoints, and delectable cuisine, Matera promises an unforgettable journey into the heart of Southern Italy's past and present.
Whether you're traveling with your partner, family, or on your own, Matera's allure will captivate your senses and leave you yearning for more.An error occurred during generation. Please try again or contact support if it continues.
More FAQ'S
How is the weather in Matera, Italy?
In the summer it get very HOT and dry. It is located in the south of Italy so expect the winter to be cold, but not freezing.
Is Matera safe?
Yes! Matera is a very safe city.
Is Matera worth visiting?
100% yes. If you have interest in history and are planning to travel in the south of Italy, I recommend going.
Is Matera the third oldest city in the world?
It is the third oldest city in the world, after Aleppo and Jericho, with over 10,000 years of history.
Do people still live in the caves of Matera?
Yes, there are Italians that still live there as well as hotels and Airbnbs that have been converted into modern cave homes. The ancient caves outside the main center are uninhabited.
More posts like this: