Casatiello is a delicious stuffed Italian Easter Bread. It is a traditional savory Easter bread from the Campania region of Italy. It is made with a simple pizza dough and filled with cheese and cured meats. Perfect to bring along on a Pasquetta (Easter Monday) picnic!
As with any holiday, I find an excuse to bake an Italian bread. My other goal during the holidays is to find the time to take a few photos of what I created and capture the bread moment to share here with all of you, like this wonderful bread called casatiello.
Casatiello | A Delicious Stuffed Italian Easter Bread
Originally published April 7, 2015, updated on February 6, 2020.
Growing up in an Italian family, I learned the lessons of "waste not, want not". I live it now as an adult getting to spend time with my in-laws in Italy and when they come to visit us here. My mother-in-law is the queen of finishing every last ingredient before going to buy something new. Another famous Italian Easter bread is the Crescia al Formaggio-Italian Easter Cheese Bread. And our family favorite is the Pane di Pasqua-Italian Easter Bread that is stuffed with eggs.
As my Sicilian father did, Teresa embraces wholeheartedly "la cucina povera" (translated literally: poor kitchen or the kitchen of the poor), but I like to think of it as the creative genius of a home cook that uses simple ingredients that result in incredible dishes and flavors.
I always have on hand some ham, different cheeses and salami. I have made different breads with these ingredients, not just for the holidays. But since it was Easter, and a new #TwelveLoaves challenge, I decided to bake a casatiello: a Neapolitan Easter bread. This month #TwelveLoaves bakers are baking with CHEESE…and who doesn't love cheese?!?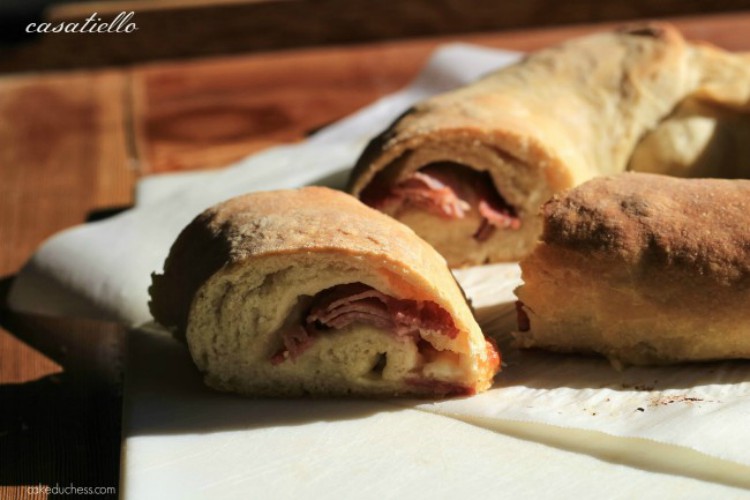 It seems there are different versions of this bread in the area of Italy of Naples (Campania)that are made for Easter. During Easter, it has eggs nestled on top and they have crosses made from dough criss-crossing on top of them. I think that this bread actually should be a called a ciambella rustica salata (or a tortano napoletano).
What is a typical Italian Easter bread called?
I have also seen it called a baba' salato. I found the Bread Baker's Apprentice Challenge from 2009 and they made this bread. The recipe in the book (I can't believe I don't own that book yet!) is a brioche dough and is different than the one I learned to make. I do know that in the Campania region they are made with eggs stuffed inside with the filling, or placed on top (as I mentioned above). I chose to stick with calling this a casatiello, because Teresa told me a friend from Naples taught her how to make it.
When to eat this bread on Easter?
It is perfect served as an antipasto for Easter dinner. Any leftovers? It tastes so good even the next day!! If you are in Italy, and are lucky enough to have Pasquetta (the Monday after Easter-Easter Monday), this is what you could pack on your picnic in the mountains.
How do you make a stuffed Italian Easter bread?
I made a simple pizza dough and stuffed it with ham, salami, provolone cheese and leftover gruyere. Can I tell you how wonderful this easy dough filled with simple ingredients is? Simply fantastico! It was a hit at Easter and it is a hit whenever I bake it (I don't make it just for Easter).
You could use the measurements as your guide. My mother-in-law makes the dough by eye and by feeling and adjusts according to how the texture is. Enjoy the filling by really making it your own (add more or less cheese, mix up the meet filling as you like it).
How to activate yeast step 1: Warm water
Check the date on the package and make sure the yeast is not expired. That's the most important step. Then sprinkle it over the warm water. The water is about 110F. You could test the temperature also with the back of your wrist (like when you're testing a baby's bottle of milk…warm and not scalding)or you could use a thermometer.
How to activate yeast step 2: Add a little sugar
Next, add a teaspoon of sugar. The sugar does help the yeast to begin to activate. It should start to foam up in no time.
How to activate yeast step 3: Give it time
The yeast does activate sooner in a warmer kitchen. It could be ready to use in 5 minutes. It could also take a full 15 minutes if your kitchen is a little chiller.
What if my yeast isn't foaming?
It may happen that by 15 minutes the yeast did not activate and begin to foam. I always have extra yeast packets on hand. Toss out that batch and start over with new warm water and fresh packet of yeast. Maybe your water was too hot. Maybe that packet was not fresh (it's happened to me!). Just start over, no problem.
#TwelveLoaves is a monthly bread baking party created by Lora from Savoring Italy.
Our theme is CHEESE. Look at all these other fantastic cheese breads!
Pin for later!
Casatiello
Casatiello is a traditional savory Easter bread from the Campania region of Italy. It is made with a simple pizza dough and filled with cheese and cured meats. Perfect to bring along on a Pasquetta (Easter Monday) picnic!
Servings:
1
large round loaf
Ingredients
DOUGH

3 1/2 to 4

cups

bread flour

plus more for rolling

1

teaspoon

sugar

1

envelope instant dry yeast

2

teaspoons

kosher salt

1 1/2

cups

water

110 degrees F

3

tablespoons

olive oil

plus 4 teaspoons

FILLING

1/2

cup

sliced ham

diced small

1/3

cup

soft salami

diced small

1/4

cup

provolone cheese

diced small

1/2

cup

fontina cheese

diced small

1

Tbsp.

finely chopped rosemary
Instructions
In a small bowl, add the water and sprinkle the yeast on top of the water. Sprinkle on the sugar and 1 tablespoon of the oil and whisk together. Set aside until the yeast bubbles (about 10 minutes).

Brush another large bowl with 2 teaspoons olive oil.

In the bowl with yeast, whisk the rest of the olive oil, and salt. Make a well in the middle of the flours and pour in the yeast mixture. Stir with a wooden spoon until a sticky dough forms.

Form the dough into a ball and place into the oiled bowl (when I put the dough in the bowl I swish the dough around the bottom of the bowl and then flip it over so all of the dough is covered in a light film of oil).

Cover with a towel and let it rise at room temperature until doubled in size (about 1-1 1/2 hours).

When dough is ready, roll it out to a rectangle about 16x20 inches (about 1/10 inch thick)and cut the ends to make it even.

Sprinkle the filling ingredients on top of the dough leaving a 1 inch border.

Roll the dough like a jelly roll. Cut the ends so it is even and pinch the dough around the seams to seal it.

Bring the two ends together to make a ring and seal them closed. Place the ring on a parchment lined baking sheet.

Let the dough rest covered with a towel for about 30 minutes.

While the dough is resting, heat the oven to 375F.

When ready to bake, brush the dough with the remaining olive oil.

Bake until golden brown (about 30 minutes).