I've never kept track of all the hurricanes and storms I've been through in Florida. I'd like to consider myself an expert with all the storm tracking and terminology. I know exactly what supplies to buy and we have a plan for when it's our time to evacuate.
These are things you have to be ready for living in this part of the East coast. My mother-in-law always calls from Italy as soon as she sees a hurricane in America. It could even be on the completely opposite coast and she'll call to check and make sure we are all safe.
When Hurricane Sandy passed our way a few weeks ago, we were prepared. The kids were off of school for a day and half. Our beaches suffered damage and luckily this time we were left mostly unscathed. The winds were still kicking here as it made it's way up towards the North East. It was predicted to be bad and I have to say, I've never seen damage here as I've seen what happened up north from Sandy
Today I wanted to share a recipe that brings comfort to my family. It's a sticky date loaf filled with wonderful spice and rich chocolate. I make it almost every week and sometimes make them as a muffin.
I am keeping everyone in my thoughts and prayers and appreciate everyone that wants to help those in need.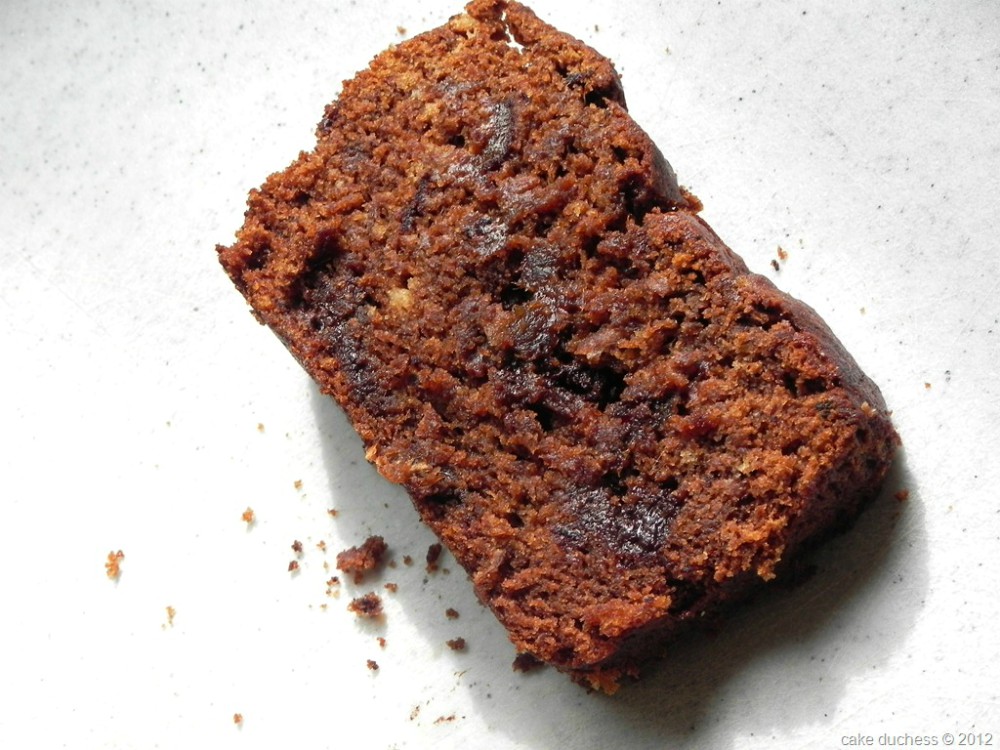 A little about the sticky chocolate date loaf:
Dates are naturally sweet and I cut much of the sugar that was in the original recipe. I adapted the recipe from
this site
. I also made this recipe vegan. It's so moist from the banana and dates, the eggs are not missed at all. A little whole wheat flour also makes the cake a bit more healthy. You could make the cake entirely with whole wheat or with white flour…however you prefer. Just make it and share a slice with a hot cup of tea and someone you love.
Sticky Chocolate Date Loaf
30 pitted dates, coarsely chopped
1 1/4 cups water
1 tsp baking soda
1 cup all-purpose flour
1 cup whole wheat flour
2 tsp baking powder
1 tsp ground cinnamon
1 tsp ground nutmeg
1/2 tsp salt
3/4 cup canola oil
1/2 cup brown sugar
1 Tablespoon molasses
1 ripe banana, mashed
2 tsp vanilla extract
1 cup dark chocolate chips, melted and cooled
1/2 cup dark chocolate chips (to stir in the batter right before baking)
Directions:
Preheat oven at 350 F and line a loaf pan with parchment or non stick baking paper. (or you can make them
in muffin tins)
In a small pan, combine dates and water and bring to a boil. Lower heat and simmer for about 3 minutes or until dates are soft and liquid has reduced. Lower the heat and stir in baking soda. Stir well once the mixture foams up; set aside to cool.
In a large mixing bowl whisk together the flours, baking powder, cinnamon, nutmeg and salt. In another large mixing bowl, whisk the oil, sugar, molasses, banana, and vanilla until fluffy. Stir in the cooled melted chocolate.
Gently fold in half the flour mixture then fold in all the date mixture. Gently fold in the remaining flour and the rest of the chocolate chips.
Transfer batter to tin and tilt tin gently from side to side to level batter. Bake for 1 hour or until a fine skewer comes out almost clean from centre of loaf and loaf begins to pull away from the sides of tin.
Remove from oven and turn loaf out onto a cooling rack. Enjoy!
xo
Lora