This Sweet Summer Corn and Cucumber Salad is so easy to prepare and is the perfect summertime side dish. It is bursting with fresh flavor and ready in just about 15 minutes. This will be your new favorite summer salad.
This delicious salad is naturally vegan, sugar-free, dairy-free, and gluten-free.
It's not too often I get excited about a salad. We were planning a dinner that was going to be prepped a little bit ahead and that was totally meat free. Maybe it was a meatless Monday or maybe it was a Meatless Sunday.
So I know, it's hard to believe a Meatless Sunday when Sunday is a traditional Sunday Sauce day (that recipe is coming up this summer...I promise!!). PS: I finally shared the sauce my mom always made on a Sunday: Slow Cooked Beef Short Ribs Sauce....it's amazing!
Originally published in June 2021 and updated on July, 2022. This is a great summer salad recipe and it's one I will be making for the 4th of July! You have to try it!!
Searching through my cabinets and vegetables, I was thinking of what to make that is creative and flavorful and that is all about summer. Mom has made this salad over the years and there really wasn't a recipe.
It just was one she made and checked for flavor as she was mixing it and all the ingredients would come together.
Craving the same salad she made so often, I had to see if I had everything here. Lucky for all of us, all we had all that was needed to make this super salad. So I gathered all the ingredients and started putting it together.
But it was more than just craving one of mom's easy summer salads. It was after having a conversations with my lovely friend Aggie from Aggie's Kitchen that this idea came about. Aggie is one of those special people I have encountered through my blog.
Her fantastic blog was one that inspired me to launch my own original blog back in 2010. Aggie and I are both Sicilian (Sicilian-American) girls that just love fresh produce!!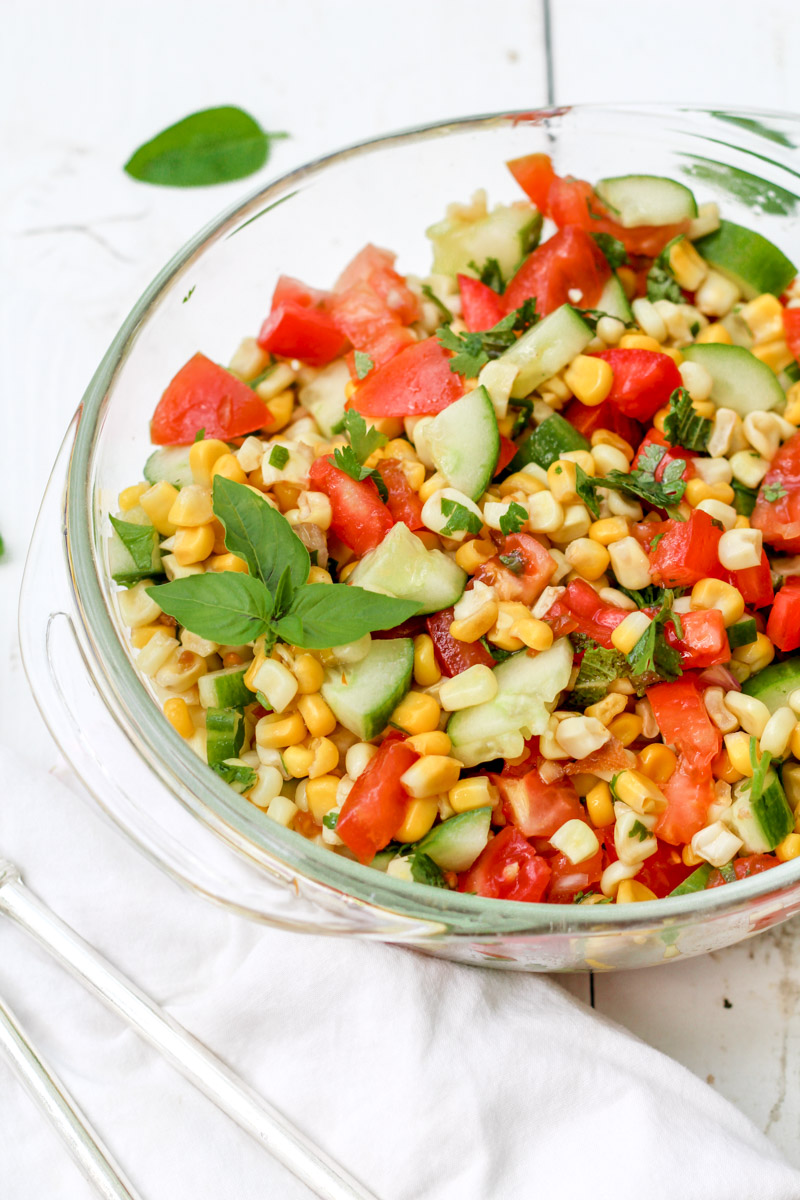 We were talking about how to stay inspired to keep sharing recipes when it's summer, you're busy with family things, and it's way too hot to cook.
We came up with a theme for each month of our #FreshSummer recipes. For the month of June we chose to share something we each made with cucumbers! Be sure to check out Aggie's delightful Cucumber Avocado Salad . It is what I'm craving today for lunch!
What ingredients are in Sweet Summer Corn and Cucumber Salad? (full recipe is below)
cucumber
cherry or grape tomatoes halved
shallot
soy sauce use tamari for gluten-free
lime juice
fresh ginger
packed chopped fresh cilantro
fresh basil
fresh mint
Fresh or canned corn.You could use fresh, frozen or canned corn. I happened to have a bag of frozen white and yellow corn. I've also made this with canned corn. If you have the grill on for something else and some extra time, grill the corn and then carefully slice it off the cob when it's cool for this fantastic salad.
Cucumbers-we prefer English. I usually have English cucumbers on hand and make this easy picked cucumber salad almost every week. Thankfully I had some extra cucumber and it was cut is small chunks.
Tomatoes-cherry or plum. Typically we have plum tomatoes around. Sometimes I have a pint of cherry tomatoes. I just used my cherry tomatoes for another recipe, so the plum tomatoes were what went into the salad. Either way, you can't go wrong.
Fresh herbs-basil, mint and cilantro. This is pretty much the combo of herbs that I used for our watermelon salad. I had a container already chopped up and ready to use. It's such a fantastic combo of fresh herbs.
If you're not into cilantro (I know, so many people just despise it), feel free to leave it out. Also, if you don't have any mint (it's not something I always have on hand), leave it out and be sure to use at least the fresh basil.
IF you can do a combo of the mint and basil (leaving out cilantro for the cilantro haters), it will give it an extra fresh flavor.
Fresh lime juice and extra-virgin olive oil and shallots . This dressing is not really that hard to put together. The fresh lime juice is key here. There were shallots chopped and leftover from that watermelon salad I just mentioned. Otherwise, I would have used chopped scallions.
The dressing is a combo of fresh lime juice, extra-virgin olive oil, soy sauce, a little fresh chopped ginger and shallots. If you don't have ginger on hand, no worries.
It does add an extra bit of deliciousness to this really fun summer salad. The better the olive oil you have the better the overall flavor of the dish. I've seen this salad also with avocados. If you want to add some small pieces, that would also be delicious.
Can you prep this salad ahead of time?
Yes, you can! I suggest prepping it a few hours before. Since you can make this a little bit ahead of time, it's perfect to bring on a summer picnic or barbecue and goes perfectly with any grilled meats. Making it ahead of time also gives the flavors time to truly come together.
How to store leftovers?
Store any leftovers in an airtight container in the refrigerator for 1-2 days. Since it will have the dressing on it, it would be best to not keep it for more than 2 days.
Beautiful colors, fresh flavors. A summer salad that is vegan and gluten-free. This is a the perfect side dish or even a main dish. If you are craving protein in it, go ahead and add your favorite protein to make it the way you like it.
Some more summer salads:
This post contains affiliate links. As an Amazon Associate I earn from qualifying purchases. See my privacy policy for details.
Sweet Summer Corn and Cucumber Salad
This Sweet Summer Corn and Cucumber Salad is so easy to prepare and is the perfect summertime side dish. It is bursting with fresh flavor and ready in just about 15 minutes. This will be your new favorite summer salad.
Ingredients
1

15.25-ounce can whole kernel corn

well drained

1

cup

peeled and diced cucumber

I used English cucumbers

1

cup

cherry or grape tomatoes

halved

⅓

cup

chopped shallot

1

Tablespoon

extra virgin olive oil

1

Tablespoon

soy sauce

use tamari for gluten-free

1

Tablespoon

lime juice

1

teaspoon

fresh minced ginger

½

teaspoon

sea salt

more or less, to taste

¼

teaspoon

freshly cracked pepper

more or less, to taste

¼

cup

loosely packed chopped fresh cilantro

¼

cup

chopped fresh basil

1

Tablespoon

chopped fresh mint
Instructions
Combine all ingredients together in a medium bowl.

Check the flavoring and add more lime juice or salt and pepper if needed. You could also add a bit more fresh herbs if you feel it needs something more. Adjust the flavoring to your taste.

Cover and refrigerate for 15-20 minutes to allow flavors to mingle before serving. You could also serve immediately.
Nutrition Disclaimer
Please keep in mind that the nutritional information presented below is an approximation and may vary depending on the exact ingredients used.
Notes
All images and text ©Savoring Italy. Please do not use my images without prior permission. If using my posts in collections and features, please link back to this post for the recipe.