This Easy Sourdough Banana Bread recipe is an easy and delicious way to use up sourdough starter in a not too sweet banana bread. It is a light and fluffy quick-bread topped with cinnamon sugar, this just may be the most perfect breakfast idea!
We make a banana bread at least once a week here. Our banana bread passion goes way back. For example, this is the very first one shared here. I usually make two and end up giving one to my neighbor or to my brother's family.
It's a classic recipe and I use mom's recipe that she taught me some years ago. It actually was one of the first recipes I learned how to bake. It could all be mixed together by hand.
If you happen to have a sourdough starter and aren't sure what to make with the discard, this is the recipe! No more guilt every week when it's time to toss out the discard…you could make an easy banana bread.
There was a time when I had a sourdough starter in my fridge. I made a sourdough pizza and sourdough pie (so GOOD!). But of course, a hurricane happened and we lost power and I lost my starter.
My sweet husband brought me some of his sourdough starter from work a couple weeks ago and it has been sourdough everything here since then. Now to find the time to share all the recipes!
There is something so comforting and relaxing about the scent of a cinnamon-sugar topped quick bread baking in the oven. The best part is it makes the whole house smell divine and is so easy to put together.
This bread is not too sweet (you could even use less sugar if you prefer) and is a cross between a classic banana bread and a sourdough loaf. Most importantly, it is not too sweet and with just a touch of sourdough flavor.
A really great grab and go breakfast in the morning. Just slice up your loaf and wrap each slice in plastic wrap. So perfect for those busy school mornings.
Why this is the best sourdough banana bread recipe?
This recipe is the perfect combination of sweet and tangy.
It takes only 10 minutes to prep
Super moist and delicious, this sourdough banana bread is sure to be a hit with everyone.
The brown sugar creates a tasty caramel-like flavor
The texture of this bread is soft and fluffy, making it easy to slice and enjoy.
The added cinnamon-sugar topping makes it extra special!
What ingredients do you need to make this easy sourdough quick bread?
3 ripe bananas (will yield 1 cup mashed bananas about 3 small, 2 ½ medium or 2 large bananas)
1/4 cup vegetable oil
1/2 cup brown sugar
2 large eggs
1 teaspoon vanilla extract
3/4 cup sourdough starter stirred down
1/4 cup plain coconut yogurt you could use more unfed sourdough starter instead of the yogurt
2 cups all-purpose flour
1 teaspoon baking soda
1 teaspoon baking powder
1/2 teaspoon salt
1-2 Tbsp cinnamon-sugar for top
How to make this easy sourdough banana bread?
It all starts out with the bananas! First thing you have to do is make sure you have set aside some really ripe bananas. The more ripe, the more naturally sweet and moist your bread will be! Even if they seem they've gotten a little dark, don't throw them out! Use them for this recipe!
Secondly, gather the rest of your ingredients. It's classic banana bread ingredients, like flour, baking powder and soda, salt, sugar, oil (you could use vegetable or coconut oil), eggs (use flax eggs to make it vegan).
I used my sourdough starter (unfed...it's the portion I was discarding this week) and a little bit of coconut yogurt. You could use a dairy yogurt or more sourdough starter.
Here is my new love: my sourdough starter!
Once you stir together the dry ingredients and in another bowl stir together the wet ingredients, the final thing to do is combine them all together.
I like to use a spatula to make sure I'm folding it all together and getting all the ingredients from the side of the bowl. It is all mixed together by hand. If you prefer to use a mixer, you could do it all with your electric mixer.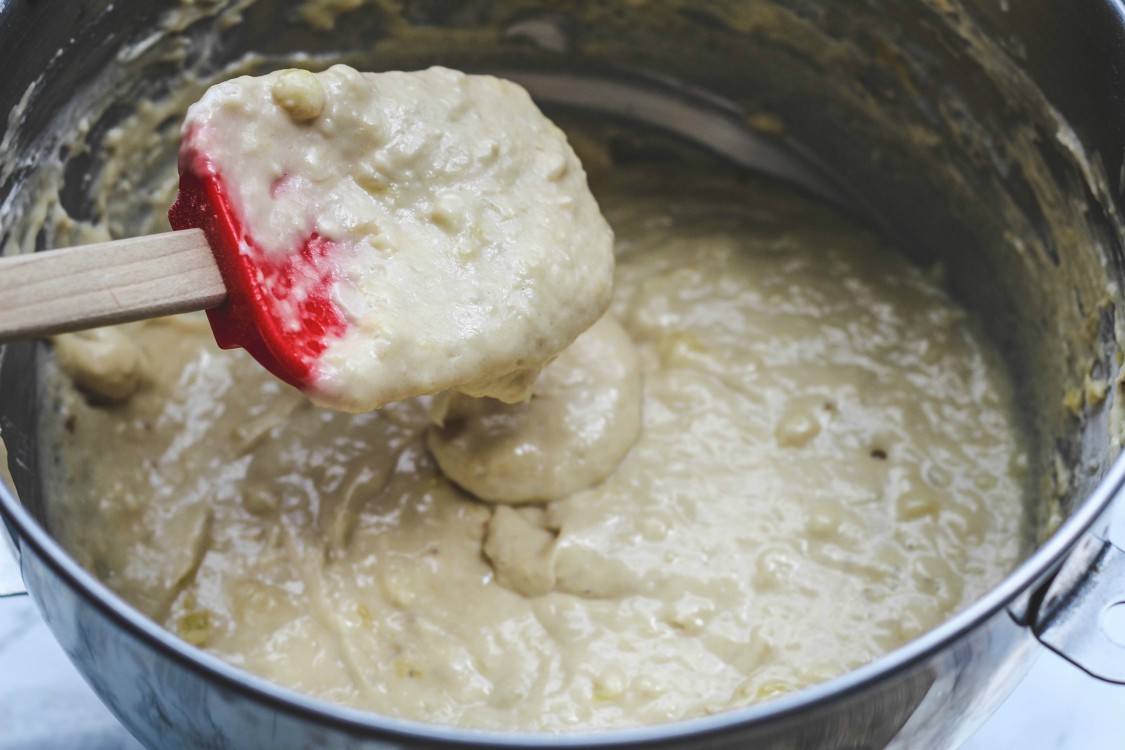 Can you make muffins with this banana bread recipe?
Yes! You could easily make this recipe into muffins! Simply prep your muffin pan with baking spray (or butter)and fill a tin 2/3 full. Bake for 15-20 minutes or until golden brown, or your tester comes out clean. The muffins do freeze great and the kids just love them!
Variations/substitutions
- You can substitute the vegetable oil for melted butter or coconut oil.
- To make this recipe vegan, you can use a flax egg instead of eggs.
- For a gluten free option, you can use an all purpose gluten free baking mix in place of the all purpose flour.
- If you don't have coconut yogurt, you can use plain Greek yogurt.
- You can omit the cinnamon-sugar topping if desired.
- To make a chocolate chip version, add 1/2 cup semi-sweet chocolate chips to the batter.
- Other mix ins could include chopped nuts, raisins or dried cranberries.
Expert Tips
Mash the bananas until they are smooth. If you have any lumps, they will be visible in the finished loaf.
For the best results, use dark brown sugar. This will give the warm molasses flavor to your banana bread.
Make sure to measure both the all-purpose flour and sourdough starter correctly. Too much or too little of either can cause your loaf to be dry or gummy.
If you want to make this recipe vegan, you can substitute the eggs for chia or flax eggs, and use a plant-based yogurt to replace the coconut yogurt.
Once your banana bread is finished baking, let it cool completely before slicing into it. This will ensure that it holds its shape and doesn't crumble as you slice into it.
What do you eat banana bread with?
Banana bread can be enjoyed on its own or paired with a variety of accompaniments.
Try slathering it with butter, cream cheese, nut butters, honey, or jam for a sweet treat.
You can also enjoy it savory-style by adding sliced deli meats and cheeses.
For breakfast or brunch, try topping your slices with poached eggs, crispy bacon and a sprinkle of feta cheese.
Banana bread also pairs well with yogurt or fruit salad for a healthier option.
How ripe should bananas be for banana bread?
For the best flavor and taste, seek out ripe bananas; they should have a soft texture and be mostly brown with very minor yellow tones still visible on their peel.
Is sourdough the healthiest bread?
Sourdough is undoubtedly one of the healthiest breads available. Not only does it contain more vitamins and minerals than conventional bread, but its lower phytic acid content also increases mineral absorbency for your body. This means that not only will you taste the difference with Sourdough, but your body will be getting a nutrient-rich dose every time!
Can I freeze overripe bananas?
Absolutely! You have the choice to preserve your bananas up to 3 months - whether you prefer them unpeeled or diced into bite-sized chunks. Simply place the whole fruit in an airtight container, or peel and chop them before placing them inside a zip-lock bag. Enjoy your creamy frozen treats knowing that they'll last long enough for every summer day!
Why is my sourdough banana bread lumpy?
You can try mixing it a little longer, but it's normal for the bread to be a little lumpy.
Is sourdough better or worse for you?
Sourdough bread is generally considered to be healthier than white bread since it has more vitamins and minerals, as well as a lower glycemic index. However, the health benefits depend on the ingredients used to make the sourdough bread. For example, if your sourdough contains refined sugar or unhealthy fats, then it may not be as healthy as other options.
Is sourdough healthier than yeast bread?
Sourdough bread is often considered healthier than yeast bread because it has a lower glycemic index, more vitamins and minerals, and fewer calories. Additionally, the fermentation process used to make sourdough can help pre-digest some of the starches in wheat flour, making them easier for your body to digest.
Pin for later!

If you've tried this Sourdough Banana Bread or any other recipe on Savoring Italy, please let me know your thoughts in the comments below. It makes my day hearing from my readers and I do respond to every comment!
More sourdough recipes:
Did you make this? Please RATE THE RECIPE below:)
Please Subscribe and give a follow on Instagram, Facebook, Pinterest, and TikTok xx
This post contains affiliate links. As an Amazon Associate I earn from qualifying purchases. See my privacy policy for details.
Sourdough Banana Bread
Sourdough Banana Bread recipe is an easy and delicious way to use up sourdough starter in a not too sweet banana bread. Topped with cinnamon sugar, this just may be the most perfect breakfast idea!
Ingredients
3

ripe bananas (will yield 1 cup mashed bananas about 3 small, 2 ½ medium or 2 large bananas)

1/4

cup

vegetable oil

1/2

cup

brown sugar

2

large

eggs

1

teaspoon

vanilla extract

3/4

cup

sourdough starter

stirred down

1/4

cup

plain coconut yogurt

you could use more unfed sourdough starter instead of the yogurt

2

cups

all-purpose flour

1

teaspoon

baking soda

1

teaspoon

baking powder

1/2

teaspoon

salt

1-2

Tbsp

cinnamon-sugar

for top
Instructions
Butter a 9x5 loaf pan. You could also line with parchment paper and spray with baking spray. Preheat the oven to 350 degrees.

In a large bowl, mash the bananas. Add in the oil, sugar, eggs, vanilla and stir together until combined. Fold in unfed sourdough starter (you are using the discard, the starter is not fed) and coconut milk yogurt (if you're using).

In a separate bowl, whisk together the flour, sea salt, baking soda and baking powder.

Add dry ingredients to wet and stir until combined.

Transfer batter into the loaf pan and sprinkle cinnamon sugar on top. Bake for 55-60 minutes, or until a tester inserted in middle comes out clean. Let cool in pan for 10 minutes and then gently remove onto a wire rack to thoroughly cool.
Nutrition Disclaimer
Please keep in mind that the nutritional information presented below is an approximation and may vary depending on the exact ingredients used.
Notes
All images and text ©Savoring Italy. Please do not use my images without prior permission. If using my posts in collections and features, please link back to this post for the recipe.
DID YOU MAKE THIS RECIPE?
Nutrition
Calories:
2183
kcal
|
Carbohydrates:
349
g
|
Protein:
43
g
|
Fat:
67
g
|
Saturated Fat:
12
g
|
Polyunsaturated Fat:
34
g
|
Monounsaturated Fat:
16
g
|
Trans Fat:
0.4
g
|
Cholesterol:
372
mg
|
Sodium:
2862
mg
|
Potassium:
559
mg
|
Fiber:
8
g
|
Sugar:
120
g
|
Vitamin A:
540
IU
|
Calcium:
421
mg
|
Iron:
15
mg