This Sourdough Discard Apple Galette is the perfect recipe to use up sourdough starter discard. A very slight tang in a super flaky crust that is bursting with apples. The perfect no-fuss dessert for the holidays!
And I know it would be really no-fuss by using a store bought pie crust. But you truly have to take a few minutes to try to make your own crust. Once you try, you will see this type of crust is not that difficult and worth the bit of effort! Another great fall pie is this Cranberry-Apple Pie (sweet and tart!). Or another no-fuss pie: Apple Pie with Oat Streusel (amazing topping!). Here is the last one I shared: Apple Galette with Sicilian Salted Caramel (that caramel!!!).
I just love a simple and no-fuss dessert like this Sourdough Apple Galette. A galette is simply a rustic pie (or tart). The beauty of it is that you can fill it with however you dream of. Since we are huge apple dessert fans and it is apple season, we went with apples for this galette!
Sourdough Discard Apple Galette
It only takes a few things to make a really great pie dough recipe– flour, salt, some sort of fat (butter, shortening, or a combination of both), water (in this recipe we use the sourdough discard in place of the water), and just a bit of sugar. There is some whole wheat pastry flour in the recipe. If you don't have any on hand, it will come out fine using all-purpose flour only. The whole wheat flour adds a distinct flavor and also there is a very slight tang from the sourdough…we all just LOVE this dough!
I just saw Alison Roman's New York Times deep dish homey apple galette...so this is very similar, but without the dish! I made this little beauty about 2 months ago...it's taken a while to get it all together just in time for Thanksgiving dessert ideas!
The whole thing comes together in your food processor or even by hand.
No pie plate required! You are simply forming it free-form on your baking tray! Super easy!
How Do You Make Galette AKA Pie Dough?
If making a pie totally from scratch intimidates you, let me introduce you to a no-fuss, no-fear galette (sometimes called a free-form crostata). So much simpler than making a pie and no crimping of the edges. Yes, you could even make a galette.
How to make galette dough? Here are the main steps:
In a food processor, pulse the flour and salt; gradually pulse the butter. (Alternatively, you can use a pastry cutter to mix by hand.)
Add the sourdough starter and pulse a few times until the dough comes together. The dough will be more clumpy than crumbly.
Divide the dough into two, wrap in plastic wrap or a sealed container, and chill for 30 minutes. Use the dough right away, or you can freeze it for later use.
Can I make this sourdough discard apple galette without a sourdough discard?
Yes, you can! You could use plain unsweetened yogurt containing active cultures in place of the sourdough starter to get that slight tang (and a bit of added moisture). You could also sub it for ice water.
The sourdough starter:
If getting rid of your sourdough starter discard every week makes you shed a tear (it makes me cry a bit to toss it out!), this is a recipe for you!! You will want your starter fed in the last week to give your pie dough that lovely sour tang. Here is the sourdough starter recipe we use.
Some other sourdough discard starter recipes we recently shared:
How Do You Make An Sourdough Discard Apple Galette AKA Apple Crostata– Step By Step
Prep your apple filling and set it aside while you roll out the dough.
To roll out the dough:
When ready to use, remove from the fridge. Let it rest a few minutes until it is ready to roll out.
Sprinkle a bit of flour under the dough and roll it out between two sheets of plastic wrap (or parchment paper).
Roll the disk out and turn it while rolling.
Sprinkle on more flour as needed as you keep rolling the crust to the right and the left until you get your dough circle. It should be about 10-inches round.
Place dough circle on your parchment lined baking sheet.
Here is the dough rolled out on parchment paper ready for the filling.
The apple filling has been waiting with the spices.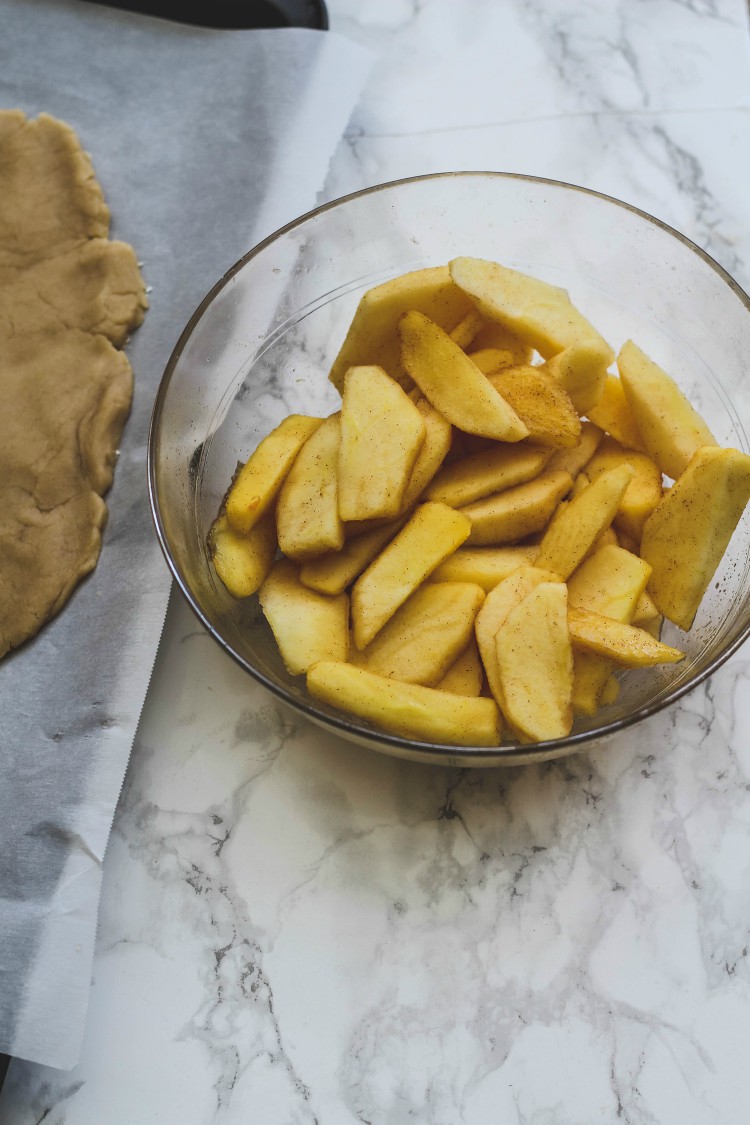 Then top the dough with your filling. Try to place the apples side by side (it's ok even to mound them up in the middle). Just be sure to leave space around the border like this...
Next, simply fold the crust by overlapping it over the filling. Once it is all folded over. Brush on the egg wash. The egg wash helps to brown the crust while it's baking. It's not the same without it.
After that, brush on the apricot jam on the apples and sprinkle on the turbinado sugar around the crust.
To freeze the dough (UP TO THREE MONTHS):
• Wrap the discs in plastic wrap and place in a zipped lock freezer bag. Make sure you press out all the air from the freezer bag. Date the bag and place it in the freezer for up to three months. When you're ready to use it, allow it to defrost in the fridge overnight.
Can You Freeze This Galette (crostata)?
Yes, this sourdough discard apple galette can be frozen unbaked or baked! Simply place the dessert on a cookie sheet on parchment paper, then freeze until solid.
Once it is frozen, completely wrap in plastic wrap and transfer it to a zipped freezer bag. If you froze it baked, allow it to thaw overnight, then re-heat in the oven until warm again!
If you froze it unbaked, just bake it frozen and you will need to add about 3-5 more minutes to the baking time.
Sourdough Pie Crust Notes
Allow your dough to chill and rest for about 30 minutes before you roll it out.
It begins with cold ingredients. Really important to make sure you have COLD ingredients. Some even swear by cold flour. The cold makes sure you get that nice and flaky crust. Cold ingredients stop the gluten from forming, which could make it chewy and not flaky.
If you have some experience in putting together a pie dough, you know to try to not over blend and that pieces of butter in the flour mixture is a good thing! Less handling of the dough is the best for flaky crust!
There should be some small and larger pieces of butter, which keeps the dough flaky.
After adding the starter the dough will come together differently than when using cold water. The texture will be more on the clumped side than crumby.
Use your hands to test dough and see if you need to add any ice water to the dough to bring it together. You could add a bit of ice water by the teaspoon.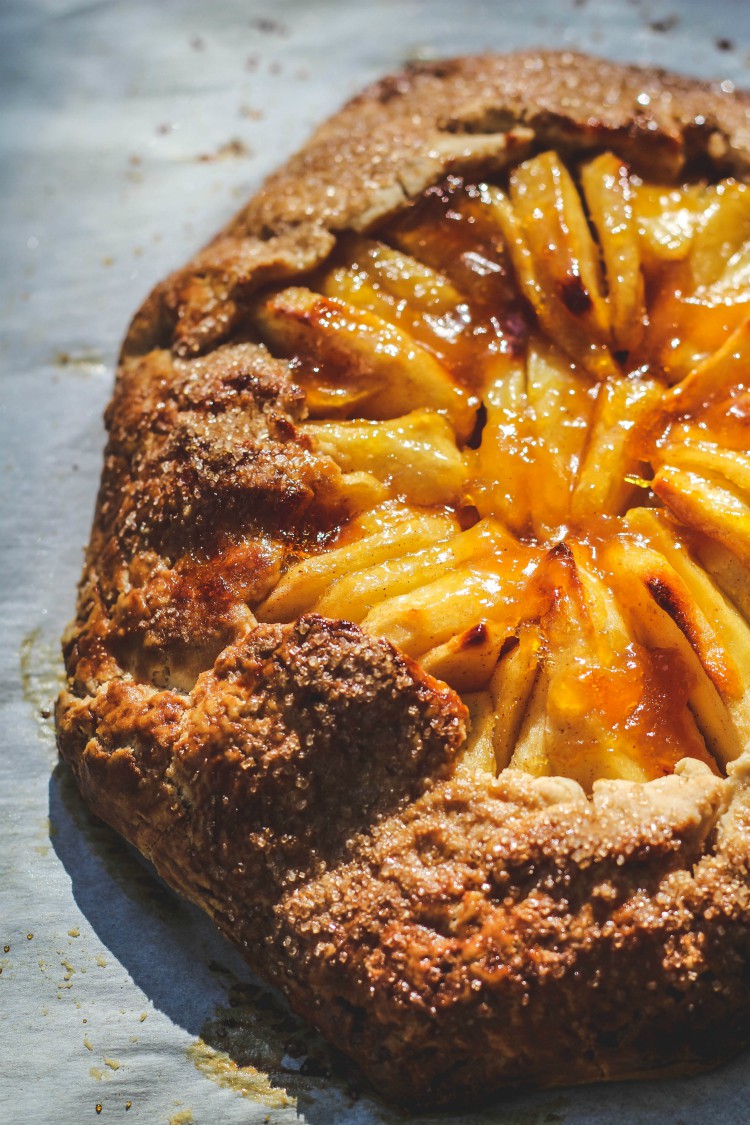 PIN For later!
This recipe helps take the fear out of baking a pie dough! I promise if you try this dough you will never be afraid to attempt a pie again! As I mentioned before, you could sub ice water for the sourdough starter or use the live culture yogurt if you want a little tang in the dough. What's great about this recipe is that after it has rested in the fridge, you just have to roll out your big circle of dough and and add your filling. My circle is never perfect and that is totally fine! Since you're folding over the edges, it is rustic and it is beautiful! A totally humble version of an apple pie that everyone adores!
I'm slightly obsessed with apple pies, there are so many more to share here with all of you...I will be back with a complete list in this post! But for now, enjoy this amazing apple galette! Don't fret if you do not have a sourdough starter on hand. You could totally use ice-water or yogurt with live cultures!!
Originally published November 19, 2019 and republished on September 18, 2021.
Sourdough Discard Apple Galette
This Sourdough Apple Galette is the perfect recipe to use up sourdough starter discard. A very slight tang in a super flaky crust that is bursting with apples. The perfect no-fuss dessert for the holidays!
Ingredients
FILLING

5

apples sliced 1/4 inch thick

peeled and cored

juice of 1 lemon

1/3

cup

of granulated sugar

1

teaspoon

cinnamon

DOUGH

1

cup

all-purpose flour

1

cup

whole wheat pastry flour

or use all-purpose

1

tsp

salt

1

tbsp.

sugar

3/4

cup

1 1/2 sticks unsalted Earth Balance vegan butter stick (or butter), cut into small cubes dice

3

Tbsp

chilled vegetable shortening

1/4

cup

liquid sourdough starter *chilled

or sub with iced water-depending on the consistency of your sourdough starter. Adjust according to it's texture.

EGG WASH

1

large egg

1

tablespoon

water

TOPPING

2

Tablespoons

apricot jam

2

tablespoons

turbinado sugar
Instructions
FILLING

Add the all apple filling ingredients to a small bowl; set aside.

DOUGH

Food Processor Method: Put flour, salt and sugar in bowl of machine. Pulse a couple of times. Add butter and vegetable shortening into flour. Process a few seconds until mixture resembles coarse meal.

The whole process takes 20 to 30 seconds. (I had originally added 1/4 cup sourdough starter. Check to see if dough is wet enough. If necessary, add 1-2 more tablespoons of starter (or ice water). When I put on my counter to pat into discs, I noticed it needed a little more sourdough starter and added about 1 to 2 more tbsp.

Pat the dough into two disk, wrap in plastic wrap, and keep in refrigerator for ant least a half an hour.

BAKE

Lightly flour a pastry board, marble counter, or kitchen counter. Roll one disc between parchment paper or plastic wrap (or 1/2 and 1/2 like I usually do). It should be about 1/4-inch thick about 15 inches round. Roll pastry in one direction only, turning pastry continually to prevent it from sticking to the surface.

When ready to bake, heat the oven to 350 F. I like to roll it out on parchment paper and then I just transfer the dough on top of the parchment paper to a baking tray. Or you could fold the dough into quarters, and then transfer to your baking sheet lined with parchment paper. If you folded the dough to transfer to baking tray, unfold the dough, and then add the apple mixture to the middle of the dough, leaving about 3 inches of dough around the apples. I try to line up the apples one next to the other. It really makes it so much prettier when it's baked. It's also fine to leave it in mound in the middle. Begin to fold over the dough toward the middle of the apples with loose pleats.

In a small bowl, whisk the egg with the water. Brush the dough border with the egg mixture. Carefully spoon on the sugar. If you get it all around the parchment paper, it will start to smell like burned sugar. Melt the jam in a small skillet and then brush it on the apples. You could also brush the jam on the apples after it's baked. Either way, it's fabulous!

Bake at 350F for about 30 minutes. You want your crust to be a nice, golden color. Not too brown and crunchy.
Nutrition Disclaimer
Please keep in mind that the nutritional information presented below is an approximation and may vary depending on the exact ingredients used.
Notes
The second dough disk could stay wrapped in the freezer for up to 3 months.
You could make a second galette for Thanksgiving with a different fruit filling.
All images and text ©Savoring Italy. Please do not use my images without prior permission. If using my posts in collections and features, please link back to this post for the recipe.
DID YOU MAKE THIS RECIPE?