This Vegan Peach Polenta Cake is a perfect combination of silky and sweet summer peaches on top of a not too sweet and tender cake. A perfect dessert to enjoy at a weekend brunch or even for breakfast!
Why you'll love this vegan peach cake
Very easy to put together: If you're searching for a soft and delicious dairy-free cake, try this one out! It's been baked for quite a few parties at the last minute.
Everyone always loves it: Even the non-vegans love this cake and it goes great with a scoop of ice-cream (dairy-free for the vegans).
Switch out the fruit: The cake recipe is versatile. If you're ready for fall baking, switch the peaches for apples!
It seems I've been experimenting with vegan upside-down cakes here for quite a while. This vegan upside-down fig cake was maybe my first upside-down cake.
Since that cake, there were quite a few upside-down cakes baked! When one of your kids has a dairy intolerance you have to experiment with different non-dairy milks. My other kid is always the first to notice when it's vegan margarine and not butter, but this cake was one that he approved of. I already shared the dairy and egg version of this cake.
If you're already onto fall recipes, you have to try the apple version of this cake (just sub peaches with apples to make it vegan like this one). But to stick with totally vegan inspiration, you have to try this pineapple upside-down cake. The batter is made without cornmeal.
I even made it in Italy for my in-laws and it was loved by all. There is nothing like having your uncle arrive from Verona with 40 lbs of fresh peaches from his brother-in-law's peach farm. Things like that only happen to us when we are in Italy. There were peaches in every bowl and on the balcony in cases.
My mother-in-law had my father-in-law whisk a case or two down to the cantina. My sister-in-law brought a huge bag to her house one Sunday when they were visiting. Peaches were incorporated in our lunch every day. But as it is in Italy, it was mostly enjoyed after lunch in their natural, sweet state.
What ingredients are in peach polenta cake? (full printable recipe is below)
oat milk or whatever milk you prefer
apple cider vinegar
unsalted margarine melted (I used Earth Balance vegan sticks)
granulated sugar (make sure it's vegan if you're vegan)
peaches
coarse yellow cornmeal or polenta
baking soda
apple sauce
How do you make vegan peach polenta cake?
The first thing to do is brush the melted margarine around the bottom and sides of your cake pan. Place the peaches all around the pan. I wish I had more peaches for the cake. It seems they were irresistible and they kept disappearing before I could put this cake together!
The peaches will shrink when baking, so go ahead and add more even if it seems like you've got too many. Just squish them together around the bottom of the pan.
Next prep the wet ingredients in one bowl and the dry in the other.
When you're finished combining the dry ingredients, add them to the wet ingredients. Spoon on top of the peaches and use an offset spatula to smooth it all out. Place it in the oven and then the magic happens. All those juicy peaches bake into the sugar and the margarine and create the most perfect peach delight.
The cake batter has a slight crunch from the polenta. I just love baking with cornmeal. It truly is a cake that you could make with or without your mixer. I often make it mixing by hand.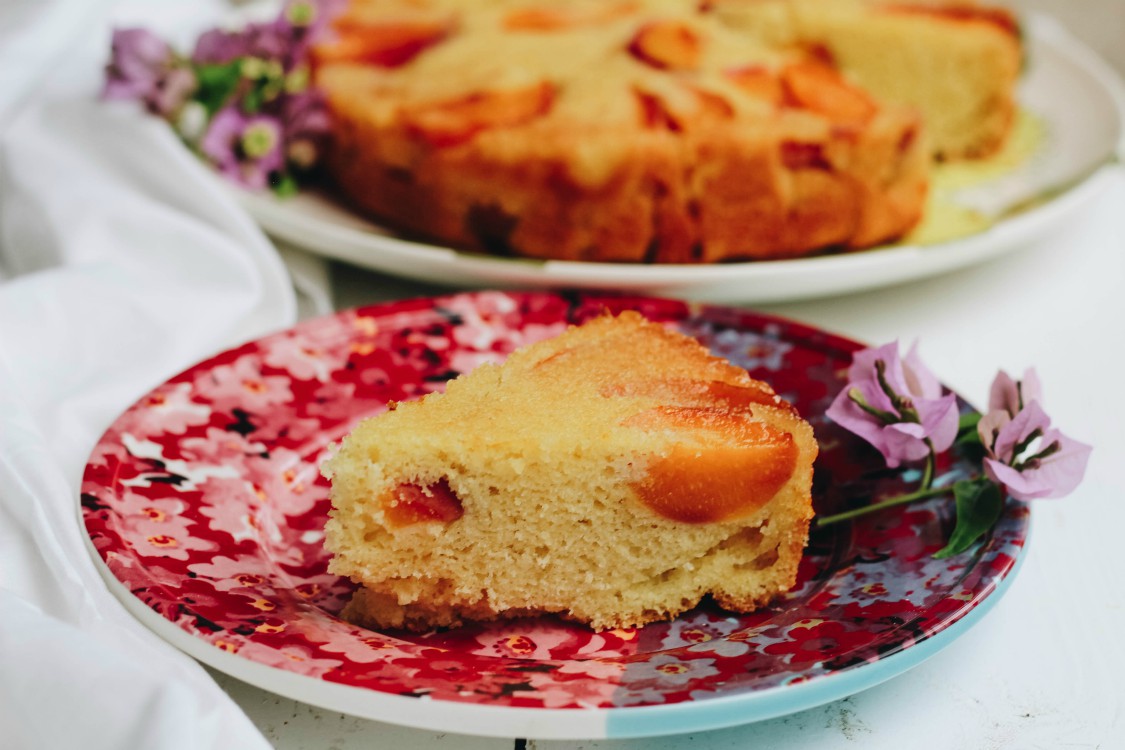 Can this cake be made gluten-free?
Yes, go ahead and substitute the all-purpose flour with your favorite gluten-free 1-1 baking flour.
Can I bake this cake with dairy milk?
Yes, if you're not dairy-free (or vegan), use your favorite milk (full or low fat is fine).
What other fruits could be used in a polenta cake?
You could use apples or even berries. Blackberries or blueberries would be delicious.
Can I substitute polenta for cornmeal in a recipe?
Polenta and cornmeal are very similar, so it is a perfect substitute. Polenta is has a finer texture, and like cornmeal, it is made out of corn. If you can't find polenta, use cornmeal for this cake.
Tips to make the best peach polenta cake
Make sure to use ripe peaches to bring out their natural sweetness and flavor.
Keep the skins on the peaches as they will add a nice texture to the cornbread.
Use coarse yellow cornmeal or polenta instead of finely ground cornmeal for a more rustic texture.
To make sure the cake stays soft, do not overmix the batter.
Preheat your oven before baking and put the baking dish on the middle rack for even cooking.
Let the cake cool for a few minutes before slicing and serving.
Variations for this peach dairy-free cake
Instead of peaches, try using other fruits like berries, apples, or pears.
For a gluten-free version, use a gluten-free flour blend instead of all-purpose flour.
Swap out the margarine for coconut oil or vegan butter.
Substitute the vegan sugar with agave nectar or maple syrup.
Add in some chopped nuts, like almonds or pecans, to add a crunch to the cornbread.
How to store this vegan peach cake?
Store any leftovers of the cake in an airtight container. Keep it in the fridge for up to 3 days.
Can I freeze this cake?
Since it has fruit in it, I do not recommend freezing this cake.
Some other cake recipes to enjoy:
Did you make this? Please RATE THE RECIPE below:)
Please Subscribe and give a follow on Instagram, Facebook, Pinterest, and TikTok xx
This post contains affiliate links. As an Amazon Associate I earn from qualifying purchases. See my privacy policy for details.
Vegan Peach Polenta Cake
This Vegan Peach Polenta Cake is a perfect combination of silky and sweet summer peaches on top of a not too sweet and tender cake. A perfect dessert to enjoy on a weekend brunch or even for breakfast!
Ingredients
½

cup

oat milk

or whatever milk you prefer

1

teaspoon

apple cider vinegar

11

Tablespoons

unsalted margarine

melted (I used Earth Balance vegan sticks)

¾

cup

vegan sugar

3

medium ripe peaches

about 1 1/4 pounds, skins on, pitted, and cut into 3/4-inch wedges

1

cup

coarse yellow cornmeal or polenta

¾

cup

all-purpose flour

1

teaspoon

baking powder

½

teaspoon

baking soda

¼

teaspoon

sea salt

¼

cup

apple sauce

½

teaspoon

pure vanilla extract
Instructions
Preheat oven to 350 degrees. In a small bowl add the apple cider vinegar into the oat milk (or your choice of nut milk)and set aside.

Add 3 tablespoons vegan margarine to a 9-inch round springform pan. Use a pastry brush to brush coat the sides and bottom of pan with the margarine. Sprinkle 1/4 cup of the sugar on top.

Arrange peaches in a circle at edge of skillet, on top of sugar. Arrange the remaining wedges in the center to fill; set aside.

Whisk cornmeal, flour, baking powder, baking soda, and and salt in a medium bowl.

Beat remaining margarine and 3/4 cup sugar with a mixer on high speed, until pale and fluffy, about 3 minutes. Reduce speed to medium. Add apple sauce and vanilla and mix on low. Add in the oat milk. Beat in cornmeal mixture in 2 additions.

Drop large spoonfuls of batter over peaches, and spread evenly using an offset spatula. Bake until golden brown and a tester inserted in the center comes out clean, 25-30 minutes.

Transfer skillet to a wire rack, and let stand for 10 minutes. Run a knife or spatula around edge of cake. Quickly invert cake onto a cutting board or your cake plate.

Tap bottom of pan to release peaches, and carefully remove skillet. In case you lose some peaches, you can reposition peach slices on top of cake. We like it best when it's warm and even better with a scoop of dairy-free vanilla ice-cream.
Nutrition Disclaimer
Please keep in mind that the nutritional information presented below is an approximation and may vary depending on the exact ingredients used.
Nutrition
Calories:
55
kcal
|
Carbohydrates:
11
g
|
Protein:
1
g
|
Fat:
0.3
g
|
Saturated Fat:
0.02
g
|
Polyunsaturated Fat:
0.1
g
|
Monounsaturated Fat:
0.01
g
|
Sodium:
202
mg
|
Potassium:
27
mg
|
Fiber:
1
g
|
Sugar:
2
g
|
Vitamin A:
33
IU
|
Vitamin C:
0.1
mg
|
Calcium:
53
mg
|
Iron:
1
mg