Slow-Roasted Turkey Wings are succulent and just fall off the bone. Try to eat just one of these wings bathed in a sweet and tart homemade cranberry sauce! An easy fall weeknight dinner idea everyone loves!
This recipe is so easy to put together, you don't have to make it just for Thanksgiving! You could make it any time you are craving delicious turkey!
Turkey wings (and thighs) are my favorite part of the turkey (yes, more than the white meat)and it costs way less than making a whole turkey. And honestly, is so much easier to make than a whole turkey.
Some things to consider if you were thinking of not cooking a turkey this Thanksgiving. I know, making a Thanksgiving feast is lot of work!
Looking for what to make with all your turkey leftovers? Try this turkey pot pie.
Originally posted November 2015 and updated for content on October 2022. SO did you know that Thanksgiving is around the corner? Less than a month away!!
I know, seriously, where did the time go? I am sharing this super easy recipe for slow-roasted turkey wings!
As I mentioned, super simple to make and you could use all wings or like I did, wings and thighs. You may be wondering why the turkey has this lovely pink color...it's from cranberries!
Yes, I made a quick sauce using one of my favorite cranberry sauce recipes and pureed it to smear on top while it's baking the last minutes.
Jump To
Why You'll Love This Recipe
Flavorful & Hearty: These crispy baked turkey wings are slow-roasted until they're tender, then slathered with homemade cranberry sauce for a meal that's both flavorful and hearty.
Simple & Easy: Despite its gourmet taste, this recipe is easy to follow with straightforward instructions and common ingredients. Perfect for a weeknight dinner!
Versatile: This dish can be served as a main course for a fancy dinner party or as a comforting family meal. It's versatile and adaptable to various occasions.
Nutrient-Rich: Turkey is a great source of lean protein, and cranberries are packed with antioxidants. This recipe isn't just delicious—it's nutritious too.
Crowd-Pleaser: With its sweet and tart flavors combined with the succulent turkey, this is a crowd-pleasing dish that will have everyone asking for seconds.
What ingredients are in this turkey wing recipe?
Here is all you need to get this recipe going:
Ingredients for Turkey Wings:
12 turkey wing flats: the main protein of the dish
¼ cup oil: for cooking the turkey wings (I used extra-virgin olive oil, but use whatever you prefer)
2 Tbsp. fresh thyme leaves: for flavoring
2 ½ tsp. sea salt: for seasoning
½ tsp. ground black pepper: for seasoning
1 cup unsalted broth: to keep the turkey moist during cooking
Ingredients for Cranberry Sauce:
16 ounces of fresh cranberries: base of the sauce
1 ½ cup of sugar: to sweeten the sauce
1 cup water: to help create the right consistency for the sauce
One navel orange: for a citrusy flavor
1 sliver of fresh ginger (optional): for a hint of spiciness
Variations and Substitutions:
Herbs: Feel free to experiment with different herbs. Rosemary or oregano can be an excellent substitute for thyme.
Protein: If turkey isn't your preference, chicken wings could also work well with this recipe. The cooking time may need to be adjusted as chicken wings are usually smaller than turkey wings.
Oil: Canola or sunflower oil can replace olive oil without affecting the overall taste.
Cranberry Sauce: If fresh cranberries aren't available, canned cranberry sauce could be used. Be mindful that canned sauces usually contain more sugar.
Sweeteners: For a healthier alternative, honey or maple syrup can be used instead of sugar in the cranberry sauce.
How to cook turkey wings?
Here is what you need to do (full printable recipe is below)
Gather up all your ingredients. Cut the tips off of the wings and reserve them. You could make a turkey stock with them (recipe coming up!).
Heat the oven and place the wings on a foil lined baking tray. Toss the wings in the olive oil, fresh herbs, and seasonings. Pour the broth over the wings. Cover with another sheet of foil paper.
Slow roast on 275F for 2.5-3 hours.
When they're ready, they'll be golden and the skin will be crispy.
If you're using the cranberry sauce glaze, you could make that while the turkey wings are cooking. It takes only 20 minutes to make.
Brush the cranberry sauce on the wings during the last 6-8 minutes of cooking. It won't take long to get a gorgeous glaze and crispy wings.
It thickens up so nicely and it becomes this stunning color. The turkey skin gets so crispy and it smells incredible!
These wings are so flavorful. Super tender and simply irresistible!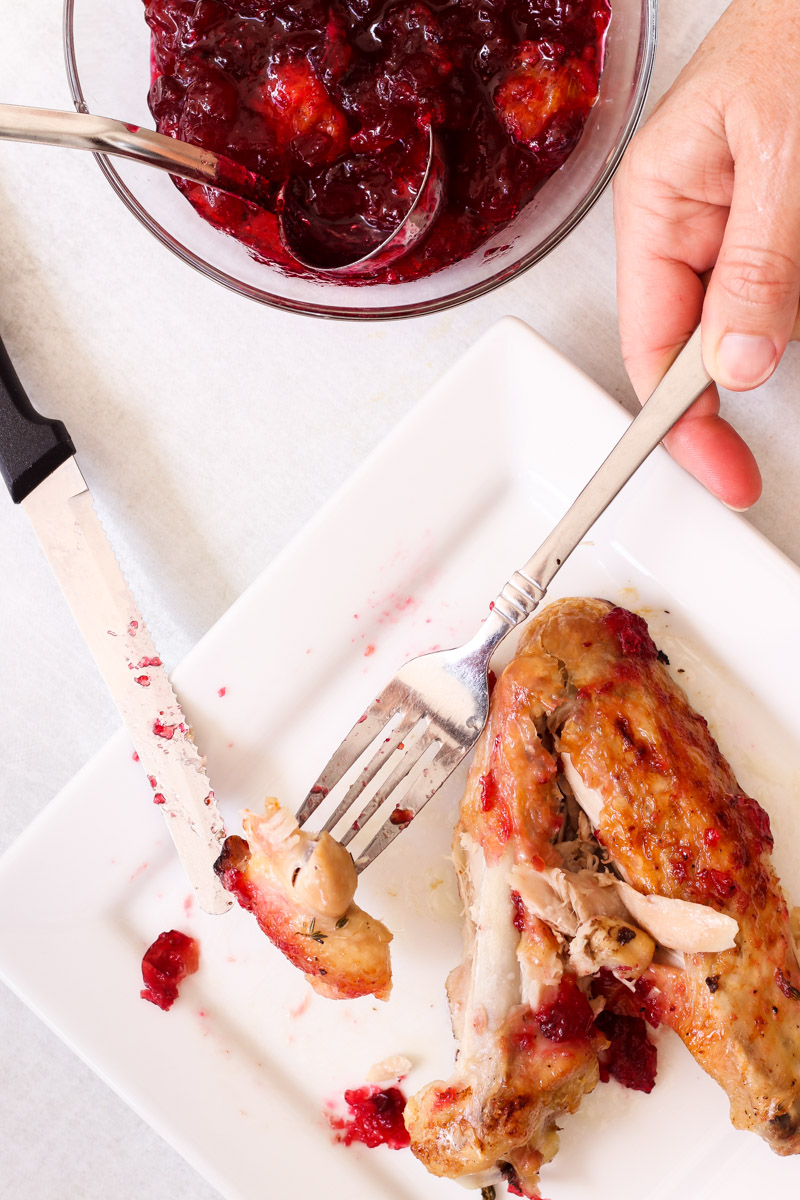 FAQ'S
What should the internal temperature of a turkey wing be?
Insert a meat thermometer into the thickest portion of the wing. It should be 165 degrees Fahrenheit.
Can I make this recipe with turkey legs or thighs?
Yes, sometimes it may not be easy to find turkey wings. If you find turkey thighs or legs, go ahead and use that instead.
Do you cook the turkey wings whole or halved?
Depending on the size of your baking pan or casserole, you could decide if you want them whole or halved. It may fit better in your cooking dish if you cut them, so it's up to you. I used a large roasting pan.
How do I get crispy turkey wings?
In order to get crispy wings, turn it to broil on low for the last few minutes of cooking time. Just be sure to keep an eye on the wings. Rotate the wings until they are crispy.
Can I make this with canned cranberry sauce?
Yes, if you don't have fresh cranberries on hand, you could use a can of cranberry sauce.
Use 1 (14-ounce) can whole cranberry sauce. In a small pot, stir together the cranberry sauce and a few tablespoons of water. Bring to a boil. Reduce heat to medium-low and simmer until thickened, about 10-15 minutes.
How do you put wings when roasting turkey?
When preparing to roast a turkey, the wings should be tucked under the bird. This prevents the wingtips from burning and also helps to stabilize the turkey while it's roasting.
How do you tuck turkey wings under for roasting?
To tuck the wings, hold the turkey upright, with the opening of the cavity at the bottom. Reach down into the cavity and pull each wing out towards you, then fold it underneath the bird, tucking the wing tips in at the back. This will help to prevent the wings from burning and ensure even roasting.
Why is the skin on my turkey wings tough?
The skin on turkey wings can become tough if they are cooked at a temperature that is too low or for an extended period. To prevent this, ensure that your oven is preheated to the correct temperature before placing the turkey in the oven, and follow the recommended cooking time for the size and weight of your turkey. Additionally, basting the turkey wings with a little oil or butter during cooking can help to keep the skin moist and tender.
What do Italians eat on Thanksgiving
I miss my dad since he was quite the Sicilian chef and such a big part of every holiday meal. He was in charge of all of the Thanksgivings until he got sick. His turkey was unbeatable!
It always had a little touch of something from his garden. My mom also makes the world's best turkey, but hers was always a little different than dad's.
Both delicious in their own way. Then there was our neighbor Eric's turkey. I truly miss my neighbors! They recently moved to Boston and this will be the first Thanksgiving in many years where we won't be celebrating with them.
Being at their parties reminded me of my Italian family parties as a little girl here in the States. The meal usually started with a simple broth and maybe pastina. Yes, Italians may have some soup before the turkey.
After that, out came the antipasto dishes: different cold cuts (these days, it is usually some of my Calabrian mother-in-law's salami, capicolla or both, some different cheeses, bread.
We are snacking on all of this while the turkey is roasting away. There are side dishes already made and just heating up. After finishing up the antipasti, it is time to slice the lasagna and you better leave room for the Turkey!
At this point, does it matter that there is turkey? Of course! The best part of making the turkey meal is the leftovers the next day. Some people don't like leftovers, but I sure do!
In my family, there was enough food for days after the holiday and this is even after sharing with neighbors or some of the guests. I know, Italians always make sure there is enough food at any celebration!
What fresh herbs go best with turkey?
In this roasted turkey wing recipe, we used fresh thyme.
The other herbs you could use are:
You could even do a combo of all of them and it would be delicious!
Looking for what to make with all your turkey leftovers? Try this turkey pot pie.
How long is leftover turkey good in fridge?
Once the turkey wings cool down, store the turkey in an airtight container. It should be eaten within 4 days.
Can you freeze leftover cooked turkey wings?
I would remove the turkey from the bones and store in an airtight zipped lock freezer bag. Be sure to store properly, getting all the air out of the bag. Date the bag. If Freeze for up to 3 months.
Some other turkey recipes to enjoy:
This post contains affiliate links. As an Amazon Associate I earn from qualifying purchases. See my privacy policy for details.
Slow-Roasted Turkey Wings
Slow-Roasted Turkey Wings are are succulent and just fall off the bone. Try to eat just one of these wings bathed in a sweet and tart homemade cranberry sauce! An easy weeknight dinner idea everyone loves!
Ingredients
12

turkey wing flats

wing tips removed (about 1/2 pound each, or wings and thighs)

¼

cup

oil

(I used extra-virgin olive oil, use whatever oil you like)

2

Tbsp.

fresh thyme leaves

chopped (or fresh sage)

2 ½

tsp.

sea salt

½

tsp.

ground black pepper

1

cup

unsalted broth

vegetable or chicken

CRANBERRY SAUCE

16

ounces

of fresh cranberries

2 cups

1 ½

cup

of sugar

1

cup

water

one navel orange

add the juice of 1/2 and cut the other 1/2 in chunks and add to the cranberry mixture in the pan

1

sliver of fresh ginger (optional)

about the size of a garlic clove, peeled
Instructions
TURKEY WINGS

Preheat oven to 275F. Using paper towels, pat wings dry and transfer to a large bowl. Toss with oil, thyme, salt and pepper, and transfer to a large roasting pan. Pour broth into pan and cover snugly with foil.

Roast until meat is very tender, about 2 1/2-3 hours.

CRANBERRY SAUCE

In a medium sized bowl, rinse the cranberries with cool water, and remove any stems or blemished berries. Drain the cranberries in a colander.

Heat water and sugar to boiling in 3-quart saucepan over medium heat, stirring occasionally until the sugar dissolves.

Continue boiling 5 minutes longer, stirring occasionally.

Stir in cranberries. Add in the orange juice, chunks and ginger. Heat to boiling over medium heat, stirring occasionally. Continue boiling about 5 minutes longer, stirring occasionally, until cranberries begin to pop.

Simmer for about 20 minutes. Don't worry if every single cranberry does not completely pop.

When the sauce is cooked, spoon out the orange pieces and the ginger sliver. With a potato masher, you could mash the sauce. Add a little bit of water to thin it out a little (it thickens up while it's cooking).

FOR THE GLAZE AND CRISPY WINGS

Remove pan from oven and preheat broiler. Use tongs to arrange the wings in a single layer in your pan. Spread the cranberry sauce on the wings. Put the pan back in the oven.

Keep on eye on it so it doesn't get too brown. (Depending on size of broiler and baking sheet, work in batches if needed.)

Broil on low watching closely, until crisp with bits of char, 6 to 8 minutes.
Nutrition Disclaimer
Please keep in mind that the nutritional information presented below is an approximation and may vary depending on the exact ingredients used.
Nutrition
Serving:
12
g
|
Calories:
44
kcal
|
Carbohydrates:
1
g
|
Protein:
0.2
g
|
Fat:
5
g
|
Saturated Fat:
0.4
g
|
Polyunsaturated Fat:
1
g
|
Monounsaturated Fat:
3
g
|
Trans Fat:
0.02
g
|
Sodium:
399
mg
|
Potassium:
18
mg
|
Fiber:
0.4
g
|
Sugar:
0.002
g
|
Vitamin A:
118
IU
|
Vitamin C:
4
mg
|
Calcium:
12
mg
|
Iron:
0.5
mg