This Easy Baked Salmon with extra-virgin olive oil, lemon, and fresh dill is one of the easiest recipes for baking it in the oven! Salmon filets are placed in a baking dish, coated with an olive oil sauce made fresh with dill, and topped with lemon slices. In just 10 minutes it's baked to flaky perfection.
You can make this recipe in 15 minutes or less, and it is low-carb, keto-, Whole30-, and Paleo-friendly! This simple and delicious salmon recipe is sure to be a hit!
The combination of the baked salmon with lemon and dill is so fresh and the flavors go so nicely together.
It's hard to believe that something so easy to make is simply packed with flavor.
We make salmon at least once a week and this lemon-dill version of one of my favorite ways to serve it. I'm super excited to share it here and it is one of the easiest things that I make on a rotation.
I know, I know...it sounds like i'm gushing over this salmon. It's truly one of my absolute favorite salmon recipes. I think it will become one of yours, too!
What ingredients are in this baked salmon in foil recipe?
The flavors in this salmon recipe are truly delicious! For this recipe you'll need:
salmon
lemon
fresh dill
coconut aminos (optional)
sweet paprika
Let's go over the baked salmon ingredients
Salmon – when buying the salmon, be sure it is pink and also, has a fresh smell (if it's stinky, do not buy it!). You could also get vacuum sealed frozen fillets of salmon.
Olive Oil – I always cook with a very nice quality extra-virgin olive oil. Use whatever oil you enjoy.
Salt – I used sea salt. You could use Kosher salt or Himalayan pink salt.
Cracked Black Pepper – Use the amount you like to taste. Freshly ground is always stronger.
Paprika- My mom always adds sweet paprika to any fish. Use smoked, if you prefer (or omit if you don't have on hand).
Fresh dill – I love fresh dill with salmon. Use whatever fresh herbs you like.
Lemon – I had two medium lemons and used the juice of one and sliced the other to cook on top of the fish and to serve.
Coconut Aminos- You could omit if you don't have on hand. Or use soy sauce or tamari if you're gluten-free.
How to make the easiest baked salmon?
Here's the directions to bake salmon (full recipe is below)
First thing is to gather your ingredients.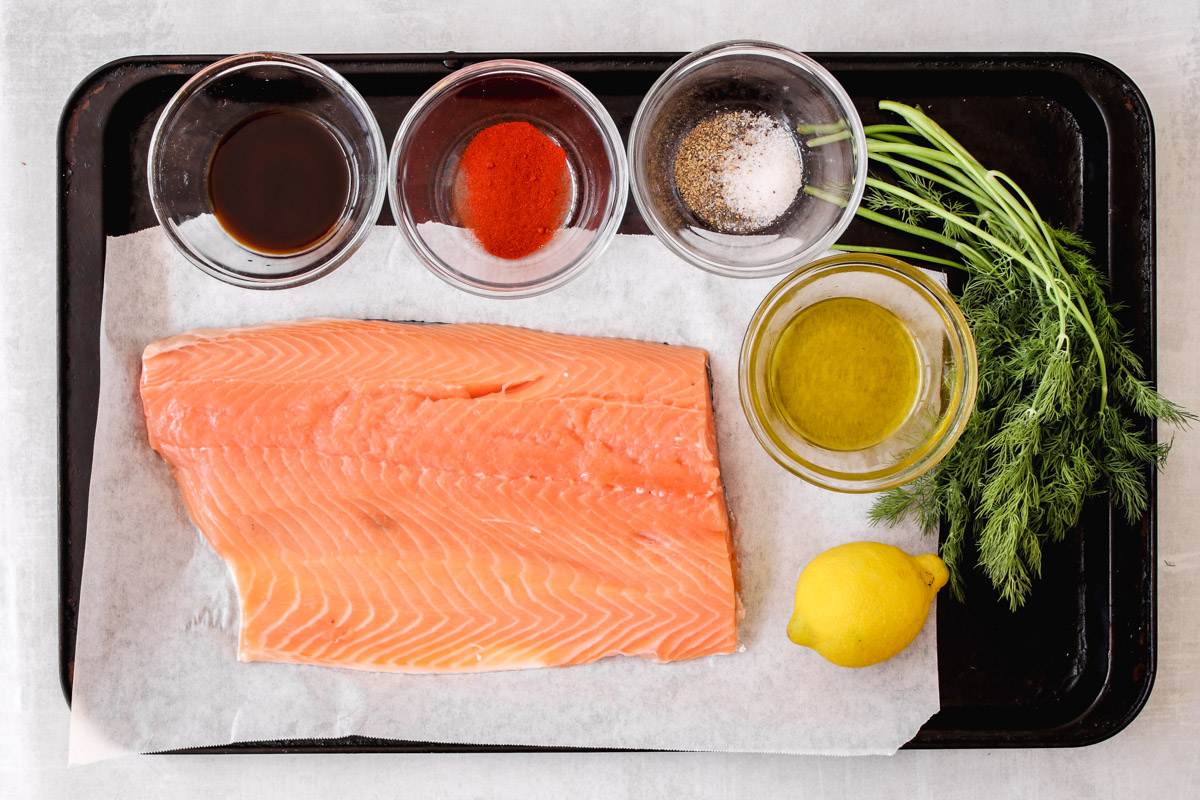 Combine the olive oil mixture and rub it on the salmon. Squeeze on some fresh lemon juice.
Lift the edges of the foil paper so the olive oil mixture will stay around the fish.
Place the baking sheet in the oven and bake 10-12 minutes on 425F (see notes on internal cooking temperature).
Do I need to remove the salmon skin before baking?
There's no need to remove the skin from salmon before baking it. The skin will peel off the salmon filets much easier after baking it in the oven.
Which type of salmon is the best quality?
Though wild salmon is the healthier choice, fresh salmon will always taste better. The best time to find wild and fresh salmon is during its peak season.
What are the different types of salmon?
In the States, you'll come across 5 types of salmon. The five main types all are in the Pacific. And depending on which season, some are fresh, some are saltwater, some live in both.
Pink salmon - is a smaller and pale type of salmon. Used mostly for canned salmon.
Chum salmon - is a salmon type popular for its eggs (or roe)and they are the eggs in sushi rolls.
Coho salmon - is usually a larger salmon and has a milder taste.
Sockeye salmon - is a flavorful and popular type of salmon that is red-colored. It's also a lower-fat salmon.
King or Chinook salmon - is a more expensive salmon that's used in nice restaurants and it is very high in fat. It is absolutely delicious and you'll notice the difference in the flakiness of the fish (and the flavor!).
When is salmon in season?
Salmon is usually in season from early May until late September, with the best months being June to August.
How do I know when my salmon is cooked?
When the salmon reaches an internal temperature of 145°F in the thickest portion, it is ready. It should also flake easily when touched with a fork.
What is best temperature to cook salmon?
My mom always cooks the salmon on 425°F for 10 minutes. So that's how I cook it! If it's a very thick salmon, it may need an extra minute. I like my salmon a little undercooked.
But for the kids, I always cook it more towards medium-well. For myself, I don't like overcooked salmon, as it gets very dry quickly.
Can this baked salmon recipe be prepped ahead?
Yes, you could make the olive oil mixture the night before. Place the salmon in a baking dish and wrap it tightly with plastic wrap. Slice up the lemons. Store in the refrigerator up to 24 hours before cooking.
The next day, add on the olive oil mixture and seasoning. Place on the lemon slices until just before baking.
How to store leftovers?
Once the salmon has cooled down, place it in an airtight container in the refrigerator for up to 3 days.
Can you freeze leftover salmon?
Yes, you can freeze leftover cooked salmon. The USDA says it can stay frozen for up to 3 months.
Cut the fish into serving sizes using a sharp knife.
Wrap the fish first in some parchment paper (this keeps it from sticking to the bag)and then place in a zipped lock freezer storage bag.
Squeeze out all the air from the bag before sealing it.
Label and date the bag.
Store it flat in the freezer and be sure to not put heavy things on the fish before it freezes (or it will get squished).
What to do with leftover cooked salmon?
Here are some quick and tasty ways to use up any leftover cooked salmon you have on hand.
1. Make a salmon salad – A fast and delicious way to use up leftover salmon is to add it to some greens. You could add whatever you have on hand to the salad, like fruits (I like to add dried cranberries and pumpkin seeds). Use whatever is your favorite salad dressing.
2. Make a salmon sandwich – You could make a salmon sandwich. Add it to your favorite sliced bread. Spread some mayo, lettuce, tomato (or whatever toppings you want to add on).
3. Make pasta - My mother-in-law makes the best spaghettata with leftover salmon. It's just a simple tomato sauce and she breaks up the cooked salmon and adds it to the sauce and serves with spaghetti.
4. Make salmon cakes - Whenever there is leftover cooked salmon, my mom makes salmon cakes. She mixes the leftover salmon with eggs, breadcrumbs, and some seasoning to make patties.
Fry up the salmon cakes in a skillet and you could serve with a homemade dipping sauce. I like it with a spicy dipping sauce.
These were 4 creative ways to use up that cooked salmon. Hope you try one of them and enjoy it!
What should you serve with your salmon?
I served this salmon with Caramelized Coconut Green Beans, Easy Pickled Cucumbers, or Easy Mediterranean Chopped Salad.
Some other easy recipes to try:
Did you make this? Please RATE THE RECIPE below:)
Please Subscribe and give a follow on Instagram, Facebook, Pinterest, and TikTok xx
This post contains affiliate links. As an Amazon Associate I earn from qualifying purchases. See my privacy policy for details.
This post contains affiliate links. As an Amazon Associate I earn from qualifying purchases. See my privacy policy for details.
Easy Baked Salmon
This Easy Baked Salmon with extra-virgin olive oil, lemon, and fresh dill is one of the easiest recipes for baking it in the oven! Salmon is cooked coated with an olive oil sauce made fresh with dill, and topped with lemon slices. It bakes up to flaky perfection.
Ingredients
1

2-pound whole salmon fillet skin-on preferred

2

Tablespoons

extra-virgin olive oil

1-2

Tablesoons coconut aminos

or soy sauce or Tamari

2

handfuls fresh dill

(chopped)

1-2

teaspoons

sea salt

freshly ground pepper

to taste

1

teaspoon

sweet paprika

2

lemons

you'll use the juice of one lemon and slice the other for cooking and for serving
Instructions
Preheat oven to 425ºF

Place a large piece of foil (or parchment paper)on a rimmed baking sheet. Crimp edges of foil around salmon to make a little "boat".

Spray with nonstick spray (or rub some olive oil on the foil or parchment paper).

Place salmon fillet on top (skin side down, pink side up).

Crimp edges of foil up to hold the olive oil mixture.

In a small bowl, combine the olive oil, fresh dill, salt, pepper, and coconut aminos. Spoon it over the salmon. Squeeze on some fresh lemon juice and sprinkle on some paprika.

Thinly slice remaining lemon and place on top of the salmon.

Bake for 10-12 minutes, depending on preferred doneness (see notes for internal temperatures). The internal temperature should be 145°F in the thickest portion. It should also flake easily when touched with a fork.

Remove the tray from oven and serve the salmon with lemon slices.
Nutrition Disclaimer
Please keep in mind that the nutritional information presented below is an approximation and may vary depending on the exact ingredients used.
Notes
Some ingredient notes:
Salmon:
I like to cook the whole skin-on piece of salmon. Especially when I cook for 4. You could cut into fillets, but you'll need to keep an eye on them. They'll cook faster than the whole piece of salmon.
Coconut Aminos:

I like to add a dash of coconut aminos to the olive oil sauce. You could also use soy sauce or even tamari, if you're gluten-free.

Fresh dill:

I love the flavor of dill, but you could sub it for fresh thyme or even some Italian parsley.
Internal temperature
Follow the USDA guidelines and cook to internal temperature of 145°F minimum for all fish and seafood.

I cook mine to less than that recommendation, at my own risk, as I prefer it slightly undercooked and more flaky. But not when serving for my kids. Cook according to what the USDA recommends

(and what you prefer).

IF you cook it to 145°F keep in mind if you let it rest while you're doing other things, it will still reach an even higher temperature and can get a bit dry.