This pickled watermelon rind recipe is a crisp Southern classic made with sugar, vinegar, and spices. After eating the juicy red watermelon pulp, use the peeled rind to make this sweet, cinnamon-flavored pickle.
It may seem impossible to make and can your own pickled watermelon rinds. You may consider it to be difficult. And you may also think you have to invest in special equipment. It's really not difficult or expensive to make!
You could make it with basic equipment you may already have at home. I had recently made this Asian Watermelon Salad and couldn't wait to get creative with the rind!
We are usually canning mangoes and tomatoes at the end of summer. You may also find us making my mother-in-law's Calabrian canned zucchini and also eggplant. In Italy it's called buccia di cocomero sotto'aceto.
It's not something my mother-in-law typically cans. She's too busy with her other canning projects to worry about the watermelon rinds.
I came across a recipe for pickled watermelon rinds in a canning book and was determined to try it out. Everyone was super curious as to how they would taste, as we had never even eaten them before.
Pickled watermelon rinds was on my list to do this summer. Having just finished slicing our first watermelon of the season, I was left with tons of rinds and it seemed to be the right moment to try out a recipe.
I wanted to put my own spin on a Southern favorite (through some research I found out it dates all the way back to the Civil War!). With all the ingredients in place, it was time to finally try pickled watermelon rinds out!
The first thing to do is clean your rind. Peel off the green part and cut the rind into small chunks. You could leave some of the pink part on the rind.
The next step is to soak it overnight in water and salt.
The next day, you drain and rinse the watermelon rinds and get every thing ready to pickle.
Once you have it all ready, you prepare the pickling ingredients in the saucepan.
When they become soft and translucent you can them in the jars with the pickling liquid.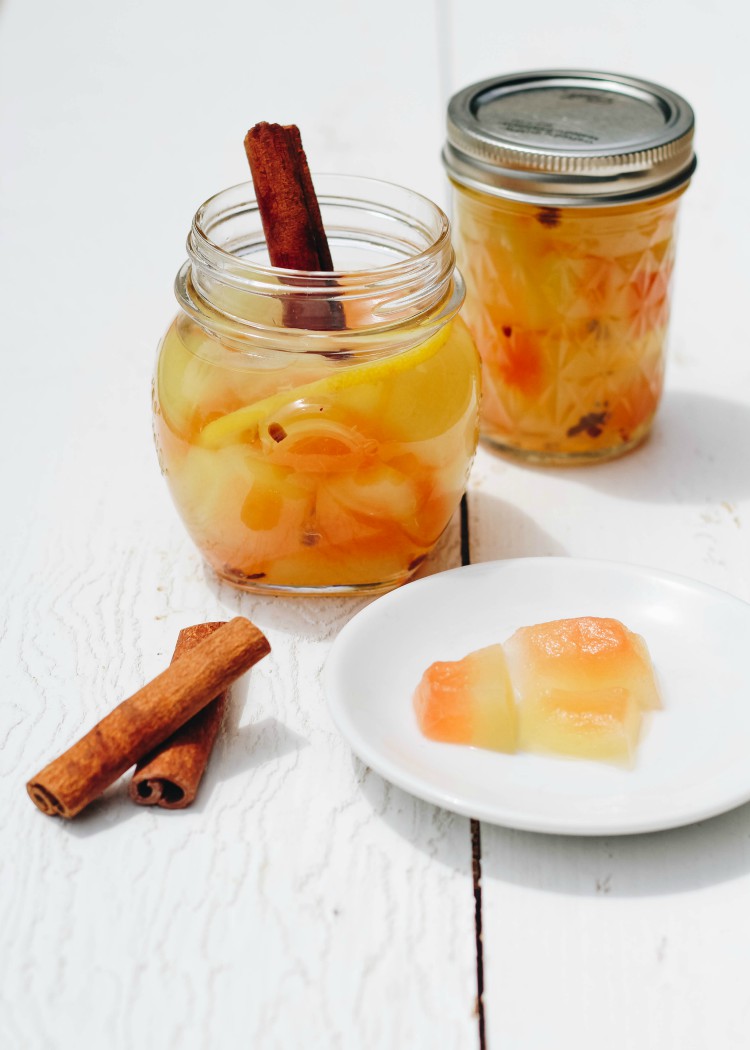 Pickled watermelon rinds are a special treat and a wonderful way to preserve the taste of summer. I have come across Russian Jewish recipes (they pickle whole slices) and even the Japanese way to make them (pieces of the just the rind quick pickled and served with soy sauce). I stuck with the more traditional way that you could find in the south.
So the next time you are slicing your next summer watermelon, don't toss those rinds! Be sure to try out these pickled watermelon rinds. They are so good you'll eat them alone right out of the jar. But they are also fantastic with grilled chicken, shrimp, and tofu. Perfect on a sandwich or a juicy burger.
We give instructions to store these peppers in the refrigerator. We don't have a truly cool room where we could store things for a many months. We do can things. We store them in the coolest part of our pantry and we end up eating what we can relatively quickly. We store most of what we can in the refrigerator. For more detailed info on canning instructions or directions, follow the USDA guidelines.
Some other pickled recipes to try:
Originally published August 2019 and updated for content on August 2021.
Pickled Watermelon Rinds
This pickled watermelon rind recipe is a crisp Southern classic made with sugar, vinegar, and spices. After eating the juicy red watermelon pulp, use the peeled rind to make this sweet, cinnamon-flavored pickle.
Ingredients
½

small red watermelon

about 5 pounds

3

Tablespoons

salt

1

cup

sugar

1

cup

white vinegar

5% acidity

1

cinnamon stick

2

teaspoons

pickling spice

½

lemon

thinly sliced
Instructions
Trim the dark green and pink parts from watermelon rind. You could leave little bit of the pink on the rind.

Cut rind into 1-inch cubes and measure out 7 cups.

In a large bowl add 3 cups water and the salt. Stir it together until salt dissolves.

Place the rinds in the salted water. Cover with plastic wrap and place in the refrigerator for 24 hours.

The next day, drain the rinds and rinse well.

Add 4 cups of water to a stainless steel saucepan (or Dutch oven). Add the sugar, vinegar, cinnamon, pickling spices, and lemon slices. Bring to a boil. Stir until the sugar dissolves. Add the rind and simmer for about 30 minutes, until the rind is tender and translucent.

Remove from heat. Cool completely (about 1 hour), stirring occasionally.

Using a slotted spoon, transfer rind to jars; cover with pickling liquid. Apply lids. Gently pack the hot rind into the jars, leaving 1/4 inch of space below the lip. Pour enough liquid into the jars to cover the rind.

Wipe rims with a clean, damp towel and screw lids on securely but not too tightly.

Process in boiling water bath for 10 minutes.

Carefully remove jars using tongs. Use potholders to tighten the lids. Place jars on a rack and let them cool. When they've cooled down, store them in the refrigerator for up to two weeks. Chill 24 hours before serving.