Fiery Easy Pickled Scotch Bonnet Peppers give a kick to everything from grilled meats, fish, soups, stews, legumes and sauces. If you like it hot, these peppers are for you!
There are countless varieties how you could prepare pickled peppers. You could mix up the vinegar (use white and red wine vinegar)and even add carrots and onions. In this recipe I made them with garlic, dried bay leaves and fresh dill. This is just a version we love, and we encourage you to experiment.
Easy Pickled Scotch Bonnet Peppers
The Scotch Bonnet Pepper is also know as Caribbean Red Peppers. It is a chili pepper found all around the Caribbean islands. If you want to know the heat rating, it is 100,000-350,000 Scoville units. Most jalapeños have a heat rating of 2,500 to 8,000 on the Scoville scale.
This is another one of my Hurricane Dorian food stories. I bought these a few days before we knew the storm was heading are way. They were at my favorite Latino fruit and veggie market and were on sale for a $1!
The colors pulled me in: tiny, red, orange and yellow peppers and countless possibilities. Searching for recipes online and wondering how to cook them up, pickling ended up being what I did! One day I hope to explore a recipe cooking with them.
I will warn you here that they are HOT! And I mean, HOT! If you happen to find them where you live, you should give this recipe a try.
But another big warning: WEAR GLOVES when you are cleaning them and slicing them. Keep them on when you add them to the jars. Another thing to keep in mind is that when you cut them, vapors are released.
To avoid dealing with their powerful vapors, just keep the peppers whole when adding them to the jars. Scotch Bonnet peppers are tiny, but very mighty! They are small, orange, red or yellow, and full of heat with a sweet overtone.
It is the same pickling recipe I used for easy pickled jalapeños, but it is completely different in flavor. Now if you are looking to pickle something on the sweet side, you have to try these pickled watermelon rinds (SO GOOD!).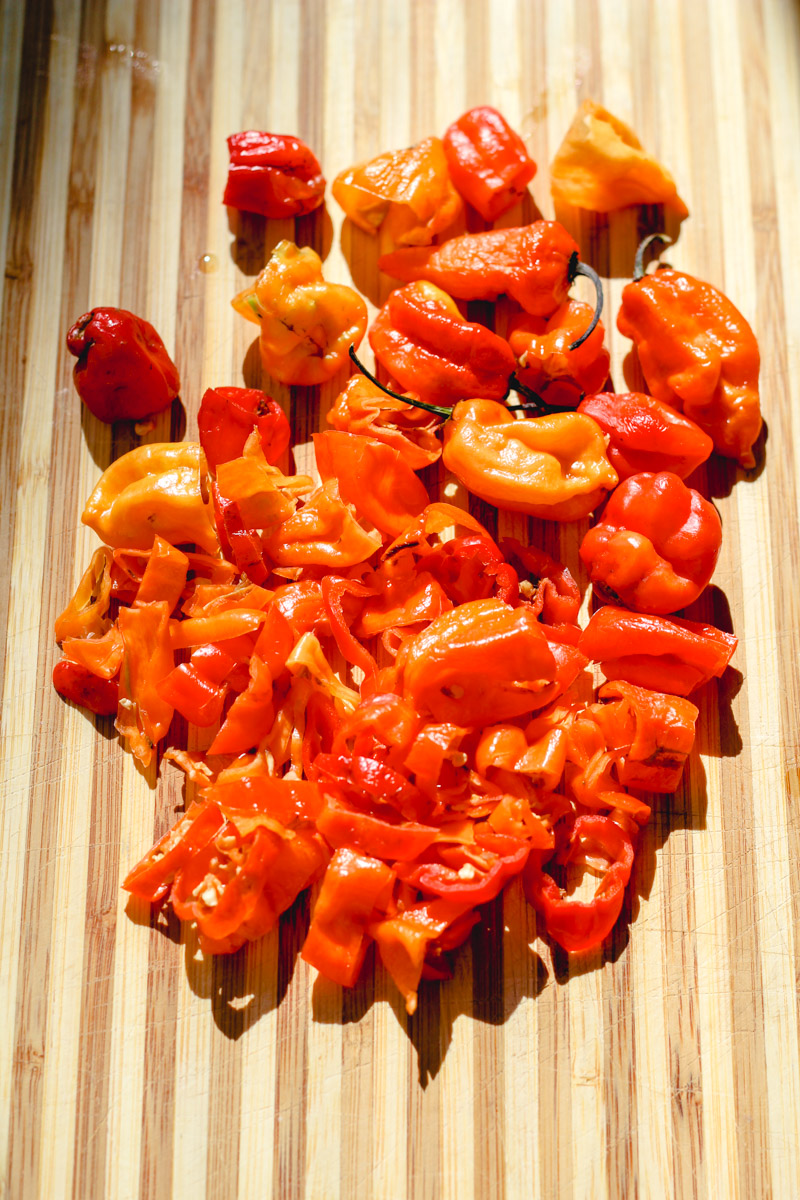 Let's get to the recipe.
What you need to make these homemade pickled scotch bonnet peppers
Scotch Bonnet peppers
garlic
water
vinegar
fresh dill and dried bay leaves (optional)
glass jars with a tight fitting lid
Do pickled scotch bonnet peppers need to be refrigerated? How long will they stay good?
We make this recipe with instructions to store in the fridge. They will remain good for up to 6 months (I tried my mother-in-law's pickled jalapeños even a year later. They were still great, but I'm not suggesting to store that long).
It is so much more economical to pickle your own peppers! You can't beat the flavor! We talk about it a little here in our easy pickled jalapeño recipe. Be sure to use gloves when you are working with the peppers.
Especially when you cut them! If you don't, you will have burning fingers for many hours (even up to the next day...I'm not joking)! Use the gloves even when you are filling the jars and then toss the gloves out. Wash your hands thoroughly after you take off the gloves.
If you are a hot pepper addict like me, you have to try out the recipe! I can't tell you how delicious they are!
Pin it for later to your canning/pickling board!
Very important to remember: Use gloves the entire time when handling these peppers. If they're disposable gloves, toss them out and wash your hands. Just in case, do not rub your eyes.
We give instructions on storing the Scotch Bonnet peppers refrigerator. Since we don't have a cantina or a basement, we store most of what we can in the refrigerator. For more detailed info on canning instructions or directions, follow the USDA guidelines.
Can you freeze scotch bonnet peppers?
Yes, you can freeze scotch bonnet peppers. You will need to blanch them first, then put them in a freezer bag or container. Be sure to label the bag or container with the date so you know how long they have been frozen.
Scotch Bonnet Peppers substitute
If you can't find Scotch bonnet peppers, don't worry! There are plenty of other peppers that will work just as well in your recipes. Here are some of our favorite substitutes for Scotch bonnet peppers:
-Habanero peppers: These peppers are very similar to Scotch bonnets in terms of heat and flavor. They'll work perfectly in any recipe that calls for Scotch bonnets.
-Jalapeño peppers: Jalapeños are a bit milder than Scotch bonnets, but they'll still give your dish a nice kick of heat.
-Serrano peppers: These peppers are similar in heat to jalapeños, but they have a bit more of a fruity flavor.
-Poblano peppers: These peppers are milder than all of the other options on this list, but they'll still add a nice touch of heat to your dish.
-Chili peppers: There are many different types of chili peppers, so you can choose one that best suits your heat preferences.
-Bell peppers: If you want to add a bit of sweetness and color to your dish, bell peppers are a great option. Just keep in mind that they won't add any heat.
Where to buy scotch bonnet peppers
If you're lucky enough to live in an area where scotch bonnet peppers are grown, you can probably find them at your local farmers market. Otherwise, you can order them online from a number of different sources. Here are a few of our favorite places to buy scotch bonnet peppers:
-Amazon: You can find scotch bonnet peppers on Amazon. Just make sure to read the descriptions carefully so you know what you're getting.
Scotch bonnet peppers vs habanero
Scotch bonnet peppers and habanero peppers are similar in a few ways. They're both very hot, and they have a similar fruity flavor. However, there are also some key differences between these two types of peppers.
For one thing, Scotch bonnets are typically a bit larger than habaneros. They also have a more bulbous shape, while habaneros are usually more tapered.
Another difference is that the Scotch bonnet's heat is concentrated in the seeds and ribs, while the habanero's heat is evenly distributed throughout the entire pepper. This means that if you're looking for a less spicy dish, you can remove the seeds and ribs from a Scotch bonnet pepper before using it.
This post contains affiliate links. As an Amazon Associate I earn from qualifying purchases. See my privacy policy for details.
Easy Pickled Scotch Bonnet Peppers
Fiery Easy Pickled Scotch Bonnet Peppers give a kick to everything from grilled meats, fish, soups, stews, legumes and sauces.
Servings:
2
8 oz canning jars
Ingredients
4

cups

Scotch Bonnet peppers

1

cup

filtered water

1

cup

distilled white vinegar

3

garlic cloves peeled and gently crush

4

tablespoons

sugar

dried bay leaves

optional

fresh dill

optional

2

tablespoons

kosher salt
Instructions
Wearing gloves, rinse off Scotch Bonnet peppers and slice into evenly sized pieces (I left some whole and some sliced in pieces).

With your gloves still on, pack the peppers into your glass jars (or one very large tight-fitting lid). Add a clove of garlic to each jar. If using one large jar, add them all into that jar. Add in the bay leaves and dill (if using).

In a medium saucepan, combine water, vinegar, salt, and sugar.

Bring water to a low simmer and stir until sugar and salt are just melted (not boiling).

Remove vinegar mixture and using a ladle very carefully pour the mixture into the jars with peppers.

Process jars in a boiling water bath for 10 minutes.

Remove. Cool and store in your refrigerator for up to 2 months.

These pickled Scotch Bonnet peppers are ready to eat in 24 to 48 hours.
Nutrition Disclaimer
Please keep in mind that the nutritional information presented below is an approximation and may vary depending on the exact ingredients used.
Notes
All images and text ©Savoring Italy. Please do not use my images without prior permission. If using my posts in collections and features, please link back to this post for the recipe.
DID YOU MAKE THIS RECIPE?