Are you afraid to make your own pasta? Have you been dreaming of making your own pasta? If you want to start with your first pasta recipe, homemade pappardelle could be the recipe for you!
If you have never tried homemade pasta, you are in for a treat! There is no comparing your own homemade pasta to the dry pasta you buy at the market. I know, it's intimidating!! You may not have your own pasta machine. Or you have one, and aren't sure how to use it. And what about this weird name: PAPPARDELLE! What does it mean? The name comes from the verb "pappare", which literally means to gobble up. When you make your own pappardelle, trust me...you will be gobbling it up! Are you trying to cut out carbs? Treat yourself to just this one recipe if you get to indulge once a week!! You're welcome...I just gave you permission to enjoy life like Italians do...pasta is not a sin there! Actually, it is eaten sometimes twice a day (it is sometimes in my house). But back to the recipe...
Sorry for the not so fancy photos. This was a spontaneous event yesterday, as it is most times when we make pasta. And of course, my battery for the camera was dead and my IPhone was sitting right there. Make a post finally on pappardelle, or wait another 5 years? Make a post!! Hope you don't mind...but here it is!!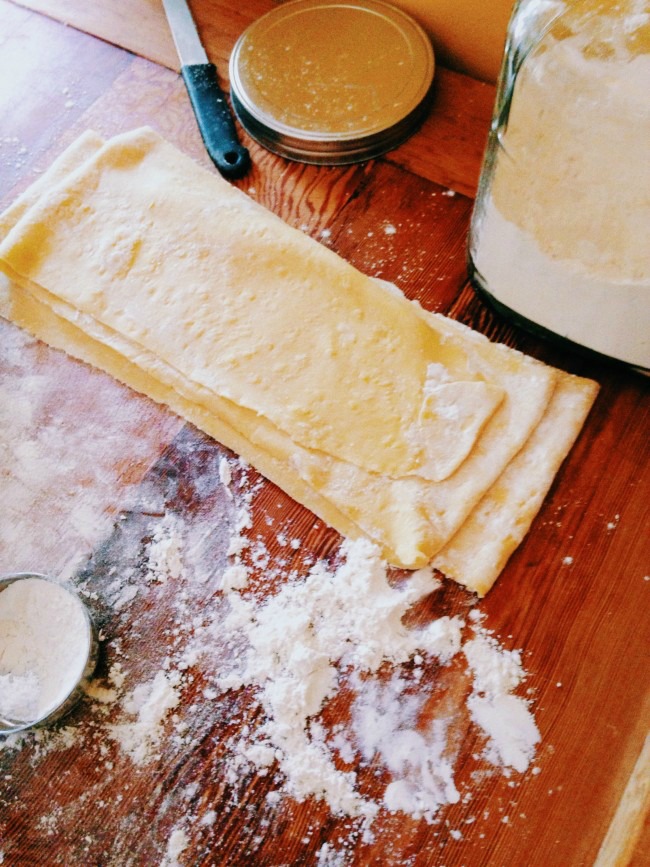 You could make the dough and roll it out on your own (like most good Italian mammas do!) with a rolling pin (what a great arm workout!)and cut it. Or you could use your stand mixer or a food processor.
This dough recipe is great to also make other pasta like fettucine, garganelli, maltagliati and tagliatelle. We Italians are very particular about our pastas and the sauces. There is a reason why certain pastas go with certain sauces. Traditional shapes compliment certain sauces and they are usually made with local ingredients. Pappardelle is a wide and flat pasta and it originates in Northern and central Italy. Because it is a wider pasta it goes great with a rich ragu', which is the way we enjoyed it for lunch yesterday. The kids love making the pasta with us. They get to help nonna Teresa in Italy make her famous tagliatelle, it is a messy and delicious affair. The portion we make here is much smaller, we don't have 15 people at our Sunday lunch!
Ready to make it by hand? Here are the easy steps: It starts with the eggs and the flour (follow the ingredients below). You first start by incorporating the salt into the flour. Make a well in the middle of the flour, add the eggs and olive oil and start to mix it together. Continue to stir together until you can gather it into a ball. Cut the pasta ball into four pieces and cover with a tea towel (or plastic wrap)and let it rest for an hour. Start with the first piece, roll out on a clean and floured work surface as thin as possible. Add flour as needed so the dough doesn't stick. Cut the dough into the strips (1/4 inch strips if you are making fettuccine and 1/2 inch strips for pappardelle). Continue process with other portions of dough. Portion the strips out into nests and let them rest while you boil the water for the pasta. Cook the pasta in salted boiling water for about 3-4 minutes (until al dente). (Instructions on how to make with a machine are below in the recipe.)
Some notes on this recipe:
There are certain variables that can affect your homemade pasta dough such as temperature, humidity and the variations in flour, eggs and other ingredients. You may need to make slight adjustments to your ingredients every time you make pasta. And pasta dough is not like pastry dough, so this is ok. The first time you make the pasta, you may need more flour as you knead. It could be that the next time you make it the dough is too dry and you need to add a little more water. The end result should be a dough that is supple and smooth. The dough should feel silky to the touch and not sticky or wet.
Freezing the Pasta: You can freeze the noodles in an airtight container and be sure to use them in the next 3 months. Frozen noodles may take an extra couple of minutes to cook.
Need a great ragu' (Bolognese sauce ...AKA, meat sauce) to with it? Here is one to try, and you can also see my butternut squash gnocchi....so good!!
Are you craving pasta and are crunched for time? Here is an easy skillet lasagna recipe you will love!
Homemade Pappardelle
Cook Time:
let dough rest in fridge for 3
Ingredients
(20 ounches pasta)
2 Cups All-Purpose Flour
2 Cups 00 Flour (or just use 4 cups All-Purpose Flour)
3/4 teaspoon kosher salt
4 large Eggs
1 tablespoon extra-virgin olive oil, more as needed
Instructions
In a food processor, pulse together flour and salt. Add eggs, oil and run the machine until the dough holds together. If dough looks dry, add a teaspoon of water. If the dough seems too wet, add a little bit of flour.
Turn out the dough onto a clean counter (or whatever work surface you are using, I use my big board).
Hold the dough with one hand and fold over the other portion of dough with your other hand.
Flatten the dough with he palm of your hand. Keep doing this movement pushing the dough away from you.
Continue kneading until the dough is very smooth and supple. Add a little bit of flour if it is too sticky.
Wrap in plastic and let it rest in the fridge for 30 minutes or even overnight.
Cut the dough into 4 pieces, keeping them covered with plastic wrap or a dish towel when not in use. (If you're rolling the dough out by hand, rather than using a pasta machine, cut it into 2 pieces instead.) Set pasta machine to the widest setting, roll one piece of dough that is flattened into a 3-inch wide rectangle out into a sheet. Fold the sheet in thirds like a letter and pass it through the machine 4 more times on the same setting, making sure to dust lightly with flour if the dough is sticking.
Continue to run piece through machine, adjusting to next-narrower setting after every 5 passes, until dough is about 26 inches long. Cut crosswise into 3 equal pieces. Run each piece through machine, adjusting to next-narrower setting, until strip is scant 1/16 inch thick and 14 to 16 inches long. Continue same process with the next portions of the dough. Arrange strips in single layer on sheets of parchment.
Fold strips in half so short ends meet, then fold in half again. Cut strips into 2/3-inch-wide pappardelle. (If you are making fettuccine, run the rolled sheets through the fettuccine setting on your roller.)
Place cut pasta on a flour-dusted sheet tray and cover with a dish towel while rolling and cutting the remaining dough. It is best to separate the piles of pasta. If you layer them on top, they will stick to each other. Cover with a tea towel while you finish prepping the other strips.
Bring a large pot of well-salted water to a boil, add fresh pasta and boil for 3-4 minutes (depending on the thickness, it should be al dente), Drain well and serve with your sauce.