This easy Italian Green Beans (aka Fagiolini in Umido) side dish recipe is made with green beans, garlic, green and a simple cherry tomato sauce. Great served with grilled fish, chicken, or meats. So delicious!
Jump To
Italian green beans in tomato sauce (Fagiolini in Umido) is a wonderfully uncomplicated side dish that is found all over Italy. This delightful recipe effortlessly elevates green beans, transforming them into a delectable and satisfying addition to any meal. My Calabrian mother-in-law makes this dish quite often.
No offense to those of you that like mushy green beans, I don't really care for them. My suocera (mother-in-law) cooks the life out her beans. When she comes to visit us here in the States, it ends up being an argument between the two nonna's (my mom and my suocera), because my mom does not over cook her green beans. My mom absolutely refuses to touch my mother-in-law's overcooked version. It does cause a little offense.
You maybe grew up eating the very mushy version of the green beans. So you decide how you want the texture to be, to your taste! I left mine still with some texture.
Grab your favorite crusty bread for "la scarpetta", that basically means to use the bread to clean your plate of all the delicious sauce.
Why you'll love Italian Green Beans Recipe:
Italian green beans are truly easy to make: An Italian side dish recipe that is so simple to put together, yet full of irresistible flavors. It may become you're new way of cooking green beans!
Fits different dietary needs: This recipe is vegan, vegetarian, Whole30, Paleo, gluten-free, grain-free, Paleo, Keto, and low-carb. Yes, you can serve this to pretty much any guest that has a special dietary request.
They're super healthy: Green beans and tomatoes provide a healthy dose of nutrients.
Tasty side dish: Excellent as a vegan/vegetarian side dish, or enjoy it on its own as a main course with a side of pasta, grain, or crusty bread!
Double the recipe: Bursting with flavors from the combination of green beans, tomatoes, and aromatic ingredients. Consider doubling the recipe so you can have leftovers. It's that delicious!
What are Italian Green Beans AKA Romano beans?
Before we get into the recipe, I'll have to explain a little about what you may see as "Italian green beans" when you search for it. You'll find recipes with dried herbs and grated cheese (most likely, not real Parmigiano-Reggiano), and you need to know that they don't make that anywhere in Italy.
If I could get my hands on the true Italian Roma, Roman, or Romano beans, I would have used those for this recipe, instead of the Kentucky Wonder Pole Beans, but it doesn't matter. It's the sauce that is cooked with the beans that is how my Calabrian mother-in-law makes these, in Italy. And she's made them the exact same way for us here in the States, with the beans we have here at the market.
If you happen to have a green thumb, you could even grown your own authentic Italian beans. The Romano green beans are flat and very long in shape, and aren't thin. My dad used to grown them in our garden when I was little. Mom used to make Romano beans all the time.
If I can't find fresh Romano beans at my local produce market, I have to imagine you maybe can't. So I made this with Pole beans, and so can you!
Both my kids have always been green bean fans. What can I tell you, I got lucky! But when I make Italian Green beans, they are fighting over who gets to finish the last bite. And it's not because of the beans, it's because of the delicious sauce! And if you make the BEST garlic bread to go with it, your people will be sopping up the sauce with chunks of garlic bread like my people do!
What ingredients are in green beans Italian recipe?
Green Beans – I prefer fresh. You may be able to find Italian flat green beans. Use Pole (string) beans if that's what you can get. IF you only have frozen green beans on hand, that is fine! Green beans are frozen at their peak, so they work perfectly in a recipe like this.
Tomatoes – I used canned cherry tomatoes. I have been finding them now in different markets. If you can't find cherry, use a San Marzano DOP tomato. You could also use fresh tomatoes.
Garlic – Use a really good, really fresh garlic, to get the most flavor. Feel free to increase the amount of garlic you use, too.
Extra-virgin olive oil – The better the quality, the better the flavor of this simple Italian side dish.
Sea salt – Elevates the overall flavor of the dish. Use kosher salt if it's available.
Fresh basil - Feel free to add some to the sauce, if you like, or just garnish your serving plate with some chopped up leaves.
How to cook Italian green beans in a tomato sauce?
(Full printable recipe is below)
Gather all your ingredients.
Step 1: Heat a large skillet with oil. When the oil is hot and shimmering, add the garlic. As soon as it's aromatic, add in the tomatoes, and water. Stir, breaking up with a wooden spoon.
Step 2: Set a medium saucepan filled with salted water to boil. When boiling add the green beans.
Step 3: Cook green beans until almost tender, about 4-5 minutes. Drain and set aside while you make sauce.
Step 4: Reduce the heat to medium-low, and simmer sauce until thickened, about 15 minutes.
Step 5: Stir green beans in the sauce. Season with salt and some pepper.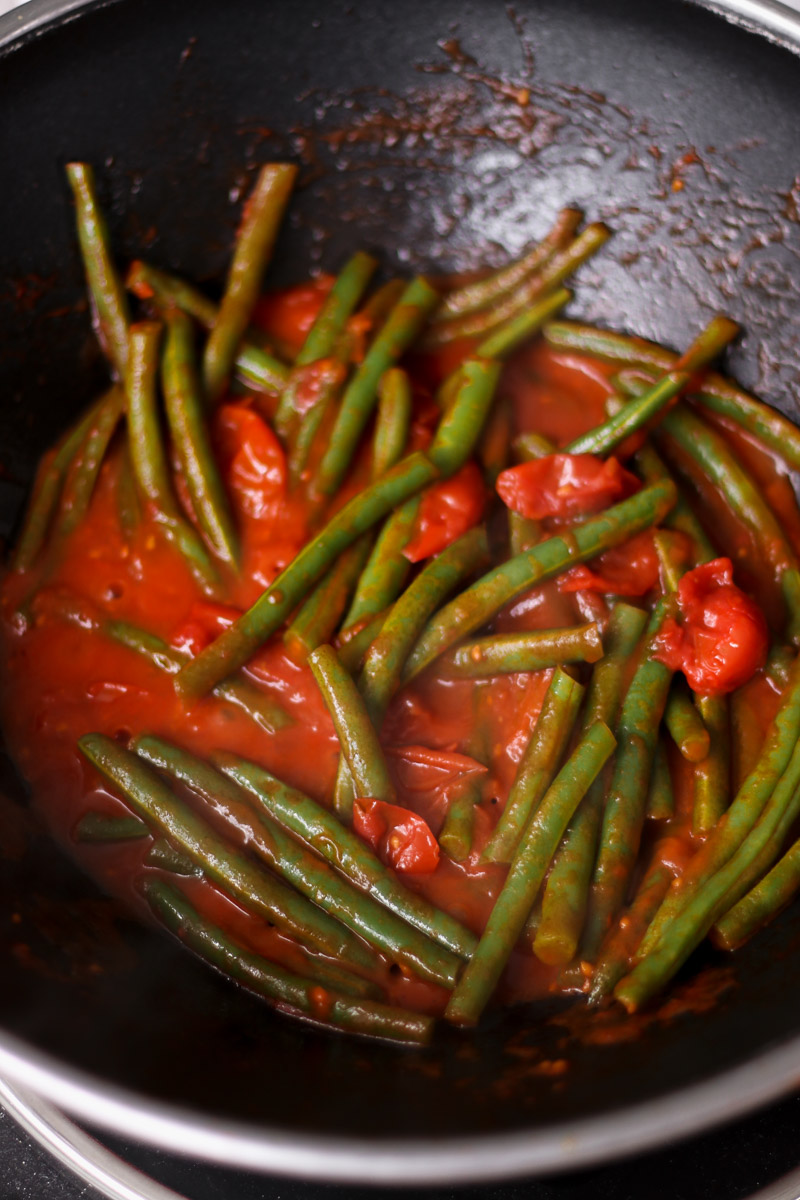 Expert tips to make the Italian Style Green Beans:
If you can find Italian cut green beans, those would work great in this recipe. Any type of green bean works, in the recipe, but be sure to use the same amount.
Frozen beans work great for this recipe. I do not recommend canned, but it would work fine. The cooking time would change for canned.
I used canned cherry tomatoes. You could use Italian Style diced tomatoes. It has Italian dried herbs in it (like basil and oregano), which would add more flavor to the recipe.
Variations for Italian Vegetable Side Dish:
Fresh tomatoes: Swap the canned tomatoes for a simple combination of chopped tomatoes, garlic, basil, olive oil, and salt.
More veggies: If you happen to have any cooked up zucchini or eggplant, go ahead and add them in at the end.
Splash of vinegar: Use white wine vinegar instead of red wine vinegar for a different flavor profile.
Make it hot: For a spicy kick, add some chopped fresh chili peppers.
Make it cheesy: Sprinkle on some real Parmigiano-Reggiano at the end.
What to serve with Authentic Italian Green Beans in Tomato Sauce:
Your favorite protein: This dish pairs well with roasted or grilled chicken, fish, or steak. It would go great with Easy Italian Garlic Rosemary Steak or Easy Grilled Lamb Chops.
Your favorite grains: It also pairs nicely with a variety of grains such as quinoa, farro, or bulgur wheat.
Add some beans: Some traditional Italian recipes for green beans are cooked with beans. For a more complete meal, add some cooked beans or lentils to the green beans in tomato sauce for added nutrition and flavor.
Serve with bread: You can also serve it with a side of crusty bread or grilled flatbread to soak up all the delicious flavors. Make a homemade filone to dip right into it!
Storing Green Beans Italian Recipe
Place any leftovers in an airtight container. They'll keep in the refrigerator for up to 3-4 days. Reheat them or enjoy them even cold.
You could freeze them for up to 2 months in an airtight container or zipped lock freezer bag. Thaw and reheat before serving.
FAQ's
What are the differences between frozen and canned vegetables?
Green beans are normally picked and processed (either frozen or canned) at their peak of freshness, usually within a few hours of processing. This means they are both packed full of nutrients and vitamins. The canning process takes longer than freezing, but both are great options if you can't choose fresh garden veggies.
One thing to remember if you choose canned…often times the vegetables will be packed with added sodium or sugars. If you choose canned, be sure to read the labels to know exactly what you are buying.

Are green beans good for you?
Yes, green beans are good for you since they are packed with vitamin C and K, fiber and folate. And they are low in calories, which make them a good side dish option.
Can I use canned green beans in this recipe?
Yes, you can use canned. The one thing about canned is they will fall apart the longer you cook them with the sauce. So you'll basically be heating them up with the cooked up sauce. Frozen would work better. Fresh is ideal, if you can find them in season.
What is the difference between Italian cut green beans regular green beans?
Italian cut green beans are actually the same thing as regular Italian green beans. "Italian cut" means they are cut typically on an angel to about 1 and ½ inches, The with the tops trimmed. You'll find them canned or frozen.
What is another name for Italian green beans?
Italian green beans are also called flat beans, Romano beans, flat beans and runner beans. They look different than string beans, as they are wide and flat and can even grow up to 25 cm in length.
Can I make Italian flat green beans with cherry tomatoes?
Yes, you sure can! Canned or fresh work great! If you happen to have some cherry tomatoes on hand, just cook them up with the garlic.
What are Italian green beans in tomato sauce called?
In Italian they are called fagiolini in umido. You may also here it called in English: Italian stewed tomatoes.
Some other side dish recipes to enjoy:
Did you make this? Please RATE THE RECIPE below:)
Please Subscribe and give a follow on Instagram, Facebook, Pinterest, and TikTok xx
This post contains affiliate links. As an Amazon Associate I earn from qualifying purchases. See my privacy policy for details.
Italian Green Beans in Tomato Sauce
This easy Italian Green Beans (aka Fagiolini in Umido), often called Italian stewed tomatoes, is a side dish recipe made with green beans, garlic, green and a simple cherry tomato sauce. Great served with grilled fish, chicken, or meats. So delicious!
Ingredients
1

pound

500 grams green beans (approximately)

2

Tablespoons

extra virgin olive oil

2

garlic cloves

sliced

1 14-

ounce

can cherry or plum tomatoes

14.5

ounce

canned pomodorini

or whatever canned tomatoes you have on hand

⅓

cup

of water

or more, to thin sauce, if needed

sea salt

to taste (I used 1 teaspoon)

freshly ground black pepper

I used 1/4 teaspoon

fresh basil

to garnish
Instructions
Prep green beans: Trim the ends off the green beans and wash them. Strain them in. a colander; set aside.

Start the tomato sauce: Heat olive in a large sauté pan on medium heat. heat the oil over medium heat.

Add garlic: As soon as the oil shimmers and is hot, add in the garlic and sauté for about 1 minute, stirring, until it is aromatic. You don't want brown garlic, as it will taste bitter.

Add in tomatoes: Once the garlic is aromatic, add in the canned cherry tomatoes and water. Stir with wooden spoon, breaking up the tomatoes as you stir. Raise heat. to medium-high so sauce will begin to boil.

Season: Add the salt and pepper and stir.

Lower heat: As soon as sauce boils a couple minutes, lower heat to simmer for 10-15 minutes, or until sauce begins to thicken.

Boil green beans: While sauce is simmering, bring a large pot of salted water (2 teaspoons salt is what I used )to a boil.

Cook green beans: Add in the beans and cook until they are al dente, about 5 minutes.

Drain beans: As soon as beans are ready, drain and add to the simmering tomato sauce.

Combine with sauce: Stir to coat greens beans with the sauce and cook a few minutes until they are tender, but not mushy. If sauce seems too thick, you could add in a little bit more of water.

Check seasoning: Taste the sauce and beans and adjust with some more salt, if needed, to your taste. Make sure beans are texture that you like. If they are tender enough, turn off the heat.

Serve and enjoy: If you like, drizzle on a little extra-virgin olive oil and finish with some fresh basil.
Nutrition Disclaimer
Please keep in mind that the nutritional information presented below is an approximation and may vary depending on the exact ingredients used.
Nutrition
Calories:
64
kcal
|
Carbohydrates:
0.5
g
|
Protein:
0.1
g
|
Fat:
7
g
|
Saturated Fat:
1
g
|
Polyunsaturated Fat:
1
g
|
Monounsaturated Fat:
5
g
|
Sodium:
0.4
mg
|
Potassium:
6
mg
|
Fiber:
0.03
g
|
Sugar:
0.01
g
|
Vitamin A:
0.1
IU
|
Vitamin C:
0.5
mg
|
Calcium:
3
mg
|
Iron:
0.1
mg