This Apple Pie with Oat Streusel is the one pie I bake over and over again every fall. Everyone just loves it and it's truly so easy to put together. It's October and it's apple baking season for me. I know, I know...Halloween is quickly approaching and I should maybe be posting something cute with ghosts or even pumpkin shaped cookies.
I'm really bad at baking things for special holidays. Unless it's Christmas...because we just love to bake Christmas cookies and Christmas breads.
Apple Pie with Oat Streusel is a pie made with the most tender flaky crust, filled with sweet juicy cinnamon kissed apples, and topped with the most delicious oat streusel. This is the one pie you will make all throughout the fall and holidays!
Apple Pie with Oat Streusel
But back to Halloween! I did come across these adorable cupcakes with ghost meringues on top that I wanted to bake for the kids. I also found this chocolate cake (that looks so luscious) with ghost meringues...spooky cute! Who knows if there will be any time to make them by this Friday. Let's just say, there are spooky baking plans! Another pie for you to try is our Salted Caramel Apple Pie...so good!
To return to my favorite baking discussion: apple baking! You must know that apple desserts are my favorite sort of desserts to bake! This month our #TwelveLoaves baking group chose apples as a theme! I baked this delicious apple harvest bread. And in case you need some other apple ideas, here are some other apple desserts to inspire you:
Now don't be too finicky and fret that you don't know how to make a pie crust. It's completely ok to buy a ready-made one. There will not be anyone judging your decision. But I will say, the homemade pie crust is not that difficult to make. It's ok if it doesn't roll out perfectly. It ends up getting baked with all the incredible apples and cinnamon and oh, my gosh! That oat streusel topping. It's out of this world!
You will find yourself walking by and sneaking bites. You will have to push your husband out of the way to get to a bite because he will be there just getting a little taste. It's really that good! So, so good!!
How Many Cups is a Sliced Apple?
You could typically get 2 1/2 cups of sliced apples (approx 1 lb) from 3 medium apples.
First thing to do is peel the apples. Next, it's important to cut the apples not too thick for this apple pie recipe and remember they shrink while baking.
What is the Best Apple for a Pie
In order to make a really great pie it's important to use the right apples. You're looking for an apple that will stay a little crisp and won't become mushy in the pie. I usually use Golden Delicious (like we did for this apple pie with oat streusel) or Granny Smith apple.
Just remember you could use any apple you like, but some will apples will bake up softer and not have a little crispness in their texture.
What is the difference between apple pie and apple streusel?
Pies are made by filling the crust with either savoury or sweet fillings and leaving it open. On the other hand, a strudel is made using rolled dough creating several layers.
Do you put oats in apple crumble?
Yes, you do.
Should you Prebake apples for pie?
A great apple pie filling has two key ingredients: pre-cooked apples and the perfect amount of sugar. This combination creates a delicious, consistent, and evenly sweet treat. Plus, it helps to avoid that pesky gap between the crust and the filling!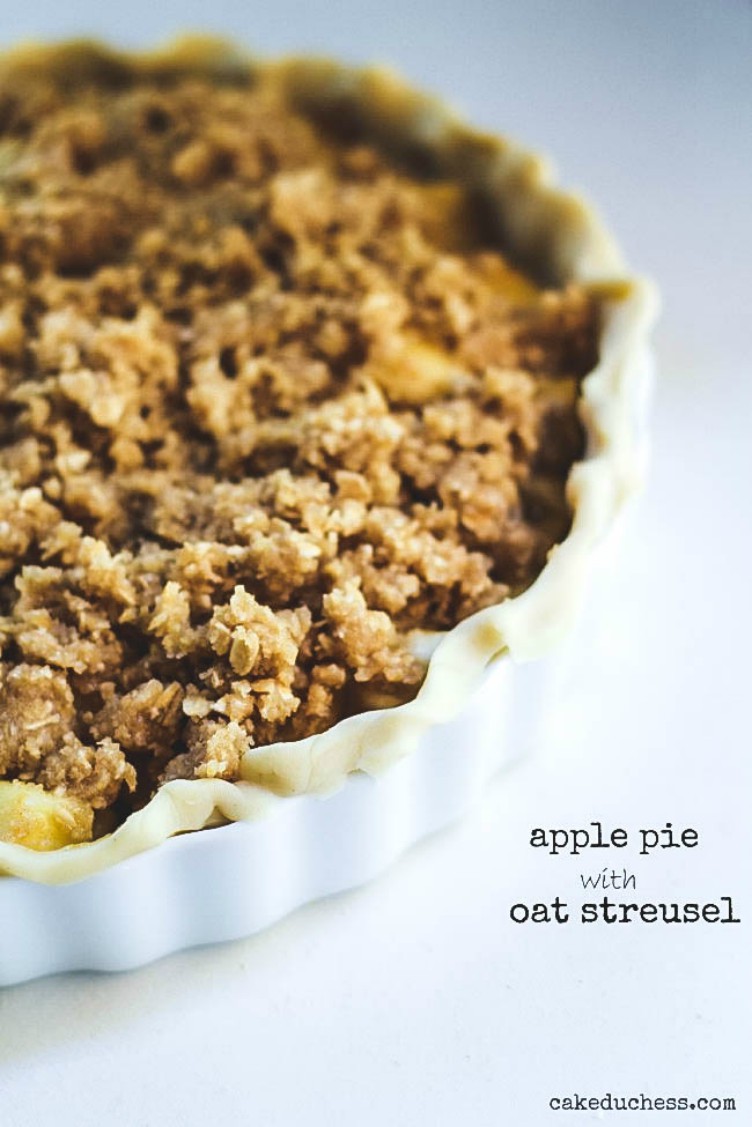 Here is a link to a great video from my friend and baker extraordinaire Abby Dodge explaining how to crimp a pie crust.
A huge shout-out to my talented daughter for photographing and editing these photos!!
This pie crust recipes makes two portions. I bet you will be using the other portion of the dough not too soon after this one quickly disappears!
slightly updated from October 2022
Did you make this? Please RATE THE RECIPE below:)
Please Subscribe and give a follow on Instagram, Facebook, Pinterest, and TikTok xx
Please Subscribe and give a follow on Instagram, Facebook, Pinterest, and TikTok xx
Apple Pie with Oat Streusel
Apple Pie with Oat Streusel is a pie made with the most tender flaky crust, filled with sweet juicy cinnamon kissed apples, and topped with the most delicious oat streusel. This is the one pie you will make all throughout the fall and holidays!

Ingredients
PIE CRUST

2

cups

all-purpose flour

1/2

teaspoon

salt

3/4

cup

1 1/2 sticks unsalted butter

3

tablespoons

margarine or chilled vegetable shortening

1/4

cup

ice water

APPLE FILLING

juice of 1 lemon

5 to 6

medium to large apples

I used Golden apples

2

Tablespoons

cornstarch

1/3

cup

light brown sugar

4

tablespoons

butter

3

tablespoons

jam

I use strawberry or apricot

1/4

teaspoon

ground cinnamon

OAT STREUSEL

3/4

cup

unbleached all purpose flour

1/2

cup

packed golden brown sugar

1/4

cup

sugar

1/2

teaspoon

ground cinnamon

1/2

teaspoon

salt

7

tablespoons

chilled unsalted butter

cut into 1/2-inch cubes

1/2

cup

old-fashioned oats
Instructions
PIE CRUST

Hand Method- In a large bowl, sift the flour and salt. Cut the chilled butter and margarine into 1-tablespoon bits and add to the flour. With a pastry cutter, work flour and shortening together until mixture resembles coarse meal. Add the ice water little by little pressing the pastry together into a ball. Wrap and chill for at least 1 hour.

It is very important to work the pastry as little as possible. Don't over handle. A secret to light, flaky pastry is to keep the mixture cool, add as little water as possible, and mix only as much as necessary.

Food Processor Method- Put flour and salt in bowl of machine. Cut butter and margarine into flour. Process a few seconds until mixture resembles coarse meal. Drop by drop add the water, processing very briefly. The whole process would take 20 to 30 seconds. Divide the dough into two equal portions. Shape into a disc and wrap with plastic wrap. Chill the pastry for at least 1 hour.

While pastry is chilling, make apple filling and streusel topping.

APPLE FILLING

Juice the lemons into a large mixing bowl. Core, peel, and thinly slice the whole apples.

Dredge all the apple slices in the freshly squeezed lemon juice to prevent browning and to add flavor. Toss the apples in the corn starch. Set the prepared apples aside.

In a medium-sized skillet on medium heat, toss in the brown sugar and butter. When the butter has melted, add in the berry jam. Toss the apples into the brown sugar mixture. Cook them in the mixture for about 5 minutes. Set aside to cool and prepare the topping.

OAT STREUSEL

Blend first 5 ingredients in processor. Add butter; using on/off turns, blend until moist dough forms (mixture will resemble wet sand). Add oats; using on/off turns, mix briefly, leaving half of oats whole. Set aside.

If pastry has been chilled for a long time, let it sit at room temperature for at least 15 minutes before rolling.

Preheat oven to 375 F.

Lightly flour a pastry board, marble counter, or kitchen counter. Pat one pastry disc (save other portion for another pie)into a flat round. Lightly flour the rolling pin. Roll pastry in one direction only, turning pastry continually to prevent it from sticking to the surface.

Using pie plate as a guide, measure rolled-out pastry — it should be slightly larger than the pie plate and 1/8-inch thick. Fold rolled pastry circle in half so you can lift it more easily. Unfold, gently fitting the pastry into the pie plate. There will be some of the pastry hanging over. You could trim a little around with scissors and leave enough to crimp.

Fill with your apple filling.

Sprinkle streusel topping evenly over filling.

Place pie on baking sheet.

Bake pie until crust is golden brown and juices bubble, 50 minutes–1 hour. *My pie was ready at 45 minutes. Every oven is different. I didn't want my topping to get too brown.

Transfer to a wire rack to cool.
Nutrition Disclaimer
Please keep in mind that the nutritional information presented below is an approximation and may vary depending on the exact ingredients used.
Notes
All images and text ©Savoring Italy. Please do not use my images without prior permission. If using my posts in collections and features, please link back to this post for the recipe.
DID YOU MAKE THIS RECIPE?