Kiwi and Raspberry Pavlova is a delicious and decadent dessert made with egg whites. Totally gluten-free topped with whipped cream, sweet raspberries, kiwi and a drizzle of honey.
If I really want to impress my friends and family, I make a pavlova! They are just so pretty look at and they are not as complicated to make as you may think!
Making a pavlova is pretty easy and relatively fool-proof! The results: crunchy on the outside and as fluffy as a marshmallow inside. Topped with luscious whipped cream and gorgeous kiwis and raspberries…this is a dessert to IMPRESS!!
You could decorate your pavlova with whatever you prefer: fresh berries, cooked pears or apples (very fall!). For the chocolate lovers: you could add cocoa powder to the meringue and top with chocolate and cream…a chocolate pavlova delight!
The pavlova is as fluffy as a cloud and very delicate! Be super careful (it's very fragile!) when you remove it from the parchment paper.
Important to remember: When the egg whites have quadrupled in volume, that is the time to add the sugar just a little bit at a time and keep on beating! and adding them slowly while whipping the mixture continuously. Even more important, when they are whipped to perfection…don't wait to bake them. It's important to get them shaped on your pan and put in the oven. No hesitating.
My very important tip for you: let it cool completely on the pan before transferring to your serving plate. I didn't wait the most recent time I baked it and my pavlova did break apart a bit before I had a chance to decorate it. Luckily, nobody complained! Even not so perfect to look at…it was perfection to taste!
What is the difference between a meringue and a pavlova?
A meringue is a mixture of whisked egg whites and sugar and a pavlova is a type of meringue. Pavlovas have a marshmallow-like center from the cornstarch.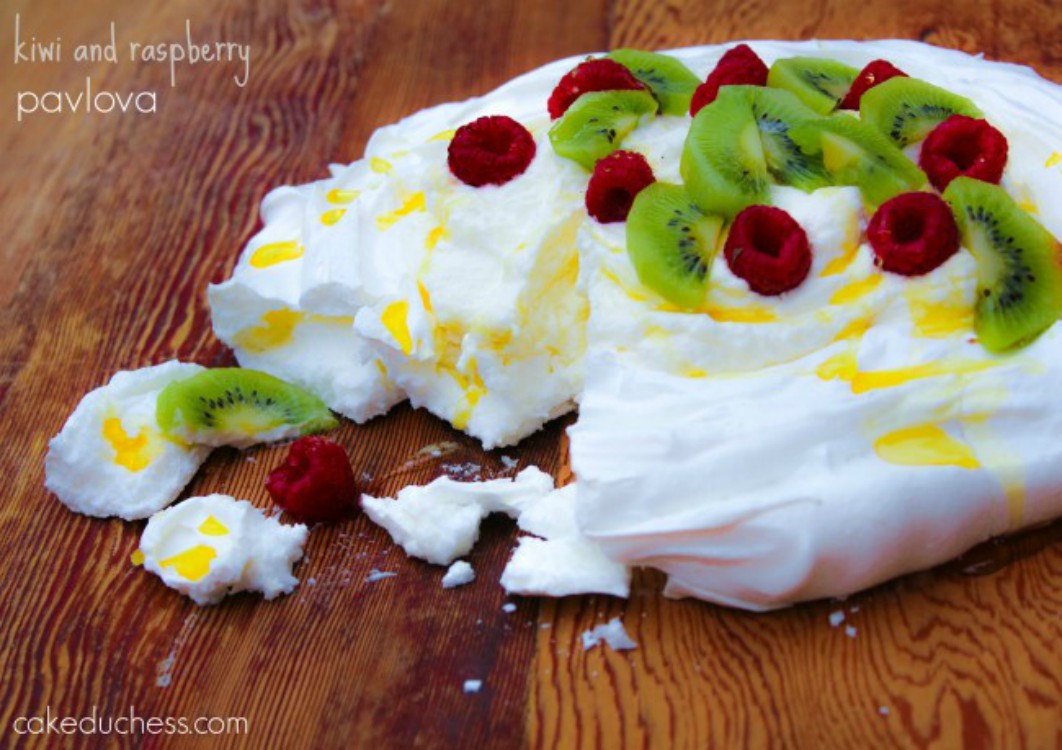 How Do I Know My Pavlova Is Done?
The pavlova will look dry and pale when it is perfectly baked. When you insert a skewer into the meringue it will have a sticky almost like marshmallow consistency.
Preserved Meyer Lemons
Preserved Meyer Lemons add exquisite flavor to so many dishes. The long and slow fermentation gives the lemons a vibrant saltiness and brings bright citrus and complex tartness to your cooking. All you need is lemons, salt and some patience, and soon you will have something incredible to enjoy all year long.
Servings:
1
pint mason jar
Ingredients
6

Meyer lemons

organic is best, if you can find them

1/4

cup

kosher salt

and more to top of jars

2/3

cups

Meyer lemon juice

or conventional lemon juice

extra-virgin olive oil

to add to top of jars before storing in fridge (a mild olive oil, avocado oil or grape seed oil will also do fine)
Instructions
Cover the bottom of a bowl or casserole with some of the kosher salt.

Thoroughly clean lemons and trim off the nubs both ends.

Slice them in half, then into quarters, then eighths. As you cut them remove the seeds-Meyer lemons have many seeds.

Toss the lemon wedges very well in the kosher salt.

Pack the salted lemons into the jar.

Use the handle of a cooking spoon (or a pestle) to press down on the lemons to allow them to release their juices and pack tightly into the jar.

Continue packing in lemons, until you have no more room to add more wedges.

Press down until the juice from the lemons covers the majority of the lemons. Use the spoon handle to push them together and really pack them closely together.

If there isn't enough juice after pressing, add the additional lemon juice.

Sprinkle on some more salt (about a tablespoon) over the top of the lemons before sealing the jar (I made two small jars).

The mixture of salt and lemon juice will preserve the lemons. The salted lemons will give off a little more juice as they begin to cure.

Leave an inch below top of jar and seal it.

Leave them in a cool and dark place and gently shake them a couple times a day for four days. Add some oil (I used extra-virgin olive oil, but you could use any light oil, like avocado oil or grape seed oil) on top of the lemons, seal the jars and then store them in the fridge. It is normal that you will notice that the salt will make the liquid thicken and turn a bit cloudy. Give them a shake every week (I was still shaking mine every day).

After a month, your preserved lemons will be ready to use.
Notes
You can add bay leaves, cinnamon sticks, clove, chiles, or even pink or black peppercorns.
I added extra-virgin olive oil on top of the lemon juice. Just to make sure it was truly completely covered.
Once preserved (after 1-3 months in the fridge), they still stay good in the fridge for up to 1 year.
Be sure to completely cover the lemon wedges with enough lemon juice and or extra-virgin olive oil. If the lemon wedges are not fully covered by the liquid, or your equipment wasn't sterile, the preserved lemons can develop mold. You could even use conventional lemon juice (not the bottled)to cover the lemons (they have more acidity than Meyer lemons).
Use your common sense when evaluating whether to eat preserved or fermented foods.
To use, remove however much preserved lemon your recipe calls for from the jar and rinse it off before chopping it finely and adding it to your recipe.