Kiwi and Raspberry Pavlova is a delicious and decadent dessert made with egg whites. Totally gluten-free topped with whipped cream, sweet raspberries, kiwi and a drizzle of honey.
If I really want to impress my friends and family, I make a pavlova! They are just so pretty look at and they are not as complicated to make as you may think!
Making a pavlova is pretty easy and relatively fool-proof! The results: crunchy on the outside and as fluffy as a marshmallow inside. Topped with luscious whipped cream and gorgeous kiwis and raspberries...this is a dessert to IMPRESS!!
You could decorate your pavlova with whatever you prefer: fresh berries, cooked pears or apples (very fall!). For the chocolate lovers: you could add cocoa powder to the meringue and top with chocolate and cream...a chocolate pavlova delight!
The pavlova is as fluffy as a cloud and very delicate! Be super careful (it's very fragile!) when you remove it from the parchment paper.
Important to remember: When the egg whites have quadrupled in volume, that is the time to add the sugar just a little bit at a time and keep on beating! and adding them slowly while whipping the mixture continuously. Even more important, when they are whipped to perfection...don't wait to bake them. It's important to get them shaped on your pan and put in the oven. No hesitating.
My very important tip for you: let it cool completely on the pan before transferring to your serving plate. I didn't wait the most recent time I baked it and my pavlova did break apart a bit before I had a chance to decorate it. Luckily, nobody complained! Even not so perfect to look at...it was perfection to taste!
What is the difference between a meringue and a pavlova?
A meringue is a mixture of whisked egg whites and sugar and a pavlova is a type of meringue. Pavlovas have a marshmallow-like center from the cornstarch.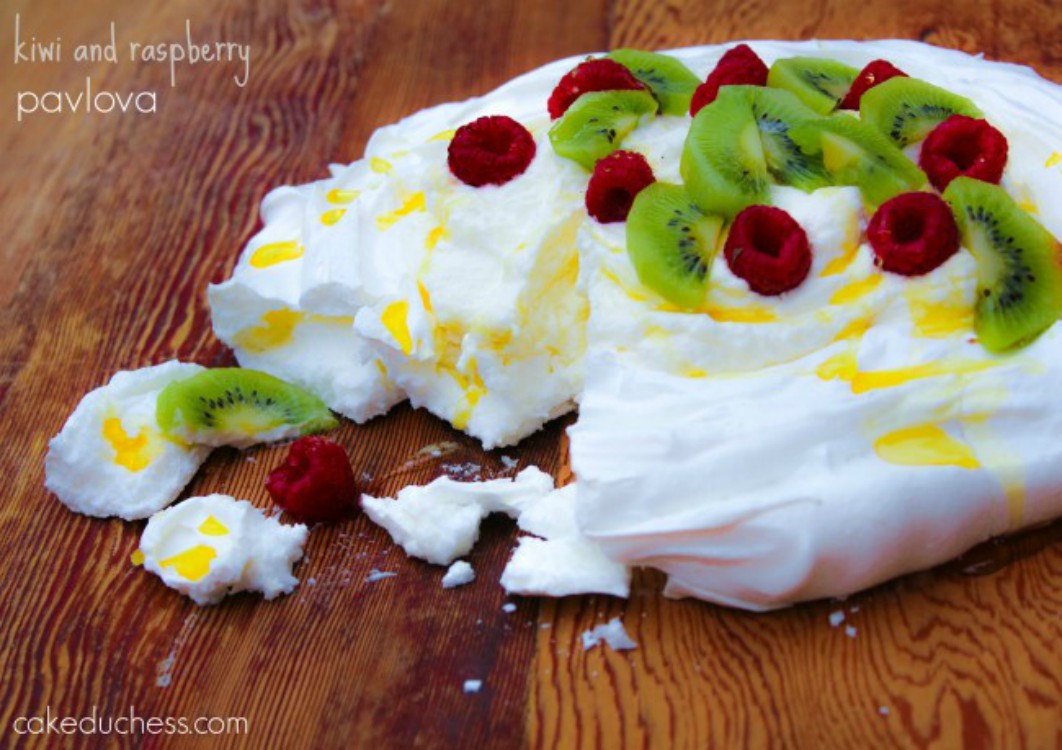 How Do I Know My Pavlova Is Done?
The pavlova will look dry and pale when it is perfectly baked. When you insert a skewer into the meringue it will have a sticky almost like marshmallow consistency.
Pork Chops with Pumpkin and Apples
Pork Chops with Pumpkin and Apples features comforting fall flavors and pop of color from fresh cranberries. The thin bone-in pork chips grill up in minutes and go perfectly with the side dish of roasted pumpkin, apples, cranberries and sage. A quick and healthy weeknight dinner that is elegant enough for the holidays!
Ingredients
PORK

4

bone-in pork chops

about 1/2-¾ thick

2

cloves

garlic

minced

1

teaspoon

fresh rosemary

chopped very fine (or 1/2 teaspoon dried), could also use sage

1

teaspoon

kosher salt

½

teaspoon

black pepper

2

tablespoon

extra-virgin olive oil

juice of 1 lime

PUMPKIN + APPLES

1

2-3 pound pumpkin, peeled & chopped into one inch pieces (or use butternut squash)

1

medium apple

peeled, cored and cubed

1

Tablespoon

extra-virgin olive oil

1 ½

cups

fresh

or frozen cranberries, don't thaw if frozen

½

tsp

salt

½

tsp

pepper

1

teaspoon

ground cinnamon

DRESSING:

¼

cup

extra-virgin olive oil extra-virgin olive oil

1 ½

Tablespoons

apple cider vinegar or white wine vinegar

2

teaspoons

Dijon mustard

1

teaspoon

maple syrup

omit for Whole30

2

tablespoons

fresh herbs

finely minced (sage, thyme, rosemary)*use just one or combo of all

½

teaspoon

sea salt

¼

teaspoon

black pepper
Instructions
PORK CHOPS

Pat the pork chops dry on both sides. Add the rosemary, salt, pepper, and garlic. Rub it all in with your fingers. Place the pork chops in a zipped lock bag or plastic (or glass) storage container.

Refrigerate and marinade for at least 3 hours and up to 24 hours.

Let come to room temperature prior to grilling. While the pork chops are coming to room temperature, begin the pumpkin side dish.

PUMPKIN + APPLES

Preheat oven to 400 degrees F.

Line a baking sheet with foil or parchment paper. Place the pumpkin and apples in the center of the sheet. Drizzle on the olive oil and sprinkle on the salt and pepper. Use your hands or a spoon to toss and coat evenly. Spread out the pumpkin and apples in an even layer. Add on some fresh sage leaves and the ground cinnamon. When oven is heated, place the baking tray on center rack of oven.

Roast for 20 minutes, turning once. Add in the cranberries and use a spoon to combine and toss with the squash and apples. Roast 10 more minutes. It won't take long for them to split open and release their juice, so may be ready even sooner.

While the pumpkin mixture cooks up, prep the pork chops.

When ready to grill, add some oil to the grill pan (or a skillet) over medium high heat. If you are using a grill pan, you will need to cook the pork in batches (if the chops are too crowded in the pan, the chops will steam and not sear properly). Place the pork chops on the grill. Cook on the first side for 3-4 minutes, until the pork chop easily releases from the grill.

Flip and cook on the other side for another 3-4 minutes (the cooking time will vary based upon your grill pan temperature and the thickness of your pork), until the pork reaches 135 degrees F on an instant read thermometer (the pork does continue to cook and the temperature will keep rising as it rests).

Pork chops are ready when the juices are a little pink, the pork is just firm to touch, and the center is a little rosy.

Place the pork chops on a platter, cover with foil paper, and leave it to rest for 8-10 minutes.

DRESSING

In a small bowl, whisk together 1 tablespoon olive oil, apple cider vinegar, maple syrup and cinnamon to make vinaigrette. Set aside. You could also make the dressing by adding all the ingredients to a mason jar. Shake well until all combined.

Remove pumpkin baking sheet from the oven and set aside.

Serve on the side with the pork chops. Serve the pumpkin side dish warm or room temperature.

Drizzle on the dressing as soon as you are ready to serve it. Add some fresh sage leaves or rosemary spring to serving platter. Enjoy!
Notes
PALEO-GLUTEN FREE. Totally gluten-free and perfect if you're following paleo. If you're on a Whole30, simply omit the maple syrup from the dressing.
TO STORE. Once pork chops have cooled down store in airtight container in the refrigerator for up to 3 days. Refrigerate leftover pork chops in an airtight storage container for up to 3 days.
Store any leftover roasted pumpkin/apple side dish in storage container for up to 3 days in the refrigerator. Could be served next day as part of a salad or even with some quinoa (delicious!).
TO REHEAT. Any leftovers could be warmed up on a skillet on the stove, or in oven at 350F (or your microwave).