Kiwi and Raspberry Pavlova is a delicious and decadent dessert made with egg whites. Totally gluten-free topped with whipped cream, sweet raspberries, kiwi and a drizzle of honey.
If I really want to impress my friends and family, I make a pavlova! They are just so pretty look at and they are not as complicated to make as you may think!
Making a pavlova is pretty easy and relatively fool-proof! The results: crunchy on the outside and as fluffy as a marshmallow inside. Topped with luscious whipped cream and gorgeous kiwis and raspberries...this is a dessert to IMPRESS!!
You could decorate your pavlova with whatever you prefer: fresh berries, cooked pears or apples (very fall!). For the chocolate lovers: you could add cocoa powder to the meringue and top with chocolate and cream...a chocolate pavlova delight!
The pavlova is as fluffy as a cloud and very delicate! Be super careful (it's very fragile!) when you remove it from the parchment paper.
Important to remember: When the egg whites have quadrupled in volume, that is the time to add the sugar just a little bit at a time and keep on beating! and adding them slowly while whipping the mixture continuously. Even more important, when they are whipped to perfection...don't wait to bake them. It's important to get them shaped on your pan and put in the oven. No hesitating.
My very important tip for you: let it cool completely on the pan before transferring to your serving plate. I didn't wait the most recent time I baked it and my pavlova did break apart a bit before I had a chance to decorate it. Luckily, nobody complained! Even not so perfect to look at...it was perfection to taste!
What is the difference between a meringue and a pavlova?
A meringue is a mixture of whisked egg whites and sugar and a pavlova is a type of meringue. Pavlovas have a marshmallow-like center from the cornstarch.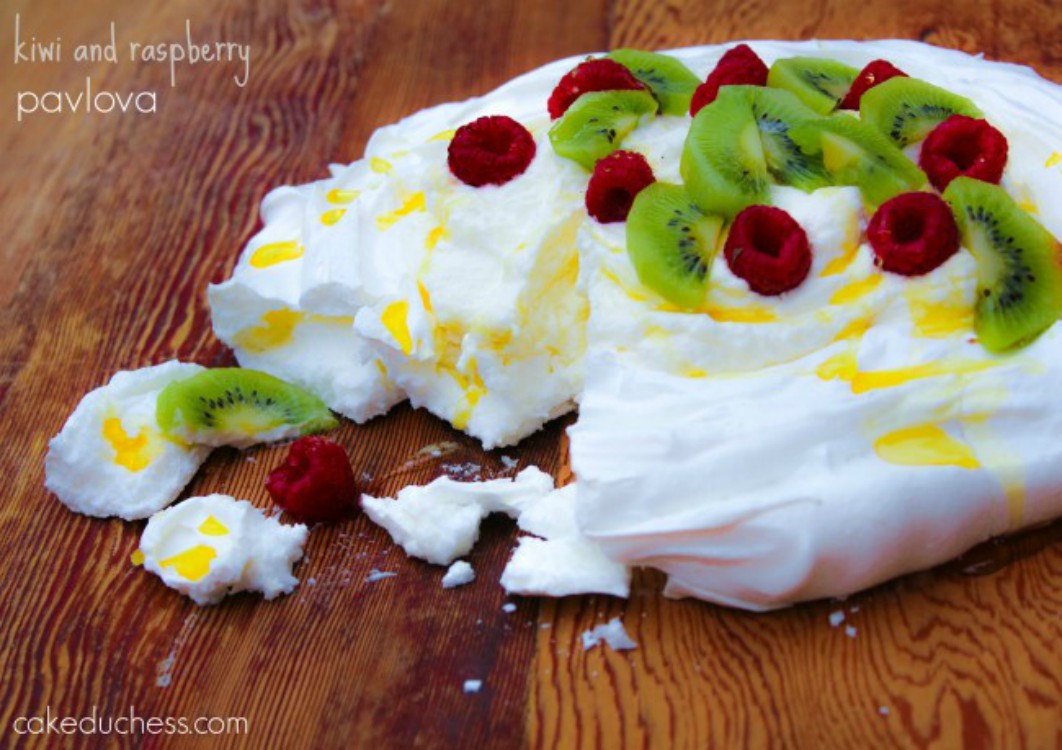 How Do I Know My Pavlova Is Done?
The pavlova will look dry and pale when it is perfectly baked. When you insert a skewer into the meringue it will have a sticky almost like marshmallow consistency.
Penne with Mozzarella, Cherry Tomatoes, and Basil
Penne with Mozzarella, Cherry Tomatoes, and Basil is a really easy Italian summer pasta dish. It's even more delicious at room temperature. If you don't like the tuna, leave it out.
Ingredients
1

lb

penne pasta

3

balls

medium sized of fresh mozzarella

1

lb

cherry tomatoes

sliced in half

handful of sliced basil

can of Albacore tuna

optional

1/4

– 1/3 cup extra virgin olive oil

dash balsamic vinegar

salt and pepper

to taste
Instructions
Slice mozzarella in little chunks. In a large bowl, add the mozzarella, sliced cherry tomatoes, and basil (and tuna, if you are using it).

Cook pasta until it's al dente.

Drain the pasta and toss it into the bowl with the mozzarella mixture.

Add the olive oil, balsamic vinegar, salt, and pepper. Mix with a large spoon until it's all incorporated. Check flavor and add salt and pepper, if needed.
Nutrition Disclaimer
Please keep in mind that the nutritional information presented below is an approximation and may vary depending on the exact ingredients used.