Our Easy Classic Italian Christmas Cookies are a soft and sweet cake-like cookie made with anise. Not too sweet, the delicious dairy-free cookies are covered with icing and vibrant rainbow sprinkles. Add these to your cookie tray! Since you probably have everything you need in your kitchen right now, you can make some homemade Italian Christmas Cookies today!
These Italian Christmas cookies are also known as Italian Anise cookies (anisette cookies) which are made with anise extract. This type of cookie is served during the Christmas season. They can be decorated with icing, sprinkles, or colored sugar crystals to give them a festive look.
They are also another version of my Italian Lemon Knot Cookies. I am guessing you may have all the ingredients in your pantry to whip up these cookies. You could make them just in time for Christmas. Actually, these cookies are so easy to make. You'll want to make them all year round.
This is another one of nonna's (AKA, my mom) cookie recipes. So, you know it is a keeper! They are better than any cookie you'll find in an Italian bakery (I promise you!), and much more economical. Once you see how it easy it is to make these Christmas cookies, you'll be baking them every year.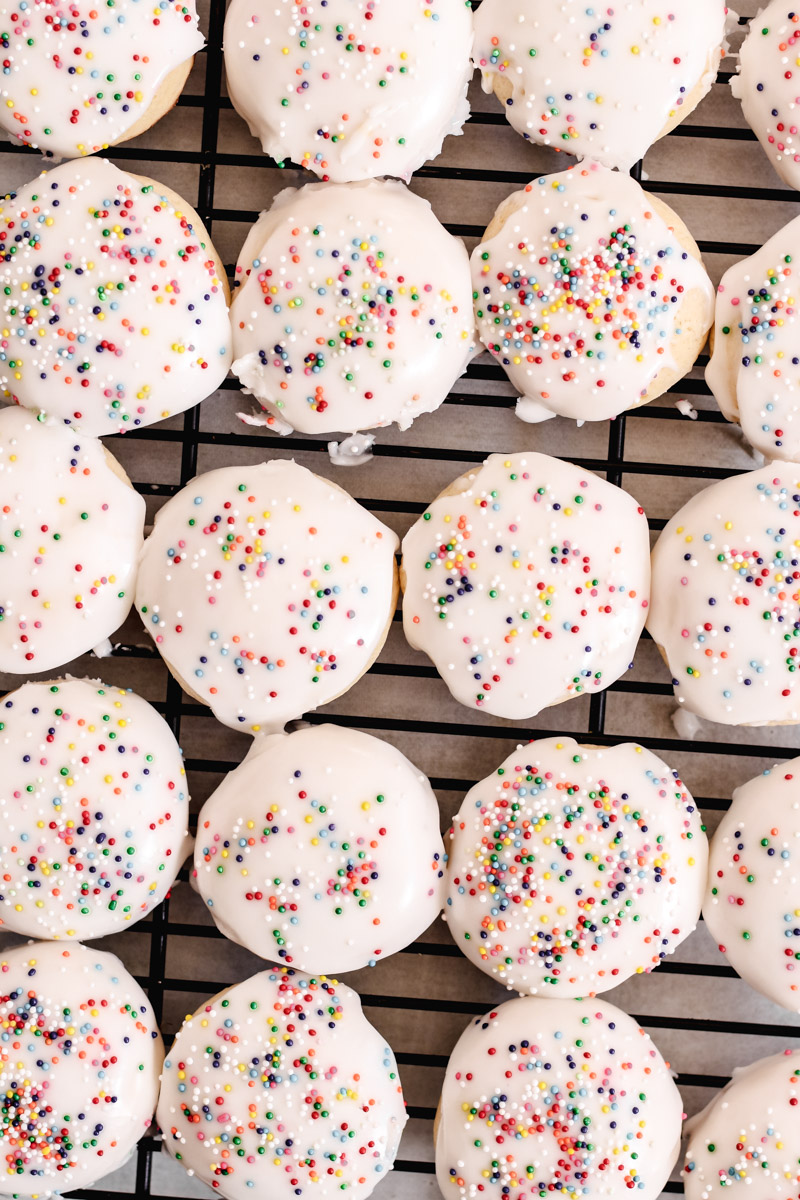 Italian Christmas Cookies are the perfect gift for your favorite friends or lucky neighbors. They are the perfect addition to your cookie platter, like our Vegan Hot Cocoa Cookies, Italian Rainbow Cookies, and Chocolate Crackle Cookies. These cookies make your cookie tray even happier with all the gorgeous colorful sprinkles!
With just a touch of anise and the most perfect icing, you should be baking these cookies any time of the year.
Of all the cookies nonna baked when I was little, these have always been one my kids' all-time favorite. They absolutely LOVE baking them with nonna. It seems it's not Christmas they aren't prepping a batch of these delicious cookies.
Jump To
Why you'll love these Anisette Cookies?
These cookies are soft and chewy with a hint of anise flavor.
The dough is easy to work with and can be shaped into any shape you desire, such as stars or circles.
They also have a light sweetness that makes them perfect for dunking in coffee, hot chocolate, or even eggnog!
These cookies are also popular because they freeze well and can be made in advance, making them ideal for busy holiday schedules.
What are Italian Christmas Cookies?
Italian Christmas cookies are a simple type of sugar cookie made with ingredients that could be found in a pantry. Made with flour, baking powder, sugar, butter and extracts (typically anise and you could even use almond in place of anise). The cookies are not overly sweet.
The cookies are coated with a lovely confectioner's sugar glaze and colorful non-pareils (rainbow sprinkles).
What ingredients are in Italian Christmas cookies?
The cookies come together with the most simple ingredients. Full printable recipe is below.
Butter (or margarine, for dairy-free)
Eggs
All-Purpose flour
Anise extract (or almond extract)
Extra powder sugar
Sprinkles- nonpareils or your sprinkle of choice
How Do I Make Anisette Cookies?
Gather all the ingredients.
Step 1. Once you make the really easy cookie dough, wrap it up and chill it.
Step 2. When you're ready to bake the cookies. Prep the glaze.
Step 3. Prep your baking trays and begin to roll out the cookie balls. They should be about 1-inch round.
Step 4. Place the cookie balls on the prepped baking trays being sure to leave some space between them, as they will expand while baking.
Step 5. Press the cookie balls down gently.
Step 6. Set your timer and bake the cookies for about
Step 7. Place the cookies on a baking rack to cool down completely. If you already prepped your glaze, give it another good stir.
Step 7. Glaze the cookies and sprinkle on the rainbow nonpareils as soon as you glaze each cookie (so they'll stick).
What is the texture of Italian Christmas Cookies?
These cookies have a cake-like texture that is soft. They melt in your mouth when you take a bite. So they aren't like other Italian cookies like the crunchy biscotti or even the delicate and crispy pizzelle.
Tips to make the best Italian Anise Cookies
Room temperature butter: The butter (or margarine) needs to be at room temperature.
Do not overmix the dough: When mixing together the ingredients, do not overmix. If you're using a stand or handheld mixer, be sure not to over beat the dough. Over mixing the dough activates the gluten, which will result in a tough cookie.
Wrap dough in portions: Separate the dough into two or three portions and wrap with some plastic wrap to chill.
Chill the dough: Once you have the dough wrapped, chill in the refrigerator until it is firm. Depending on how big you separate out the portions you wrapped, it could take an hour or two to chill. Chilled dough means the cookies won't spread when they bake.
Spray hands with baking spray: To shape the dough into balls, it helps to spray your hands with some baking spray before rolling.
Keep an eye on cookies while they bake: Set the timer as a guide. Every oven is different. The bottom of the cookies will be a light golden color and the top should not brown at all. The texture will be soft still, so take care not to overbake.
Cool cookies completely: Give your glaze another stir before topping the cookies. As soon as the cookies have cooled completely, spoon on the glaze or dip the cookies in the glaze. If the cookies are still warm, the glaze will melt and slide right off.
Add on the sprinkles: While the glaze is still wet, add on the rainbow sprinkles. You could even use red and green sprinkles. Whatever you prefer.
Does freezing cookie dough change the taste?
The cookie taste will stay the same, but sometimes the cookies do not bake same after freezing. It's best to thaw the dough for 24 hours in the refrigerator before baking.
How can I make my sugar cookies taste better?
The extracts add the flavor to these very simple cookies. You could use pure vanilla and anise extracts. Or just anise extract. If you don't have anise, you could use almond extract in its place.
Should butter be cold or room temperature for baking cookies?
This recipe calls for mixing the butter at room-temperature. Room temperature is between 70 and 72 degrees F. This is so you can incorporate air into the dough to make the cookies fluffy. If butter is melted, you'll end up with thin and flat cookies.
Should you let your sugar cookie dough rest?
I like to make this dough a night or two before baking. But you could even chill the dough 1-2 hours before baking.
Where did anise cookies originate?
Anise cookies are believed to have originated in Italy, where they are traditionally served during the Christmas season. The most common type of anise cookie is called "zeppole" and is made with a dough filled with anise extract and sugar.
What do you use anise extract for?
Anise extract can be used to flavor a variety of recipes, including cakes, cookies, and even drinks. It is commonly used in baking to add an aromatic licorice-like taste. Anise extract is also known for its medicinal properties, as it has been used for centuries to treat digestive issues and help soothe sore throats.
Are these Christmas cookies dairy-free?
You could make these dairy-free. Use margarine in place of the butter for the dough. For the glaze, you could use your favorite unsweetened nut milk. I like to use unsweetened almond milk for the flavor (but the glaze will have a darker color).
You could use unsweetened coconut milk to keep the glaze bright white, but it may have a slight coconut flavor.
Could these Italian Christmas cookies be made gluten-free?
Yes, you could replace the flour with gluten-free 1-1 flour like Bob's Red Mill or King Arthur's Flour.
Can I make these Italian cookies in different shapes?
Yes, these cookies can be shaped into twists, S shapes, or even knots. Rolling them into balls is the easiest way to make them.
Do I have to flatten these cookies after I shape into a ball?
Yes, simply press down on them gently with your fingertips after you shape them into the balls. You do not need to use a glass (like I did with my Italian almond cookies) or any thing else to press them. Just a gently touch will flatten them enough.
Can Italian Christmas cookies be made ahead of time?
Yes, they can! Store them in an airtight container and keep at room temperature for even up to two weeks. Depending on how hot your kitchen is. Mine is pretty hot. So I prefer after a few days to transfer the cookies in a container to the refrigerator.
How long can you store Italian Christmas cookies in the refrigerator?
Stored in an airtight container, they could stay fresh for 1-2 months. You could even store them in a zipped lock bag (squeeze the air out before you seal the bag shut).
Can you freeze these cookies?
Yes, you can. I recommend freezing the baked cookies before you glaze them. Once they have cooled down completely, store the cookies (without the glaze)in an airtight container or a zipped lock freezer bag. They will keep for up to 6 months.
When ready to enjoy, defrost the cookies and prep the easy glaze. Glaze the cookies and add on the rainbow sprinkles.
Can you freeze the unbaked cookie dough?
Yes, you can freeze the unbaked cookie dough. Thaw the dough out when you are ready to bake. Unbaked cookie dough can freeze for up to 3 months. Very important to write the type of cookie and the date on the container.
I like to wrap the dough tightly with plastic wrap and store it in a large zipped lock freezer bag. Squeeze out all the air before sealing the bag tightly.


Some other cookie recipes to enjoy
This post contains affiliate links. As an Amazon Associate I earn from qualifying purchases. See my privacy policy for details.
Did you make this? Please RATE THE RECIPE below:)
Please Subscribe and give a follow on Instagram, Facebook, Pinterest, and TikTok xx
This post contains affiliate links. As an Amazon Associate I earn from qualifying purchases. See my privacy policy for details.
Nonna's Easy Italian Christmas Cookies
Our Classic Italian Christmas Cookies are a soft and sweet cake-like cookie. Not too sweet, the delicious cookies are covered with icing and vibrant rainbow sprinkles. Add these to your cookie tray! Since you probably have everything you need in your kitchen right now, you can make some homemade Italian Christmas Cookies today!
Ingredients
For the cookies:

¾

cup

butter

softened (or margarine)

½

cup

powdered sugar

½

cup

granulated sugar

3

eggs

room temperature

3

cups

all-purpose flour

3

teaspoons

baking powder

½

teaspoon

sea salt

1

teaspoon

pure vanilla extract

½

teaspoon

anise extract

or almond extract

For the glaze:

2

cups

powdered sugar

3

Tablespoons

milk

(or unsweetened almond or coconut milk)

rainbow nonpareil sprinkles
Instructions
For the cookie dough:

In a medium mixing bowl, sift together the flour, baking powder and salt; set aside.

In the bowl of a stand mixer, beat together the and the sugars until creamy. Add the eggs one at a time; mix well.

Beat in the extracts (you could use vanilla and anise, or almond extract).

Add the flour one cup at a time, stopping the mixer to scrape down the sides of the bowl and incorporate the flour. Do not overbeat (just mix until incorporated).

Divide the dough into two sections. Wrap tightly with plastic wrap. Refrigerate the dough for one hour.

Preheat the oven to 350 F.

Line baking trays with parchment paper and set aside.

Scoop out dough a small portion at a time and roll dough into 1-inch balls.

Place cookies spread apart on the sheets and bake for about 8-10 minutes, or until very lightly browned on the bottom (every oven is different so check them at 8 minutes).

Transfer cookies to a wire rack to cool.

For the glaze:

In a small bowl, whisk together the confectioners' sugar and milk, until it forms a thick but pourable glaze. If it gets too thin, add a little more confectioners' sugar. Drizzle or spoon onto each cookie, add the sprinkles and let completely set before storing them.
Nutrition Disclaimer
Please keep in mind that the nutritional information presented below is an approximation and may vary depending on the exact ingredients used.
Nutrition
Calories:
121
kcal
|
Carbohydrates:
19
g
|
Protein:
2
g
|
Fat:
4
g
|
Saturated Fat:
3
g
|
Polyunsaturated Fat:
0.3
g
|
Monounsaturated Fat:
1
g
|
Trans Fat:
0.2
g
|
Cholesterol:
24
mg
|
Sodium:
104
mg
|
Potassium:
20
mg
|
Fiber:
0.3
g
|
Sugar:
11
g
|
Vitamin A:
140
IU
|
Calcium:
26
mg
|
Iron:
1
mg