Hello, fellow adventurer! Are you prepared to set off on an expedition, to one of Italia's kept secrets? Our 'Savoring Italy' series is delighted to present to you the Lecce Travel Guide, a gateway, into the soul of Southern Italy. Lecce, commonly known as the 'Florence of the South' is a gem overflowing with baroque architecture sun kissed streets and an abundance of tempting gastronomic delights just waiting to be discovered.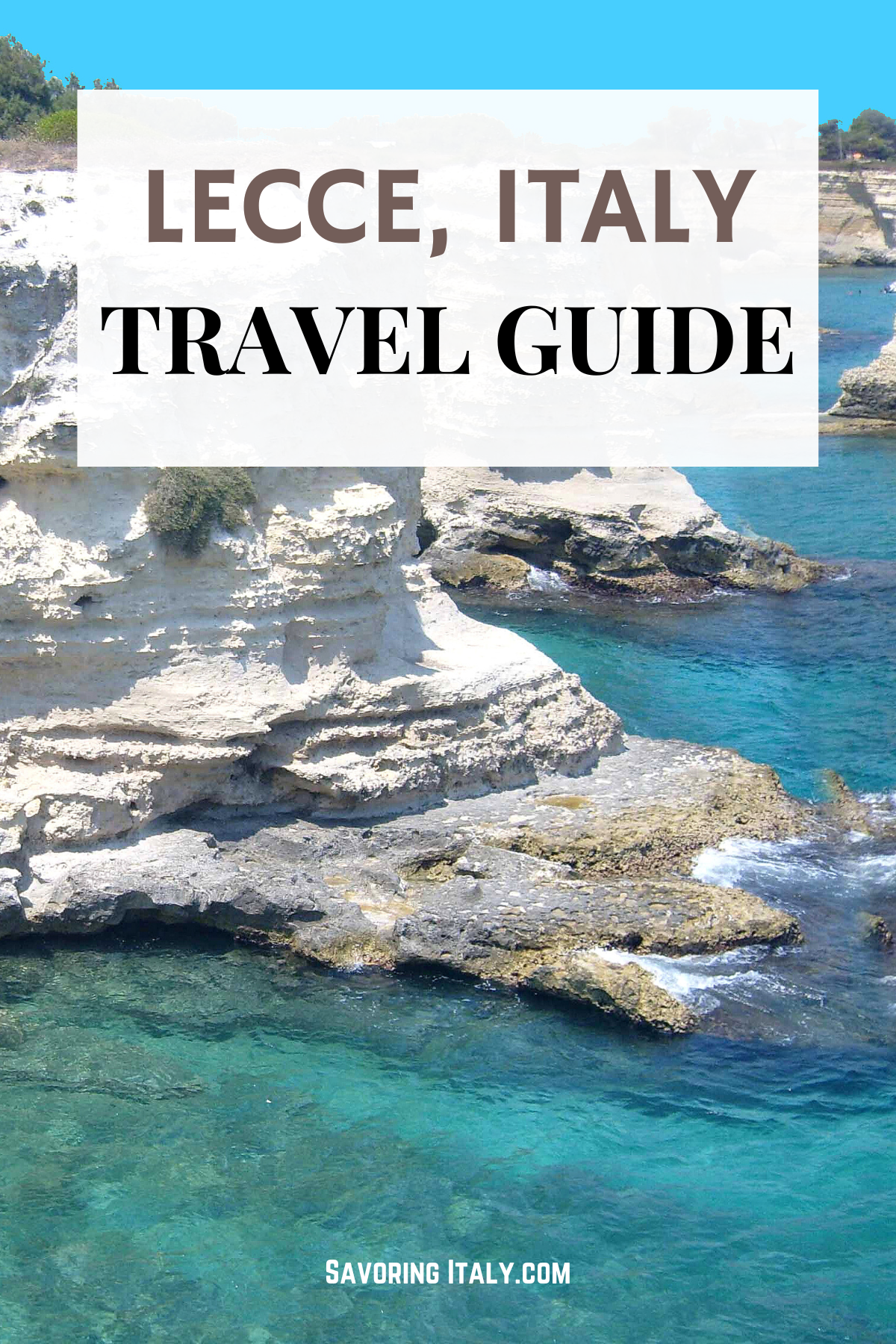 This travel guide contains affiliate links which supports us at no extra cost to you.
Jump To
A Brief History of Lecce, Italy
The Origins of Lecce: From Myth to Roman Conquest
Imagine a town with origins that its beginnings are shrouded in myth. The tale of Lecce begins with a king named Malennio, who probably never anticipated that his modest settlements of Lupiae and Rudiae would evolve into a historians puzzle. Fast forward a bit and you find Idomeneo, the King of Crete washed ashore on Salentos coast carrying the remnants of the Trojan War. As a tribute, to his homeland in Lycia he bestowed upon this place the name Lecce. The Romans, always ready to join in on the fun arrived during the 3rd century BC and gave it an identity, as Lupiae. Classic Romans!
Lecce Under Different Rulers: From the Fall of Rome to Norman Ascendancy
Post-Rome, Lecce became the playground for every warlord with a horse and a sword. Ostrogoth king Totila treated the city like his personal punching bag during the Gothic Wars. Then, just when things looked up under Roman rule again, the Saracens and Lombards decided to take their turns at bat. Fast forward to the 11th century, and the Normans roll in, flexing their architectural muscle with cathedrals and convents, because nothing says 'we're in charge' like building a massive house for God.
The Era of Cultural and Architectural Flourishing
During the period when the Normans stepped back the French eagerly embraced the Lecce movement. Countess Maria d'Enghien played a role in this transformation by giving the city a facelift through the addition of new sculptures and castles. Lecce's network of trade connections was impressive including figures, from Venice to Genoa as well as traders, from Jewish, Florentine, Greek and Albanian origins who joined in on the festivities.
The 15th and 16th Centuries: A Hotbed of Conflict
The French and Spanish engaged in a power struggle, for control of Naples with Lecce being caught in the middle. Along came Charles V of Hapsburg, who cleverly took on the role of a strategist. He transformed Lecce into a fortified city as nothing quite communicates "stay away" better than imposing walls and a majestic castle. The primary objective was to protect against the advances of the Ottoman Empire creating a battle of king of the hill.
Lecce's Development into the Modern Era
By 1539, Lecce had swaggered its way into the big leagues, becoming the Kingdom of Naples' crown jewel like that overachieving kid in class. It was juggling its administrative duties while hosting a brainiac bash at its "accademie," where the Renaissance's finest minds gathered to flex their intellectual muscles. The city proudly showcased its ornate façade with a kind of Kardashians flamboyance for that time. The centerpiece of this grandeur was the Santa Croce church.
Moving ahead to the previous century when the city had a role to play during World War II. Fighter aircraft stationed in Lecce provided support to garrisons, in the Aegean Sea. Unfortunately due to delays caused by the Allies they were unable to prevent defeat. In the years later, Lecce became home to the Heavy Bomber Group of the 15th U.S. Army Air Force. This group carried out missions throughout regions of Europe.
Where is Lecce, Italy?
Lecce this ancient Italian gem is located in the heart of Apulia or Puglia as the locals call it in the part of Italy. It finds its place, in the region nestled within the Salento peninsula – Italys picturesque "boot heel." Now Lecce is an example of Baroque architecture referred to as the "Florence of the South " but without the overwhelming crowds of selfie taking tourists. It boasts an architectural heritage that reminds you there's more to Italy than just pizza and gladiators. The city itself is 11 kilometers away, from the coast tucked away inland yet still enjoying ample sunshine from that beautiful Mediterranean climate.
A Map of Lecce, Italy
Lecce Travel Tips
In Italy I've noticed that the four distinct seasons have an impact, on my packing decisions. The summers can get quite warm sometimes even scorching and are accompanied by levels of humidity. On the other hand the winters are cooler and they occasionally bring along some rainy days. That's why I always ensure to check the weather forecast a week to my trip so that I can pack clothing accordingly.
Walking along the enchanting cobblestone streets and numerous staircases of Lecce, I've learned the importance of choosing robust footwear for my journeys. When the winter season arrives it's essential to have water footwear. In the summer months I prefer sandals that're suitable, for walks and I tend to favor lightweight layered clothing options.
When I travel to Italy I typically prefer to check in a suitcase. It comes in handy particularly if you're like me and have plans to shop and bring back souvenirs like cheeses or leather goods. It's much easier than attempting to squeeze everything into carry on baggage.
Some of my personal recommendations for when you are traveling to Italy:
If you are planning on renting a car in Italy, it is important to do your research beforehand. There are several rental companies that offer competitive rates and good customer service. I recommend this car rental service.
If you are looking for a reliable travel insurance company, I would reccomend World Nomads Travel Insurance.
If you are looking to find a budget-friendly or even more luxury places to stay, I recommend Booking.com. My second favorite option is Airbnb.
On my Amazon storefront I also have a travel essentials section where I list everything you should pack with you for your next Italian vacation!
How to Get to Lecce
Reach Lecce by Train:
Lecce is right at the tail end of the main Adriatic line. It's like the nerve center, connected to everything. You can hop on a Eurostar, Intercity, or regional express from pretty much any major city in Italy – think Rome, Milan, Bologna, Turin, Trieste, you name it.
If you're looking to get all the specifics such as timings, ticket costs or make a reservation simply visit the Trenitalia website. It's your one stop destination for all things train related in this region.
Getting to Lecce in Italy by car:
Planning a trip to Lecce by car? It may seem like a bit of an adventure. Heres how it unfolds. If you're starting in Rome, the first step is tackling the A1 motorway heading towards Naples. Once you reach Naples you'll have to make a decision: Take the A16 or the A14 both of which will lead you to Bari.
On the hand if you're traveling from Milan to Lecce things are a bit simpler. You'll only need to follow the A14 towards Bari without any detours.
Whether you're coming from Rome or Milan, once you hit Bari, the game changes. You're now on a single-track mission – the main road 379, a straight dash to Lecce. Keep your eyes on the prize, and before you know it, you'll be rolling through the streets of Lecce, journey complete.
When is the Best Time to Visit Lecce, Italy?
The ideal time to visit Lecce, Italy greatly depends on what you desire from your trip. Here are a few factors to consider: Spring – April through June. During this season Lecce experiences its renaissance. The weather is just right. Not excessively hot nor too chilly. Creating a Goldilocks zone, for exploration. Moreover the city isn't yet inundated with tourists allowing you to truly appreciate its beauty and the countrysides vibrant greenery that seems amplified as if on steroids.
Then we have summer. The months of July and August. If you enjoy basking in the sun and don't mind a heat this is your time. The city is alive with excitement - the atmosphere is vibrant. There's a festival happening at every turn. However here's a thing to note: August is the month when most Italians go on vacation. As a result some places may be temporarily closed. It's like the city is throwing a celebration but accidentally left out some of the guests.
Autumn - from September to October. As the season transitions the weather becomes cooler creating an atmosphere for sightseeing. The number of tourists decreases, creating a laid back and relaxed ambiance. Additionally this is the time to immerse yourself in the grape harvest festivities in the wine regions.
Winter – November to March. It's the off-season. Mild, especially compared to the Arctic tundra up north. The city's quiet, almost introspective. But hey, a heads up – some attractions might be snoozing with reduced hours, and the weather? Unpredictable, like a moody artist.
How Long Do You Need in Lecce, Italy?
The amount of time required to appreciate Lecce, a city in southern Italy can vary depending on your preferences and travel pace. Here's a general guide;
Short Visit (1-2 Days); If you're looking for a tour spending 1-2 days should suffice to experience Lecces attractions. This includes exploring the center admiring the Baroque architecture and visiting sites such as the Roman amphitheater and the Duomo.
Moderate Stay (3-4 Days); If you have a bit time allocating 3-4 days allows for a more relaxed exploration of Lecce. You'll have the opportunity to delve deeper into its history visit museums savor the cuisine and perhaps even participate in activities like cooking classes or wine tasting.
Extended Stay (5+ Days); Opting for 5 or more days enables you to use Lecce as a base for venturing into the Salento region. This opens up opportunities for day trips to beaches, olive groves and charming towns like Otranto and Gallipoli. It's a choice for those seeking immersion in culture and landscape.
Ultimately it is important to align the duration of your stay, with your interests—whether they lean towards history food experiences cultural encounters or leisurely exploration.
The Best Things To Do in Lecce
The following are some of Savoring Italy's best recommendations for things to do in Lecce, Italy:
1) Visit the Porta San Biagio
I kicked things off at Porta San Biagio. We basically just parked in front, and there it was: this gate that's straight out of a storybook, slapped with Ferdinand of Bourbon's coat of arms, and oozing old-world charm. The architecture's so spellbinding, you can't help but gawk.
This gate's got roots, deep in history, going back to some Armenian bishop from the 4th century, getting a facelift in the 1700s. It's the southern mouthpiece to Lecce's old-school heart, and stepping through, you're basically time-traveling.
It's one of the trio of gates left guarding the city's historical core – used to be a quartet. The thing's a Baroque masterpiece, more than just a pretty face – it's a symbol, a piece of the puzzle to Lecce's past as a fortified city.
2) Check out Centro Storico (Historic Center)
The historic center of Lecce is a captivating fusion of history, culture, food and craftsmanship. Every time you look up you'll be amazed, by the beauty of the buildings and monuments. To truly grasp the richness of Lecce's past, art and traditions I highly recommend joining one of the guided tours it's an experience that brings the city to life. The cleanliness of Lecce is exceptional making exploration more enjoyable.
3) Explore the Musa - Museo Storico Archeologico
I visited the Musa Historical Archaeological Museum in Lecce, Italy. This place immerses you in Salentos past. Imagine seeing bones from the time when Neanderthals roamed – it truly puts into perspective the climate of that era.
The highlight, without a doubt - the Mesolithic section. They have a replica of a family who escaped a fire in Roca Vecchia. Room 3 dedicated to the Messapi people is fascinating. These individuals were truly remarkable—they interacted with Greeks and other significant players in the Mediterranean. Even developed their alphabet.
Every corner of this museum is filled with artifacts from the period and don't even get me started on the mind blowing exhibits of Roman shipwrecks! The amount of knowledge to absorb in this museum and the evident passion poured into it make it an obvious choice.
4) Make a pilgrimage to Basilica di Santa Croce
The Basilica di Santa Croce is considered the epitome of Lecce's Baroque architecture. Its façade, more than being a decorative front, tells stories of faith and the history of Catholicism dating back to the late 16th century. The exterior is a display of shapes and embellishments that give the impression of pulsating life within the stone. On the inside a subdued approach awaits visitors with decorations that offer a peaceful contrast to the opulence seen outside.
Recognized as Lecces masterpiece during its time this basilica was crafted by architects, from the mid 1500s until the late 1600s. The façade itself is an intricately designed work of art while inside visitors will be captivated by dazzling white stone decorations. Make sure not to overlook the painting of the Holy Trinity nestled within the coffered ceiling. Additionally take note of the side altars resembling lace adorned with carved details.
5) See Il Sedile
Il Sedile, also known as Palazzo del Seggio is a building located in Piazza Sant'Oronzo, Lecce. It was constructed during the second half of the 16th century, with a distinctive rectangular shape which the locals say that represent the city itself. Throughout its history Il Sedile has undergone renovations, including the removal of rooms at the rear. Architecturally it combines elements of Gothic and Renaissance styles.
The lower floor features two arches and beautiful stained glass windows while the upper floor showcases a loggia with three arches. Inside there is a room adorned with frescoes depicting figures and King Charles V along with a grand fireplace. Over time Il Sedile has served purposes such as housing weapons functioning as a town hall and seat of the National Guard. It has also been home, to the Civic Museum and the Salento Press Association. Today it stands as a space that hosts art exhibitions—making it an esteemed venue for artists to showcase their work in Lecce.
6) Check Out Duomo di Lecce
As I stepped into the Duomo di Lecce I was immediately captivated by a sight that lingers in my memory: the ceilings, adorned with colors and the twisted columns resemble an engrossing storyline. The friezes adorning them narrate tales, of a seasoned travelers experiences. This place is, like a labyrinth of art; the arabesque vaults and side altars each a masterpiece on its own not contribute to the cathedrals grandeur. Embody it entirely. Describing this enchantment with words feels as futile as trying to bottle lightning. Below lies the crypt—a realm apart—simple astonishing, where columns and arches stand in beautiful contrast, to the baroque spectacle above.
7) Visit and Stay at Palazzo Maresgallo
I had the pleasure of staying at Palazzo Maresgallo, in Lecce. It truly exceeded all my expectations. Located right in the heart of the city this palace captivated me with its decorations. The room also incredibly spacious. However what truly made this place special was the service provided by the staff. The owners and their team went above. Beyond to ensure that I felt welcomed and comfortable throughout my stay. They were incredibly accommodating with everything from assisting me with parking arrangements to helping me make restaurant reservations. The breakfast spread was an experience thanks to the talented chef who prepared delectable cakes. Although I could only stay for two nights I found myself wishing I could have extended my visit longer. If you're considering a place to stay in Lecce I wholeheartedly recommend not hesitating and booking your stay here without a thought!
8) Make a Pilgrimage to Museo Faggiano
When you visit Museo Faggiano, in Lecce you embark on a journey spanning more than two thousand years of history. From the Messapians to the day including the Roman era and the Knights Templar this four story museum housed in an unassuming building showcases the vibrant heritage of Lecce. Its origins are quite intriguing. It all started with a discovery during a plumbing repair.
In my opinion, the Faggiano crew, helming Museo Faggiano, are the museum curators, guardians of history, time-travelers in their own right. With a relentless zeal for the past, they've turned their digs into a treasure trove, bridging the gap between now and then so that for the history buffs and the archaeology aficionados, it's a pilgrimage.
9) Walk through Porta San Biagio
Behold Porta San Biagio, Lecce's guardian, proudly displaying Ferdinand of Bourbon's coat of arms, symbolizing its rich history. From my viewpoint, this mesmerizing gateway captivates with its magnificence. This homage to a 4th-century Armenian bishop renovated during the 1700s serves as a southern entrance to Lecces core and also a bridge between different eras.
Your journey commences here at this Baroque masterpiece – one of the three remaining gateways (four) that safeguard the citys illustrious past. As you stroll through this work of art which echoes Lecces golden days you transcend the ordinary and immerse yourself in the historical heart of this labyrinthine urban landscape. Here the flamboyance of Baroque style intertwines with streets charming squares and bustling shops within a pedestrian zone that boldly turns its back on modernity; it beckons you to lose yourself in a dance, between history and culture.
10) Journey to Abbazia di Santa Maria di Cerrate
Take a 20 minute drive north of Lecce. You'll come across the Abbazia di Santa Maria di Cerrate. A breathtaking abbey tucked away, from the usual tourist routes calling out to those who are curious. It's definitely worth taking a detour to visit. Imagine this; parking and a site that is meticulously maintained by the FAI. As you explore there's a 20 minute video that unravels the abbeys history.
There's more to it than that. Evening events enhance its charm although its good to be aware of time. This hidden gem, close to Lecce had eluded my attention until I stumbled upon it by chance. Nestled in countryside this tranquil sanctuary boasts a structure with ancient walls that whisper tales of the past. Step inside the church. Be greeted by breathtaking frescoes and an inviting portico. A visual delight steeped in history just waiting to be explored.
11) Go See Museo Ebraico di Lecce
Nestled in the shadow of the Basilica of Santa Croce lies the Jewish Museum of Lecce a place that initially sparked my skepticism. However to my surprise this hidden gem exceeded my expectations. In an an hour it transports you into Lecces rich Jewish heritage. From the ablution tub to augmented reality recreations of the synagogue it truly immerses you in history. The staff at the museum is outstanding. I must give a shoutout to Michelangelo for his warm and knowledgeable approach. However what truly transformed our experience was our guide named Marta. This is not merely a museum visit; it is an enriching exploration that pairs perfectly with a leisurely stroll, through the revived historical quarters.
12) Pay a visit to Anfiteatro Romano
Located adjacent, to Palazzo del Seggio, the Anfiteatro Romano is a relic from the era of Augustus. Discovered in the 1900s beneath Piazza Sant'Oronzo it offers us a glimpse into Lecces Roman history. With a capacity to accommodate 25,000 spectators this amphitheater dates back to the 1st and 2nd centuries AD. Originally built as a tribute to the city by Augustus it was constructed using Lecce stone and Roman masonry.
Despite being hidden with two thirds of it still buried its unearthing began during the construction of the Bank of Italy and led to extensive excavations. Today this enduring testament to engineering stands in well preserved condition after more than two millennia.
13) Cruise Along Litoranea Salentina (Salento Coast Road)
Strap in for a ride on the Litoranea Salentina, Salento's own slice of highway heaven, a panoramic masterpiece, smooth as a jazz solo, winding along the coast with past sentinel-like coastal towers and the skeletons of ancient farms, with no speed cameras or checkpoints to snap you out of the spell.
We cruised from Lecce to Marina di Pulsano, each stop a new chapter of sea vistas or a detour through whispering olive groves. If you've got the time, hit this road that's an experience, a hidden gem in Salento that's screaming to be explored.
14) Swing by Porta Napoli
I decided to visit Porta Napoli, in Lecce which serves as a gateway to the citys core. It is a homage to Naples. Comes alive at night with vibrant lights that demand attention. The presence of this structure pays tribute to Emperor Charles V, who played a role in fortifying the walls of Lecce.
I am fascinated by this piece of history the connection to Charles V, the ruler whose empire spanned vast territories where the sun never set. You should definitely explore Porta Napoli along with its neighboring entrances Porta Rudiae and Porta San Biagio. They mark the beginning of a road trip, towards Naples.
15) Make a Pilgrimage to Chiesa di Santa Chiara
One morning, I had the chance to visit the Church of Santa Chiara, in Lecce and I must say it is truly one of the breathtaking churches in the city as it rivals the grandeur of the Cathedral of Santa Maria Assunta and the Basilica of Santa Croce. The exterior, made with Lecce stone is a display of Baroque decorations. However it was the interior that truly captivated me. Its unique oval shape is filled with stucco work, beautiful Baroque style decorations and altars. I was especially amazed by the carved ceiling that adorned every inch of this remarkable church.
To enter I used the LecceEcclesiae ticket which only cost me 10 euros – a bargain considering it allowed me to visit until 9 pm. This church is a masterpiece built upon a structure dating back to the 15th century. It perfectly showcases Lecce's examples of architecture. The convex façade perfectly mirrors its ornament interior with its main altar taking center stage.
What really caught my attention were two features; first there were grates used by Poor Clares to observe services; secondly there was a mâché false ceiling – a craft that still thrives in historic workshops throughout this charming city.
A visit to this church is a must, for anyone exploring Lecce.
16) Make Your Way to Museo Ferroviario della Puglia (Railway Museum)
I hit the Museo Ferroviario della Puglia, a railway museum that's a total blast from the past that let's you hop aboard old train carriages and eyeball a sprawling model town buzzing with electric trains. It's like mainlining the entire history of railroads. I discovered this hidden treasure in the heart of Lecce last summer and just had to go back for more. It's a full-on whistle-stop tour through Italy's and Northern Europe's railway lore. And it seems to be an overall crowd-pleaser too – kids and grown-ups alike getting their minds blown by everything from hulking steam engines to coal guzzlers and old-school postal trains, even those grim prisoner transports with interactive displays, cool videos, and mini-Puglias that put you right on the tracks.
17) Visit Chiesa di Sant'Irene
Stroll through the heartbeat of Lecce and you'll soon find yourself face to face with the Church of Sant'Irene dei Teatini which is yet another baroque knockout, a sanctified nod to Sant'Irene, the city's guardian angel until 1656 when Pope Alexander VII switched things up for Sant'Oronzo.
Soon as I walked in it felt like stepping into a dream because the interior design is absolutely stunning, with a touch of elegance that could make even the humble oyster feel inadequate. It stands there with grace and beauty that it becomes a stop on your list of must see places, in Lecce.
Day Trips From Lecce
Lets embark on a journey exploring Lecces day trip adventures:
So first on our list is Gallipoli, a coastal town near Lecce. It's the destination for a full day excursion offering views that are worthy of postcards and streets so enchanting that they will make you want to share your experience with loved ones back home.
After that there's a destination called Otranto nestled within the embrace of Salento with rugged cliffs, hidden coves and beaches that are so pristine and tropical looking that you might mistake them for an enchanting Caribbean oasis.
You absolutely must not miss out on Alberobello. And as someone who totally appreciates Italian architecture, I found that the Trulli houses there took me away into a place of creativity, where the magic feels absolutely tangible.
And last but not least, the east coast of southern Puglia is definitely day-trip worthy since it includes a must-see visiting destination of Grotta Della Poessia, Spiaggia Torro Dell'Orso, and more. This trip offers a chance to explore beautiful beaches and coastal towns​​.
The Best Beaches Near Lecce
The beaches, near Lecce offer a range of experiences from stretches of sand to secluded rocky coves with crystal clear turquoise waters. Here are some of the ones;
Punta Prosciutto; This beach is renowned for its water and fine sandy shores creating a tranquil and picturesque setting.
Porto Cesareo - Torre Lapillo; Visitors appreciate this beach for its ambiance transparent water and white sand. The shallow seabed allows for strolls to islands making it an ideal spot, for peaceful moments and enjoyable picnics.
From my experience, the beaches of Gallipoli are very popular and highly regarded for their sand and the stunning turquoise sea that stretches for kilometers.
In Santa Maria di Leuca you can find a place known as the Maldives of Salento (Le Maldive del Salento). The name truly captures the essence of this location. With its crystal waters and white sandy beaches it creates an impression, to that of the Maldives. The shallow seabed and small islands emerging from the waters form a setting surrounded by dunes adorned with tamarisk and acacia trees.
Santa Cesarea Terme near Otranto; With its sulfur infused waters and surrounding caves this rocky beach is ideal for those who crave rugged scenery.
Spiaggia di Alimini (Otranto); Situated 28 kilometers away, from the city Alimini Beach stands out with its white sand dunes that separate it from the promenade. Additionally it boasts Mediterranean vegetation that includes endangered species.
Where to Stay in Lecce
The following are three of my favorite places to stay when I go to Lecce:
Palazzo Sant'Anna
I was fortunate enough to have had the pleasure of staying at Palazzo Sant'Anna the last time I was in Lecce. It boasts a location basically in the heart of the city and practically next to Porta Napoli. This delightful establishment was once a convent, but it has undergone a tasteful and meticulous renovation. The revamp successfully retained the buildings charm while seamlessly incorporating technology. The gardens and terraces lend a courtyard atmosphere making it a truly beautiful place to stay. From the moment I arrived I was warmly greeted with smiles and genuine friendliness. The level of hospitality extended to me was exceptional complete, with drinks and thoughtfully arranged placemats—an approach that truly deserves commendation. I was lucky enough to be upgraded to a room that exceeded my expectations. Additionally the breakfast offered was nothing of spectacular offering a selection that showcased delicious Apulian specialties.
Dimora San Giuseppe
I spent one night at Dimora San Giuseppe, in Lecce, a bed and breakfast thats perfectly situated for exploring the heart of Lecce. Its location is incredibly convenient with everything within reach and a lively atmosphere right at my fingertips. The room where I stayed was spacious and cozy complete with a coffee machine and Wi Fi access. The breakfast was enjoyable. I particularly loved the terrace. The hospitality was exceptional combining a family atmosphere with professionalism and attention to detail. This amazing place, in a location left a lasting impression on me. I'm already looking forward to returning—I highly recommend it!
Patria Palace Hotel
In the heart of Lecce you'll find the Patria Palace Hotel, an embodiment of grandeur, from the century that exudes unmatched magnificence. Step inside. You'll discover the ATENZE Restaurant a place where tranquility takes stage and leaves a lasting impression on your senses like an unforgettable melody. The talented chefs, Cristiano and Ivan are rebels in the kitchen blending tradition with innovation on each plate they create.. Overseeing it all is Maître Errico Matteo effortlessly orchestrating this symphony with precision and elegance. This establishment is more than a hotel; it represents a revolution wrapped in opulence—a palace where every meticulous detail speaks volumes about perfection.
Where to Eat in Lecce
These are few of my favorite places to eat when I'm in Lecce:
Tabisca Il Vico dei Tagliati
I recently went back to Tabisca Il Vico dei Tagliati after a break. I have to say I didn't regret it at all. The food was amazing. The meat was excellent and the croutons and roasted porcini mushrooms were absolutely delicious. What really makes this place stand out as always is Danila because she embodies the spirit of the restaurant offering heartfelt advice. Her energy and love for life are contagious impacting everyone from the customers to the waitstaff. It was an evening with prices that were more than reasonable, for the top notch ingredients used. I'll definitely be coming back again soon.
3 Rane Ristoro
I had such a time at this restaurant called 3 Rane Ristoro, in Lecce. Its tucked away from the crowds and the food there truly creates a culinary journey. The staff was incredibly professional and attentive showing that they had put a lot of effort into crafting dishes that're not intriguing but also provide a truly special taste experience. Everyones preferences may differ, I personally found the octopus, with nduja to be absolutely fantastic.
Gusti Proibiti
When you step into Gusti Proibiti, in Lecce it feels like entering a gem that combines vibes with elegant dining. This place has an ambiance and amazing food making it my favorite choice for a dinner thats not a culinary journey but also a social experience. I couldn't resist trying the tuna paccheri, which adds a twist to a dish and left my taste buds in pure delight; and lets not forget about the stuffed courgette flowers with ricotta – they were so delicious that they felt like a statement against ordinary cuisine.
Is Lecce Worth Visiting?
I totally, 100%, highly recommend a visit to Lecce. I'm truly amazed by its past and cultural richness, its breathtaking baroque architecture and ancient ruins that contribute to its unique charm as a city in Southern Italy. It's perfect for those of us who appreciate destinations with a background yet are not overly crowded offering a romantic and historic ambiance. Additionally Lecce serves as a base for exploring areas like Otranto, Gallipoli Torre dell'Orso and some absolutely stunning beaches. With over 2,000 years of history Lecce has gained popularity as a destination renowned for its landmarks such as the Basilica di Santa Croce, the Porta Napoli and the Duomo. To me this known Italian city is an essential stop in the Puglia region—an ideal place for anyone eager to immerse themselves in a city overflowing, with history and natural beauty.
FAQs
Quali sono le caratteristiche per cui è nota Lecce in Italia?
What is Lecce Italy known for?
Where do I begin with Lecce? Well, definitely, the Baroque architecture of the place never, ever fails to catch my attention. It's not, like any style because it has its distinctiveness and beauty - the intricate and poetic designs carved from the limestone, known as "pietra Leccese " make it truly remarkable. Whenever I see the chapels, churches and palaces described in texts in person, face to face, they always leave me and other visitors in complete awe.
Next up, I'd have to list the enchanting Centro Storico that I wrote about earlier. That is, whenever I walk through the Porta Napoli arch, constructed in 1548, and enter the Piazza del Duomo area, which ranks among Italy's most exquisite squares, it's hard to describe that unique "Italian" feeling you just can't duplicate in a them park or a Hollywood set.
È meglio soggiornare a Bari o a Lecce?
Is it better to stay in Bari or Lecce?
When deciding between Bari and Lecce for your stay it ultimately comes down to your preferences. Bari, often referred to as the "Bologna of the South " is a city bustling with activity. It is renowned for its history, culture and lively nightlife which is greatly influenced by its large student population. Bari offers an array of seafood options and a variety of mouthwatering delicacies. On the other hand Lecce bears resemblance, to Florence. Provides a more tranquil atmosphere. It is known for its baroque architecture and historical significance. Lecce takes pride in offering handmade food that includes local vegetables, cheeses and wines. If you are seeking an energetic experience during your stay Bari would be a choice.
Quanti giorni ti servono a Lecce?
How many days do you need in Lecce?
Are you planning a trip, to Lecce, the gem in Italy's heel? How long are you planning to stay? Well it really depends on your preference for adventure. If you're the kind of person who likes to make the most out of every moment squeezing in as much as possible with planning then a quick visit of 1- 2 days should suffice. Take a whirlwind tour of the Baroque masterpieces catch a glimpse of the Roman amphitheater admire the Duomo cathedral and explore the charming old town streets as part of your must do itinerary.

However if you prefer a approach and enjoy savoring experiences like a connoisseur appreciating fine wine I would suggest allowing yourself a leisurely 3-4 day period. This will give you the opportunity to fully immerse yourself in Lecce's captivating museums without feeling rushed, indulge in the charm of cafes as if you were a resident and perhaps even try your hand at playing chef or sommelier, for a day.

Now, for those with the luxury of time, who view travel as a marathon, not a sprint, go for the long haul – 5 days or more. Lecce then becomes your springboard to the Salento region. Think day trips to postcard-worthy beaches, those ancient olive groves you've read about, and quaint towns like Otranto and Gallipoli that sound straight out of a novel.

Come si pronuncia Lecce?
How do you pronounce Lecce?
For those not Italian speakers pronouncing Lecce can be a bit tricky. But don't worry I'll break it down for you:

Firstly Lecce is pronounced as "LEH chay." Here's an easy way to remember;
"LEH"; Imagine yourself about to say "let " but then drop the 't' sound and let it hang there.

"ch"; This part is similar, to the beginning of "church." Nothing complicated.
"ay";. Here you're aiming for the 'ay' sound in words like "say" or "play."

Now put it all together; "LEH chay." Just stay calm. Remember to emphasize that syllable, 'LEH'.

È Lecce una città festaiola?
Is Lecce a party town?
I've had experience in Lecce, a city in Puglia, Italy which is more known for its bar and café scene that comes alive in the evenings. Locals and tourists alike including myself enjoy gathering at these establishments for an "aperitivo," where we indulge in drinks and snacks. This creates an atmosphere thats perfect for socializing and spending quality time with friends.
In the summer months Lecce becomes more lively as Italians flock to the city to revel in their fun loving nature.
If you're someone like me who seeks a place with a sense of community, delightful social gatherings and an opportunity to unwind and have a great time, in the evenings Lecce is definitely an excellent choice. However if your idea of fun entails nightclubs and large scale party venues you might find that Lecce doesn't quite meet those expectations.
È possibile camminare a Lecce?
Is Lecce walkable?
Lecce, often called the "Florence of the South" because it has landmarks and beautiful baroque architecture is an excellent city, for strolling around. Its old town provides a setting for pedestrians making it an ideal destination for walking tours. I can explore the city through walking and biking tours, as well as cultural and themed tours, which really highlight how walkable it is and how easily I can discover its attractions. Furthermore Lecce's Centro Storico, the center boasts winding streets, both small and large squares and broad avenues – all within a relatively small area. This layout not makes it convenient to explore on foot. Also ensures a delightful and unhurried experience while wandering through its charming maze like streets.
Did You Love Exploring Lecce? Dive into More Italian Adventures with 'Savoring Italy'
19 Best Things to do in Ostuni, Puglia 2024 (Travel Guide)
Ultimate Guide to the Best Things to Do in Monopoli, Italy
41 Things to Do in Genoa Italy
Best Things To Do in Portofino (Ultimate Travel Guide)
11 Things to Do in Santa Margherita Ligure
San Fruttuoso Travel Guide (All you NEED to Know)