Explore the hidden gem of Italy with our ultimate Ostuni travel guide. Find out all the awesome things to do in Ostuni, Puglia - from wandering along picturesque whitewashed streets to indulging in local delicacies. Discover the secrets of this hidden gem in Italy and find your perfect getaway with our guide to the best places to stay in Ostuni.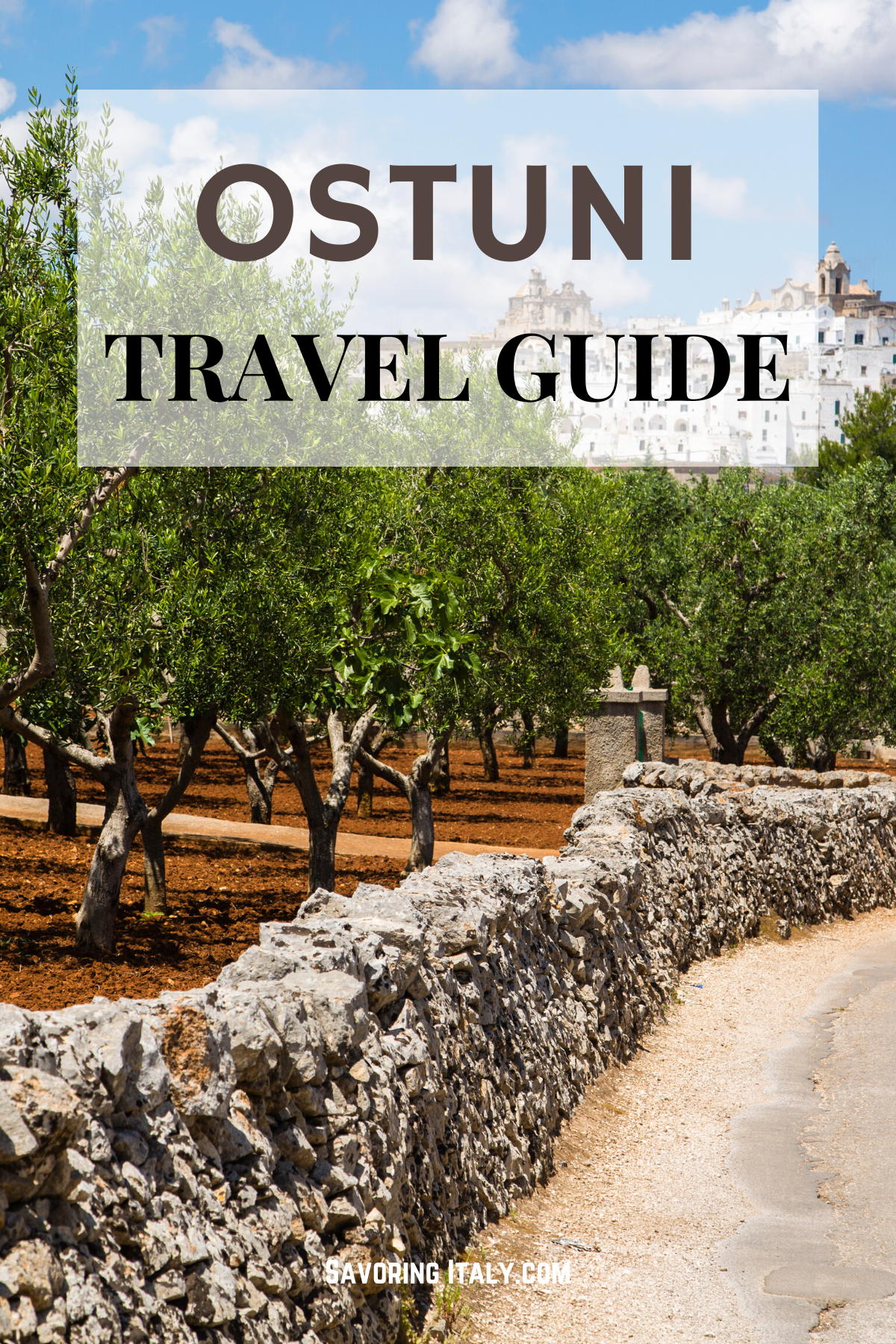 This travel guide contains affiliate links which supports us at no extra cost to you.
Jump To
A Brief History of Ostuni, Italy
Ostuni, a stretch of land that's been bustling since the Stone Age. Flashback to ancient Italians hauling it down from the north, dashing across the Apennines and the Adriatic, finally parking themselves between Fasano and Villanova. They went from wandering around like aimless tourists to setting up shop, dabbling in livestock and farming. Enter the pottery and stone-polishing DIY phase.
Now, circa 1000 BC, in swaggers the Japigi crew, fresh off boats from places like Illyria and Crete. Not far behind are the Messapians, whose ancestry is so mixed it'd confuse a DNA test kit. These two groups mingle, share a beer or two, swap stories, traditions, and basically become pals. A lot of them get cozy on the highest hill in Ostuni.
The Greeks and Messapians
Fast forward to 1875, when Messapic inscriptions are unearthed, essentially the ancient world's version of 'Kilroy was here'. Hannibal, in a bad mood, decimated the place only to have the Romans show him the exit door.
The Romans chilled until 488 AD, then packed their bags when the Greeks showed up for round two of rebuilding. Ever heard of the Magna Graecia? It's not a pizza topping – it's the magnificent fusion of Greeks and Messapians.
Post-Greeks, enter the Ostrogoths. They're on a 'renovation' spree, courtesy of Emperor Zeno. Ostuni's art then takes a road trip to Ravenna, the Ostrogothic capital. The Goths pop in, wreck the place, and then skedaddle. And just when you think Ostuni's had enough, the Lombards strut in around the 7th century.
The Moors
Lombards swaggered into Ostuni and rewrote the rulebook with their 'Langobardorum'. With Brindisi looking like it got hit by a sledgehammer, the nearby areas turned ghost-town-esque, save for a few brave souls. Enter the Moors and Saracens – North African party crashers, notorious for their love of looting and casual arson. But hey, they did gift the place olive trees in 769 AD, so not a total loss.
Then, in a twist that's more 'Groundhog Day' than historical chronicle, the Byzantine Greeks show up again. They slap on some plaster, fix up the Saracen-inflicted scars, and generally try to put the city back together. But Ostuni keeps getting handed around like a hot potato: Lecce's got it for a while, then Taranto, and then Bari.
Henry VI
1169 sees Tancredi and his son Ruggero take the reins. Roger II – pretty big deal, by the way – makes his kiddo the Duke of Puglia and Ostuni's top guy. But peace and quiet weren't in the cards. In rolls Henry VI, the so-called 'Cyclops'. After some political chess and schmoozing with Pope Celestine III, he gets his crown, squashes the Normans, and adds a dose of murder and mayhem to the mix. And poor Ostuni gets the sharp end of the stick, especially if you were someone who looked at Henry VI funny.
Henry's reign ended with his early checkout at 33, and his heir, young Frederick II (or as the locals remember him, 'puer Apuliae'), brought a cultural renaissance. Frederick II was kind of the cool uncle to Puglia, hanging out in classy joints like Castel del Monte. When he bowed out in 1251, his son Manfredi picked up where he left off, ruling the family estate.
Manfred checks out early thanks to the Angevins in 1265, and suddenly, Charles of Anjou pops up. Pope sends him an invite 'cause he's antsy about the Ghibelline surge, and Charles, the eager beaver, takes over southern Italy faster than a New York minute. Corradino's last hurrah of the Swabian line ends with a tragic beheading party in Naples.
The Gloomy Phase
Enter the Angevin Guelphs, and southern Italy dives into a gloomy phase. Dante wasn't kidding when he called it 'bad lordship'. From 1265 to 1414, the Angevin kings and queens played a game of 'strong-arm then go soft', granting Ostuni a brief chill period, and Charles of Anjou, in a moment of architectural inspiration, decides to build Villanova atop ancient Petrolla's ruins. Ostuni, with its sweet spot location, becomes the hotspot for Charles, his posse, and even some crusaders.
By 1294, Charles II hands over Ostuni with the principality of Taranto keys to his boy, Philip I. After a series of ruler swaps and events that scream medieval soap opera, Joan I steps in, listens to Ostuni's tax woes, and goes on a city-wall-building spree. Post Joan, things get messy with claims, deaths, and drama.
King Ferdinand of Aragon
Cut to 1419: Queen Giovanna II plays the 'I promise Ostuni's mine forever' card. A year later, she hands Ostuni over to the notorious Giovanni Antonio Orsini, the guy everyone loved to hate. But fortune smiles when King Ferdinand of Aragon decides he's got beef with Orsini. Four emissaries, supposed to head to Rome, detour to chat with Ferdinand. Conspiracy brews, culminating in a dramatic choke-out of Orsini in 1463. With Orsini out, Ferdinand becomes Ostuni's new BFF, showering it with perks and privileges.
History's record needle gets stuck, playing the same tune. Twenty years on, and King Ferdinand's flaking out on his promises. Instead of fixing up some walls, he deals Ostuni to Caterina Sanseverino, the Countess of Tagliacozzo, for a cool seven grand in ducats. Sneaky, eh? And Caterina? She's hitched to Roberto Orsini, the OG 'Knight without Fear'.
But the reign? Shorter than a tweet. By 1495, France's Charles VIII, after steamrolling some neighborhoods, takes Italy on a whim. Ostuni's response? Party! They're finally free from Countess Caterina and, in an act of déjà vu, they pitch some favors to King Charles, reminiscent of their '63 pitch to King Ferdinand. But Charles, with a French shrug, ghosts Naples faster than a teenager fleeing an awkward date, paving the way for the Aragonese comeback tour.
The Jewish Community of Ostuni, Italy
Late 1400s vibes? Cathedral construction is all the rage, and Ostuni's population welcomes a Jewish community. However, by 1503, thanks to wars, famines, and drama, Ostuni's Facebook status might as well be 'It's Complicated'. Population dips, and then comes the Lautrec bunch, allying with the Venetians, and turning Ostuni into a scene from a disaster movie.
But 1507 brings a plot twist: Ostuni joins the Duchy of Bari's squad under Isabella of Aragon. Ostuni's suddenly looking like Renaissance New York City. Isabella, the culture vulture she is, revamps the place. Walls get fortified, a new square sprouts, and Ostuni's enjoying a golden age, making up for its earlier rough patches. This 'Ostuni renaissance' is the fruit of Isabella's dream team, including Bishop Bovio and her daughter, Bona Sforza, mentored by the renowned humanist Antonio de Ferrariis, a.k.a. Galateo.
Bona
1524: Isabella exits the scene, leaving Ostuni as a gift to daughter Bona, who then marries Sigismund I, the Polish king. Under Bona, Ostuni's pampered with a liberal regime and some epic coastal towers (think medieval beachfront condos) to keep out pesky Turkish invaders. But all good things... you know the drill. 1557: Bona checks out and the age of 'estate sales' is back with Philip II snagging Ostuni like it's a Black Friday deal
August 19, 1558: Ostuni gets slapped with a price tag, a whopping 55,000 ducats, and is bought by Mr. Moneybags, Ferdinando Loffredo, the Marquis of Trevico. A year later, someone apparently feels a twinge of guilt, and the city's declared Royal State Property after a 'redemption' payment. But the fine print's the kicker: if someone tries to pawn off Ostuni, citizens have the green light to whip out their pitchforks and go medieval without being slapped with treason.
Yet by December 14, 1639, the Zevallos family, with Giovanni leading the charge, buys the town for what seems like pocket change. And man, did they rule with an iron fist! Giovanni's basically a poster child for tyrants – think of him as a medieval mob boss. The guy's M.O.? Seize, snatch, and hoard. He even had the gall to build a palace in Naples so grand that even the Viceroy had mansion envy.
But karma has a way of circling back: the palace gets ransacked and torched in 1647 by folks who've had it up to here with the Duke's shenanigans. Giovanni's rollercoaster of greed crashes, and his ill-gotten fortune goes belly-up. The Zevallos baton gets passed down until it ends with Carmela, who sees the family's once-mighty empire crumble to dust. By 1815, she's penniless, and Ostuni's dark Zevallos chapter slams shut.
Ferdinand IV
Enter the French revolution vibes: they're all about liberty, brotherhood, and equality. But once Napoleon faceplants at Waterloo, Ostuni's back under Ferdinand IV's boot. This Bourbon rule stretches until 1860 when good ol' Garibaldi gives Francesco II the boot.
Ostuni? Let's just say they've had it. Carbonara cells pop up (nope, not the pasta), and conspiracies brew. The people, spearheaded by patriots like Antonio Maresca and backed by some holy men, are in open revolt against Bourbon tyranny. By June 26, 1860, Ostuni tears down the Bourbon symbols, aligns with national figures like Vittorio Emanuele II and Garibaldi, and after a final showdown with the Bourbon army, Ostuni breaks its chains. Centuries of oppression? The city's done playing that game. Ostuni finally gets its freedom bell ringing!
Where is Ostuni?
Nestled in the heel of Italy's boot in Apulia (Puglia in Italian), this gem is a mere stone's throw from the Adriatic coast (8 kilometers, to be exact). Ostuni, or as the locals lovingly dub it, "La Città Bianca" (The White City), gleams with its white-washed old town.
It's like a beacon for tourists - and for good reason. Its handy spot near the sea means you've got sun-kissed beaches waiting for you after all that cultural deep dive. A slice of heaven where you can get a tan and a history lesson? Ostuni's got you covered.
Ostuni, Italy Travel Recommendations
Some of my personal recommendations for when you are traveling to Italy:
If you are planning on renting a car in Italy, it is important to do your research beforehand. There are several rental companies that offer competitive rates and good customer service. I recommend this car rental service.
If you are looking for a reliable travel insurance company, I would reccomend World Nomads Travel Insurance.
If you are looking to find a budget-friendly or even more luxury places to stay, I recommend Booking.com. My second favorite option is Airbnb.
On my Amazon storefront I also have a travel essentials section where I list everything you should pack with you for your next Italian vacation!
So, you've got a hankering to check out Ostuni? Good choice. First thing's first: decide your mode of adventure.
The train:
If you're jetting in from swanky places like Rome or Milan, hop on one of those high-speed wonders. Don't doze off, because Ostuni pops up quicker than you'd think.
Word to the wise: some of those Eurostar rides hit you with a sneaky fee, so keep your ticket game strong. When you step off the train, you're still 2 km out. No worries, a local bus or a brisk walk gets you to the heart of the action.
Air travel:
If you're more of a 'sky's the limit' type, Brindisi and Bari got your back with airports, just 30km and 98km away from Ostuni, respectively. The minute your feet hit the tarmac, the SS16 is your golden route.
Four wheels and the open road:
Coming from Bari? The A16 or A14 routes will guide you smoothly, but keep an eye out for that Ostuni-Villanova exit.
Taranto origin story? The state road 106's got a special Grottaglie-Brindisi exit just for you.
Lecce veterans, state road 16 is your trusty steed, again waving that Ostuni-Villanova signpost.
No matter how you roll into town, Ostuni awaits. Just follow the signs, and let the adventure begin!
When Is the Best Time to Visit Ostuni, Italy?
Ostuni's got its prime times and its quiet moments, and a lot depends on how you like your Italian getaways.
You like it hot and happening? May to October is your golden ticket. Sunny skies, minimal rain, but a word of caution: July and August? It's a tourist tsunami! You might be rubbing elbows more than you'd want. If you're the type who likes a good tan but without playing sardines, circle late May, June, or September on that calendar of yours.
For the culture vultures, late August is a non-negotiable. Ostuni goes all out, horses and all, for Cavalcata di Sant'Oronzo. It's three days of jam-packed festivities, celebrating their patron saint in style.
Wine aficionados, take note: September isn't just about cooler breezes. Those vineyards? They're buzzing. It's grape harvest time.
If you're the kind of traveler who likes to sip cappuccino without a crowd, mid-October's your jackpot. The buzz has died down, and it's mostly you and the locals.
How Long Do You Need in Ostuni?
Think you can grasp the magic of this place in a day? Think again. While some of your fellow travelers might suggest a quick 1 to 3-night snapshot, if you ask me, you're shortchanging yourself.
Aim for at least a solid ten days to really get your fill. Tempted to just wing it with a day-trip? Sure, but you'll be leaving a lot on the table. Now, if you're considering using Ostuni as your launchpad to nearby Salento – a 3-day base should work. But remember, with Ostuni's treasure trove, a longer stay wouldn't be overkill. It's Italy, after all. Dive in deep or regret it.
19 Things to Do in Ostuni, Italy
Think you've got Ostuni pegged with the usual Italian postcard scenes? Brace yourself. 'Savoring Italy' isn't serving up those tired tropes. Get ready to dive deep, past the fluff most travel guides serve, into the rich, gritty heart of the place.
1) Mercato Settimanale del Sabato (the weekly market on Saturday)
Roll up to Ostuni's Saturday market, an Italian extravaganza of eats, threads, and pretty much everything in between. The real Italy? You'll find it here. From salty anchovies to snazzy wraps and chuckling farmers offloading artichokes at dirt-cheap prices. But a heads-up to the eager shoppers – hands off the produce! Snap a pic if you want, but no grabby hands. Want to taste the heartbeat of Ostuni? This market's your ticket. And seriously, keep your mitts off the veggies!
2) Sample Olive Oil from Ancient Trees at Masseria Brancati
Step into the Masseria Brancati in Ostuni, and you're not just walking into an ancient farmhouse, you're stepping through a time warp. Run by the impeccable hosts Corrado and Antonella, this joint's so authentic, you'd think time's been on a coffee break.
As they dish out stories seasoned with local lore and serve up earthy delights, you'll be gobbling up not just food, but their palpable passion for their homeland. And did we mention its location? A stone's throw from both artsy cities and pristine beaches. But the real show-stealer? An olive tree older than most civilizations at a whopping 3,000 years. If you're not booking yet, you're missing out. Dive into tradition and a real-deal Italian experience. Do it. Now.
3) Porta Azzurra (The Blue Door)
Welcome to Porta Azzurra, the Blue Door of Ostuni. It's an open invite to let your imagination run wild. Smack in the middle of Ostuni's historic center, it's a stark blue wonder against a white wall, with cacti playing guard on each side. You might think it's a gateway to Narnia, but in reality?
\It's a topsy-turvy entrance to the roof of a house below street level. As you meander Ostuni's roller-coaster roads, take a pit-stop here. Strike a pose, snap a pic, or scarf down a gelato like yours truly. This isn't just a door – it's Ostuni's mood ring against that crisp Apulian sky.
4) Duomo di Ostuni
Trudging up Ostuni's winding streets, I found myself face-to-face with the majestic Concathedral dedicated to Santa Maria Assunta. I mean, from the get-go, that gigantic 24-rayed central rose window, touted as Italy's grandest, hits you with an "are you seeing this?" kind of wonder. But stepping inside? Holy moly, the artistry is next level. A ceiling to die for, and a crypt — accessible by these side stairs — that's a masterclass in architecture, laying out a fascinating grid of naves and vaults.
Here's this Cathedral, perched like royalty atop Ostuni's highest peak, making a statement even when almost choked by the streets and buildings huddled around it. That facade, with its playful curves and that emblematic rose window symbolizing 'Christ the Sun,' is straight out of an art enthusiast's dream.
And those figures etched under the cornice? Mind-blowing. The main portal, too, is something to write home about. Dive deeper inside, and it's a splash of stories — from ceiling narratives of Christ and Ostuni's patron saints to an ensemble of artistic tributes to the Assumption.
5) Centro Storico ("Old Town")
Hitting the cobblestone streets in Ostuni's Centro Storico, you've got the 'white city' beaming out at you from a distance, so bright it's like it's winking at you from the sea. The streets in this old town are winding up a hill and spitting out postcard-ready scenes left and right, like they're showing off. And the views, you get up there and the sea's just laying itself out in front of you, with this blanket of olive trees that's been tossed over the landscape like some kind of green, leafy sea.
You weave through the stairs, dodge around the nooks crammed with bars and those cute little shops, and it hits you why this spot is a magnet for the wanderlust crowd. You think it looks good now, but picture it in the soft evening light; that's when the real magic happens.
6) Lido Onda Blu (Ostuni Mare)
I hit the sands at Lido Onda Blu, it's decked out with all the beach gear you could want, and the staff? They're the kind of people you'd actually want to be stranded on a desert island with — friendly, warm, the whole nine yards. The sea's so clear, it's like looking through a freshly Windexed window — heavenly.
I'm on the hunt for a beach spot that doesn't require me to auction a kidney for a day of sun — and here it is. And the crew running the show, from the bartenders with their shake-and-pour ballet to the lifeguards who could probably rescue you with one hand tied behind their back, they've got this place ticking like a Swiss watch — they've even got a valet, for crying out loud.
You can load up on grub without missing a beat of beach time. The beach is a democracy — free for the people — but if you want a little slice of the good life, they've got sunbeds and umbrellas that you can snag for a few bucks.
7) Parco Dune Costiere
Dipping again into the Puglian inkwell, I found myself traipsing through the Coastal Dunes Park, a slice of Italian beachfront that's more storybook than sunbathing hotspot. It's a stretch where millennia-old olive trees play it cool next to junipers that have seen more history than the Vatican archives.
Here, you wander through caves, where every fossil tells a tale of when this place was ocean floor real estate, and every path is steeped in the sweat of pilgrims and the dust of crusaders' boots.
Then there's Albergabici's electric bikes — talk about a renaissance in the making. These two-wheeled wonders turned an 8-mile jaunt through an oasis of tranquility into a symphony with a sea breeze melody. It's the kind of ride that'll make you swear off gas pedals for life. Not just recommended — if this ride was a book, it'd be a mandate from the gods and goddesses of travel.
8) Spiaggia di Torre Pozzelle (one more beautiful Ostuni beach!)
In the sun-splashed Adriatic haven of Spiaggia di Torre Pozzelle, the sea sparkles with an artist's palette of blues, and the beach is a delightful dance of sand and stone. My tip: wander past the first cove to discover the rocky embrace further along. Parking is a breeze and, delightfully, free—ideal for the savvy traveler.
A kiosk brimming with treats offers a refreshing pause from the sunbathing and castle-building. And, a traveler's joy—complimentary showers to rinse off the salty kisses of the Adriatic. The beach, tower, and sea collaborate to craft a perfect day under the Italian sun, where the biggest worry is which gelato flavor to choose.
For a splash, cove number five offers a sandy stretch, but as the sun climbs, so does the crowd—families unfurling umbrellas like peacocks. For a quieter reprieve, cove four is your spot. Though more pebbly, the tranquility and the crystalline water are worth the trade-off. Nearby, FRAMARI bar stands ready to satiate your appetite with local sips and bites.
9) Chiesa di San Francesco
Stumbling through Ostuni's maze, the Chiesa di San Francesco stops me cold: here's an ecclesiastical fortress from the 1300s, dripping with more ancient piety than a monastery brew. It's been jazzed up over time, hit with a serious style upgrade in the 1600s, and by 1883, they slapped on a façade redo to play nice with its monastic sibling next door.
I shuffle in and the place explodes upward with a nave and dome combo that's like an open-handed slap from God. And there, on the high altar, are a couple of angelic bouncers I'd bet my last lira on being Sanmartino originals.
It's not just the cherubs; there's stucco work that sticks to your retinas, bas-reliefs that pop, side altars decked out with sculptures and canvases that scream for a stare-down. It's the HQ for a brotherhood that's been kicking since forever, tipping its halo to St. Francis of Assisi's homecoming tour.
10) Relax, Eat and Mesmerize Yourself with the View at Borgo Antico Bistrot
Drop into Borgo Antico Bistrot and you'll get it — the vibe is pure alchemy, a blend of ambiance and the kind of service that's swift enough to make you wonder if they've got roller skates on. Sure, you'll cool your heels for a minute before you get a seat, but trust me, it's the kind of place that's worth the tick of the clock.
11) Take a Day Trip From Ostuni To Cisternino and Visit "I Giardini di Pomona"
Hit the pause button on life's fast-forward and backpedal to the heart of Puglia for a day at I Giardini di Pomona, where the essence of nature isn't just grown, but worshipped. It's not your garden-variety garden; this is a botanical conservatory where the owner is sowing stories in the fertile soil of your imagination.
12) Take a Day Trip to Locorotondo from Ostuni and Explore the "Centro Storico Locorotondo"
Get ready to ditch the well-trodden tourist paths and head from Ostuni to the Itria Valley's unsung marvel, Locorotondo. Picture a village so white it could blind you on a sunny day, a tranquil haven with a gastronomic scene that punches way above its weight. You've got restaurants tucked into every nook, each one slinging out local grub that'll make you want to kiss the chef, all set against an explosion of flowers that could put the Chelsea Flower Show to shame.
Forget about those Italian parking wars; here you've got a free spot waiting for you by the Cemetery, because nothing says 'Welcome to our village' like a no-strings-attached place to ditch your Fiat.
Wander the "Garden Alleys" and you're in a perfumed paradise, with blossoms so thick you'll wonder if you've walked into a bee's daydream. Then there are the "Cummerse," cute as a button with their quirky roofs cut from the local limestone—these babies are to Locorotondo what the brownstone is to Brooklyn.
But for the real money shot, hoof it over to Via Nardelli. The view from there is like a heavyweight champ of vistas, with a knockout punch of trulli, tracts of ancient farmland, and vineyards that go on for days. They call it "lungomare" because on a misty morning, you could swear the sea's come to visit the valley.
13) Set Off on a Day Trip from Ostuni to Alberobello and Tour by Sewgay, Rickshaw, E-bike or Mini Golf Cart
Roll out of Ostuni and into the heart of the Italian storybook that is Alberobello. It's a place where history isn't just kept under glass in some stuffy museum—it's lived in, slept in, and cooked in, under the watchful gaze of UNESCO. Francesco, your guide with a grin as wide as the Puglia sky, will zip you through the cobbled streets on a Segway, threading stories through the eye of a needle that sews past to present.
The Aia district isn't a place to hawk cheap trinkets; it's where authenticity hasn't been bulldozed by the almighty Euro. It's a nook of the world where the only things for rent are rooms in someone's history-soaked home, not shelves for snow globes and postcards.
Francesco, the guide elevates you, literally, to the sort of spots where panoramas slap you awake and demand you remember them forever. You'll climb to where the Monti district rises like a crescendo, and the Church of S. Antonio stands—a testament to a faith so strong, they built their bell tower to point to heaven.
14) Take a Day Trip Boat Excursion to Polignano a Mare
Catch a breeze and cast off into a day where reality fades and the dreamy hues of Polignano a Mare paint the horizon. Here's a place that enters a full-blown love affair, where the sea's caress shapes cliffs into a siren's song, calling out to every soul wearied by the grind. Drift with purpose to where Domenico Modugno's 'Volare', the very pulse of the air, an anthem that lifts the spirit and dares it to dance with the clouds. This is Polignano, a living canvas.
15) Chill at Bloom Bistro for an Aperol Spritz and a View of the Old Town
Let me lay this on you—hit up this Bloom Bistro for a flavor mashup that'll kick your tastebuds into the next time zone. Fusion's the game at this spot, and they're setting the scoreboard on fire. I'm talking killer sandwiches that redefine your lunch expectations, soups that'll make you want to slap your grandmother. And the ice cream is the kind of scoop that'll make you believe in a higher power. Sipping on a Sprit and eying that killer vista is mandatory.
16) Sit Back and Watch the View at Bar Perso for Sunrise
Let me break it down for you—Bar Perso in Ostuni is where you go when you want to catch the kind of sunrise that'll have you questioning all your life choices because nothing's looked this good before. But here's the kicker, you better brace your wallet because this view comes with a price tag.
17) Visit the Piazza della Liberta
Hit Piazza della Libertà and boom—you're right in the thick of Ostuni's age-old charisma shaking hands with the here-and-now buzz. It's like the town's beating heart with a side of tourist spice, crammed with joints to grab a bite or dance till dawn. The piazza is crowned by the Sant'Oronzo obelisk, standing there like a sentinel at the crossroads of yesterday and today.
Come nightfall, this place flips into Ostuni's living room, where everybody, and I mean everybody, pitches up to shoot the breeze. It's ringed by a squad of bars and eateries doling out the real-deal local taste—straight no chaser. And it's just a skip away from the old-town, making it the prime spot to kick-off or kiss goodnight to your Ostuni escapades.
18) Explore the Museo Civilta Preclassiche della Murgia Meridionale
For a measly five-spot, you're in for a treat that's better than any matinee ticket at the Museum of Preclassic Civilizations of the Southern Murgia. The pièce de résistance is this cast of the "Woman of Ostuni" – a 27,000-year-old expectant mom with her unborn kid, preserved in stone, taking you back to a time when the wheel was probably just a wild idea.
19) Check Out the Arco Scoppa
They say the Scoppa Arch has got a whiff of that Bridge of Sighs in Venice, and yeah, you feel it – the echo of history, the craftsmanship. It's a stone-clad piece of the puzzle that makes Ostuni a knockout, a must-see on the hit parade of the city's stunners.
The Best Places to Stay in Ostuni
Through the lens of Savoring Italy, we've unpeeled the layers of Ostuni's charm, one abode at a time, over seasons and reasons. And now, we've brewed the following list of stays where we didn't just spend nights, but collected memories:
Palazzo Stunis - Dimora di Charme
Palazzo Stunis in Ostuni? Think "The Great Gatsby" meets Italian charm. Run by the ever-passionate Mr. Matteo, it's a place where every minute detail screams perfection – from opulent rooms to breakfasts that could've been painted by da Vinci. Matteo isn't just an innkeeper; he's your personal Italian concierge.
He knows every nook and cranny of Ostuni and has a golden Rolodex of the best local haunts. We bunked in the "Lace Room," with its streetwise private entrance. Parking? A breezy two-minute stroll. And the service? Think of it as a five-star hotel where towels magically refresh and Wi-Fi runs as smooth as Italian espresso. Cheers, Matteo, for the royal treatment!
Vico Di Ostuni
Vico Di Ostuni: Think of it as the Airbnb equivalent of that old-school, no-nonsense diner downtown – nothing flashy but damn, does it get the job done. Parked smack in the heart of Ostuni, run by the congenial Mr. Maurizio, it's as strategically located as a Swiss bank. Want luxury?
Look elsewhere. But if "functional" had a poster child, Vico Di Ostuni would be it. The rooms are as clean as a mobster's alibi and equipped with those tiny luxuries that matter – think espresso waffles and cold breakfast drinks. And for drivers, the parking is easier than stealing candy from a baby. In short, if Ostuni's historic center was a concert, Vico Di Ostuni's got the backstage passes.
Masseria Fortificata Ayroldi
Masseria Fortificata Ayroldi: Imagine the kind of spot where Sinatra might've hidden away for an Italian weekend, if he'd been more into homemade jams and less into Rat Pack shenanigans. This place is an OG farmhouse, with all the charm and none of the pretense. The desserts? Deborah, the owner, whips up stuff that'd make a monk break his fast.
The ambiance? Picture the tranquility of a monastery and the classiness of a speakeasy. They've got rooms that feel like a fresh breeze in a vintage novel, and dinners that are an ode to Apulian cuisine. Forget about your therapist; this joint is the ultimate antidote to city-induced neuroses. If you haven't been there, are you even holidaying right?
The Best Restaurants in Ostuni
Presenting Savoring Italy's meticulously curated cache of Ostuni's finest, honed from years of traipsing through its winding lanes and plunging fork-first into the heart of its culinary realm:
Ostuni Palace Bistrot
Ostuni Palace Bistrot, a snug little gem nestled in the heart of Ostuni, where the old-world charm marries a fresh, imaginative spirit in the kitchen. As you step in, or out (your pick, really), the delicate balance of intimacy and professionalism greets you, much like the warm, yet never overbearing smiles of the staff. The culinary journey here is nothing short of a standing ovation, with every course doing a graceful pirouette on your palate, all the way from appetizers to the sweet finale.
The maestro in the kitchen, a young chef whose creativity pays homage to the rich Apulian tradition with every plating; each dish is a lyrical ode to Puglia, with a touch of modern-day finesse that'll have you snapping photos before digging in. The "Frolla di Puglia", a shortcrust whimsy shaped like the Puglia region itself, cradling a sweet, savory core of EVO oil cream from Ostuni Palace, figs, and cupeta. It's a masterpiece that screams 'encore'.
But what's a decadent meal without the perfect libation to wash it down? The maitre/sommelier doesn't just bring wine to the table; they bring an anthology of vineyard tales with a collection so vast, you'd think Bacchus himself curated it.
The pricing doesn't play coy, but aligns well with the narrative of quality and experience offered, making it less of a bill and more of a bookmark for a chapter well enjoyed. So when you find yourself wandering the quaint lanes of Ostuni next, let the Ostuni Palace Bistrot be your haven of Apulian indulgence. Here's a spot where every visit turns into a tradition, every meal a fond memory, and every goodbye a 'see you soon'.
Osteria Ricanatti
Osteria Ricanatti - Here's a restaurant in Ostuni where flair meets flavor, shattering your humdrum dining expectations. It's an edible opera where each dish sings louder than the last. Warm bread by the owner? Check. Squid with a chickpea-ricotta tango? Nailed it. Monkfish cozying up with seasonal veggies? Standing ovation. And the staff's detailed dish soliloquies?
Pure foodie Shakespeare. But the real plot twist? The desserts, which tempt you into culinary mischief. Plus, their encore of generous appetizers and post-dessert goodies? That's how you know you've found a gem in the touristy maze. Osteria Ricanatti doesn't just serve food—it serves an experience.
Codice a Barre
Codice a Barre pizzeria isn't your run-of-the-mill pizza-touristy place. Lightning-fast service with a side of professionalism, and those pizzas are a taste revelation. They've got an al fresco spot that serves up panzerotti that bridges the gap between old-school and new-age. And for those gluten-free warriors out there, they got your back. Hats off to the staff and owner who bring the whole experience home with their A-game in friendliness. It's bang for your buck wrapped in Italian flair.
Is Ostuni Worth Visiting?
100% Yes! Think you've seen Italy? Ostuni's will recalibrate your compass. Known as "The White City" for its sun-kissed, whitewashed lanes, it's not just another pretty face. Expect a culinary scene to drool over, with Ostuni dishing up Puglia's best – from seafood to artisanal olive oil.
But don't just drop in for the food. The locals? An ensemble of warmth and hospitality. Christmas here? A dazzling spectacle. And while some initially dubbed it a "2nd rate Santorini," those in the know realized this gem has its own luster. Just a heads up: the daytime diner might need a touch of strategic planning in spring. Ostuni, a slice of Italy you didn't know you were starving for.
FAQs
Is it better to stay in Ostuni or Polignano a Mare?

Polignano a Mare has those drop-dead gorgeous cliffs and that coveted beach town aura. It's picturesque, no doubt, but word has it it's swamped with tourists. Ostuni? The 'White City,' miles from the sea, boasting a labyrinthine historical center and arguably superior dining options. Polignano's charm might be its oceanfront real estate, but Ostuni dishes out culture in spades. Day-trippers, you're in luck: both towns sit close to Puglia's gems like Alberobello. So, cliffside vibes or historical maze? Your call. But here's a nugget: if settling in one idyllic spot is your thing, Polignano's coastal charisma might just win you over.
Why is Ostuni called the White city?

In Ostuni, they don't just whitewash bildings for kicks. This "White City" has a storied palette. Historically, Mediterranean towns slapped on the white for looks and Ostuni kept the memo. But there's method to this alabaster madness: the sun-blasting paint cools homes in scorching summers. More? This wasn't just décor but defense, as lime-packed whitewash doubled as a medieval anti-bacterial, warding off plagues. Today, besides being a killer backdrop for your next Insta post, this luminous facade is a tourism magnet. Ostuni, ever the overachiever, turns architectural sunscreen into art.

How many nights do you need in Ostuni?

How long you crash in Ostuni boils down to taste and tempo. If you're blitzing through, a 1-3 nighter might do. Here, you get a nibble of the town, its grub, and maybe a splash on a beach. But if you're the type to sip espresso slowly in the piazza, you might push that stay to a lazy 10 days, using Ostuni as your Puglia-exploring HQ. This spot's a hub for day-tripping to Puglia's gems. And if you're syncing up with Ostuni's local bash or the grape-harvest dance-off, adjust your calendar. Bottom line? Your Ostuni playbook is as flexible as your Italian wine budget.
Ostuni Mare?
How close is Ostuni to the beach?

Ostuni's a stone's throw from the Adriatic's sandy stretches – just a brisk 15-20 minute drive and you're swapping historic alleyways for beach vibes. Dig both ancient charm and sea salt in your hair? This town's your jackpot. From Torre Canne to Lido Morelli, the beach menu's rich. Ostuni's the perfect mashup of Puglia's history and that sweet Adriatic breeze.
Other Italian Destinations
Got a kick out of this Ostuni travel guide? Brace yourself because the rest of the 'Savoring Italy' series is a joyride you won't want to miss. Click any one of the following links. The Italian adventure's just getting started!
Ultimate Guide to the Best Things to Do in Monopoli, Italy
San Fruttuoso Travel Guide (All you NEED to Know)
11 Things to Do in Santa Margherita Ligure
Best Things To Do in Portofino (Ultimate Travel Guide)