So, you thought you knew Italy? Think again. Our 'Savoring Italy' series has just hit the jackpot with the 'Monopoli Italy Travel Guide'. Strap in and navigate Monopoli's labyrinthine alleys with aromas of freshly baked focaccia.
Fancy some ancient ruins? We've got centuries-old cathedrals and if you're the type that goes gaga over clichéd touristy beaches, Monopoli's got those too – sun-soaked, calm and Instagram-approved. Everywhere you turn in Monopoli, there's a story trying to sell itself, so let's binge on Monopoli and see if we can find its uncensored cut.
Jump To
This travel guide contains affiliate links which supports us at no extra cost to you.
A Brief History of Monopoli Italy
Perched on the craggy embrace of the Adriatic, Monopoli is an Italian town where time seemingly took a long pause - a living, breathing relic with a backstory that plunges headlong into the thick plot of antiquity, rooting as far back as 500 BC when it dawned as a fortified Messapian stronghold.
Peel back the layers, and the ancient Greek essence of Monopoli unfurls, its name resonating with the echoes of a Hellenic past -'Monos Polis' or 'unique city', is a tribute to a legacy possibly intertwined with the legendary King Minos and the Mycenaean odysseys of the 15th century BC, a chapter soaked in the bronze hues of a bygone era.
Emperor Trajan's Monopoli: A Roman Road Less Traveled
Zoom ahead to the Roman epoch, and cue Emperor Trajan's entrance, a man who wasn't tethered by the familiar contours of the West; his eyes were fixated on the exotic allure of the East.
Trajan carved the ambitious trail of the Via Traiana right through the beating heart of Monopoli, around 108 to 110 AD while Rome was stretching its sinews, a flex that reached from Benevento to Brindisi, tying knots across the Italian landscape, and smack in the middle of this stone network, with Monopoli pulsating as the nerve center.
In the shadow of Trajan's audacious designs, Monopoli became the geopolitical equivalent of a poker chip, flicked about by the fat fingers of empires playing high-stakes games.
Right there, smack dab in the middle of the maritime Monopoly board (pun intended), this town found itself juggling loyalties. The Byzantines, ever the opportunists, grabbed it like a Wall Street tycoon snatching up a prime piece of real estate.
But, of course, it wasn't all smooth sailing because by the 9th century, Saracen pirates crashed the party, causing quite the scene in the Adriatic neighborhood.
Roll around to the 11th century, and Monopoli had its comeback moment. Thanks to the Normans, and later their Swabian buddies, the town was no longer just a dingy port but the Manhattan of medieval times. You can't walk two steps without bumping into some architectural relic from that period, particularly those Romanesque-style buildings that scream 'vintage.'
Angevins and Aragonese: Monopoli's Role in Kingdom Politics
But history, like the stock market, has its bull and bear moments and the 13th century brought internal politics into play with the Angevins and the Aragonese squabbling like corporate giants in a takeover bid for the lucrative Kingdom of Naples.
During the Renaissance, Monopoli experienced a boom similar to what we'd liken to a modern-day IPO when commerce thrived, the harbors were alive with action, and the city went on a lavish spree of art purchases; and, even now, the legacy of that time stands in the majestic Baroque mansions and cathedrals, echoing Monopoli's golden era of affluence and opulence.
Ottoman Siege
But success always attracts envy and in the 16th and 17th centuries, the Ottomans wanted a piece of the pie and laid siege, forcing Monopoli to up its defense game and today's walls and bastions are the city's ancient security systems, showcasing their 'don't-mess-with-us' attitude.
Monopoli Italy Today
Ah, Monopoli, as you saunter through its streets, you'd almost believe you've stepped into two worlds simultaneously. The modern section bursts with a rainbow palette — a jubilant jigsaw of buildings bathed in pinks, oranges, and blues.
But delve a bit deeper into its heart, and you're transported to an age-old, whitewashed haven, punctuated only by Monopoli's signature sage-green shutters and a generous sprinkle of flourishing balcony boxes.
Yet, within Monopoli's seductive pull to a simpler past, there's a stark reminder that we're still very much in the 21st century. The train station, almost cheekily close, churns with the hum of connections to behemoths like Bari and Brindisi.
And then there's Piazza Giuseppe Garibaldi - a microcosm of modern excess from its nouveau-riche cafes to its almost ostentatious accommodations, it ensures that today's jet-setter, no matter how much they romanticize the past, still gets their dose of contemporary comfort.
And as evening descends, casting a rose-gold hue over everything, the piazza takes on an almost magical aura. With locals trading stories over fresh pizza and chilled Puglian wine, you get more than just a touristy glimpse. You get a slice of real, authentic Italian life.
Where is Monopoli Italy
Monopoli is a quaint little town tucked away on the eastern caress of Italy's boot, nestled within the bureaucratic embrace of the Metropolitan City of Bari and the Apulia region, or Puglia, for those with a flair for the indigenous.
You don't just stumble upon Monopoli; you gravitate towards it as though led by some invisible, gastronomic GPS. The Adriatic Sea, ever the gracious host, cradles Monopoli in a saline embrace, a mere 40-kilometer jaunt – a hiccup really, in the grand scheme of Mediterranean meandering – southeast from Bari, the capital of Puglia.
Map of Monopoli Italy
Explore the narrative-rich soil of a quaint old town with this map of Monopoli Italy, a place where ancient allure doesn't just rub shoulders with modern charm—it invites it for a wild, history-laden dance along the Adriatic shoreline.
Monopoli Italy Travel Recommendations
Navigating the seductive alleys of Monopoli, Italy? Let me throw you a lifeline, gleaned from my own wild romps in the heel of the boot.
Looking to tame Italy's roads? Do the legwork first. The rental game here is a minefield of contenders, all vying for the top spot with their siren songs of "competitive rates" and "stellar service." Still, one car rental service stands out in my book.
Considering guarding your journey with insurance? Lean into World Nomads. In the unpredictable theatre of travel, they're the steady hand on the wheel.
Hunting down a crash pad, be it a humble nook or a lavish lair? My money's on Booking.com. Though, if you're feeling a bit adventurous, give Airbnb a whirl – it's a close second in my playbook.
And before you jet off, swing by my Amazon storefront. Tucked away there is a travel essentials section – a curated collection for the Italian escapade you're about to embark on. Dive in.
How to Get to Monopoli Italy
Please keep in mind that the following list of travel choices to Monopoli was updated in October 2023, and are therefore subject to change at any time.
Bari to Monopoli
Navigating the sun-kissed, olive tree adorned landscapes of Italy's Puglia region from Bari to Monopoli is less a mundane transit, more a choice-laden adventure; the journey, though short, is brimming with choices.
Bus: Now, the bus isn't the chariot of a Roman emperor, but it'll ferry you to Monopoli in a neat 40 minutes for a cost ranging from the price of an espresso to a modest dinner, €4 - €19. It's a compact journey, accompanied by the rolling vistas outside your window.
Train: The train, ah! It's a quicker steed, galloping across the 41 km stretch in about 32 minutes with the first one raring to go at 05:20. With around 27 iron horses charging back and forth daily, and tickets starting at a mere $4.15 if snagged in advance, it's a choice for the early bird catching the worm.
Rideshare: If camaraderie is your cup of tea, ridesharing is your ticket to frugality and possibly, a hearty conversation. It's a longer ride, about 57 minutes, but the ticket to ride is a paltry €3. Shared tales, shared costs.
Taxi or Car: For those valuing solitude or haste, a taxi whisks you to Monopoli in about 36 minutes, though the fare is heftier. If steering your fate is more appealing, a car drive, depending on the capricious traffic, could span 45 minutes to an hour.
Rome to Monopoli
Now, the tale spins longer threads if Rome is your starting parchment. The age-old city bids adieu as Monopoli's charm lures you.
Train: Trains from Rome are like arrows from Cupid's bow, with the swiftest piercing the distance in about 4 hours and 18 minutes. The direct route, a tad slower at 4 hours and 26 minutes, comes with a price tag swinging between €35 - €120. Hunt for bargains and you might snag tickets as low as €18.81 or even €32 if booked well ahead.
Bus: Patience is a virtue with the bus, a 6 hours and 45 minutes sojourn, but it's a lighter hit on the wallet with prices nestled between €19 - €60. It's the long route, with more time to muse on the Italian countryside unrolling beside you.
When Is the Best time to Visit Monopoli Italy?
Forget the sweltering, tourist-choked days of high summer. Instead, think late spring, say April to June, or early fall, around September to October. It's the kind of sweet spot where the weather, the historic ambiance, and the gentle pulse of local life converge, delivering an authentic slice of Monopoli. The choice seems clear if you're looking to sidestep the tourist circus.
Things to Do in Monopoli Italy
Alright, striding into Monopoli with visions of mere clichéd Italian vignettes? Time for a reality check. 'Savoring Italy' is about to hurl you into an underbelly of unchartered indulgences that your run-of-the-mill travelogues skitter over.
Enjoy Le Palme Beach Club
Striding into Le Palme Beach Club in Monopoli, Italy, there's this palpable electricity in the air, a certain je ne sais quoi that makes you feel as if you've stepped into a carefully orchestrated dreamscape.
You've got the crackerjack staff – take Sergio and Gaetano, for instance. Their kind of dedication is the sort that is effortlessly cool and yet entirely devoted. Then there's Antonio's bar, which – I swear – is the kind of place Hemingway would've written novels about if he were still around.
Not to be outdone, Giuseppe's beach section seemed to have stolen a slice of paradise and plonked it right there. It'd be unfair to say these were the only stars in this constellation – the entire crew, too numerous to name, really, felt like a tight-knit family.
I ended up spending my entire day at this lido – a haven that welcomed me with open arms and whispered promises of serenity. Between the warm, ever-smiling faces of the staff and a culinary game that could make Michelin-starred chefs tip their hats, it's a no-brainer why I'd push this gem to the top of anyone's Italian bucket list. Dive in, folks. This is the real deal.
Savor the Centro Storico di Monopoli
Diving into Monopoli's historic center, I felt like I was stepping into one of those black-and-white Italian movies. The old-world charm hit you right away with those ancient structures, those tight alleys that look like they were designed for secretive rendezvous, and those majestic palaces that seem to whisper tales of aristocracy from ages past.
You'll stumble into this web of alleys, each more intriguing than the last, and they all seem to spill into these grand squares—places where you can't tell the tourists from the locals because everyone's just soaking up that intoxicating Monopoli history. The Monopoli Cathedral at Largo Cattedrale? An architectural piece of heaven.
Now, when locals refer to their "Paese vecchio" or "old town," they're not talking about some museum piece. This place is alive. It's got a pulse. You don't get that overly-touristy vibe that places like Bari and Brindisi seem to be drowning in.
And let's get to the real deal - the food. Oh, Monopoli, you gastronomic seductress. From La Locanda sul Porto's fish offerings to MezzoPieno's seafood with a view, Trattoria San Domenico's traditional fare, and the familial vibes at La Torretta del Pescatore… Let's just say you'd better bring an appetite. Monopoli's not just a visual feast; it's a culinary one, too.
Experience the Giardino Botanico Lama degli Ulivi
Meandering through Lama degli Ulivi Botanical Garden in Monopoli, Italy felt a little like wandering through nature's secret treasure chest surrounded by this riot of greenery, a veritable botanical kaleidoscope, set against a backdrop of those ancient dry stone walls and terraces that give Italy its timeless charm.
If you're trying to get to this place, just keep an eye out for those signs pointing to I Vivai Capitanei after the Monopoli - S. Francesco da Paola exit.
I've got to give a shoutout to Francesco, though, who knows his stuff and has a genuine passion for it. Two hours with him felt like a nature masterclass, and he manages to make every leaf and petal come alive with his stories and insights. It's worth every penny of that modest entrance fee.
Explore the Basilica Cattedrale Maria Santissima della Madia
The Cathedral Basilica Maria Santissima della Madia is a meticulously crafted, Baroque masterpiece that seems to burst from the ground, challenging the very wind that dances around it. The façade of the place is grand and audacious, almost daring you to enter. As you step inside, there's this sweeping staircase—something straight out of a Hollywood film—pulling you toward the main altar. Climbing it grants you a bird's eye view of an interior that's awash in colors, marbles, and artistry. The place screams opulence.
But the pièce de résistance is past the transept. Descending side staircases, you're introduced to the "big chapel"—the heart and soul of this architectural wonder. Here, in a dazzling altar that seems to have bottled the entire spectrum of colors, resides the Byzantine-styled icon of Madonna della Madia. It demands your attention. What a wild, beautiful place!
Stoll Around and Daydream at the Porto Antico di Monopoli
I wandered into the ancient port of Monopoli and my feet led me to a quaint arched passageway, promising Instagram-worthy snaps and a gateway into the heart of the historic center. Stepping through a gloriously ornate portico, I was yanked into this panoramic spectacle.
The horizon stretched wide, kissed by a brilliance that could've easily been borrowed from a painter's palette. If you're the sort to wander, the path beckons, but for souls like me, a bench and endless daydreaming hit the spot.
Every click of a camera around here felt like capturing a piece of time—whether it was from the Porto Vecchio's picturesque vista or the majestic aura of the nearby Castle. I learned that this port had once been the heartbeat of maritime trade, a thriving hub where olive oil met stones and sculptures for the town's sacred sanctuaries.
There's a legend, a tale of the Madonna della Madia's icon arriving on a makeshift raft one fateful night in 1117, forever marking Monopoli under her protective watch.
Castello di Carlo V
Stumbling into the Castle of Charles V, I felt like I'd landed smack in the middle of the 16th century—though with a few modern restorations, courtesy of the 1980s and 90s. Standing tall, the castle proudly flaunts its previous life, with a cylindrical tower standing sentinel at the entrance.
And if you're like me, with an appetite for some underground mystery, the basement reveals a gem: a Basilian crypt church, dedicated to San Nicola, that's been dusted off and brought back to the light.
It's a hotspot for art aficionados and culture vultures, hosting exhibitions year-round and you can actually tie the knot in this historic fortress. Imagine that!
Curiosity got the better of me, and I asked the staff about heading up to the terrace; so if you do the same, be prepared for a treat: a unique panorama of Monopoli, juxtaposing the ancient city against the vast expanse of the sea. Back on ground level, the "Weapons Room" felt like a walk through a maritime arsenal, showcasing cannons, anchors, and relics.
The castle wears its history, and on the wall overlooking the port, there's a poignant nod to the here and now—a bas-relief and plaque that tells of a heroic tale. It's a tribute to the Monopolitan fishermen who, in August 1971, braved the seas to rescue the shipwrecked souls of the Greek ferry Heleanna.
Enjoy an afternoon or evening in Piazza Giuseppe Garibaldi
Meandering into Piazza Giuseppe Garibaldi, I felt like I'd stumbled onto the pulse of the city's ancient center. This joint's got an irresistible pull—whether it's the magnetic beauty, that unmistakable whiff of culture, or the temptation of the hotspot venues around.
Trapezoidal in shape, it's a quaint rendezvous point embraced by historic structures that have seen more than we can imagine. There's something delightfully intimate about the space—a go-to hub for mini-concerts and an eclectic range of events.
For many, this square is the epicenter of Monopolitan nightlife. Dig a little deeper into local lore, and you'll find it once went by the moniker "piazza dei ediblei," dovetailing with the confluence via Garibaldi or, as the old-timers will tell you, the "via dei mercanti."
Turn back the clock a few years, and this place tells a different story. Its star attractions? The classic Caffè Venezia, a beloved haunt for fishermen, and a tavern that had long shut its doors. No glitzy restaurants or bustling pubs—just artisan shops, warehouses stowing away the tools of the fishing trade, the once-throbbing heart of the port company, and, let's not forget, the customs office that's still standing tall.
But like a phoenix, the square's been reborn, teeming with life, thanks to eateries and entertainment joints sprouting up everywhere, and in a poetic twist, the "Prospero Rendella" library, Piazza del Sapore, has also sprung back to life—a nod to the past as the square surges into the future.
Make a Pilgrimage to Chiesa di San Salvatore
Local chatter has it that the bricks and mortar of this place owe their existence to a pirate captain. The guy survives a shipwreck with his entire crew, and what does he do? He builds a church facing the very sea that almost claimed him, tipping his hat to San Salvatore.
Now, let's dive a little deeper. The church's full title? Church of San Salvatore in Pittagio Pinnae. Say that ten times fast. For those scratching their heads at "pittáchion", it's a tablet, signaling the district's name which loosely translates to waves, neighborhood. Its roots? Buried deep in the early Christian period, think 3rd and 4th century.
This summer, my travels led me to Puglia. While the sun beat down, Monopoli's historic center offered a cool embrace. And right there, this church, standing tall, kissing the seafront, became a personal highlight.
The sunlit facade bore the marks of classic Apulian Romanesque architecture, but there's a twist. Those gleaming white houses huddled around? They'd give the Amalfi coast a run for its money. Step inside, and it's like stepping into another realm. Rich in decor, yet there's a raw intimacy in the air, a tangible spirituality that captivated me. I've seen a lot of churches, but this one? It's something else.
Spend a Relaxing Day at Cala Porta Vecchia
Cala Porta Vecchia in Monopoli is this sandy strip snuggling up against the town's stout defensive walls. Now, it's one thing to see crystal clear waters in brochures, but diving into them? That's a whole new level of exhilarating.
Tucked away at the tail end of the ancient village, Cala Porta Vecchia sits, almost theatrically, with white houses and a church bell tower as its backdrop. And I get it, it's like the town's best-kept secret, a sweet spot for the Monopolitans. It's where they dash for a quick dip, escaping the midday heat during the summer. Free beach, shallow sandy floors? Check and check.
For a city beach, I was taken aback by how clean the water was. And the beach itself was surprisingly well-maintained. Now, some might call it crowded. To be honest, if you've seen Portofino in August, this is like a secluded paradise. Wander a bit, and you'll hit this rocky patch, begging for a dive.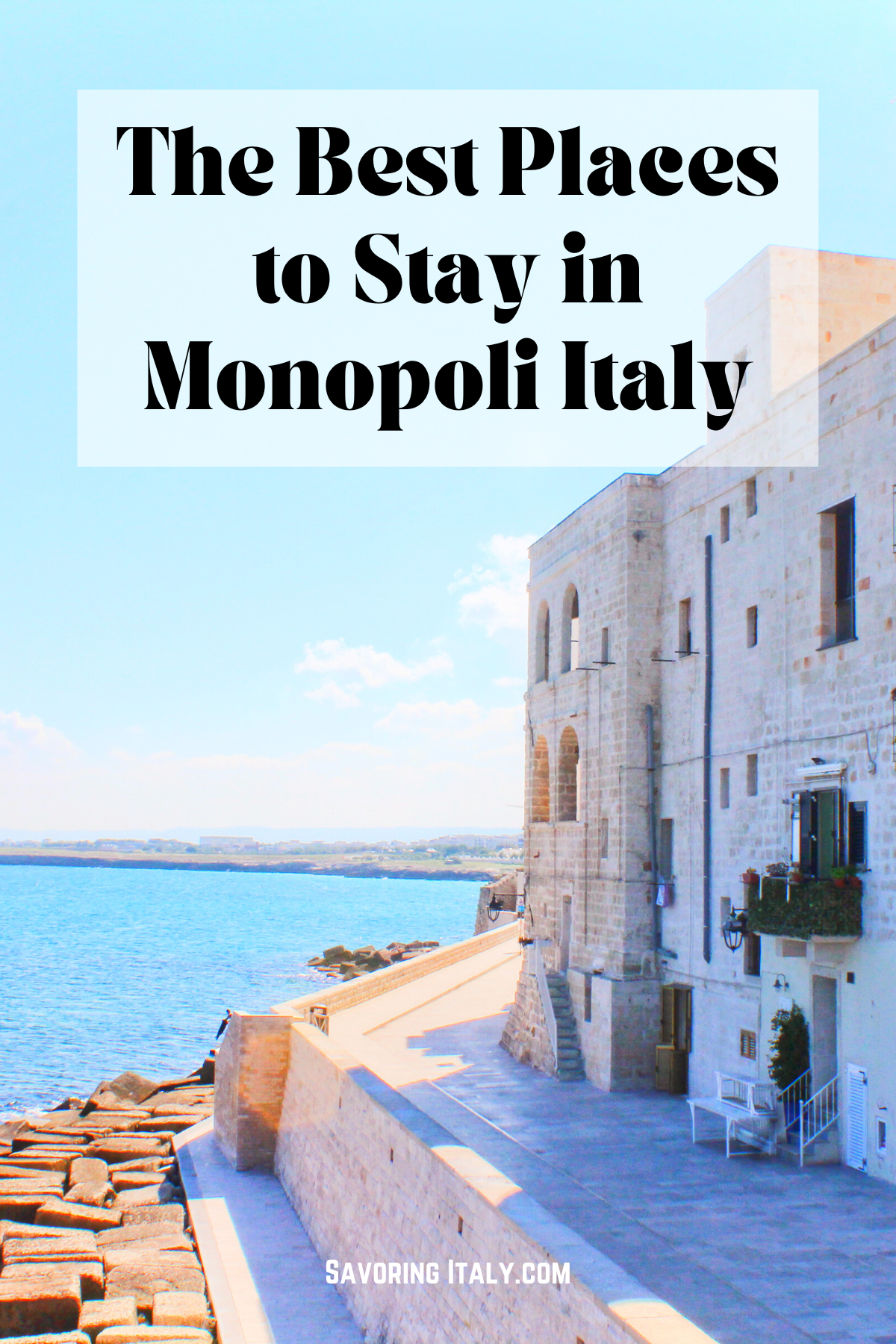 The Best Places to Stay in Monopoli Italy
The following are a list of Savoring Italy's most recommended places to stay in Monopoli Italy based on our personal experiences over the years:
Le Contrade Vico Alba
"Le Contrade" in Monopoli felt like diving headfirst into a masterclass of impeccable taste. From corner to corner, it's a full-blown assault on mediocrity. Spotless rooms, a scent that evokes luxury, and meticulous attention to detail so intense, you'd think they're curating a museum.
The charisma and professionalism oozing out of the host is palpable. The way he welcomes, the flair, the minutiae he dotes on – it's all channeled, full throttle, into the essence of "Le Contrade". And that parking service upon arrival? A godsend.
This B&B is nestled perfectly in the heart of the historic center. Topped off with the exceptional hospitality of Pietro, Francesco, and the crew, it's clear they've cracked the code on guest service.
Torre Cintola Greenblu Sea Emotions
I crashed at the Torre Cintola Greenblu Sea Emotions resort in Monopoli, Italy, which is not just another cookie-cutter vacation spot. Nestled in what seems like a slice of Eden, it's like stepping into a chill-out zone designed to make the world's madness fade away. The crew is top-notch, bending over backward to cater to my every whim, especially those unsung heroes in the dining hall and reception.
The place is spanking new, strategically perched just a quick drive from downtown Monopoli - a perfect jump-off point for local adventures. And speaking of food, their buffet is a culinary tour without leaving the hotel.
And those pools are pure bliss. One even gives you that salty kiss of the sea. Mornings were a spectacle with a spread that'd make breakfast aficionados weep. Every time I looked out, I was met with this vast expanse of turquoise inviting me to forget the world. If you're hitting Monopoli, this is a spot to definitely consider.
Il Melograno "The Pomegranate"
I landed at Il Melograno, which translates to "The Pomegranate" which is not your run-of-the-mill Italian setup. This is Apulian elegance on steroids. Picture this: ancient olive trees dotting the grounds so old, some might have stories from a millennium ago. The staff is always on their A-game. Their restaurant could make a food snob sing praises and the plethora of amenities? It's like a buffet of indulgence.
They've got this beach club, Tamerici, a short ride away, complete with its own shuttle - nice touch. Geographically, it's genius - a hop, skip, and jump from Monopoli, Polignano, and Alberobello. It's the ultimate escape, a bubble of relaxation. Wake to sleep, they've got pampering down to a science.
And, side note: attended this wine-themed dinner there - not just any dinner, but the kind that stays with you. Oh, and the pizza at their beach club? Pure wood-fired magic. If you're ever around, give it a shot. Dive into the Apulian dream.
The Best Restaurants in Monopoli Italy
The following is 'Savoring Italy's' hand-picked arsenal of Monopoli's finest, forged from years of zigzagging through its meandering streets and diving fork-first into the local fare:
Metae
I swung by this restaurant in Monopoli named Metae. Place is primo — practically kissing the historic heart of the city and, what, a baseball's throw from the port? The food, though — it's like they ran an art heist on every Apulian ingredient and showcased it masterfully.
Not gonna lie, you might feel a pinch on the wallet, but you're buying a ticket to Flavortown, Italy, so it evens out. There's Enzo, captain of the ship, and does he run a tight operation. He's got that classic Italian aura; when he's in the room, you feel it. From the bread to the nod of the owner, everything's spot on. And the bill? Quality vs. price is a no-brainer.
Le Cucine di Masseria Spina
I veered off my beaten path and collided headfirst with a gastronomic titan: Le Cucine di Masseria Spina. What a find! A culinary orchestra with each plate deserving a standing ovation, especially considering the bang-for-buck factor.
Dining in that majestic farmhouse, the atmosphere flirted with nostalgia and modern culinary wizardry. The burrata-filled squares? Ambrosial. The beef cheek braised with negramaro? Well, let's just say if it were a boxing match, it'd be a knockout. And as for the wine – a medley worth toasting to.
But let me hammer home the real stars: that spaghetti with cheese, pepper, and scampi tartare is devilishly good. The cavatelli with mussels, a fondue spectacle, and don't get me started on the babá – it's like diving into a cloud made of dreams. If you're chasing top-tier grub at prices that won't make your wallet wince, bookmark this spot.
Porta De Mä
I stumbled upon a culinary rabbit hole in the form of Chef Daniele Lopriore's culinary magic at Porta de mä. Picture this: just a short jaunt from the nostalgic old marina, the restaurant's open kitchen seductively beckons. The seafood spread is packed with raw fish delicacies, the Rolls-Royce of oysters, and caviar that might make you rethink your life choices. We also had fusili pasta with the most amazing squid ink sauce.
Drowning in the wine list, we went rogue with a champagne choice. Sharp, bursting with citrus notes, it danced with every dish. Post the chef's salutations, we dove into a Special Plateau that screamed luxury – steamed lobster, prawns, and those high-end Gillardeau and Kis oysters. Then came the Balfegò blue fin tuna tartare, a plate harmoniously composed.
Is Monopoli Italy Worth Visiting?
YES! Monopoli, Italy, is highly regarded as a worthwhile destination by various travel enthusiasts and experts. It's a revelation. Think of the droves of travel junkies and those pretentious experts that populate magazine columns – even they can't help but gush about this place​​.
While many towns flaunt their ancient hearts, Monopoli offers you a perfect base to launch your Puglia explorations​​. With neighbors like Bari and the Instagram-favorite Polignano a Mare, one might think Monopoli would get overshadowed. Think again. Its unique, under-the-radar magic positions it as more than just a pitstop—it's a destination in its own right.
FAQs
Can you swim in Monopoli Italy?

Yes, absolutely you can take a dip here. That Mediterranean sun heats the waters up by August, practically begging you to dive in. Recall that beach we chatted about, Cala Porta Vecchia? Perfect example. It's not only a treat for your eyes but also ideal if you've got kids in tow. The spot's swimmable conditions and close proximity to local digs make it a no-brainer. So if you're ever in Monopoli, don't just admire the water – jump in.
Is Polignano or Monopoli better?
I personally prefer, Monopoli. Here's the lowdown: it's a matter of taste.
Polignano a Mare? Think of it as the flashy little gem of Italy. It's like that postcard-perfect place everyone tells you about, and they're not wrong. Cliffs, balconies, that whole cinematic, "Am I in a romance film?" vibe. But with that allure comes the inevitable tourist hustle and tight squeezes in summer​​. The town's gorgeous, no doubt, but it's also a tad more compact. And if you're driving? Parking could feel like you're gunning for an Olympic gold​​.

Now, swing to Monopoli. It's the chill cousin that doesn't hog the limelight but has this authentic, lived-in vibe​​. More elbow room, more local joints to sip on that Italian wine or grab a bite, and beaches? They've got them in spades. If Polignano's the place to be seen, Monopoli's where you kick back, avoid the major tourist trappings, and soak in the sun without elbowing your way through a crowd. And for those history buffs? The churches and cathedral here are a sweet deal.
Monopoli Itinerary
How do you spend a day in Monopoli?

I took a whirlwind tour of Monopoli, Italy in one day - a heady cocktail of old-world charm, seaside serenity, and gastronomic wonders. I Kicked off with a jaunt around the old town.

Popped by the Monopoli Cathedral, snuck a peek into the underground gems like the Madonna del Soccorso, and got a taste of royalty at the Castle of Charles V. I stretched my legs on Lungomare, watched some old-timers hauling in their catch, and then lounged at Cala Paradiso like a total beach bum.

The town's boutiques served up some retail therapy, and the local eats? Bellissimo. Wrapped it all up with a stunner of a view from Bastione Santa Maria and even daydreamed about a detour to Polignano a Mare. It's a choose-your-own-adventure kind of place
Other Italian Destinations
If you found joy in these pages, you're bound to adore some of our other 'Savoring Italy' travel guides as well:
San Fruttuoso Travel Guide (All you NEED to Know)
11 Things to Do in Santa Margherita Ligure
Best Things To Do in Portofino (Ultimate Travel Guide)