Chocolate Peanut Butter Pie - a really easy no-bake pie recipe that is filled with creamy peanut butter, cream cheese and whipped cream. The decadent filling is spooned into a buttery, graham crust and has a chocolate drizzle on top. Perfect for a summer party!
What is happening with you? This chocolate peanut butter pretzel pie is all I have on my mind! I can tell you this...there is not much that I want to turn my oven on for these days. But this chocolate-peanut butter pretzel pie is a reason to reconsider. It is really an easy recipe that doesn't even require much effort.

You could even make the pie without baking the pretzel crust. But I prefer to bake it for about 8 minutes. And can I tell you something? I have avoided this pie in my life for some years now! I made this some time ago. There was sort of sheer mayhem with the guests at the dinner party where I brought it. I tasted a sliver, as I wanted to leave more for guests at my friend's party, and my life changed.
I wouldn't say I'm the biggest peanut butter fan. I might even say I like almond butter more than peanut butter. I didn't grown up eating PB&J sandwiches. It wasn't very common in an Italian household.
Even my mother-in-law in Italy was told by her doctor to eat peanut butter last summer. She tried to incorporate it in her diet. I think she had to eat like a tablespoon a day or something like that. She did what she was supposed to do and then she froze the rest of the peanut butter jar.

Yes, she froze it. She freezes every thing (I may have mentioned this before). When she visited us in May, she told me when I'm in Italy that I have to do something with the peanut butter. And we were just visiting her in Italy and I didn't want to offend her. But frozen peanut butter from last year? Doesn't appeal much to me (or anyone in my family).
BUT to not offend her, I did have a look at her frozen peanut butter. Luckily, she was too distracted with the oranges from Calabria that she froze (and the pomegranates and chestnuts...I'm not kidding). We had roasted chestnuts that were frozen at Christmas time and they were so good!
SO back to this pie! This is also frozen peanut butter, but not the one my mother-in-law froze. I used fresh peanut butter and there is freshly whipped cream.
There is a lovely and very easy pretzel crust and there is the chocolate peanut butter topping I melted and sort of spread on top. I was trying not to spread it around too much so I wouldn't disturb the filling. It may not look that pretty, but let me tell you something, it was.
I made this pie for a going away party for some friends. I didn't get the best photos of it after it was frozen and set. I had to sneak it out of the freezer to let it thaw a little. I knew there would be about 4 teenagers at the party and I knew this would be something they would like.
It seems I should've made two pies, as the kids were arguing over the last slice! If you don't want to make the crust in the food processor, you could put the pretzels in a big zipped lock bag, close it and crush it with your rolling pin.
As I mentioned above, I do like to bake my crust. It seems to keep it firmer (at least for me it does). The filling is so easy to put together. I happened to have some chocolate peanut butter that I found at Tuesday Morning. It's so good!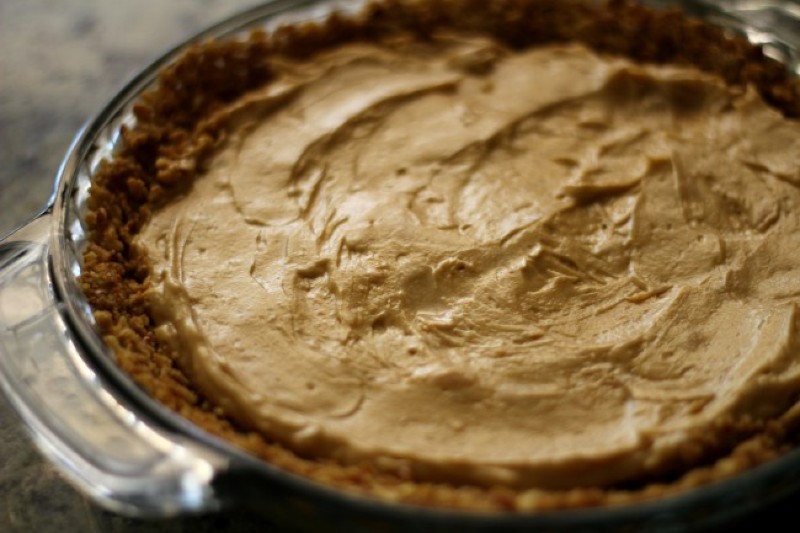 I melted it and dolloped some on top and then added some more crushed pretzels. The teens all proclaimed this pie tastes like a candy bar. But what's nice about this "candy bar" pie, there are no additives. And peanut butter does have protein...so it's sort of good for you, right?
Looking for some more no-bake inspiration? Look no further...here you go:
And if you are craving a blueberry pie, try this blueberry limoncello pie with sourdough crust! It's quite a pie!
For something more casual, try these blueberry bars the cake batter is vegan).
Chocolate-Peanut Butter Pretzel Pie
Chocolate Peanut Butter Pie - a really easy no-bake pie recipe that is filled with creamy peanut butter, cream cheese and whipped cream. The decadent filling is spooned into a buttery, graham crust and has a chocolate drizzle on top. Perfect for a summer party!
Ingredients
for the crust

2

cups

broken salted pretzel sticks

I used mini salted pretzels

6

Tablespoons

unsalted butter

melted

for the filling

4

ounces

cream cheese

softened

1/2

cup

peanut butter

1

cup

heavy cream

chilled

1

teaspoon

pure vanilla extract

1/2

cup

confectioner's sugar
Instructions
Preheat the oven to 350°. Using a food processor, finely grind the pretzels.

Transfer to a bowl, then stir in the melted butter. Press evenly over the bottom and up the sides of a 9-inch tart pan with a removable bottom.

Bake until light brown around the edges, about 6-8 minutes. Let cool on a rack.

Using an electric mixer, beat the cream cheese, peanut butter at medium-high speed until fluffy, about 1 minute.

Beat in the remaining 1/2 cup confectioner's sugar.

In a separate bowl, beat 1 cup heavy cream with the vanilla until soft peaks form.

Fold the whipped cream into the peanut butter mixture.

With a spatula spread this gorgeous peanut butter mixture in the tart shell.

Cover with plastic wrap, then refrigerate until firm, at least 3 hour or overnight. I popped the bottom out of the sides of the tart pan. I left it the bottom on the tart pan and it was very messy when cutting.I had some chocolate peanut butter and melted it a little and spooned that on top (about 4 Tablespoons)and then sprinkled some more crushed pretzels on top before serving.
Nutrition Disclaimer
Please keep in mind that the nutritional information presented below is an approximation and may vary depending on the exact ingredients used.