Easy Italian Roasted Cauliflower (Side Dish) is a healthy, easy, and quick side dish recipe that is bursting with flavor! Cheesy, garlicky, with crispy edges. This delicious cauliflower recipe is so versatile and has minimal clean-up!
This is a super easy sheet-pan recipe that is gluten-free, vegetarian, low-carb, and has vegan/dairy-free option. Also including instructions to make in your air-fryer!
When I was growing up in my very Sicilian family, cauliflower was a part of so many different meals. My dad made his Sicilian cauliflower florets for every holiday (will be sharing that here next!). It for sure was in my genetics, as my family in Sicily grew cauliflower for vegetable brokers to sell at all the huge markets around Italy.
When I started making vegetables for my kids, one of the first ones I starting cooking up was cauliflower, and they just loved it, and still do! This is a recipe you could try for your kids and see what they think. Just leave out the spice!
It's such a no-fuss recipe to make and it really is so versatile. The florets all get added to one sheet pan. Lining it makes for super easy clean up. You could cut the florets as big or small as you like. How long they take to get caramelized and crispy edges will depend on the size.
The possibilities truly are endless for how you want to season them up! I did a basic salt, pepper, sprinkle of sweet paprika, and garlic. Grated cheese and lemon juice adds another flavor dimension that makes this side dish truly irresistible! It smells incredible as it's roasting away!
You could keep this totally vegan and leave out the cheese, or use a vegan grated cheese or nutritional yeast flakes. This incredible side dish pairs so well with different entrees and proteins.
Why you'll love roasted roasted italian cauliflower?
No-fuss: Quick and easy to make with minimal ingredients.
Versatile: An easy vegetarian recipe that can be served as a side or main course.
Flavorful: Satisfying side dish with plenty of tasty flavor.
Great for different dietary needs: Suitable for those following a vegetarian or gluten-free diet.
Easy to customize: Change the recipe up with different spices and seasonings. As an added bonus, it's also budget-friendly
Jump To
What ingredients are in Parmesan roasted cauliflower?
Cauliflower: You need 1 large head of cauliflower, which should amount to 7 to 8 cups of florets.

Alternatively, you can buy the bags of pre-chopped florets.

Olive Oil: I use a really good brand of extra-virgin olive oil. I often mention that in my recipes. The better the quality, the better the flavor! You need a generous amount of olive oil roasting, which encourages optimal browning. Olive oil is a fantastic source of polyphenols and heart-healthy fats, so need to skimp!
Garlic: I suggest 3 to 4 cloves depending on the size (and depends how much you love garlic!).
Paprika: For a bright hue and touch of sweet flavor.
Cheese: Freshly grated Parmigiano-Reggiano or Pecorino Romano is added at the very end of cooking to amp up the umami.

If making the cauliflower vegan, use nutritional yeast instead.

Lemon: For a jolt of brightness, lemon juice adds a fresh finish.
Parsley: I like to use fresh Italian parsley, but regular parsley is fine. It gives it a nice herby touch and a lovely pop of color. You could also use fresh dill or chives.
How to Roast Cauliflower
Full printable recipe is below. This is all you need to do to and you may even have the ingredients on hand to make this right away:
Step 1: Preheat the oven to 425˚F and line a rimmed baking sheet with foil or parchment paper for a nice and easy cleanup. Heat up the baking sheet while you prep the cauliflower.
Step 2: Prep the cauliflower. Slice off the outer leaves and cut into florets.
Step 3: Break off or cut off the florets. You could even cut into cauliflower steaks.
Step 4: Seasoning- Add the cauliflower to a large bowl, drizzle with oil, and toss to coat. Season the cauliflower and toss again then spread into a single layer on your heated baking sheet.
Step 5: Make sure they are spread out in an even layer and not touching.
Step 6: Bake until the edges are crispy. It could take 25-30 minutes (or longer), depending on how big the florets are.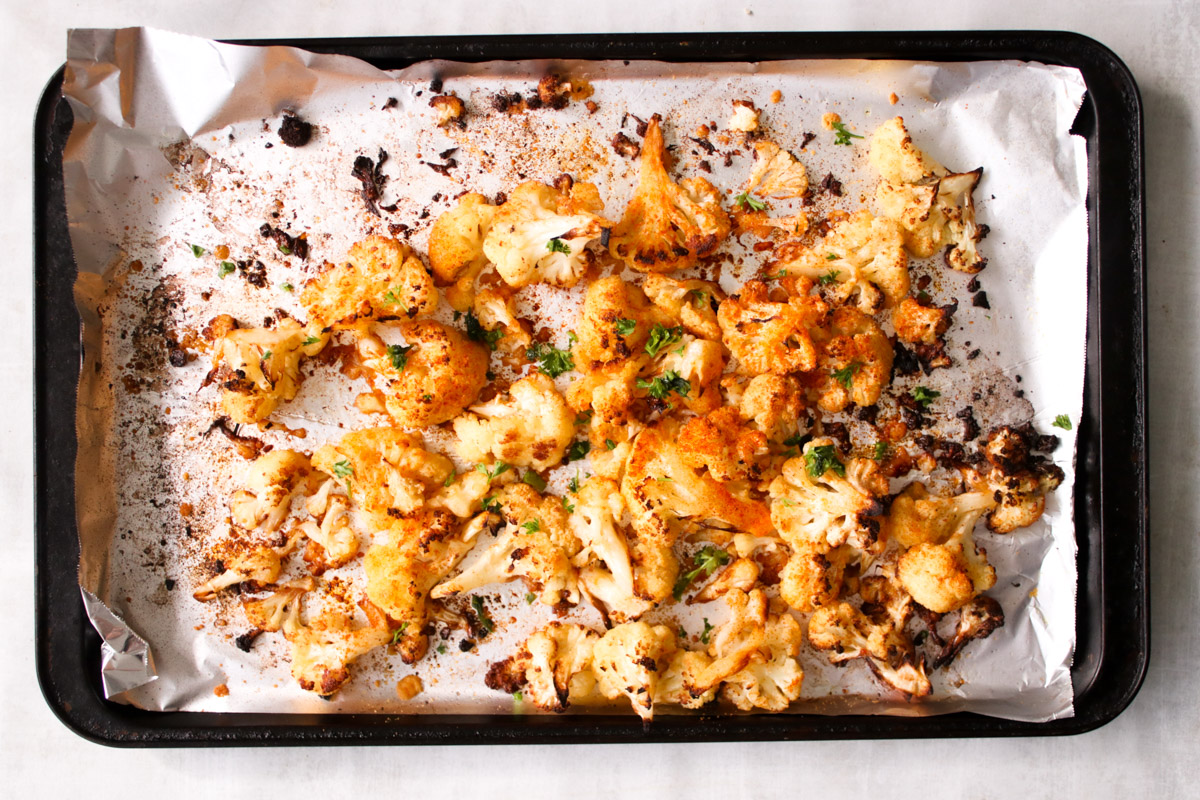 Step 7: When they're almost ready, sprinkle on the cheese. Remove pan from oven, and squeeze on lemon juice (if using)and some fresh chopped parsley. ENJOY!
How to make roasted cauliflower in air-fryer:
Follow all the instructions in the recipe.
Once you have the cauliflower prepped and seasoned, place directly on the air fryer basket and air fry at 400°F (200°C) for 10-15 minutes.
Secrets to get the most crispy roasted cauliflower
High-Temperature: When you are heating the oven, make sure you set to a higher temperature of 425°F. This is the best temperature to get more color and crispy edges!
Heat the pan: While you're heating the oven, heat up the baking sheet. Just be careful when placing the florets on the pan, as it will be hot! But this hotter pan will help crisp the florets up even more!
No wet cauliflower: You have to rinse off the cauliflower after you cut it, but be sure to dry it off very well with a clean kitchen towel or paper towels. The water droplets could cause some steam, which would make for mushier cauliflower. You could even use pre-washed cauliflower.
Generously oil: Be sure to coat the florets with enough oil. You could toss together in a bowl or brush it on with a cooking brush. Place the flat side of the floret on the pan.
Expert tips for recipes for roasted cauliflower
For even cooking, try to cut the cauliflower florets into similar sizes.
To cut apart the cauliflower, I first cut the cauliflower into 4 sections, then begin to cut off the florets. I chop or break off individual florets in half lengthwise to get a flat side to lay down the florets on the baking sheet.
Don't overcrowd the baking sheet with too many florets, as this can prevent proper caramelization.
Lining your baking sheet with parchment paper will give you even crispier cauliflower edges.
Experiment with different seasonings and spices to find your favorite flavor combinations.
Short on time, simply preheat the oven to 450 degrees F and cook for a shorter amount of time, around 15-20 minutes.
To add a tangy twist to the flavor, try adding a dash of lemon juice or balsamic vinegar.
Sprinkle on breadcrumbs or crushed nuts on top just before roasting for a bit of crunch.
To make this recipe vegan-friendly, omit the cheese and use nutritional yeast instead.
You can prep your cauliflower, rinse, and dry. Store it in a large paper towel lined plastic bag in the fridge in a vegetable drawer for up to 7-14 days before cooking.
Variations and substitutions recipe cauliflower roasted
Since cauliflower has a mild flavor, it's easy to to blend in different spices and flavors.
Go ahead and experiment with your own mix of herbs and seasonings, or try one of these ideas:
Salt + Pepper: A simple and classic way to season the cauliflower. A squeeze of lemon juice at the end makes it even brighter tasting!
Curry Roasted Cauliflower: Season the cauliflower with 2 teaspoons curry powder and 1 teaspoon ground cumin.
Mexican Roasted Cauliflower: Leave out the paprika and the grated Parmigiano Reggiano and add in 1 teaspoon chili powder and 1/4 teaspoon cumin. Serve with some lime wedges chopped fresh cilantro.
Spicy Roasted Cauliflower: To make it spicy, switch the paprika with smoked paprika, a dash of cayenne pepper and 1/2 teaspoon of garlic powder.
What to Serve with Roasted Cauliflower
Since it has such a mild flavor, cauliflower goes well with so many dishes.
Storage Tips
To Store: Keep any leftovers in an airtight storage container for up to 4 days.
To Reheat: Place the leftovers on a baking sheet and heat on 350F or in a skillet stovetop on medium heat.
To Freeze: Once they've cooled down, place leftovers in an airtight freezer-safe storage container or zipped lock bag for up to 3 months. Let thaw overnight in the fridge and reheat, or you could reheat from frozen.
FAQ's
Can you roast frozen cauliflower?
Yes, you can roast frozen cauliflower florets. I do prefer to use fresh cauliflower. The frozen may take longer to get golden and crispy around the edges.
Why is my roasted cauliflower soggy?
Crowding the cauliflower on the pan could make them cook up mushy and a bit soggy. Leave some space between the florets. Be sure not to use too much olive oil to cook them.
Is cauliflower good for you?
Yes, it is good for you! Cauliflower is a great source of antioxidants and fiber. It's also a source of B vitamins, vitamin C and K.
Is it necessary to boil cauliflower before roasting?
No, you do not need to boil first. Boiling before roasting results in mushy cauliflower and not crisp. Just cut the cauliflower into florets, coat with olive oil, and roast at the high temperature. At around 25 minutes, they will be tender. Roast a little longer to get more color and get them crispier.
Do I need to wash my cauliflower before eating it?
Yes, you definitely need to wash cauliflower. Cut off the leaves and cut the cauliflower into florets. Put it in a colander rinse very well.
How long to roast cauliflower?
It's best to roast cauliflower at 425 degrees F for around 25-30 minutes OR until it is fork tender and has nice and crispy edges.
What to do with leftover roasted cauliflower?
If you happen to have any leftovers, they are delicious to use added as a pizza topping, mixed in a pasta, rice, or even cold right out of the refrigerator as a snack!
Some other healthy recipes to enjoy:
Did you make this? Please RATE THE RECIPE below:)
Please Subscribe and give a follow on Instagram, Facebook, Pinterest, and TikTok xx
This post contains affiliate links. As an Amazon Associate I earn from qualifying purchases. See my privacy policy for details.
Easy Italian Roasted Cauliflower (Side Dish)
Easy Italian Roasted Cauliflower (Side Dish) is a healthy, easy, and quick side dish recipe that is bursting with flavor! Cheesy, garlicky, with crispy edges. This delicious cauliflower recipe is so versatile and has minimal clean-up!
Ingredients
1

large head cauliflower

washed trimmed and cut into bite-size florets

¼

cup

of extra virgin olive oil

1-2

teaspoons

minced garlic

to your taste

½

teaspoon

salt

¼

teaspoon

pepper

1

teaspoon

sweet paprika

½-1

teaspoon

chili flakes or to taste

optional

½

cup

pecorino Romano cheese or Parmigiano-Reggiano cheese

grated

1

tablespoon

lemon juice freshly squeezed

optional

additional grated cheese and chopped fresh Italian parsley for garnish

optional
Instructions
Preheat the oven to 425 degrees F. Line a baking sheet with foil paper or parchment paper. The baking sheet should be big enough to hold the florets in a single layer. Place your lined baking sheet in the oven to preheat while you prepare the cauliflower.

Remove the hot baking sheet from the oven and add the cauliflower florets, flat sides down, on the heated baking sheet. Drizzle with olive oil. Sprinkle with seasonings and use a spoon to toss until evenly coated. Spread cauliflower out in an even layer so the florets aren't touching.

Bake at 425 degrees F for 25-30 minutes without turning the cauliflower, or until cauliflower are fork tender and the edges are crispy and it has a nice color. Larger florets will need more time to get tender.

If using grated cheese, sprinkle it on during the last 5 minutes of cooking.

Remove the pan from the oven. If using, drizzle the tops with freshly squeezed lemon juice and some freshly chopped parsley. Serve immediately. Enjoy!
Nutrition Disclaimer
Please keep in mind that the nutritional information presented below is an approximation and may vary depending on the exact ingredients used.
Notes
Prepping the cauliflower: I prefer to cut the cauliflower in 4 pieces, then work with each section cutting off the florets. Sometimes I use my hands to break off florets. Laying the flat cut side down makes it cook up more evenly and crispier.
Cheese: I usually recommend freshly grated Parmigiano-Reggiano or Pecorino Romano cheese, but go ahead and use a nice quality pregrated cheese. It gives the cauliflower a crispy edge that is so flavorful! You could use nutritional yeast to be dairy-free/vegan. It will have a really great flavor!
Bake time: Depending on the size you cut up the florets, the baking time will slightly vary.
Crispy cauliflower: Lining the baking sheet with parchment paper will help get a crispier crust on the florets.
Air-fryer: Follow recipe instructions prepping the cauliflower. Once you have the cauliflower prepped and seasoned, place directly on the air fryer basket and air fry at 400°F (200°C) for 10-15 minutes.
Nutrition
Calories:
144
kcal
|
Carbohydrates:
7
g
|
Protein:
4.3
g
|
Fat:
12.3
g
|
Saturated Fat:
0.1
g
|
Polyunsaturated Fat:
0.2
g
|
Monounsaturated Fat:
0.03
g
|
Sodium:
1164
mg
|
Potassium:
52
mg
|
Fiber:
1
g
|
Sugar:
0.2
g
|
Vitamin A:
988
IU
|
Vitamin C:
0.02
mg
|
Calcium:
8
mg
|
Iron:
0.5
mg