Sheet Pan Eggplant and Tomato Bake is tender baked eggplant, topped with naturally sweet late summer tomatoes, and fresh basil. It's very easy to make! The perfect recipe to make with your favorite summer vegetables.
Jump To
Why you'll love baked eggplant and tomato
Simple ingredients: This recipe comes together with ingredients you most likely have on hand.
Really easy to make: A no-fuss recipe that all comes together on a sheet pan! Which makes for really easy clean up!!
Healthy + delicious: This recipe is naturally vegan, sugar-free, and gluten-free. So delicious with a big salad or make it with a side of your favorite pasta.
This eggplant and tomato bake is a really great side dish or even main dish. It's made without any cheese, so it is really nice for your vegan family/friends. It is the perfect recipe with eggplant and tomatoes. It's dairy-free, sugar free, gluten-free. A great Whole30 recipe idea and you can enjoy if you're following Paleo or Keto.
If you are Keto and not dairy-free (vegan), feel free to sprinkle on some grated cheese (Parmiggiano-Reggiano or even shredded mozzarella) during last minutes of baking. Vegan/dairy-free…use your favorite vegan mozzarella shreds (or parmesan shreds). But the recipe as it is, is totally clean eating. A simple Italian side or main dish we make all summer long when eggplants are abundant!
Summer isn't quite over yet and you may have a garden that is bursting with eggplant. In my dreams I have my Calabrian in-law's garden in Italy that is just magical. When we visit in the summer, my father-in-law goes down every morning just when the sun rises and picks zucchini, the zucchini flowers, lettuce, cucumbers (the list goes on and on).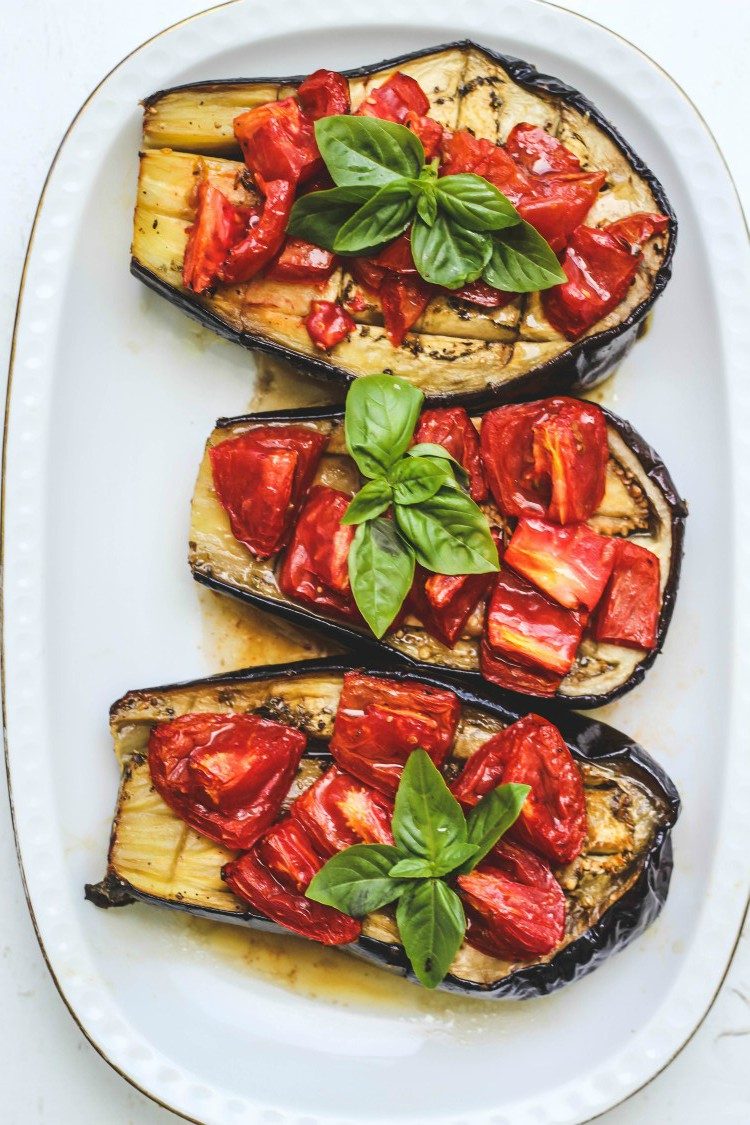 Today I'm sharing the perfect recipe to help you use up late summer eggplant you may be lucky to have growing in your backyard. Or maybe even your sweet neighbors have shared their eggplants with you and you're wondering what to make with them(hey, all I can share are my mangoes and papaya from my backyard).
This is an addition to my sheet pan recipe series. Now my husband cannot say I have too many sheet pans!
August and September is when tomatoes are at their peak and I am canning tomato sauce. If I were lucky to be in Italy, I would be helping my mother-in-law make her Calabrian pickled eggplants.
I still have jars in my fridge from when they visited us last winter. I have been visiting my favorite local produce market and the eggplants and tomatoes have been used almost every day for lunch or dinner. Luckily, both my kids do like eggplant.
What ingredients are in this eggplant and tomato recipe?
Here is all you need (full printable recipe is below):
eggplants
tomatoes I used plum tomatoes, cherry tomatoes or heirloom fine to use
garlic
fresh basil leaves
How you make Sheet Pan Eggplant and Tomato Bake
This delicious and healthy dish all comes together on a simple sheet pan.
Step 1: Heat the oven and line the pan with foil or parchment paper.
Step 2: Next, add your eggplant slices.
Step 3: Brush the eggplants with a little bit of olive oil.
Step 4: The next step is to add on the tomato mixture.
Step 5: Once oven is heated up, place the pan and the oven. And that's it! It goes in the oven and bakes away until tender. It could take 45 minutes or even a little longer.
Do you leave the skin on eggplant when baking it?
Yes, the skin stays on. It becomes tender while it's baking.
Can canned tomatoes replace the fresh tomatoes?
Yes, you could substitute canned chopped tomatoes for the fresh ones.
What kind of cheese can be added on top?
If you would like to add cheese, mozzarella, feta, or grated Parmigiano-Reggiano would work nicely.
Can this be made with zucchini instead of eggplant?
Yes, you could use zucchini in place of the eggplant. Cut the ends off of the zucchini and slice in the middle. Use a sharp knife to score the zucchini and follow the recipe below.
Can baked eggplant be prepped ahead of time?
Yes, this recipe can be prepped the day before. Reheat it in the oven on 325F for 10 minutes. Add on the fresh basil leaves the day you are serving it.
Tips for Making this Baked Eggplant with Tomato
I used a foil lined sheet pan to make this dish. You could also use a 9″ x 11″ baking dish. If you only have smaller baking dishes, you could use 2 8 " x 8″ baking dishes. Once it was finished baking, I transferred to a serving plate. But you could leave it on the sheet pan and serve directly from there.
I used plum tomatoes. You could easily use cherry tomatoes and even heirloom tomatoes would be wonderful.
I baked these for about 45 minutes, but it could be that yours will need a little more time than that. Every oven is different, so just keep an eye on it and adjust the time if the eggplant is not tender when you gently touch with a fork.
IF you are adding cheese, add it during last minutes of baking time (when the eggplant is tender to the touch with a fork). Broil it for a couple minutes if you need the cheese a little brown (just keep a good eye on it as it could burn very quickly!!)
Variations for sheet pan eggplant
Add sliced onions for extra flavor.
Instead of eggplant, use zucchini or yellow squash.
You can use canned tomatoes instead of fresh, but reduce the amount of salt in the recipe (since canned tomatoes often have added salt).
Add other vegetables to the mix, such as bell peppers, onions, or mushrooms.
If you don't have fresh basil on hand, use dried basil instead of fresh, but reduce the amount (since dried herbs are more concentrated).
For a spicy kick, add a dash of red pepper flakes or cayenne pepper.
What to serve with this Sheet Pan Eggplant and Tomato Bake
There are various side dish ideas that go well with this very tasty eggplant dish.
If you are staying totally low-carb, Paleo, Whole30 and Keto, serve it with cauliflower rice, roasted broccoli, or a nice salad. Another idea is spaghetti squash or zucchini noodles (in place of pasta).
If you aren't Paleo/low-carb or in a Whole30 cycle and you would like to enjoy a more traditional way, serve it with pasta and your favorite tomato sauce. A side of polenta would also be delicious.
How to store baked eggplant?
As soon as it completely cools down, store any leftovers in an airtight container in the fridge for up to 3 days. I do not recommend freezing this recipe.
Some other eggplant recipes to enjoy:
Did you make this? Please RATE THE RECIPE below:)
Please Subscribe and give a follow on Instagram, Facebook, Pinterest, and TikTok xx
This post contains affiliate links. As an Amazon Associate I earn from qualifying purchases. See my privacy policy for details.
Sheet Pan Eggplant and Tomato Bake
Sheet Pan Eggplant and Tomato Bake is tender baked eggplant, topped with naturally sweet late summer tomatoes, and fresh basil. It's very easy to make! The perfect recipe to use up your favorite end of summer vegetables. This recipe is vegan, vegetarian, gluten-free. Suitable for Whole30, Paleo, and Keto friendly.
Ingredients
2

medium eggplants

2.5 lbs total

4

cups

chopped tomatoes

I used plum tomatoes, cherry tomatoes or heirloom fine to use

2

cloves

garlic

minced, optional in case you are sensitive to garlic

1

teaspoon

sea salt

1

teaspoon

freshly ground black pepper

¼

cup

extra-virgin olive oil

handful of basil leaves

to serve
Instructions
Preheat oven to 375 degrees Fahrenheit. Prep a sheet pan by lining it with foil paper. You could also use a 9″x11″ baking dish.

Slice eggplants in half lengthwise and cut crosswise into meat of eggplant. Be sure not to cut through the skin and cube the eggplant, leave the skin intact. The eggplant will still be whole with diagonal cuts.

Place the eggplant on the foil lined baking sheet (or a 9″x11″ baking dish). Set aside.

In a small bowl, add the extra-virgin olive oil, tomatoes, garlic (if using) salt, and pepper. Toss together; set aside.

Brush cut sides of eggplants with olive oil. Add on a bit of salt (about 1/2 teaspoon) and crack on some freshly ground pepper.

Spoon the tomato mixture over the eggplant. Drizzle on some extra-virgin olive oil around the eggplants (about 1 tablespoon).

Place the sheet pan (or baking dish) in the oven for around 45 minutes, or until the eggplant flesh is very soft when gently poked with a fork. If needed, brush with olive oil when it is baking.

Remove from oven.

Let eggplants rest for 5-10 minutes before serving.

Sprinkle on some fresh basil before serving, or serve with whole basil leaves.
Nutrition Disclaimer
Please keep in mind that the nutritional information presented below is an approximation and may vary depending on the exact ingredients used.
Notes
This is a totally dairy-free recipe.
IF you would like to add vegan cheese, you could add on top during last minutes of cooking time.
IF your diet allows cheese, use shredded mozzarella, feta crumbles, or grated Parmigiano-Reggiano.
You may need to turn on broiler for last minute or so to brown cheese, just keep a very close eye on it.
Nutrition
Calories:
162
kcal
|
Carbohydrates:
10
g
|
Protein:
2
g
|
Fat:
14
g
|
Saturated Fat:
2
g
|
Polyunsaturated Fat:
2
g
|
Monounsaturated Fat:
10
g
|
Sodium:
925
mg
|
Potassium:
457
mg
|
Fiber:
2
g
|
Sugar:
6
g
|
Vitamin A:
281
IU
|
Vitamin C:
23
mg
|
Calcium:
78
mg
|
Iron:
2
mg