Bolzano is the gateway to the Dolomites, the breathtaking mountain range in northern Italy. The city itself has plenty to offer, from its winding cobbled alleyways and beautiful baroque architecture to its unique blend of Italian and Austrian culture. Here is everything you need to know about Bolzano: where to stay, where to eat, and what to do!
Jump To
History of Bolzano/ Bozen
Bolzano is a fascinating city nestled in the Tyrolean Alps of Northern Italy. Its vibrant streets, which bustle with a unique mix of Austrian, German, and Italian cultures, are filled with grand historic structures that have stood proud for centuries - but what makes Bolzano special is its ability to bring together the old and new.
Its history reaches back well before medieval times to prehistoric settlements, giving visitors an insight into its past cultural significance. As Bolzano continues to evolve today and become an international culinary hotspot, it invites us to—for an unforgettable journey through Bolzano's past and present wonders.
Bolzano was originally part of the Roman Empire and was known as "Bauzanum". Emperor Augustus granted it to a noble family, which gave Bolzano its first coat of arms in 1278. Trade in local goods such as wine and textiles flourished throughout the Middle Ages, making Bolzano an important trading hub in what was then the Austro-Hungarian Empire. In 1803, with Napoleon's conquest of the region, Bolzano became part of Austria until it passed to Italy in 1919.
Bolzano is alternatively known as Bozen in German and Bulsan in Ladin. It is sometimes referred to by its ancient name, Botzen.
Where is Bolzano Italy on a map?
Bolzano is located in the autonomous province of South Tyrol, Italy. It lies on the Adige River, at the foot of the Dolomites in northern Italy near the Austrian border. Bolzano is approximately 145 km northeast of Milan and 230 km northwest of Venice.
How to get to Bolzano
I took the train from Milan to get to Bolzano, which took about 3 hours. Other popular routes include Venice, Verona, and Innsbruck. You can also take the bus from these cities if you wish to travel more cost-effectively.
Trains:
Rome – Bolzano by high-speed train (Freccie or Itato): roughly 5 hours
Verona – Bolzano: 1h 30 mins
Milan-Bolzano: about 3 hours
Car
If you are coming from other countries in Europe, Bolzano is accessible by both train and car. The A22 motorway connects Milan and Bolzano, and there are also direct trains from Munich, Zurich, Vienna, and other major cities.
If you are traveling from further afield, the nearest major airport is Innsbruck Airport, which is about 90 minutes away by car or bus. You can also fly into Milan Malpensa Airport and take the train from there.
Nearest airports:
Treviso Airport – Bolzano: 2h40 mins
Innsbruck Airport (Austria) – Bolzano: 1h40 mins
Verona – Bolzano: 1h55mins
Venice Airport – Bolzano: 3hrs
Car Rentals:
If you are planning on renting a car in Bolzano, it is important to do your research beforehand. There are several rental companies that offer competitive rates and good customer service. I recommend this car rental service.
Get more italy travel tips
Best time to visit Bolzano
The best time to visit Bolzano is during the summer months between June and September. During these months, temperatures are mild and perfect for sightseeing, shopping, and exploring the city's many outdoor attractions.
Autumn is also a great time of year to visit as the colors of the foliage are beautiful and it's a great time to explore mountain trails.
Winter is also great if you are interested in skiing, there are a lot of great ski spots nearby.
Things to do in Bolzano
Bolzano is a city made for discovery. It's an underrated destination that has so much to offer. Nestled in the foothills of the Dolomites alps, Bolzano is alluring with a combination of snow-capped peaks and street-side cafes perfect for enjoying coffee and watching the world go by.
Stroll through historic Piazza Walther at sunset, breathe the crisp air while mountain biking near SouthTyrol's capital city, and sample some of Italy's most delicious delicacies from nearby markets – these are just a few of the things to do in Bolzano. This North Italian gem has something for everyone!
Take the Funivia
When I visited Bolzano in 2022, I took the cable car (Funivia Colle-Bolzano) up to Colle dei Contadini, a picturesque town an hour's walk from Bolzano's center. Heading to this destination offers plenty of activities, such as exploring, taking beautiful photos, watching horses, and witnessing the city from an elevated perspective.
Hike the Dolomites
Bolzano is an ideal base for hiking in the Dolomites. The range of trails is vast, from gentle alpine walks around Lake Garda to more challenging summits such as the Saslonch and Marmolada glaciers. Consider hiring a guide if you don't feel confident navigating the terrain on your own. The views up here are simply stunning!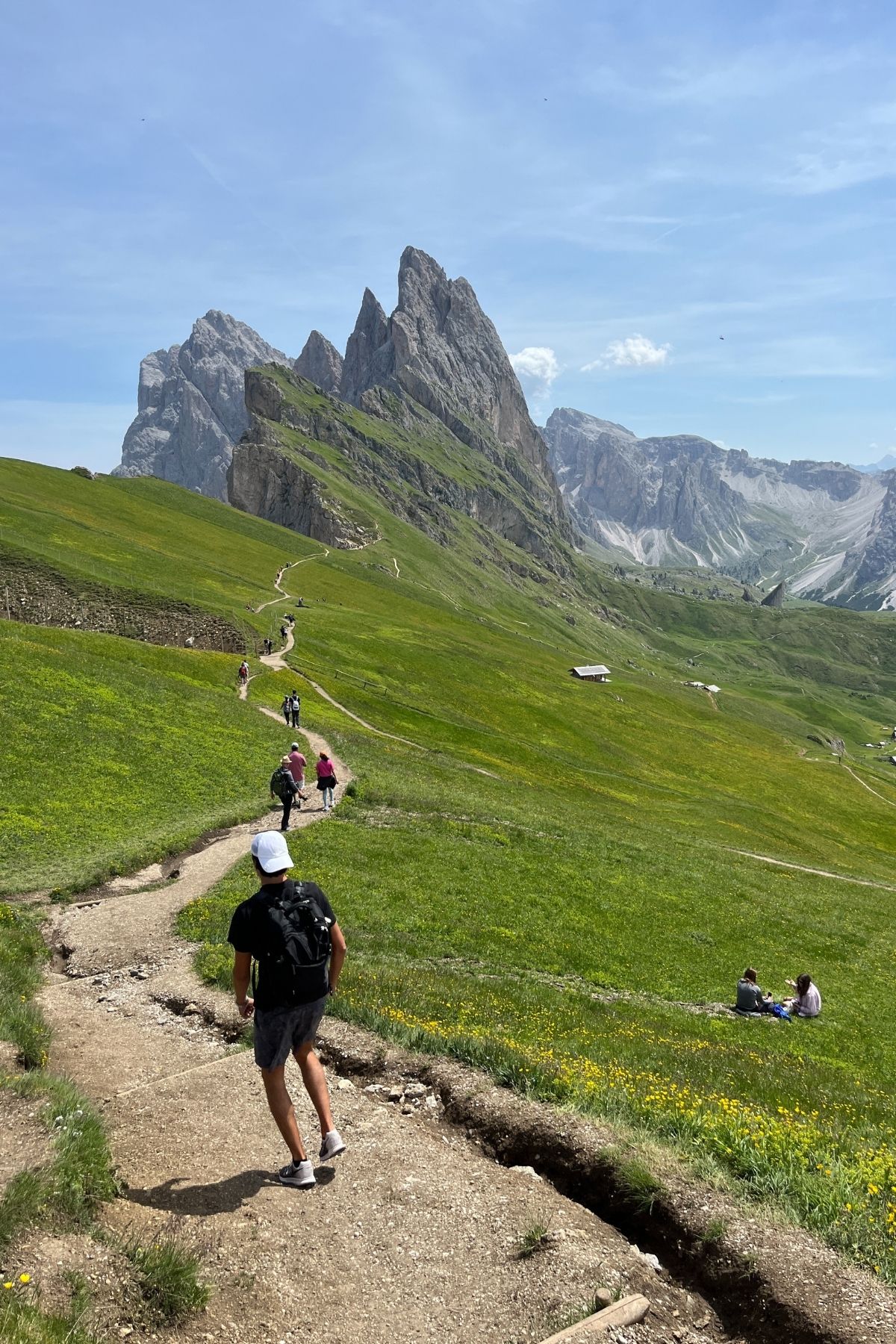 Visit the Piazza Walther
The Piazza Walther is Bolzano's main square. It was built in the early part of the 19th century and is now home to popular attractions such as the Cathedral di San Vigilio, City Hall, and many historic buildings. The atmosphere here is vibrant with live music, street performers, food stalls, and art exhibits. It's a great place to spend an afternoon and people-watch.
Visit Museo Archeologico dell'Alto Adige
The Museum of Archaeology in Bolzano is a must-see for anyone interested in the region's history and culture. The museum houses artifacts from the Stone Age up until the Middle Ages, including a 5,000-year-old mummy and historical works of art. This museum is a great way to learn about Bolzano's past and appreciate its culture today.
Visit Bolzano's Duomo
The Duomo di Bolzano, also known as the Cathedral of St. Vigilio, is a beautiful Romanesque-style Catholic church located in the city center. It was built over 800 years ago and features stunning architecture, intricate frescoes, and an impressive altar. The cathedral offers more than just religious significance - it's also a great place to experience the city's cultural heritage and beauty.
Take a Food Tour
One of the best ways to explore Bolzano is by taking a food tour, where you can sample both traditional and modern dishes while learning about the city's culinary culture.
Explore South Tyrol Wine Country
The South Tyrol wine country offers more than just amazing wines! The area around Bolzano is filled with rolling vineyards, charming villages, and rich cultural heritage. There are plenty of opportunities to visit wineries, learn about wine-making, and sample some of the local wines.
Shop at Merano Market
The Merano Market is a great place to shop for souvenirs and gifts in Bolzano. The market is located on the banks of the Passer River and offers an array of items – from arts and crafts to local delicacies. On weekends, you can find live music acts and street performers here too.
Take a cable car to Renon
The cable car from Bolzano to Renon is one of the most scenic ways to get around. The ride winds through the mountains and offers breathtaking views of the Dolomites and surrounding countryside. Once you're at the top, there are plenty of trails for hiking and sightseeing.
Explore the beautiful Christmas Market in Bolzano
Bolzano is home to one of the oldest and most beautiful Christmas markets in Europe. The market is held in Piazza Walther every year and features festive decorations, traditional food stalls, and unique gifts. Make sure to pay a visit to the Christmas Market when you're in Bolzano!
More things to do that you can book:
Places to eat in Bolzano
Bolzano has a lot to offer for food lovers too. A mix of Italian, Austrian, and German cultures has brought a variety of flavors to the city. Sample typical South Tyrolean dishes like Canederli (bread dumplings), Strudel di Mele (apple strudel), and Kaiserschmarrn (shredded pancakes with raisins). Or, feast on Italian classics like pizza and pasta with local Italian wines. Don't forget to try the local craft beer from Cantina Bolzano.
For something a little different, Bolzano's outdoor market that they have every day and features fresh regional produce, cheeses, olives, cured meats, and more. The market is a great place to get a taste of the city's unique local dishes. For something sweet, head to Gelateria Centrale for gelato or Pasticceria Veneziana for pastries.
Where to eat in Bolzano? (restaurant suggestions)
Breakfast: Bogen
Lunch: Franziskanerstuben
Dinner: Franziskaner Stuben
What to pack for a trip to Bolzano
When packing for your trip to Bolzano, the most important items are a good pair of walking shoes, a waterproof jacket, and an umbrella. The weather can be changeable in this region so always make sure you pack layers that will keep you warm and dry.
Don't forget to pack some comfortable clothes to enjoy outdoor activities or explore the city.
If you plan to visit the mountains, you should also bring a hat, sunglasses, and sunscreen.
For dinner, make sure to bring some nice clothes as many restaurants in Bolzano have dress codes. Finally, don't forget to pack your camera or smartphone so you can capture all of your amazing experiences!
Where to stay in Bolzano
There are lots of options for accommodation in Bolzano. The city has a variety of hotels, from budget-friendly to luxury. You can also find great Airbnb listings or apartments in the town center. For those looking for something more unique, there are also farmhouses and guesthouses located around the countryside offering stunning views of the Dolomites.
I recommend staying in the center especially if you don't have a car as many of the attractions are within walking distance. It is close to public transportation so getting around is super easy.
Dolomites day trip from Bolzano
The Dolomites are a stunning mountain range located just a short drive away from Bolzano. If you're looking to explore the area, you can take a day trip to one of the many beautiful peaks and valleys in the area.
Bolzano to Dolomites by bus
I started my journey by taking a bus from Bolzano to one of the nearby towns called Ortisei. The bus station is right in the center of Bolzano and the staff is very helpful with explaining which correct bus to take. The bus ride is 1 hour and it is extremely scenic!
Bolzano to Ortisei
The picturesque town of Ortisei in Italy is a stunning sight to behold, with its German signs and otherworldly architecture. It almost feels like you are visiting Austria instead! From Ortisei, I took 2 cable cars to reach the higher peaks and hike the Dolomites. The views are breathtaking, you are surrounded by completely beautiful nature. Cows are roaming around, there are alpacas and even cute restaurants along the hike.
You can either hike the mountain down from Seceda to Ortisei, or you can hike to the cable cars and take those down. Last summer I got a little lost and ended up missing the cable cars and having to hike down to the town. It took a few hours to get down the mountain and I was not prepared at all. I recommend getting hiking boots and the right gear to make your hike more enjoyable.
what is the best travel insurance for italy?
There are a number of different travel insurance companies that offer coverage for Italy. Before purchasing a policy, it is important to do your research and compare policies to make sure you are getting the best coverage for your needs. Some popular choices include World Nomads, Allianz Travel Insurance, and Travelex Insurance Services.
FAQ'S
Is Bolzano Italy worth visiting?
Absolutely! Bolzano is a great place to visit, especially if you want to explore the Dolomites. The city is full of culture and history, from its unique architecture and foods to its amazing outdoor activities. The area has so much to offer, whether it's skiing in the winter or hiking and biking in the summer.
Is Bolzano in Italy or Germany?
Bolzano is a city located in the northern part of Italy. It was once part of Austria-Hungary, but it has been an Italian speaking area since 1918. While Bolzano does have German influences due to its past, today it is officially recognized as an Italian-speaking region.

What was Bolzano known for?
Bolzano is known for being the gateway to the Dolomites, a stunning mountain range in northern Italy. It is also known for its historical architecture, which is a mix of Italian and German styles. The city also has a vibrant food culture with traditional Tyrolean dishes like Knödel (dumplings) and Kaiserschmarrn (shredded pancakes). Additionally, Bolzano is known for its outdoor activities like skiing and hiking, as well as its quaint cobblestone streets and picturesque piazzas.
What language is spoken in Bolzano Italy?
The official language spoken in Bolzano is Italian. However, due to its historical ties, German and Ladin are also widely spoken in the city. The local dialect of Italian is called Alto Adige or South Tyrolean, which has many similarities with Austrian and Swiss German.
Is there a direct train from Milan to Bolzano?
No, there is not a direct train from Milan to Bolzano. You have to change trains in Verona and it will take approximately 3 hr 45 minutes to get there.
other posts like this: