This King Bundt Cake recipe is a cheater's version for a quick and easy way to bring a little of the Mardi Gras party to your home. This delightful King Bundt Cake is made with a traditional cinnamon sugar filling without all the fuss of yeast dough baking.
I don't need a calendar reminding me about food holidays. I have my kids to alert me to the most important ones that are coming up. This King Bundt Cake is what I will make in time for Mardi Gras.
King Bundt Cake
It was not made on Monday for Tuesday (Mardi Gras). It was made on Mardi Gras. Around 4 in the afternoon to be precise. But it was homemade with love and it was so good!
As I exclaimed in the car on the way to school, "It's Mardi Gras! Laissez les bon temps rouler!" I got a, "Mommy you sound weird." But I wasn't that weird when I made this fun King Bundt Cake at the end of the day yesterday. Yes, just in time for Mardi Gras...we had a King Cake. Our own fun and easy to make version. I did make this yeasted version for my readers and family some years ago and it's the one I make every year. Yesterday there were too many things going on (sick puppy and other things happening)that there wasn't time for a fantastic yeasted dough version.
When we were picking my kid up at school and my mom flashed me a glance of a King Bundt Cake that a bakery made and shared on Instagram (yes, my mom lives on Instagram), I knew I had to make it my way.
They made theirs with creme fraiche (I didn't have any on hand)and also they had yellow, green and purple sprinkles. I didn't have sprinkles of every color but I did have food coloring on hand. I also happened to have the baby that my son got in his King Cake slice that one of his teachers brought to school. When I showed my husband the cake he did ask me in Italian, "What is a baby doing on top of the cake?" And so my Italian learned another American holiday baking tradition.
It does happen to have a cinnamon raisin filling. But a funny thing happened when it was baking. I must have not made the layers divided up evenly enough as the filling settled mostly on the top (which was the bottom)when I cut the first slice. Nobody was complaining, but you do not see the swirl that I was intending to get.
Next time I make it I'll be sure to do a thinner bottom layer of the cake when I spoon in the Bundt pan. There is a teaspoon of cinnamon in the cake batter which makes the cake a little darker. Also, you have to let the cake cool before you begin to frost with your various colored icings. There was no time to cool this cake and I rushed to add on the icing. I had a neighbor ever helping us fix something that I wanted to share some of the cake with and I had some family members that were ready for their first slice.
So for next year on Mardi Gras when you want to bake something super fun and not as complicated as a yeast based cake, make this easy to make King Bundt Cake. If you do want to go the yeasted dough King Cake route, make this recipe! Decorate it with your little ones (or big ones)and save a baby from a cake you had this year to use as a prop or to add it inside for someone to find for good luck!!
What is it with all the indulgence during Mardi Gras?
It is all about excess before the sacrificial Lenten period. It also represents the three magi who were looking for baby Jesus.
Why is there a plastic baby in a King Cake?
It's a tradition to add the tiny plastic baby tucked in somewhere in your King Cake. Whoever finds the baby ends up being "king for the day". Tradition has it that they also have to throw the next Mardi Gras party!!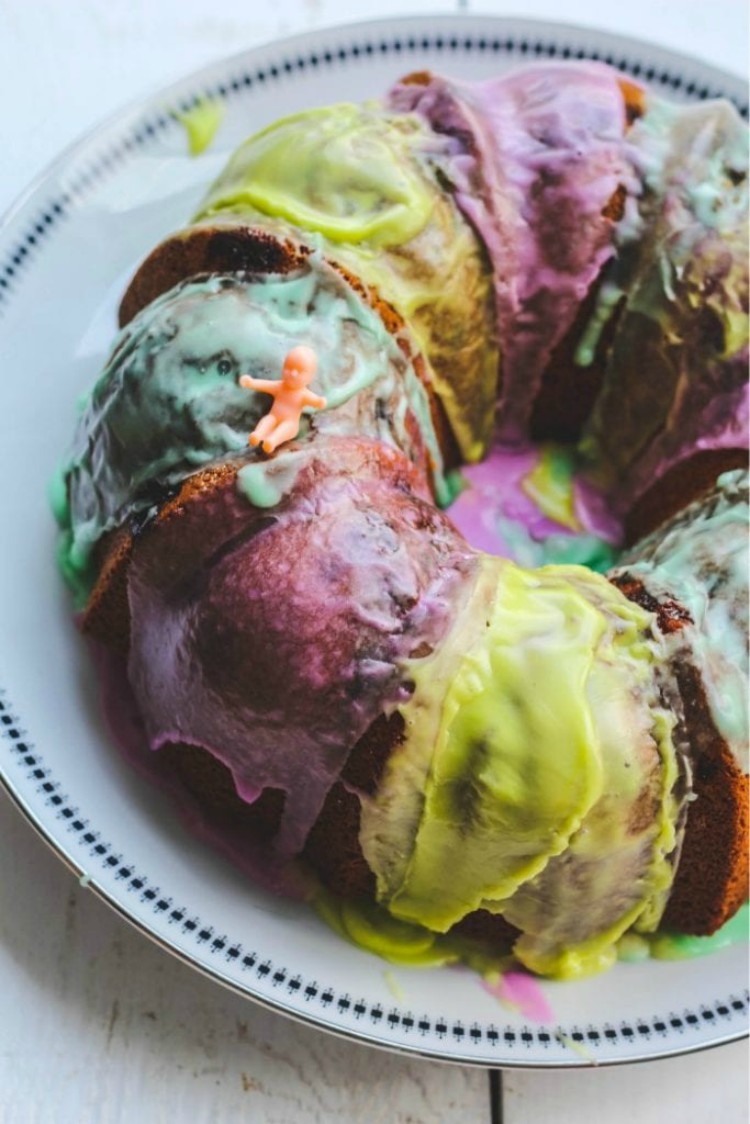 #BundtaMonth: MARCH 2019
I used to be quite the Bundt baking fanatic. I even started a monthly Bundt baking group called #BundtaMonth. Every month we offered a Bundt baking theme and everyone around the world joined in with their delectable Bundts. 100's of Bundts were made those years we were all baking together.
I will be continueing the #BundtaMonth project in 2019 and each month share here a different Bundt cake with all of you. This is my March addition and I hope you love it as much as we did!! Even though it is for Mardi Gras, it is fantastic coffee cake and you could totally leave out the colored icing on top. You could do just a plain iced topping or even dust it with confectioner's sugar, as it is sweet as it is even without the topping.
KING BUNDT CAKE
Ingredients
For the Filling
1/2

cup

raisins

1/4

cup

rum

or whatever booze you prefer or even orange juice

3/4

cup

packed dark brown sugar

2/3

cup

walnuts

pecans or even hazelnuts

1

teaspoon

vanilla extract

1

teaspoon

ground cinnamon
For the Cake
1 1/2

cups

sugar

1/3

cup

canola oil

6

tablespoons

butter

softened (I used Earth Balance Vegan sticks)

2

large eggs

1/2

teaspoon

vanilla extract

2

cups

all-purpose flour

3/4

cup

whole-wheat pastry flour

you could use all-purpose flour

2

teaspoons

baking powder

1/4

teaspoon

baking soda

1/4

teaspoon

salt

1

teaspoon

cinnamon

1

cup

buttermilk

I used almond milk
For the Glaze
3

cups

confectioner's sugar

yellow

green and purple food coloring (or colored sprinkles)
Instructions
In a food processor, pulse together the filling ingredients; set aside.

Heat the oven to 350 degrees. Spray with baking spray a 10- or 12-cup Bundt pan, making sure to get into all the grooves of the pan.

In the bowl of your stand mixer, cream butter and 1 1/2 cups sugar until pale and fluffy using the paddle attachment (you could also beat it with a hand mixer), 4-5 minutes. Beat in the eggs one by one, waiting until each has been incorporated to add the next. Add the vanilla and mix to combine. Be sure to scrape the mixing bowl after each addition of the eggs.

In large bowl, whisk together the flour, cinnamon, baking powder, baking soda, salt and cinnamon; set aside.

Add half of the flour mixture to the mixer beat on low speed until incorporated. Scrape down the sides of the bowl to incorporate. Add in buttermilk and beat until incorporated followed by the remaining flour mixture; scrape the sides of the bowl to incorporate.

Spoon half of the cake batter into the Bundt pan; spread evenly with a spatula. Spoon the filling around the batter (make sure not to touch the edge pan). Spread on the rest of the batter evenly with a spatula. Tap the pan heavily on the counter a few times to help even out the batter and remove air pockets. Bake for 45-50 minutes, or until a toothpick inserted into the center of the cake comes out clean and the top springs back when lightly pressed.

Let the cake cool in the pan for 15 to 20 minutes, then flip the pan onto a cooling rack set inside a baking sheet. Tap the pan heavily onto the rack.

Mix 3 tablespoons water with the confectioners' sugar. Separate into 3 small bowls.(You may need more confectioner's sugar) Add a drop of each color food coloring and stir together. Add more water or confectioner's sugar to achieve a spreadable consistency. Spread in alternating sections over the cake.

Cool cake completely before serving.
Nutrition Disclaimer
Please keep in mind that the nutritional information presented below is an approximation and may vary depending on the exact ingredients used.