Traditional Italian Wedding Soup is a rich and flavorful broth made with meatballs, escarole, carrots, and acini di pepe pasta is what you need any night of the week. Make it stove top, slow cooker or Instant Pot. It's the perfect quick and easy dinner idea.
If you love easy soup recipes try our Pastina Soup or our Italian Lentil Soup.
A good soup does wonders for the soul. This is a soup nonna has made for years and it is a classic recipe. With a little prep, you'll have a super flavorful and comforting soup that the whole family will love! A total freezer-friendly soup, you need to have extra!
What also is really wonderful about this recipe is that it can be made stove top, slow cooker, or Instant Pot. Use your own homemade meatballs or use your favorite frozen meatballs for a quick and flavorful weeknight dinner.
If you find some great frozen meatballs, that could be used in place of the homemade ones (Shhhhh…I won't tell nonna!). Any soup leftovers could be frozen to enjoy another busy weeknight.
Jump To
What is Italian wedding soup made of?
The soup's main star is the soft and flavorful meatballs, and also the greens. This is my mom's recipe and it has carrots, celery and healthy fresh spinach.
The meatballs are really easy to make by scratch and they are super flavorful filled with cheese. I talk about what greens could be used in the recipe later on in this post.
What is Italian Wedding Soup?
Italian Wedding Soup is also known as minestra maritata ("married soup"), meaning the "marriage" of meat with greens and vegetables.
What are the origins of Italian Wedding Soup?
Don't be fooled by the name! This is not a traditional Italian wedding soup. The name is actually a reference to the flavors that when they're simmered blend so magically together.
The version we have here in the States is an Italian American recipe that originated in the Campania region of Italy. So it is still found in that region of Italy to this day, but it is made with pig scraps and the bones after the pig slaughter. Sometimes it is made with different homemade salamis. And this flavorful broth goes together with bitter herbs that can only be found in this part of Italy.
In Naples, the minestra maritata is served on December 26th to honor Santo Stefano. It also could be enjoyed not just during Christmas time but during Easter time. Since it was most likely brought over by Italian American immigrants to New York (and other areas) it has evolved over the decades into the lighter version we know of today.
Now as for Calabria, this is very similar to a soup my grandmother-in-law and mother-in-make. Is it the same version as the one found in the Campania region? Not exactly the same, but it could be all connected.
You will find some more traditional recipes that have you make the soup over a few days. The first day would be to make the broth and let it slowly simmer (all homemade). The second day would be dedicated to making the meatballs. And the third day would be to simmer it all together with the greens and vegetables.
What do you need to make the best Italian Wedding Soup?
Ingredients for Italian Wedding Soup
Check the recipe card below for the full list of ingredients and directions.
Meatballs
Olive oil– to brown the meatballs in a skillet, I use extra-virgin Sicilian olive oil.
Ground Turkey– You could use ground chicken or ground beef, I like 80% lean.
Egg
Breadcrumbs– Preferably homemade breadcrumbs.
Garlic– Use fresh garlic cloves and mince them yourself for best flavor.
Fresh Italian Parsley
Salt/Pepper
Soup
Carrots
Celery
Onions (sweet or white)
Chicken Broth– preferably homemade
Salt/pepper
Pasta-Acini Di Pepe Pasta
Greens- Escarole is the vegetable you'll most often seen the soup made with. Kale is another option. BUT spinach is what I love, since I can easily get my kids to eat it (they love spinach!). Escarole is my favorite choice.
Ingredient substitutions
Ground meat: Any ground meat that is your favorite could be used. Beef, chicken, or turkey. Pork would be fine. If you're short on time, use frozen meatballs. I used ground turkey meatballs for this version.
Greens: Escarole is the best green for this. Spinach is what I choose, as my kids love it! Dandelion will also be perfect for this recipe. Kale or even endive could work.
Pasta: Acini di pepe pasta can be found in some markets or sub with ditalini, orzo or even macaroni.
How to make authentic Italian Wedding Soup: Cooking Methods
Italian wedding soup is a perfect recipe for the stove top, Crock Pot, or the Instant Pot!
Stove Top
Make the meatballs and roll into 1-inch balls. If you prefer tiny meatballs, roll them even smaller. My Calabrian mother-in-law makes just pinches of the meatball mixture into the tiniest meatballs.
Gather all your ingredients together.
Brown the meatballs in batches, remove from pot. Or you could place the meatballs on a parchment lined sheet pan and cook at 400F for 15 minutes in the oven.
Add the onions, carrots, and celery and sauté for 5 minutes.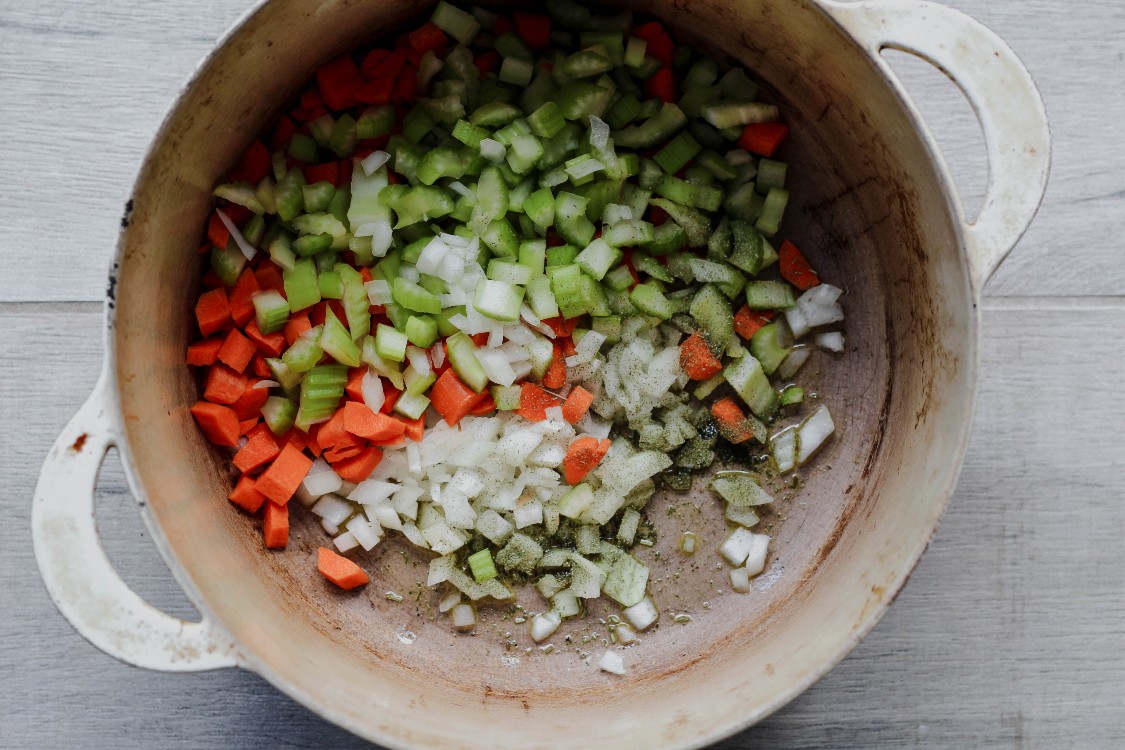 Add the broth (I used my own homemade chicken broth), and season with salt and pepper if desired.
Bring to a boil. Reduce the heat to medium.
Add the meatballs and pasta (or, you could cook the pasta separately and add in at the end).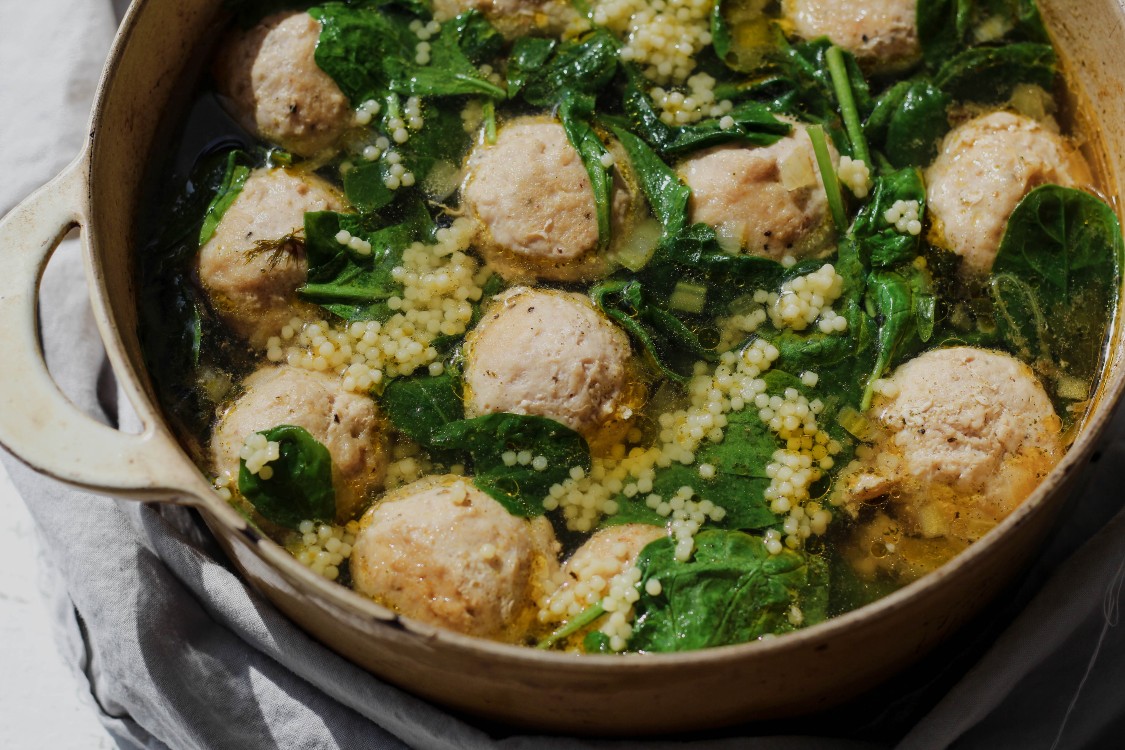 Simmer for 10 minutes, until the meatballs are cooked through.
Stir in the greens (I used spinach). When ready ladle into bowls.
Slow Cooker/Crock Pot
Make the meatballs and roll into 1-inch balls.
In a large skillet, brown the meatballs (no need to cook them all the way, they will keep cooking in the slow cooker)
In the slow cooker insert, add the onions, carrots, celery, broth, salt, pepper and browned meatballs.
Cook on high for 4 hours or low for 8.
If you want to cook the pasta in the slow cooker, add it in during the last 30 minutes (with the setting on low).
Stir in the spinach (the spinach will cook right up so can be added at the very end). When ready, ladle into bowls.
Instant Pot Method
Make the meatballs and roll into 1-inch balls (or smaller).
Set the Instant Pot to sauté mode. Add in the meatballs and brown them (should take about 7-9 minutes). Remove from the pot.
Add two tablespoons of olive oil, onions, carrots, and celery. Sauté for 5 minutes, until softened.
Add the acini di pepe pasta, broth, salt, pepper, and meatballs.
Press the pressure cook button and set to high, then cook for 5 minutes. Instant Pot will take about 5-10 minutes to come to pressure then pressure cook for 5 minutes.
Do a quick release of the pressure on the Instant Pot by flicking the switch at the top with a spoon. Open the lid when pressure gauge has dropped and the lid opens easily.
Stir in spinach. Garnish with extra parmesan cheese, then serve and enjoy!
Add the acini di pepe, simmer on sauté mode for 9 minutes.
Stir in the spinach. When ready, ladle into bowls.
What is Acini di Pepe and what other pasta could you use?
In Italian, it means "seeds of pepper" or peppercorns. It's a tiny round-shaped pasta that you could be cooked up right in the soup.
If you can't find it you could use orzo, stellini, ditalini or tubetti pasta. Rice could also be used. I do not suggest replacing with couscous.
What goes with Italian wedding soup?
This delicious soup goes really nicely with crusty Italian bread (that's if you aren't following any clean eating diet). If you're interested in making your own bread, the soup goes great with this simple Crusty No-Knead Italian Bread or our Psomi Spitiko (a super simple to make Greek bread!).
Typically it is the main and only course. If you wanted to enjoy a smaller bowl of the soup you could have a nice salad on the side or some grilled or roasted vegetables.
Does Italian wedding soup freeze well?
Yes! This happens to be a nice soup recipe to freeze. You could easily freeze whatever leftovers you have. Just be sure to let the soup cool completely and then store in freezer safe airtight storage containers. Leave a little bit of space on top of the container as the soup will expand when it freezes.
To reheat it's best to thaw in the fridge overnight. When you're ready to heat it up, just place the soup back into a pot on the stove (or in the microwave) and heat until heated through.
Some tips from Nonna for The Best Italian Wedding Soup
There are some tricks to making this soup truly delicious. Nonna (AKA my mom) shared her tips from making this for decades.
Make ahead-Nonna's top tip is to make this ahead of time. Even two days ahead of time (do not cook the pasta in the soup if making ahead of time). The flavors will all come together even more and taste better if you slowly simmer it to heat it up when ready to eat it.
Meatball mixture- could be made with a combo of beef and pork. I like to make it with turkey, but my top customer (my son) prefers the beef version.
Meatball size- depends on your preference. My Calabrian mother-in-law makes the mini meatballs when making her soup. My kids like it either way. Just be sure not to make gigantic meatballs.
Greens-escarole is the main green traditionally used in this soup. Spinach could be subbed. Kale is also fine, but it's not the same as using escarole.
Pasta-a tiny pasta is the key pasta to use for this recipe. Search around and if you can't find acini pasta, ditalini is the best next option (or the stellini). My mother-in-law likes to cook the pasta in the broth. I do not like to cook the pasta in the broth. We constantly argue about that. But if you would like one less pot to clean up, go ahead and bring the broth to a boil and add in the pasta. I find that we always have leftovers and the pasta absorbs too much of the broth. If that happens, you could add more broth or water to loosen it up when you reheat it.
If you prefer to bake the meatballs, do it in a 400° oven for 15 minutes.
Using Frozen Meatballs
If you're in a time crunch, or you just want an easier way to make this soup, use frozen meatballs. You could find different kinds at different markets. Choose whatever is your favorite brand.
The meatballs will be added in frozen to the soup and will heat up. If you're making in your slow cooker, add them in towards the end of the cooking time.
Using Frozen Spinach
You could totally use frozen spinach in place of fresh spinach. Just get a 10 oz. package. Let it thaw out on the counter, dry with a paper towel, and add it in the soup towards the end.
How to Store this Soup
Refrigerate- Can be stored in the fridge in an airtight container for 3-4 days.
Freeze-can be frozen in an airtight container for 3-4 months.
What is Italian wedding soup called?
Italian wedding soup is typically referred to as "minestra maritata" in Italian. This name literally translates to "married soup," which refers to the combination of greens and meats that make up this classic Italian dish.
Why is Italian soup called wedding soup?
The origin of the name is unknown, but some believe it may have been a reference to the idea that different ingredients are "married" together in this soup. The combination of greens and proteins such as meatballs or sausage creates an appetizing flavor and texture that makes Italian wedding soup a favorite among many Italian households.
What are the meatballs in Italian wedding soup made of?
The meatballs in Italian wedding soup can be made from a variety of ingredients, including beef, pork, chicken or turkey. The mixture is often seasoned with herbs such as oregano and parsley before being formed into small balls using hands or an ice cream scoop.
Is Italian wedding soup the same as minestrone?
No, Italian wedding soup is not the same as minestrone. Minestrone is a thick vegetable soup that usually contains beans and pasta, while Italian wedding soup typically consists of green vegetables, small meatballs or sausage, and broth. Both are delicious soups that can be enjoyed all year round!
Some other Italian soup recipes to enjoy:
Did you make this? Please RATE THE RECIPE below:)
Please Subscribe and give a follow on Instagram, Facebook, Pinterest, and TikTok xx
This post contains affiliate links. As an Amazon Associate I earn from qualifying purchases. See my privacy policy for details.
Italian Wedding Soup
Italian Wedding Soup is made with meatballs, escarole, carrots and acini de pepe pasta. Make this Italian Wedding Soup Recipe with fresh or frozen meatballs any time of the year.
Ingredients
For the Meatballs

1

pound

ground turkey

½

cup

bread crumbs

2

teaspoons

garlic

minced

4

tablespoons

flat leaf parsley

chopped

¾

cup

freshly grated Parmegiano-Reggiano

4

tablespoons

whole milk

use unsweetened almond milk if you're dairy free

1

egg

lightly beaten

Season with kosher salt and freshly ground black pepper

For the Broth

3

tablespoons

extra-virgin olive oil

1

cup

finely chopped yellow or sweet onion

1

cup

finely chopped carrots

1

cup

finely chopped celery

8

cups

chicken broth

2

cups

water

1

large bay leaf

or two smaller

1

cup

small pasta

4

cups

chopped escarole

1 head

3

cups

fresh spinach

chopped (in place of escarole)
Instructions
If baking meatballs, preheat oven to 400 F degrees. Line a cookie sheet with parchment paper.

Combine the ground turkey, garlic, parsley, Parmigiano-Reggiano, milk, egg, salt and pepper in a bowl and mix gently with a fork. If the mixture seems too loose, add a little bit more breadcrumbs until it's a consistency you can use to form the meatballs.

Using a small cookie scoop or a Tablespoon, scoop the meatballs into 1/2" round balls. Place on a parchment lined baking sheet. Repeat to make all of the meatballs. Set aside. If baking the meatballs, place them in a 400° F oven for 15 minutes.

If making in skillet: In large skillet, add a tablespoon of olive oil. When it's heated and shimmering, add in the meatballs and brown (you don't need to cook all the way). Brown the meatballs in batches for 2-3 minutes. The inside of the meatball will finish cooking in the soup.

Remove the meatballs and let them drain a paper towel lined dish while you prep the soup.

While the meatballs are baking – heat the olive oil over medium-low heat in a large pot. When the oil begins to shimmer, add the diced onions, carrots and celery. Sauté until onion is softened and translucent – approximately 8-10 minutes, stirring frequently.

Next, add in the broth, water, salt, pepper and bay leaf.

Bring to a boil. If using escarole, add it in now. Reduce the heat to medium. The escarole will cook pretty fast. It won't need more than 15 minutes.

Add the meatballs. Add the pasta (if you're not cooking it in the soup, cook the pasta in a small pot of salted boiling water according to the directions on the box). Add the cooked pasta to the soup.

Simmer for 10-15 minutes, until the meatballs are cooked through.

If using spinach, add it in the end and cook until it barely wilts. Add the cooked pasta to the soup.

Ladle the soup into bowls. Enjoy!
Nutrition Disclaimer
Please keep in mind that the nutritional information presented below is an approximation and may vary depending on the exact ingredients used.
Notes
Meatballs: You could use ground turkey or chicken. Also, you could make these with ground beef (and add in ground pork, if you like). Make them small or larger. My kids like them either size.
Frozen meatballs can be added in and will take 20-25 minutes to heat through in the broth.
Greens: I love to make it with escarole. My kids love it with spinach. Frozen spinach would also work fine for the recipe.
Nutrition
Serving:
6
g
|
Calories:
220
kcal
|
Carbohydrates:
9
g
|
Protein:
22
g
|
Fat:
11
g
|
Saturated Fat:
2
g
|
Polyunsaturated Fat:
2
g
|
Monounsaturated Fat:
6
g
|
Trans Fat:
0.02
g
|
Cholesterol:
76
mg
|
Sodium:
1287
mg
|
Potassium:
341
mg
|
Fiber:
1
g
|
Sugar:
2
g
|
Vitamin A:
306
IU
|
Vitamin C:
4
mg
|
Calcium:
56
mg
|
Iron:
2
mg