An easy and healthy recipe for a delicious Slow Cooker Whole Chicken Soup. A bowl of this soup is all you need to bring you true comfort and a smile to your face. Mom's recipe that is loved by the whole family.
If you like healthy soup recipes check out my Italian Chickpea Soup and my immune boosting turmeric chicken soup.
I can't think of any thing that brings me more comfort than the aroma of my mom's chicken soup. The scent of the fresh herbs and vegetables simmering away is simply pure happiness in my kitchen. No matter what sort of a day I am having, this soup brings sheer joy and I will instantly smile when I smell it simmering. Since it is my mom's recipe, it is a soup I will always connect with her.
Total comfort food and it's true when they say it that soup is a food for the soul. This delicious whole chicken, chicken soup is ideal for Whole30 and Paleo. It is also totally dairy-free, sugar-free, gluten-free.
You can use your slow cooker to get that long and slow simmer and get a rich and golden broth. I like to use a whole chicken to maximize the flavor and to get lots of meat to use for other ideas during the week. You could share a container with your neighbors, enjoy for lunch the next day, or just freeze the leftover broth to use in other recipes in the coming weeks.
I sometimes crave a chicken soup later in the day and make it stove top. But for the days when you have enough time to start it in the morning, I hope you try to make it in your slow cooker.
As I mentioned, my mom taught me how to make this recipe and she said that the slow cooked version I recently made was the richest and most flavorful of all the chicken soups I've made. So that was a huge compliment, since she is very picky about her soups (and any thing else, for that matter!).
Jump To
The benefits of a whole chicken soup for a cold
Whole chicken soup is an excellent remedy for a cold because it contains several key ingredients that fight infection and aid in recovery.
The broth, made from simmering a whole chicken, contains zinc, which has been found to reduce the duration of cold symptoms.
Additionally, the heat from the soup helps clear congestion by loosening mucus and allowing it to be more easily coughed up.
The steam from the soup can provide some relief for sore throats, and warm liquids in general soothe irritated throats and help keep you hydrated.
The chicken in the soup is also beneficial because it provides a source of protein which helps your body fight infection, as well as vitamins A and B, both of which help strengthen the immune system.
The vegetables in chicken soup provide a boost of nutrition which is essential for your body to heal itself. They contain antioxidants that can help fight inflammation and reduce cold symptoms.
Why you will love this slow cooker whole chicken soup?
Nutrient-rich: This soup is a powerhouse of nutrients with a whole chicken, carrots, celery, and parsnips providing a variety of vitamins, minerals, and proteins required for a balanced diet.
Easy to make: Prepping the ingredients and then letting the slow cooker do its magic means minimal hands-on time. Perfect for busy people who love home-cooked meals.
Versatile: This recipe is easily adaptable. Use what vegetables you have on hand or swap the whole chicken for chicken parts if you prefer.
Perfect for meal prep: The leftovers store well in the fridge or freezer. Making a big batch ensures you have a hearty, healthy meal ready to go on busy days.
Comforting: There is something incredibly comforting about a bowl of homemade chicken soup. This recipe, with its rich flavors and tender chicken, brings warmth and coziness to your dinner table.
Allergen-friendly: This recipe is gluten-free, paleo, and Whole30-compliant, making it suitable for those with various dietary requirements.
Affordable: You can use any whole chicken you find on sale, making this recipe cost-effective without compromising on taste and nutrition.
What is in a healthy slow cooker whole chicken soup recipe?
Carrots and celery-I do not chop the carrots and celery. I do peel the carrots. I end up cutting them in large chunks and add directly to the soup. When it is time to serve, I just cut the carrot pieces for each bowl. It's really a time savor. And no one in my family eats the celery. Whatever is leftover from the celery is great for snacking or chop it up to add to a salad or a tuna salad (a nice Whole30 idea!).
Parsnips-I love the flavor of this root vegetable added to my soup. Feel free to omit if you don't like or don't have any on hand (I always have some on hand!).
Onion-so I sometimes cut onion in half and use a half a peeled onion (depending on how big it is) or I peel it and use the whole onion (if it's smaller). It's really so much easier than chopping the onion and that's how my mom learned to make it from my grandmother. So a grandmother chicken soup tip! I see recipes where you saute' the onion. There really is no need to saute' the onion to add to the soup.
Chicken-For this particular recipe, I used a whole chicken. Feel free to use chicken breasts (boneless, skinless) or chicken parts. My kids prefer the darker meat, so sometimes I make it with just chicken thighs and legs.
Chicken stock or broth- You could use either one. I actually use bouillon paste and my next project is to make my bouillon! I have a jar in my fridge of an organic vegetable bouillon paste. It lasts more than a month. But if you happen to have a box of organic chicken (and even vegetable broth) in your pantry, go ahead and use a box. Same goes for stock. Either way, the soup will be delicious.
Tomato-yes, a tomato. Ok, it's the Italian in me. But if I have one nice ripe tomato nearby, I slice in half, and add to the broth while it's simmering. I love the bit of color it gives the soup. But that is optional.
Fresh herbs- we use fresh parsley and fresh dill. But that is your choice. My soup isn't the same without fresh dill...and the next part.
BAY LEAVES-yes, that is all caps lock for a reason. My mom get a bit upset if I forget to add the bay leaves. I usually add two if they are smaller leaves. Please, do yourself a favor, so my mom won't get upset, buy a bag of bay leaves. They have them everywhere and they last forever and can get added to so many soups and sauces. You'll use them all, I promise!
How do you make slow cooker whole chicken soup?
The first and most important part of the recipe is your chicken!
I do prefer a whole kosher chicken. I find that it usually more flavorful and also more tender. But any whole chicken you prefer will do (I've made it with organic, with not organic, with kosher...and kosher is just my preference).
You could use chicken pieces (if you prefer only dark meat).
You could use chicken breasts (it will cook quicker than using a whole chicken).
Once you've got the chicken, you can make a soup!
Next part of recipe, it all begins with the basic base of carrots, celery and onions. I always have carrots and celery on hand. I use to to make my Bolognese sauce. My slow cooker turkey Bolognese has been on a weekly rotation here. The easiest sauce for when you're having a busy day. But back to this soup!
Now this is how I learned to make a great chicken soup from my mom, that learned how to make it from her mom. I swear, all I need in life is a delicious pot of chicken soup. It seems to solve all the problems in the world. Well, at least it does for me when I have a warm cup of this soup nestled in my hands. I even just drink the broth as a snack. It's so good for you!!
Is chicken stock and chicken broth the same thing?
They actually are different…here is how:
Stock is made by simmering in water a combination of animal bones (with some meat scraps), carrots, onions, and celery (mirepoix in French), and herbs. Oftentimes the bones are roasted first, which makes the stock richer (I usually do not roast my bones before making stock). Cooking time is 2-6 hours stovetop to make your own homemade stock. Stock is not seasoned.
Broth is simply water simmered with any type of meat in it. The broth is made by simmering in water (for less time than stock) meat and bones (but does not have to have bones, could be just the meat). The broth is made with herbs and mirepoix (carrots, onions and celery). It's all simmered for 2 hours or less and seasoned. It does not form any gel when chilled.
Skimming off the fat in chicken soup
So I usually make this soup and I am home all day. I like to bring it all to a boil stove top for about 10 minutes or so and skim the fat off. IF you do not want to do this stove top step in the recipe, cook soup in its entirety in slow cooker. But since I'm most of the times home when I make the soup, I have the extra time to wait a bit and let it first come to a slow boil stove top. And I like to get the fat off before.
And the results I've had from making it first stove top, then slow cooker have been great. It is clumsy to transfer the chicken from stove top to your slow cooker after it's been simmering and it's very hot. But if you can carefully do it, you should be fine (just be careful for splatter when you put the chicken in the slow cooker after it's simmered).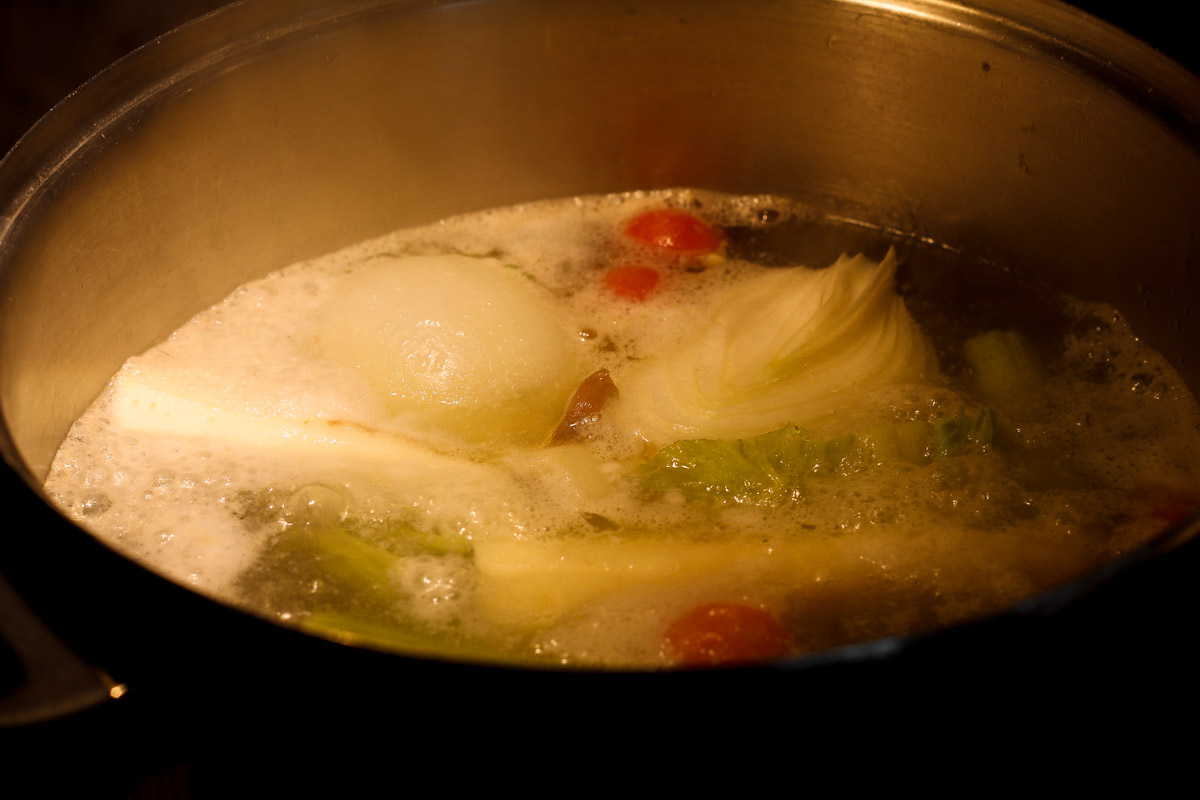 If you are around the house while it's cooking in slow cooker, you could lift the lid of crock and skim fat off, if you don't skim it, it will be a fattier soup. You could refrigerate the soup and skim fat off the top layer and then reheat before serving (that's just an option). You could also use a cheesecloth or a metal strainer to strain as much of the fat off when it's ready.
What to Serve with Slow Cooker Whole Chicken Soup
Zucchini noodles-to keep low carb and also so good!
Cauliflower rice-totally low carb and delicious
Matzo balls-if you're not keeping low carb, I really love to make my own matzo balls...my kids LOVE them (they have the mix at almost every market!)
Pastina-This very small grain pasta is still loved by my kids. If you aren't low carb, make your favorite small shaped pasta (ditalini are also great!)
Salad-a really nice side to enjoy with a hot bowl of this tasty soup.
Bread-so if you're not low carb, make your own bread like this crusty Italian bread. There is nothing like homemade bread and it's even better with a hot bowl of soup.
How to store and reheat chicken soup with whole chicken?
Store-Ladle out the soup once it has cooled down into your storage container that is totally airtight. It will stay in the fridge fresh for up to 3 days.
Reheat- In a saucepan, heat up the soup on medium-low heat until hot (I don't own a microwave, but if you do, heat it up the way you normally reheat soup).
Can you freeze Whole Chicken Soup?
Yes, you can freeze this soup. Once the soup has cooled down, store it in airtight container (totally freezer safe)for up to 3 months. When ready to enjoy, thaw out overnight in the fridge before you reheat.
FAQ's
Do you cook the chicken before putting it in soup?
Whether or not you cook the chicken before adding it to your soup is up to personal preference. It's usually recommended to precook the chicken as this allows for more flavor and tenderness, but some recipes may call for raw chicken. If using raw chicken, be sure to boil it for a longer period of time until it reaches 165°F.

How long does it take to boil whole chicken?
The amount of time to boil a whole chicken depends on the size and weight of the bird. Generally, it takes about 30 minutes per pound to cook a whole chicken in water or broth. For example, an average 4-pound chicken should take approximately 2 hours to fully cook. It is important to check the internal temperature of the chicken with a meat thermometer to ensure it has reached 165°F.
What gives chicken soup the most flavor?
The most flavorful chicken soups are made by using bone-in, skin-on chicken. The bones and skin add more flavor to the soup due to the fat and collagen found in them. Other ingredients that can be added for flavor include onions, garlic, carrots, celery, herbs and spices. Adding a splash of white wine or lemon juice can also give your soup an extra kick. Additionally, consider simmering the broth for a few hours to bring out even more flavor.
Should you remove skin from chicken before making soup?
Whether or not you should remove the skin from the chicken before making soup is up to personal preference. The skin and fat provide additional flavor, so some people may choose to leave it on. However, if you'd like a lighter broth, removing the skin is recommended. Additionally, make sure to discard any excess fat that has accumulated on the surface of the broth before serving.
PIN for later!

Some other chicken recipes to try:
Originally published September 2020 and updated on September 2021.
Easy Chicken Soup with Whole Chicken
An easy and healthy recipe for a delicious Slow Cooker Whole Chicken Soup. A bowl of this soup is all you need to bring you true comfort and a smile to your face. Mom's recipe that is loved by the whole family.
Ingredients
1

4- to 5-pound whole chicken, neck and giblets removed from the cavity

1

teaspoon

sea salt - plus additional to taste

1/4

teaspoon

freshly ground black pepper - plus additional to taste

1

small yellow onion

peeled and left whole

4

medium carrots

peeled and cut in half

4

medium celery stalks

left whole

2

parsnips

peeled and cut in half

1 to

mato

cut in half (or handful of cherry tomatoes)

8

cups

2 quarts water

2

bay leaves

fresh parsley

fresh dill

2

tablespoons

coarsely chopped fresh Italian parsley leaves
Instructions
Place the whole chicken on a clean work surface. Remove the innards and pat dry with paper towels. Season the chicken with salt and pepper (inside and outside).

There are two ways to make the soup. With a boil first stove top, or letting it completely cook in slow cooker.

Stove top prep:

I like to do it first in a soup pan stove top and skim off fat. If you would like to do that way, start with this step. Place chicken in large soup pot with cover (I used my 7 quart nonstick Dutch oven). Add enough water to cover the chicken.

Add in the onion, carrots and celery and the chicken. Bring to a boil and then lower heat to a low boil and begin to skim the fat (lots of foam should be floating to the top) off. Do this until most of the foam has been removed (should take 10 minutes or so).

Very carefully transfer the chicken in the water with the vegetables into your 6-quart or larger slow cooker.

Slow cooker (no stove top prep):

Place the vegetables in the slow cooker. Add the chicken on top of the vegetables and the water. Add in your bouillon paste or cube, if using. IF you don't have any bouillon paste or cube, add less water and add a box of your favorite stock or broth.

Add in the bay leaves.

Cover with the lid and set the slow cooker to HIGH and cook for about 6 hours (could be ready in less since you bring to a boil on top of the stove). Or cook for about 8 hours on the LOW setting. until the chicken is cooked through and reaches an internal temperature of 165 degrees F. The cooking time can vary greatly depending on your slow cooker model, so check the thickest part of the chicken to see if it's done early to ensure it does not overcook.

During the 30 minutes of cooking, add in a bunch of fresh parsley and dill (not chopped).

Turn the Crock-Pot off, discard the bay leaf, parsley and dill bunch, and carefully remove chicken from the crock onto a cutting board (it will be falling apart). Let the chicken cool for 10-15 minutes, then shred chicken, discarding skin, bones, and cartilage.

Skim any accumulated fat off of the soup and return the shredded meat back to the soup (I usually use a mesh strainer to remove unwanted particles from the broth before serving, cheesecloth also works to strain.

Cut carrots and celery (if you're serving with celery)and cut into small pieces.

Taste soup and add additional salt, pepper, fresh parsley if desired, then serve.
Nutrition Disclaimer
Please keep in mind that the nutritional information presented below is an approximation and may vary depending on the exact ingredients used.
Notes
Meal prep-When using a larger chicken, you can reserve some of the cooked shredded meat for another dinner later-great for meal prep! As for the actual chicken, as I mention in the post, I used a Kosher chicken (the Murray organic Kosher), BUT you could use whatever whole chicken you find on sale and that you like.
You could use chicken pieces.
You could use chicken breasts (they will cook much quicker than the whole chicken).
Storage- Leftovers can be stored in an airtight container in the refrigerator for up to 3 days or frozen for up to 3 months.
Nutrition
Serving:
8
g
|
Calories:
32
kcal
|
Carbohydrates:
8
g
|
Protein:
1
g
|
Fat:
0.2
g
|
Saturated Fat:
0.02
g
|
Polyunsaturated Fat:
0.03
g
|
Monounsaturated Fat:
0.05
g
|
Sodium:
5
mg
|
Potassium:
182
mg
|
Fiber:
2
g
|
Sugar:
2
g
|
Vitamin A:
130
IU
|
Vitamin C:
9
mg
|
Calcium:
16
mg
|
Iron:
0.3
mg