Sourdough Discard Challah Bread is fluffy, sweet and beautiful! This tender bread is made with sourdough discard and has a slight tang. Challah is a lovely bread for special occasions and also perfect for breakfast, sandwiches, and to cozy up with any soup.
This Sourdough Challah recipe is one of the softest breads and could be braided with 3 or 4 strands. Personally, I always do a 3 strand braids especially since it's so simple to assemble. I have made 6 strand round challah's before. It's more complicated, but also stunning!
If you've been following my blog since the very early days, you will see I do obsess a little over challah breads! Did I mention the leftover bread makes the most incredible French toast! Just a little warning…this post is LONG. SO go on and jump down to the recipe if you're familiar with challahs and sourdough baking!

My mother-in-law makes the most incredible breads and usually with a biga and most often with the family's very old starter. After being in Italy all summer and witnessing their incredible Calabrian bread baking, I had the itch to bake some of my own bread.
With the Jewish holidays approaching, I wanted to bring to my sister-in-law some special sourdough challahs and I decided to make a hybrid dough.
I also brought over this awesome potato kugel (recipe TOTALLY approved by my Jewish sis-in-law!).
I thought it would be best way to use up some sourdough discard and also my dry yeast (my mom bought 2 POUNDS of active dry yeast…by mistake when she was stocking up her cupboards to stay in and bake!). So this was made following my chocolate chip challah bread (minus the chocolate chip)and adding in some discard.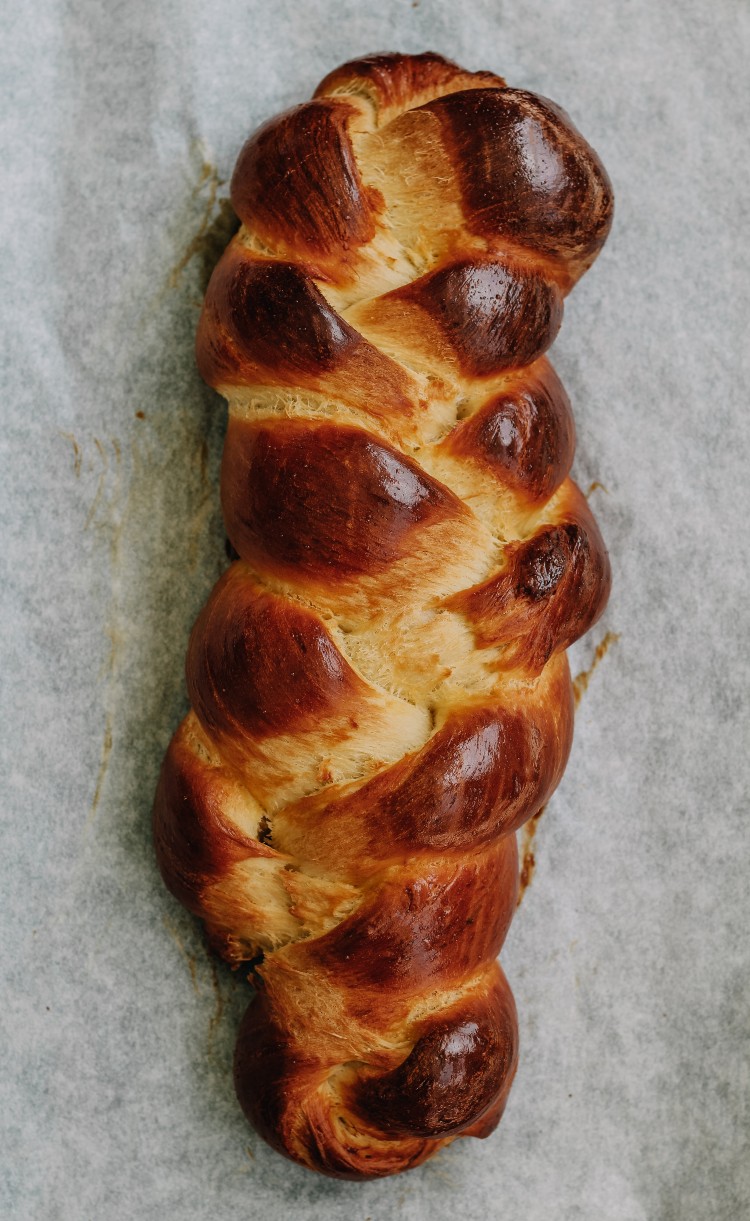 I didn't even know how it would turn out at first and I did use my Red Star Platinum Yeast that I just love for baking breads. I have made it also with other types of dry yeast with the exact same result. I did not mix the yeast with the sourdough discard (I've seen some challah recipes that do that); instead, I let the yeast bloom in the water and started to make the dough.
I went against probably how other bakers make sourdough discard breads…I decided to add the sourdough after I added all the wet ingredients to the flour.
There really wasn't a particular recipe I was following. It was just a way to use up some of my lovely discard and it ended up turning out really nicely! I chose to do two (three-strand) braids for a really lovely and not as difficult variation of one of my favorite breads.
You probably happen to have all the ingredients on hand, plus the most important part, the sourdough discard and time. I promise to make again and take some process shots! I baked this set of the breads for my sister-in-law's recent Rosh Hashanah dinner. The loaves are very large.
So I'll hope you give it a try and use your discard to make a gorgeous challah bread!
What is a sourdough discard challah bread?
This sourdough challah bread recipe is a braided yeasted bread made with sourdough discard. A challah is a traditional Jewish bread enjoyed on the sabbath and other important holidays. Since a challah is made without dairy, it is considered kosher.
You may know the bread in other cultures by different names: koylatch, kitke, cholla, chalka, and also khala. A challah is more yellow than other breads because of all the eggs in the recipe.
Sourdough Challah will not end up having a sour flavor. This will not be any thing at all like a traditional sourdough bread. Since it's made with the discard (and dry yeast), this will have the most subtle sourdough flavor. The discard makes it have the softest and fluffiest consistency. My sister-in-law raved about it and can't wait for me to make it again!
The sourdough starter:
If tossing out your sourdough discard every week brings a tear to your eye, cry no more! Make this amazing challah bread!
Here is my gorgeous and very loyal starter. I will be totally honest with you and admit this year has been rough and there were extended periods of time (even over 2 months!)where I didn't refresh my friend. And my starter never gave up on me and is still around to help make beautiful breads, cakes, quick breads, and muffins!
Here is the sourdough starter recipe we use.
Some other sourdough discard starter recipes we recently shared:
What flour is best to make challah bread?
When I make my challah, I sometimes use bread flour and sometimes use all-purpose flour. If I run out of bread flour, it's made with all-purpose. Basically, any high in gluten flour will make the dough have a nice stretch. The challah turns out same consistency with either flour. So from my personal experience, either type of flour works fine.
What ingredients are in a sourdough discard challah bread
dough
active dry yeast (I used Red Star Yeast Platinum for this recipe)
sugar
bread flour (or all-purpose flour)
salt
eggs
oil
sourdough discard
egg wash
What is the right consistency of challah bread dough?
Getting the dough to the right consistency is the trickiest part when making challah bread. It will take some practice to know when you kneaded the dough enough and that it's not too sticky. When you are adding the flour, add it in 1/2 cup increments.
Do not dump all the flour in at once. When you add a little at a time, you can knead and see how it is turning out (I use my mixer with dough hook attachment, but you can knead this entirely by hand).
And as you get towards end of the flour, is it still too wet and too sticky, add more flour.
I do not like to suggest to add more water if it's too dry. I would prefer to take my time adding the flour and never get to the point where you need to add more water. I have by mistake rushed making doughs and had to add more water and I found it was not same consistency as I hoped for. Basically it ends up being a stiff dough and it's hard to fix that.
The best way to know what you're aiming for is a tacky and sticky dough. So when you touch dough with your finger, it will stick for a moment and when you pull away. Your finger is not sticking to the dough, because it is also tacky.
So you're achieving a dough that is not mushy and wet. The dough has movement like a soft and squishy toy ball. If you do this test and find your finger is still sticking to the dough, you will not be able to knead it on counter and form into a ball.
You need to add just another tablespoon or so of flour (do not add too much!) and keep kneading with your hands until it ends up with the tackiness that is soft and pliable. Keep in mind, depending on the elements of the room where you are letting the dough rise covered in bowl, it could be faster than you expected or even take longer (especially if it's a rainy, cold day!).
What does challah bread taste like?
A challah is made with eggs and some sugar, so it is a rich and not too sweet bread. Since we use some sourdough discard, this bread is super tender and very soft.
Is a challah bread the same as a brioche?
The two breads are similar. But a brioche is made with butter and a challah is made with a mild flavored oil.
Sourdough Tips and Notes:
When I make my sourdough discard recipes, I remove the jar from the refrigerator. I stir the starter together and take out 1 cup. I usually use 1/4-1 cup of the starter in my baking. For this recipe, I used a cup.
I leave the starter discard on the counter in a cup until I'm ready to start the bread (usually for about 1-2 hours it's sitting there bubbling away).
Next, I feed my starter with one cup of flour and one cup of warm water. I stir it all together (with a wooden spoon)and leave it on my counter (with the lid off) for a few hours. when I see it's nicely bubbling again, I add the lid back on and place it back in the refrigerator. I am not sure if this is the right and perfect way, but it has worked for me for years!
Since I'm also using a packet of yeast, I'm not relying on the sourdough discard to have it rise. IF you choose to use only sourdough starter (not the discard, but the actual starter that has been fed), it may take double the time or even longer (even overnight)to have the dough rise.
Can you make the challah dough by hand?
Yes, you can make the entire bread by hand. The most important thing is to have a clean work space. And you will need room (trust me, the flour will be going in different parts of the counter as you work the dough). The best thing to remember is once you form the dough, you have to knead it by hand for about 10 minutes (hello, excellent arm workout!). For this recipe, I did use my stand mixer with the dough hook attachment.
How to store challah bread
I like to store mine (once it's completely cooled down)in a plastic zipped lock bag. This sourdough discard challah is still soft and fluffy the 3rd day.
Also, once the bread has completely cooled, store in zipped lock freezer bags in the freezer for up to 2 months.
Some other challah recipes to enjoy:
Did you make this sourdough discard recipe? Please let me know below in the comments what you thought of it! XX Lora
Sourdough Discard Challah Bread
Sourdough Discard Challah Bread is fluffy, sweet and beautiful! This tender bread is made with sourdough discard and has a slight tang. Challah is a lovely bread for special occasions and also perfect for breakfast, sandwiches, and to cozy up with any soup.
Ingredients
The Dough

1

package

2 1/4 teaspoons active dry yeast (I used Red Star Yeast Platinum for this recipe)

1

cup

warm water

no more than 110°F [43°C]

1

teaspoon

sugar

4 ½to 5

cups

bread flour

or 5 ½ to 6 cups bleached all-purpose flour (depending on brand of flour, you may need less or more)

2

teaspoons

sea salt

⅓

cup

sugar

3

eggs

¼

cup

peanut

corn, or canola oil

1

cup

sourdough discard

unfed sourdough starter

For the egg wash:

1

egg

1

tsp

sugar
Instructions
In a mixer, with a dough hook attachment, add the warm water, yeast and a teaspoon of sugar. Mix until blended. Let the yeast bloom (could take up to 5 minutes). Once it has bloomed, slowly mix in 1 cup of the flour until combined.

Mix in the eggs one at a time until they are combined. Add in the rest of the sugar and the oil. Mix until combined.

Add in the sourdough discard.

Slowly add the rest of the flour (and the salt) with the mixer on medium-low speed, and mix until combined. Stop the machine as you add each cup of the flour to scrape the sides of the bowl and incorporate the flour.

Mix on low speed for 12 minutes until dough is incorporated. Be sure to give your mixer a break and as you don't want to burn it out. Add flour, if needed, 1 tablespoon at a time. The dough will be a little sticky but also firm.

Take dough out of mixer bowl, and place it on a clean counter or work space. Knead the dough a minute or so on the counter. Check the dough and if it is still too sticky to work with, add a tablespoon of flour to make it pliable.

Form the dough into a ball and place into an oiled bowl (when I put the dough in the bowl I swish the dough around the bottom of the bowl and then flip it over so all of the dough is covered in a light film of oil). Cover with plastic wrap and let it rise at room temperature until doubled in size (about 1-1 1/2 hours).

When the dough has risen, punch down the dough. Divide the dough into 6 equal portions. Shape each portion into a ball, and allow it to rest with plastic wrap on it for 5-10 minutes.

Use your hands to roll each dough ball into a long piece. Pinch the seams of the first 3 strands and braid together to form a loaf. Tuck the ends of the strands under on both ends nice and tightly. Place the braided bread on a parchment lined baking sheet.

Repeat the process with the other 3 strands of dough.

Cover with plastic wrap and let rise in a draft free place for about 45 minutes to 1 hour.

Preheat oven to 350 F.

When ready to bake, brush with egg wash (egg wash is the egg and sugar whisked together in a small bowl).

Bake the challah for 35-40 minutes. The bread should be golden brown. Ovens may vary so check your challah at about 30 minutes and see how it's doing. You test if it's done by tapping the bottom of the loaf. If it sounds hollow, it needs a bit more time.* Be careful to not burn your fingers like I did when you do that test. Let it cool and serve slightly warm or at room temperature.
Notes
FLOUR: If you use bread flour, you will need less flour. If you use all-purpose, the amount of flour will increase. You proof the yeast with same amount of water for either flour. ROLLING STRANDS: After the first proofing, divide the dough into the balls to make the braid strands. I did 6 portions for 2 challah loaves made with 3 strands of dough. Let the balls of dough rest covered for 5-10 minutes. It makes them easier to work with. PROOFING: Let the challah do the second rise. If you skip this part, the bread could end up with cracks. Keep in mind the house temperature and the weather will affect how it is rising. Patience is all you need for a perfect proofing. BAKING: Be sure not to over bake the challah or it will end up being dry.
If you think the challah getting too dark but the inside is not done, tent it with a piece of aluminum foil. STORING: Store the challah in a plastic bag or airtight container, it can last fresh and soft several days. LEFTOVER: Leftovers make delicious French toast, grilled cheese sandwiches, or even croutons.