Best Marinated Mushrooms Recipe -will only take 15 minutes of prep time. You can even make them the night before! An irresistible and refreshing appetizer to have on hand.
This easy Italian Marinated Mushrooms recipe has always been a favorite at parties. Marinated mushrooms are easy to make and are irresistible. Truly no-fuss and the best mushroom recipe!
Marinated mushrooms are something I remember fondly from my childhood. My mom says they are a "real retro recipe". Growing up and having primarily Italian immigrant family friends, there was always an antipasto platter at every party.
I know it may seem weird, but I was that kid that loved to taste the Italian marinated mushrooms. Mom made every thing homemade. As did all the other Italian moms at the parties we went to.
Who really thinks back on their childhood and remembers the mushrooms? But seriously, they are simple and so special.
Mom made these for Easter last year for this antipasto pasta salad and I meant to post the recipe. She has the recipe at home on a recipe card so I was trying to find online something similar to her method and how she makes it. She's been staying with us these last few weeks and I've been able to keep eye on her and keep her out of stores!
I came across a recipe on Spruce Eats that's from my friend Rebecca from Foodie with Family. I read the instructions out loud and mom said, "Yes, that's exactly how I make it." So, there you go! I found the retro recipe mom makes and they are amazing!
Jump To
What is marinated mushrooms?
Marinated mushrooms are a delightful, tangy snack often served as part of an antipasto platter or as a side dish to main meals. They are made by first cooking fresh mushrooms and then steeping them in a flavorful marinade typically composed of ingredients such as olive oil, vinegar, garlic, herbs, and spices.
The mushrooms absorb these flavors during the marinating process, resulting in a savory and flavorful dish. Marinated mushrooms are enjoyed both for their unique taste and the health benefits they provide, including a good source of dietary fiber, vitamins, and minerals.
What mushrooms are best for marinating?
The most popular mushrooms for marination are white button and cremini mushrooms. But hey, feel free to marinate any fresh 'shrooms you love! And if you're feeling adventurous, go ahead and mix it up with a combination of mushrooms.
Cremini (baby bella)
White Button
Portobello
Enoki
Why choose button mushrooms?
Button mushrooms, scientifically known as Agaricus bisporus, are a popular choice for many recipes and for good reason. Their versatile, mild flavor and firm texture make them well-suited to a range of culinary applications, from stir-fries to soups, and they're particularly excellent in marinated mushroom recipes as they soak up the marinade's flavor beautifully.
Compared to portobello and baby bella mushrooms, button mushrooms are smaller and lighter in color, but that doesn't mean they're lacking in taste or nutritional benefits.
While portobellos and baby bellas offer a deep, earthy flavor, button mushrooms offer a more subtle taste, which can be preferable in dishes where you want the mushrooms to complement, rather than dominate, the other ingredients.
Button mushrooms have a longer shelf life when stored properly in an airtight container at room temperature, which makes them a more practical choice for many home cooks.
Just like their larger counterparts, button mushrooms require minimal effort to prepare, yet they deliver a satisfying taste that is sure to impress.
Ingredients for mushroom marinade:
Here is what you need to make these delicious seasoned mushrooms:
Button mushrooms: These will be the star of your dish. Fresh mushrooms, specifically baby bella or portobello mushrooms, are recommended for their rich and earthy flavor.
Lemon juice: This will add a zesty kick to your mushrooms, enhancing their natural flavor.
White wine vinegar (with 5% acidity): This ingredient will help to marinate the mushrooms, infusing them with a tangy taste.
Extra-Virgin Olive oil: This will serve as your cooking medium and offer a subtle richness to the overall dish.
Garlic cloves: This will lend a robust flavor to your mushrooms, making them even more delicious.
Kosher salt: This will season your mushrooms and bring out their natural flavors.
Dried oregano: A dash of this will add an Italian touch to your mushroom recipe.
Dried parsley (or basil or both): This will add color and an aromatic flavor to your dish.
Crushed red pepper flakes: This will provide a bit of heat to your dish, making it even more appetizing.
How to marinate mushrooms?
The first thing to do is gather up all your ingredients.
Once you gathered all the ingredients, prep your mushrooms. You have to get off all the dirt. I don't like to soak them as they'll soak up all the water. I rinse and carefully scrub off all the dirt without breaking them apart (they're delicate to handle). I had very large button mushrooms. Cut off the stems. I did leave the smaller ones whole, but I cut the larger ones in half.
Once they're cleaned bring the water and lemon juice to boil (I used fresh lemon juice).
Do mushrooms shrink when you cook them?
Yes! They shrink a lot. So if you plan to make this to have extra, double everything. Three pounds of mushrooms may seem like a lot raw, just keep in mind they will shrink down on the quick boil in the lemon water.
After about 5 minutes of boiling, drain the mushrooms.
The next step is to add them to your canning jars. Leaving a 1/2-inch of headspace on the top.
Next step is to add the marinate to the jar. I boiled my marinade while I was boiling the mushrooms. Be sure to remove the garlic so you could add a clove to each jar.
Seal the jars with the lids. I left mine to cool down a little on the counter before storing in the fridge. They are so delicious! It really is hard to wait until the next day to try them!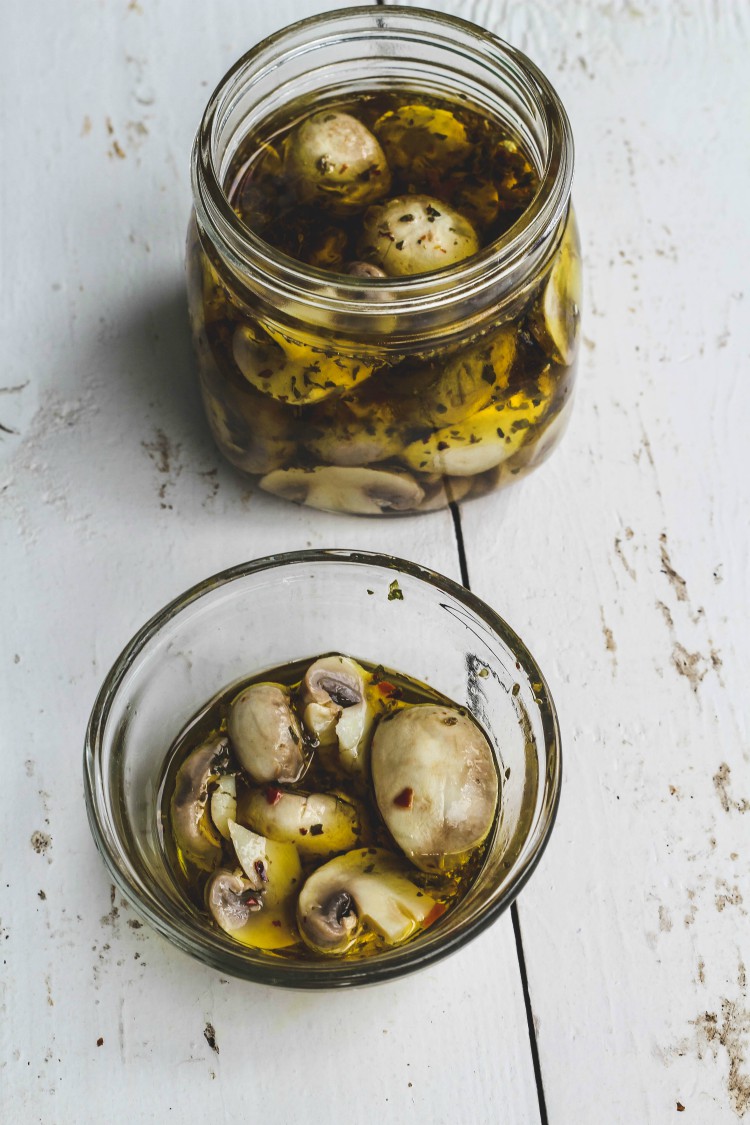 Expert tips to make easy marinated mushrooms:
To enhance the flavor, you can add fresh herbs like thyme or rosemary to the marinade.
Experiment with different types of mushrooms for varying textures and flavors.
For a tangier taste, you can increase the amount of vinegar in the marinade.
These marinated mushrooms make a great addition to charcuterie boards or as a topping for bruschetta.
Remember to sterilize the jars and lids before using them to ensure freshness and longevity of the mushrooms.
Variations and Substitutions:
Use a mix of different mushroom varieties for added flavor and texture.
Substitute lime juice for lemon juice to add a tangy twist.
Experiment with different herbs like thyme or rosemary instead of oregano.
Add sliced onions or shallots to the marinade for extra depth of flavor.
For a spicier kick, increase the amount of crushed red pepper flakes.
Replace white wine vinegar with apple cider vinegar for a slightly sweeter taste.
Try using flavored oils like garlic-infused olive oil for an extra burst of flavor.
What to eat with mushrooms marinated?
Marinated mushrooms are versatile and complement a wide range of dishes. Here are some suggestions:
Served as a topping for steaks or burgers.
Added to salads, providing a tangy flavor contrast.
Included in pasta dishes, particularly those with a cream or garlic base.
Used as a topping for pizza.
Served as part of a charcuterie board alongside cheeses and cured meats.
Used as a garnish in soups or stews.
Included in sandwiches, especially those with meat or cheese.
Served as a side with grilled or roasted meat.
Added to omelettes or scrambled eggs.
Used as a filling in savory crepes or wraps.
Storing this recipe for marination
How long do marinated mushrooms last in fridge?
These mushrooms can be refrigerated for up to two weeks. I do not recommend freezing the mushrooms once they're marinated.

How long can I marinate mushrooms?
A full 24 hours is ideal for the mushrooms to absorb all the marinade flavor. Even two to three days would be better to get the full impact of this fantastic marinade's flavor! But it's hard to even wait a few minutes, they're so good!
How to store marinated mushrooms?
The best way to store marinated mushrooms is to keep them refrigerated in glass jars. In my opinion, keeping them chilled keeps the mushrooms more firm and with all the fresh marinade flavor.

We give instructions to store these peppers in the refrigerator and they are not processed in boiling water for long storage. We don't have a truly cool room where we could store things for a many months.

We store most of what we can in the refrigerator. If you would like to store these mushrooms in your pantry and not your fridge, go to the National Center for Home Food Preservation for detailed info on canning instructions or directions.
FAQ'S
Are marinated mushrooms ready to eat?
Yes, marinated mushrooms are ready to eat once they have had time to soak up the flavors of the marinade. A full 24 hours is ideal for the mushrooms to fully absorb the marinade, but they can be enjoyed any time after the marinating process is complete.
Are marinated mushrooms healthy?
Marinated mushrooms are indeed healthy. They are low in calories and fat, and high in fiber. They also contain various vitamins and minerals, including Vitamin D, selenium, and several B vitamins. The marinade may also include health-beneficial ingredients like garlic and herbs.
Are mushrooms healthier than meat?
Mushrooms are lower in calories and fat than most meats, and they are high in certain nutrients like fiber and Vitamin D. However, meat is typically higher in protein. Both can be part of a balanced diet, and mushrooms are often used as a meat substitute in vegetarian and vegan diets due to their hearty texture.
What is the healthiest mushroom to cook with?
All types of mushrooms are packed with nutrition, but shiitake mushrooms are often considered the healthiest. They contain a high amount of fiber, protein, and a variety of vitamins and minerals. They also have compounds that may boost your immune system and even fight cancer cells.
Are mushrooms a Superfood?
Mushrooms can certainly be considered a superfood due to their nutrient density. They are low in calories, high in fiber, and packed with vitamins and minerals. Additionally, they contain antioxidants, which can protect against harmful free radicals and reduce inflammation in the body.
Is a marinated mushroom cooked?
Fresh mushrooms can be consumed either raw or cooked before marination. The most common methods for cooking mushrooms prior to marinating include sautéing, boiling, and poaching.

For this mushroom marinade recipe, you have the option to use raw mushrooms or gently poached ones. Both methods are provided in the recipe below. However, it's important to note that raw marinated mushrooms require at least 24 hours of refrigeration, while cooked mushrooms can be enjoyed immediately.
Some other easy canning recipes you'll enjoy:
Recipe slightly adapted from Rebecca Lindamood: Foodie with Family
Did you make this? Please RATE THE RECIPE below:)
Please Subscribe and give a follow on Instagram, Facebook, Pinterest, and TikTok xx
This post contains affiliate links. As an Amazon Associate I earn from qualifying purchases. See my privacy policy for details.
BEST Marinated Mushrooms Recipe (Quick and Easy)
Easy marinated mushrooms will only take 15 minutes of prep time. You can even make them the night before! An irresistible and refreshing appetizer to have on hand.
Servings:
4
half pint jars
Ingredients
3

pounds

button mushrooms

cut them in half if they're large

½

cup

lemon juice

I used fresh, you could use bottled

Water

enough to cover mushrooms

1 ¼

cups

white wine vinegar

with 5% acidity

1

cup

pure olive oil

5

garlic cloves

peeled and left whole

1 ½

teaspoon

Kosher salt

2

teaspoons

dried oregano

2

teaspoon

dried parsley

or basil

1

teaspoon

crushed red pepper flakes
Instructions
In a large pot, add water (just need enough water that will cover the mushrooms) and the lemon juice. Bring to a boil.

While you bring the lemon water to a boil, clean and wash mushrooms.

Trim off the stems. If you have some larger mushrooms like I did, cut the larger ones in half (the mushrooms do shrink when you boil them in the water, so don't cut the smaller ones)put them in a large pot.

When the lemon water has come to a boil, carefully add the mushrooms. Let them boil for about 5 minutes (you don't want to boil them until they're super soft, just a quick boil).

While the mushrooms are doing their quick boil, bring the marinate to a boil.

In a small pot, add the olive oil, vinegar, garlic cloves, salt, oregano, dried parsley, and crushed red pepper flakes. Bring to a boil and let boil for about 3 minutes (should be about same time as it takes to boil the mushrooms, it's ok if it goes over a minute or two). When it's boiled for a few minutes, remove from heat so you can deal with the mushrooms.

Remove the garlic cloves from the olive oil marinate and reserve in a small plate.

Drain the mushrooms in a colander. Spoon them into your canning jars (or whatever container you are storing them in)add a garlic clove to each jar, and leave about 1/2 inch of headspace on the top.

When you have your mushrooms ready in the jars, stir the marinade together and carefully pour the olive oil marinade over the mushrooms in the jars, being sure to leave that 1/2 inch of headspace on the top.

Cover, using lids and store them in the refrigerator. They can be stored in the refrigerator up to two weeks.

Serve at room temperature.

Use the marinated mushrooms in salads, antipasto, pasta salad, or just enjoy straight from the jar.
Nutrition Disclaimer
Please keep in mind that the nutritional information presented below is an approximation and may vary depending on the exact ingredients used.
Nutrition
Calories:
101
kcal
|
Carbohydrates:
15
g
|
Protein:
11
g
|
Fat:
1
g
|
Saturated Fat:
0.2
g
|
Polyunsaturated Fat:
1
g
|
Monounsaturated Fat:
0.003
g
|
Sodium:
896
mg
|
Potassium:
1159
mg
|
Fiber:
4
g
|
Sugar:
8
g
|
Vitamin A:
3
IU
|
Vitamin C:
21
mg
|
Calcium:
24
mg
|
Iron:
2
mg