Easy Marinated Mushrooms will only take 15 minutes of prep time. You can even make them the night before! An irresistible and refreshing appetizer to have on hand.
These easy Italian Marinated Mushrooms have always been a favorite at parties. Marinated mushrooms are easy to make and are highly addictive. Truly no-fuss and the best mushroom recipe!
Marinated mushrooms are something I remember fondly from my childhood. My mom says they are a "real retro recipe". Growing up and having primarily Italian immigrant family friends, there was always an antipasto platter at every party. I know it may seem weird, but I was that kid that loved to taste the Italian marinated mushrooms. Mom made every thing homemade. As did all the other Italian moms at the parties we went to.
I know it seems like something so simple. Who really thinks back on their childhood and remembers the mushrooms? But seriously, they are simple and so special.
Mom made these for Easter last year for this antipasto pasta salad and I meant to post the recipe. She has the recipe at home on a recipe card so I was trying to find online something similar to her method and how she makes it. She's been staying with us these last few weeks so I can keep an eye on her and keep her out of stores!
I came across a recipe on Spruce Eats that's from my friend Rebecca from Foodie with Family. I read the instructions out loud and mom said, "Yes, that's exactly how I make it." So, there you go! I found the retro recipe mom makes and they are amazing! They were a part of our antipasto pasta salad and I've been meaning to share the recipe with all of you!
How to make easy marinated mushrooms?
The first thing to do is gather up all your ingredients. Here is what you need to make these delicious mushrooms:
button mushrooms
lemon juice
white wine vinegar (with 5% acidity)
olive oil
garlic cloves
Kosher salt
dried oregano
dried parsley (or basil or both)
crushed red pepper flakes
Once you gathered all the ingredients, prep your mushrooms. You have to get off all the dirt. I don't like to soak them as they'll soak up all the water. I rinse and carefully scrub off all the dirt without breaking them apart (they're delicate to handle). I had very large button mushrooms. Cut off the stems. I did leave the smaller ones whole, but I cut the larger ones in half.
Once they're cleaned bring the water and lemon juice to boil (I used fresh lemon juice).
Do mushrooms shrink when you cook them?
Yes! They shrink a lot. So if you plan to make this to have extra, double everything. Three pounds of mushrooms may seem like a lot raw, just keep in mind they will shrink down on the quick boil in the lemon water.
After about 5 minutes of boiling, drain the mushrooms.
The next step is to add them to your canning jars. Leaving a 1/2-inch of headspace on the top.
Next step is to add the marinate to the jar. I boiled my marinade while I was boiling the mushrooms. Be sure to remove the garlic so you could add a clove to each jar.
Seal the jars with the lids. I left mine to cool down a little on the counter before storing in the fridge. They are so delicious! It really is hard to wait until the next day to try them!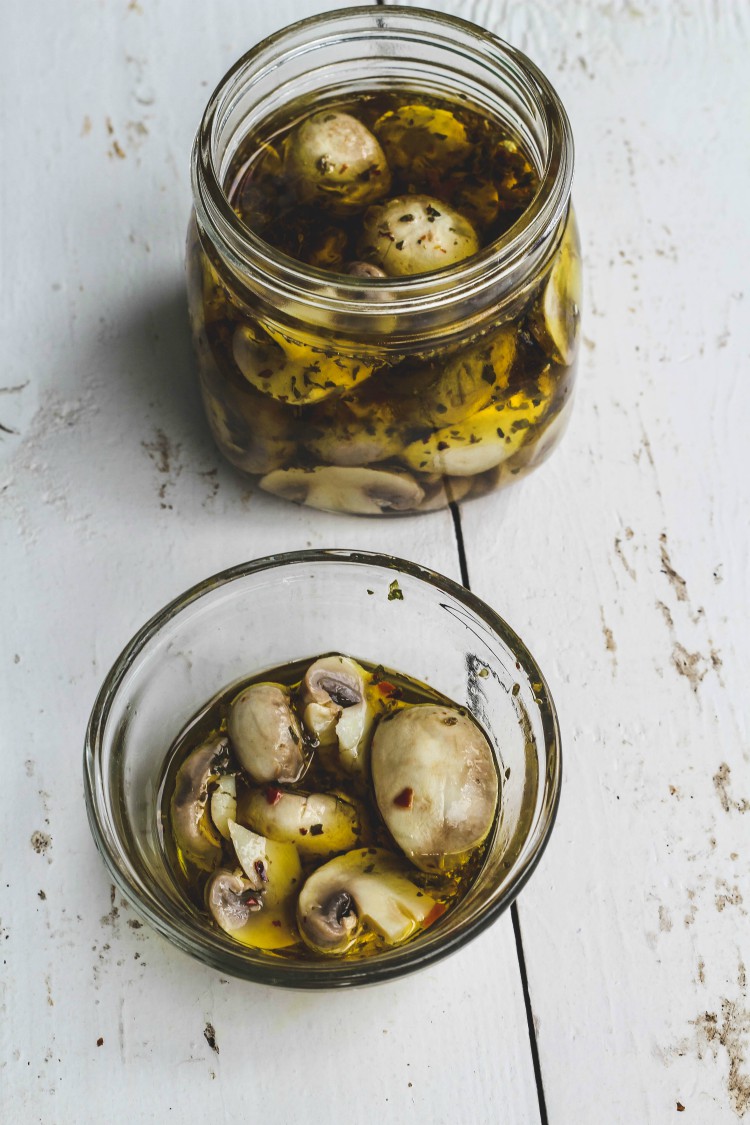 How long do marinated mushrooms last in fridge?
These mushrooms can be refrigerated for up to two weeks. I do not recommend freezing the mushrooms once they're marinated.
How Long Can I Marinate Mushrooms?
A full 24 hours is ideal for the mushrooms to absorb all the marinade flavor. Even two to three days would be better to get the full impact of this fantastic marinade's flavor! But it's hard to even wait a few minutes, they're so good!
How to store marinated mushrooms?
The best way to store marinated mushrooms is to keep them refrigerated in glass jars. In my opinion, keeping them chilled keeps the mushrooms more firm and with all the fresh marinade flavor.
We give instructions to store these peppers in the refrigerator and they are not processed in boiling water for long storage. We don't have a truly cool room where we could store things for a many months.
We store most of what we can in the refrigerator. If you would like to store these mushrooms in your pantry and not your fridge, go to the National Center for Home Food Preservation for detailed info on canning instructions or directions.
Some other easy canning recipes you'll enjoy:
Recipe slightly adapted from Rebecca Lindamood: Foodie with Family
Easy Marinated Mushrooms
Easy marinated mushrooms will only take 15 minutes of prep time. You can even make them the night before! An irresistible and refreshing appetizer to have on hand.
Servings:
4
half pint jars
Ingredients
3

pounds

button mushrooms

cut them in half if they're large

1/2

cup

lemon juice

I used fresh, you could use bottled

Water

enough to cover mushrooms

1 1/4

cups

white wine vinegar

with 5% acidity

1

cup

pure olive oil

5

garlic cloves

peeled and left whole

1 1/2

teaspoon

Kosher salt

2

teaspoons

dried oregano

2

teaspoon

dried parsley

or basil

1

teaspoon

crushed red pepper flakes
Instructions
In a large pot, add water (just need enough water that will cover the mushrooms) and the lemon juice. Bring to a boil.

While you bring the lemon water to a boil, clean and wash mushrooms.

Trim off the stems. If you have some larger mushrooms like I did, cut the larger ones in half (the mushrooms do shrink when you boil them in the water, so don't cut the smaller ones)put them in a large pot.

When the lemon water has come to a boil, carefully add the mushrooms. Let them boil for about 5 minutes (you don't want to boil them until they're super soft, just a quick boil).

While the mushrooms are doing their quick boil, bring the marinate to a boil.

In a small pot, add the olive oil, vinegar, garlic cloves, salt, oregano, dried parsley, and crushed red pepper flakes. Bring to a boil and let boil for about 3 minutes (should be about same time as it takes to boil the mushrooms, it's ok if it goes over a minute or two). When it's boiled for a few minutes, remove from heat so you can deal with the mushrooms.

Remove the garlic cloves from the olive oil marinate and reserve in a small plate.

Drain the mushrooms in a colander. Spoon them into your canning jars (or whatever container you are storing them in)add a garlic clove to each jar, and leave about 1/2 inch of headspace on the top.

When you have your mushrooms ready in the jars, stir the marinade together and carefully pour the olive oil marinade over the mushrooms in the jars, being sure to leave that 1/2 inch of headspace on the top.

Cover, using lids and store them in the refrigerator. They can be stored in the refrigerator up to two weeks.

Serve at room temperature.

Use the marinated mushrooms in salads, antipasto, pasta salad, or just enjoy straight from the jar.