Weekend breakfast baking is sometimes fun and spontaneous. I have been on a waffle kick for a while. Every so often I think about scones; like these fantastic pumpkin cranberry scones.
I make simple and creamy scones occasionally. A good basic scone recipe is so wonderful to change up. You could add different chips (chocolate chips, cinnamon chips) or dried fruits. I love these
kumquat poppy seed scones
I made a while back and these
clementine cranberry scones.
The clementine cranberry scone recipe is a great vegan recipe in case you were looking for one.
I turned to
Pinterest
for some quick inspiration and caught these pumpkin scones one morning this weekend. With some little adjustments, breakfast was ready in less than 30 minutes. Not just any breakfast, but a very fall breakfast.
Cute little pumpkin scones that I even was able to add a little ground flax seed to. I have to be straight up about the glaze; without the glaze, the scones were a more healthy type of a scone. If you are looking for a low-sugar breakfast idea, you could make it as the original recipe calls for (with only 1 Tablespoon of maple syrup)and skip the glaze. For my taste, that was fine. For my kids and hubby, they required a little extra sweetness so I increased the maple syrup by 2 Tablespoons and drizzled on an irresistible pumpkin glaze.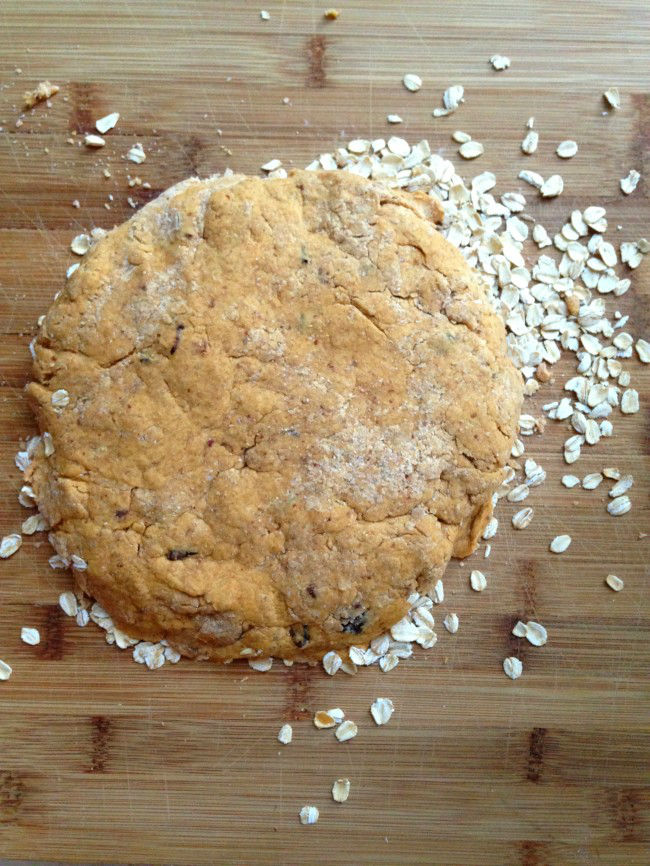 I made the scones twice this weekend. The first time was with part whole wheat flour. I really liked the part whole wheat flour version. It's not easy for me to sneak whole-wheat flour in every recipe and get the kids to enjoy the recipe. I will try another time and maybe just use 1/2 cup whole wheat flour and 1 1/2 cups all-purpose. It's important to not work the dough too much. If you feel it is too sticky to work with, you could sprinkle on a little more flour into the dough while you knead it.
The second time I baked the pumpkin cranberry scones, I used entirely all-purpose flour, I increased the maple syrup another tablespoon (so total 3 Tablespoons maple syrup) and I added an egg. If you decide to bake with part whole-wheat flour and follow the original recipe, the scones will be a little more dense. I added ginger and another dash of cinnamon. The smell of beautiful pumpkin scones filled with fall spice wafting through the kitchen and the house was utterly intoxicating. The next time I bake them, I am going to sub the butter for coconut oil for a delicious fall vegan breakfast idea. If you change up the recipe, let me know what you did and how it turned out!
Pumpkin Cranberry Scones
2 cups all-purpose flour
1 Tablespoon ground flax seeds
2 teaspoons baking powder
1 1/2 teaspoons cinnamon
1 teaspoon ginger
1/2 cup dried cranberries
1 cup pumpkin puree
4 Tablespoons butter, melted
1 egg
1 teaspoon vanilla extract
3 Tablespoons maple syrup
for the top
2 Tablespoons orange juice
1 Tablespoon turbinado sugar
1/2 cup oats
pumpkin glaze
1 cup confectioner's sugar
2 Tablespoons orange juice (or milk)
2 Tablespoons canned pumpkin
1 teaspoon vanilla extract
1/2 teaspoon cinnamon
Instructions
Preheat oven to 350 F. In a large bowl whisk together the lace the flours, ground flax seeds, baking powder and cinnamon. Stir in the dried cranberries.
In a small bowl whisk together the pumpkin, butter, egg, vanilla and maple syrup. Add the wet ingredients into the dry ingredients and stir to combine.
Bring dough together gently with a wooden spoon.
Turn dough out onto a lightly floured counter and knead it just a bit to combine (do not overwork the dough. If it is too sticky, sprinkle a little flour onto the dough and knead it once or twice before flattening. Pat dough into a round approximately 1-inch thick. Brush with orange juice. Sprinkle on the turbinado sugar and the oats. Cut with a small biscuit cutter (yields about 12 pieces.cut with larger biscuit cutter yields 8 scones)
Place the scones on a baking tray lined with parchment paper. Brush with orange juice. Sprinkle on the turbinado sugar and the oats. Bake for 15-18 minutes or until golden and cooked through (if you are cutting them with large biscuit cutter or cutting them into wedges, will take about 20 minutes).
While scones are baking, whisk together the glaze ingredients. Drizzle on the scones as soon as you take them out of the oven.