Best Oven Baked Chicken Legs Recipe is tender chicken legs that are tossed in the perfect seasoning mix. With simple pantry ingredients, it bakes up with crispy skin, amazing flavor and it is a perfect weeknight dinner idea!
Why you'll love this easy baked chicken legs in oven:
Simple and easy to make: This recipe only requires a few basic ingredients and minimal prep time, making it perfect for busy weeknights or last-minute dinners.
Delicious flavor: The combination of paprika, garlic, onion, and other seasonings create a mouth-watering marinade that infuses the chicken with delicious flavor.
Versatile: An easy to adapt recipe. You could adjust the seasoning with different spices and herbs. You could also use boneless chicken breasts instead of drumsticks, or even chicken wings.
Full-proof: Chicken breasts tend to get dry and overcooked easily, and you'll love that chicken drumsticks will be so juicy and tender (read more below on my tips)!
Hands off: As soon as you put the chicken legs in the oven to bake, you don't have to touch them! You could leave them cooking away, no need to flip them or to rotate the pan.
This is a really easy chicken leg recipe!! I bake chicken at least twice a week. This is one my mom taught me and it really could vary each time you make it, with what you have on hand. A no-fuss sheet-pan recipe that is gluten-free, dairy-free, Paleo, and Whole30.
The chicken legs (thighs, breasts, or wings) get placed in a zipped lock bag. Add in the olive oil and rub it all together. Herbs, spices, and aromatics get combined and it results in the most juicy and flavorful chicken. I put together the ingredient list, but it could be adjusted to your taste.
If you like crispy chicken legs, you will love this recipe! With just simple pantry ingredients and a little prep work, you'll have an amazing dinner that the whole family will love! Let's get onto this really tasty chicken leg recipe!
Jump To
What ingredients are in baked chicken leg recipe
Bone-in skin on chicken legs: economical cut of the chicken and so flavorful. the main protein source for this recipe, can be substituted with other cuts of chicken
Extra virgin olive oil: use whatever oil you have on hand, but I like to use a good quality extra-virgin olive oil It helps the seasoning mix adhere to the chicken thighs, and gets the skin golden brown and crispy.
Seasoning mix: I put together a blend of dried and fresh herbs and took just seconds to combine it with the chicken. It's versatile, but you definitely need the basics: sea salt, ground pepper, paprika, and some dried herbs. Make it spicy with a dash of cayenne pepper, if you like.
Onion: if you have onion powder on hand, go ahead and use 1 teaspoon. I used fresh finely chopped sweet onion. You could use Vidalia onions or even shallots.
Garlic: if you have garlic powder on hand, use 1 teaspoon. I did not have any on hand and used minced fresh garlic.
Fresh herbs: I used fresh rosemary and fresh Italian parsley. You could use fresh or dried herbs. Thyme also would work nicely.
Non-stick cooking spray: prevents the chicken from sticking to the foil during cooking.
How to make baked chicken legs in the oven?
Step 1: Gather all your ingredients and heat oven. Since every thing gets put into a zipped bag, it's best to have it all organized and ready to go.
Step 2: Preheat your oven to 425°F and line a line a baking sheet or pan with aluminum foil. Spray the pan with non-stick cooking spray, or rub some oil all over the foil. This will make sure the chicken does not stick to the foil.
Step 3: Pat the chicken legs dry. Start by trimming any excess skin and patting the legs dry with paper towels.
Step 4: Place the chicken legs in a large zipped lock bag or a large bowl.
Step 5: Add olive oil and all the spices, herbs, and aromatics.
Step 6: Seal the bag, squeezing out all the air while closing, and combine the chicken inside the bag with all the oil and spice mixture. Be sure to get every part of the chicken covered. You could even shake the bag to combine it all over. If you're mixing in a bowl, use clean hands to rub the mixture all over the chicken (be sure to wash your hands right after).
Step 7: Remove the chicken from the bag and place it on the prepped baking sheet or pan.
Step 8: Place the pan in the middle rack of the oven on 425°F for 30 minutes. Lower heat to 375°F for another 30 minutes.
Chicken legs could be ready in 45 minutes, or they could take longer and be ready in one hour (or even a little over an hour, all depends on how big they are). The chicken should be a beautiful golden color, juicy, and with crispy skin.
What is the secret to getting the most tender chicken drumstick baked recipe?
I will explain to you what my mom (AKA nonna) explained to get the juiciest chicken legs and thighs: overcook them! Yes, setting a timer is a good idea, but you have to maybe go beyond the set time. I can tell when my chicken is ready even just by the smell!
I typically end up cooking my chicken legs a full hour (and sometimes a little longer). I know many recipes say they're done at 40 minutes. You have to use an internal meat thermometer to see if it's reached the safe cooked temperature.
Mom always tells me look at the chicken, and if it doesn't have crispy skin and a good color, keep it in the oven 10-15 minutes more. Safest way to know if it's ready, use a meat thermometer and check the temperature.
Expert tips
Be sure to use meat thermometer to ensure the chicken is fully cooked before serving.
Slow cook on low heat for 6 hours or on high heat for 4 hours.
For added flavor, marinate the chicken legs in the sauce for a few hours before cooking.
Could be served with your choice of side dishes, like steamed rice, vegetables, or salad.
Leftovers can be stored in an airtight container and refrigerated for up to 3 days.
To reheat leftovers, place them in a microwave-safe dish and heat for 1-2 minutes, or until warmed through.
If you like your chicken even crispier, broil the cooked chicken legs in the oven for a few minutes before serving.
Feel free to adjust the herbs and other ingredients to make it to your taste.
Variations and substitutions
Spicy Chicken Drumsticks - If you like it spicy, you could make this hot! Add cayenne pepper or your favorite hot sauce to the seasoning mix. Adjust to what you can handle!
Honey Mustard Chicken Drumsticks - For a sweet and tangy twist, in a small bowl, mix together equal parts honey and dijon mustard to create the most delicious glaze for your chicken drumsticks. Brush the glaze for the final 10 minutes...so easy!
Lemon Garlic Chicken Drumsticks - Add in some fresh lemon juice and more minced garlic to the spice mix. In place of the fresh rose oregano on top before baking for an added herb flavor.
BBQ Chicken Drumsticks - You could bake in the oven or even throw your drumsticks on the grill! For a smoky and flavorful twist on the recipe, brush them with your favorite BBQ sauce while they cook.
Gluten-Free Option - To keep this recipe totally gluten-free, simply use a gluten-free all-purpose seasoning blend.
What to serve with chicken drumstick baked recipe?
Roasted vegetables (such as carrots, broccoli, or Brussels sprouts)
Mashed potatoes or sweet potatoes
Rice pilaf or quinoa
Grilled corn on the cob
Fresh salad with a light vinaigrette dressing
Garlic bread or dinner rolls
Coleslaw or potato salad
Macaroni and cheese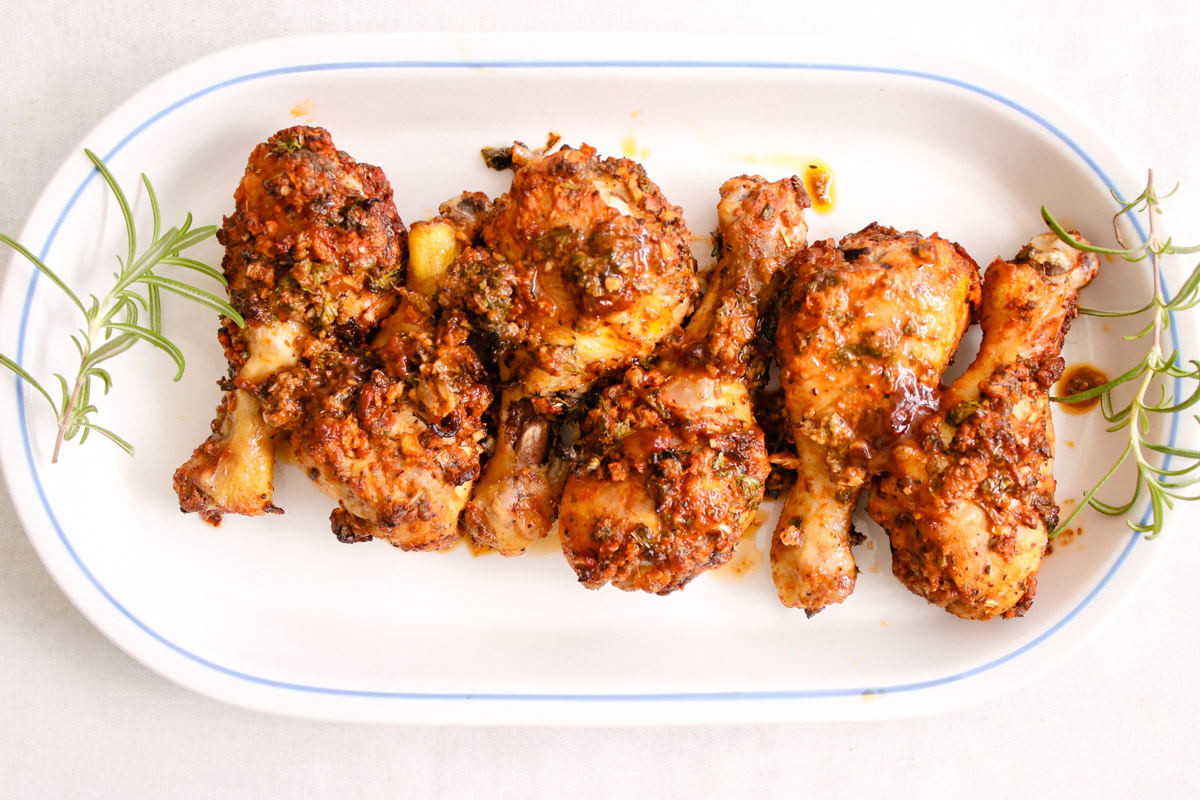 How to store baked chicken legs?
Store any leftovers in an airtight container in the refrigerator for up to 4 days. Heated up the skin won't be as crispy, but the meat should still be tender. Another idea is to pull the meat off the bone before storing. It makes for a great addition to a salad or sandwich, cold or warmed up.
FAQ's
Can this recipe be doubled?
Yes, you could double the recipe. Just follow the instructions in the recipe to cook the chicken. The cook time remains the same. Be sure to now crowd the chicken while it's cooking. Depending on size of the legs, bake for 60 minutes or until the internal temperature is 165 degrees or higher. It be done sooner, but you want the chicken to be fall of the bone tender and for it to get a good color.
Can I make spicy chicken legs?
Yes, if you like it spicy, add a ½ teaspoon of cayenne pepper or add some hot sauce to the bag when prepping the chicken. Add as much or as little to your liking to kick up the heat!
What is best internal cooking temperature chicken?
Chicken must reach a minimum internal temperature of 165°F. Depending on if it's dark meat, legs, or a chicken leg quarter, if you need to get to higher internal temperature like 185-195°F. You will get more tender chicken that literally falls off the bone.
How to tell if chicken legs are cooked?
The most accurate way to see if it's ready is to use check the internal temperature with a meat thermometer. Baked chicken should be cooked to a temperature of at least 165°F., but legs I always cook more. Another way to tell if it's ready is to test one chicken leg by cutting into it. It should be cooked to the bone and should have clear juices.
Is chicken drumstick dark meat?
Yes, the drumsticks (legs) and thighs are the dark meat in chicken, and usually they have a much more tender texture and are juicier than white meat.
Can I freeze baked chicken legs?
Yes, you can. Simply pull the meat off the bone and place it in a zipped lock freezer bag. Date the bag and freeze for up to 2 months.
How long do chicken legs take to cook ?
Chicken legs and chicken thighs to be cooked safely need to reach an temperature of 165°F, but I always cook my chicken pieces until they reach 185-195°F. Use a digital meat thermometer to get an accurate temperature.

What is the time to bake chicken legs?
I usually end up cooking my chicken legs a full hour. Depending on the size of the chicken legs, some could be ready in 40-45 minutes. The more chicken you cook, the better you will get at just looking at it and knowing it's ready.

The skin has to get a nice color. Mom taught me to start at higher temp for the beginning, and then lower it. So this recipe starts out at 425°F for 30 minutes, and then gets lowered to 375°F for the rest of the cooking time. But like I said, you may end up leaving it in the oven a few more minutes until the color is right.
some other delicious chicken recipe ideas:
Did you make this? Please RATE THE RECIPE below:)
Please Subscribe and give a follow on Instagram, Facebook, Pinterest, and TikTok xx
This post contains affiliate links. As an Amazon Associate I earn from qualifying purchases. See my privacy policy for details.
Best Oven Baked Chicken Legs Recipe
Best Oven Baked Chicken Legs Recipe is tender chicken legs that are tossed in the perfect seasoning mix. With simple pantry ingredients, they bake up with crispy skin, amazing flavor and are a perfect weeknight dinner idea!
Ingredients
6

chicken legs

1

Tablespoon

extra-virgin olive oil

2

tsp

paprika

sweet or smokey

1.5

tsp

sea salt

½

tsp

freshly ground black pepper

1

small onion

minced finely (or 1 tsp onion powder)

2

teaspoons

garlic

minced finely (or 1 tsp garlic powder)

1

Tablespoon

Dijon mustard

or 1 tsp ground mustard

2

tablespoons

fresh rosemary chopped finely

or 1 tsp rosemary, dried

2

Tablespoons

fresh Italian parsley chopped finely

or 1 tsp parsley flakes
Instructions
Preheat the oven to 425 degree F.

Line a baking sheet with aluminum foil and lightly spray with non-stick cooking oil. Set aside.

Remove drumsticks from packaging. Pat them dry with paper towels. Place into a bowl or resealable plastic bag. Add oil, seal the bag and toss to coat.

Add seasonings, herbs, garlic, onion, and mustard to the bag, close and shake to get chicken well coated with everything. Bake for 30 minutes.

Lower the oven temperature to 375F.

Bake until the chicken is cooked through and golden brown (and the skin is nice and crispy) and has internal temperature of 185 degrees F, may be another 30 minutes, so set a timer. Total cook time is about 1 hour-1 hour and 15 minutes (could be less time, depending on how big or small your drumsticks are). Serve and enjoy!
Nutrition Disclaimer
Please keep in mind that the nutritional information presented below is an approximation and may vary depending on the exact ingredients used.
Notes
Use a baking sheet or even a pan that is 9x13 inch with sides is the best option because to keep the sauce in. It does caramelize a little as it bakes. It will caramelize best if half of the chicken is poking out of the sauce while cooking. My pan is 11x15 inches and it works best. If your pan is too large though your sauce will be too shallow, evaporate and burn.
Best thing for clean up is to line your pan with foil.
If you're new with baking chicken and knowing when it's done, best thing is to use a digital meat thermometer to be safe and make sure it's cooked through.
Once cooked and completely cooled, the chicken stays fresh covered in the refrigerator for 4 days.
When cooked and completely cool, you can also freeze it in a freezer-safe container for 1-2 months. Best way is to remove the chicken from the bones and shred it.
If you're low-carb, serve with sides like cauliflower rice, steamed broccoli, veggie noodles, roasted potatoes, a nice salad.
If you're not staying low carb, serve with jasmine rice, cous-cous, sweet potatoes.
Nutrition
Calories:
301
kcal
|
Carbohydrates:
1
g
|
Protein:
21
g
|
Fat:
23
g
|
Saturated Fat:
6
g
|
Polyunsaturated Fat:
5
g
|
Monounsaturated Fat:
10
g
|
Trans Fat:
0.1
g
|
Cholesterol:
120
mg
|
Sodium:
718
mg
|
Potassium:
285
mg
|
Fiber:
0.4
g
|
Sugar:
0.1
g
|
Vitamin A:
449
IU
|
Vitamin C:
1
mg
|
Calcium:
17
mg
|
Iron:
1
mg