Eggplant Timbale-Timballo di Melanzane is made with pasta and a meat sauce made with peas. Delicious slices of grilled eggplant wrap around the pasta and it is baked together. A beloved family recipe perfect for the holidays or a special occasion.
I'm sharing another recipe that we made during the holidays. It has taken me not only weeks, but years to put this recipe together. My Sicilian father was the official timballo maker every holiday. And he didn't make it always the same. I have a couple photos of his different versions. Timballo's are sometimes made with pasta and sometimes with rice.
What is an Italian timballo?
Originally published February 2021 and republished February 2022.You may be curious what exactly is a timballo and also sometimes called a timpano. Timballo is the Italian word for "drum", which happens to be the root word for the large half-round orchestral drum called a timpani. And what about melanzana? That means eggplant in Italian.
A timbale or timballo is a deep dish pasta dish (usually made in a springform pan) that is totally enclosed by a crust. The filling could have different shaped pasta mixed with different types of sauce and various cheeses. There are also versions where besciamella sauce is folded in with the sauce and the pasta. The variations really could be endless!
This is one of dad's last timballo's that he made just before he died. I love how he used lasagne noodles to wrap the pasta filling on the inside. Also, he used ricotta mixed in with his sauce. It was absolutely delicious with the crunchy pieces of pasta that formed as a crust (that Caprese salad on the right is on a dish I used to have that had ceramic pastries on it...it was actually a dessert dish that my hubs used to serve the mozzarella salad).
What is interesting about this recipe is that it could also could be wrapped in pastry (or even puff pastry), which is how it is featured in the very famous Sicilian book "Il Gattopardo". It was the savory pie that was served at a very elegant Sicilian feast made by the monsu' (the fancy chefs).
You probably remember an epic scene in one of my all-time favorite food themed movies, "The Big Night"...so fabulous! Stanley Tucci is actually launching this past weekend a show where he exploring the food in the 20 regions of Italy, and one episode will be all about TIMBALLO's...so excited to watch it!
So when I did finally tackle this incredible dish soon after dad died, I took some photos and intended to share it here. Somehow, I lost the memory card, but still could "see" the photos in my editor file. It had to be photographed again and that is not easy to do when you're making something for an audience, and a hungry audience, no less (during a holiday meal!).
This is all a part of my #projectsicilia. This is my 2nd recipe for this year. When my dad died, it was my intention to share a Sicilian recipe and also maybe something my dad used to make or that I grew up eating in Sicily here for my kid's to one day find and learn about their Sicilian food culture. Last month I shared the Sicilian Scacciata with Cauliflower.
A timballo di melanzane is a typical Sicilian summer pasta and it's usually made with fried eggplants. I distinctively remember enjoying this delicious dish as a child during long and hot Sicilian summer days by the beach with my family. Keep in mind, the main pasta you'll see used in this recipe with Sicilians is anelletti (the little ring pasta). I chose to make this with penne, and you could use rigatoni.
This vintage brown plate was actually mom and dad's and dad used to use it to serve so many of his fabulous Sicilian creations.
Is it difficult to make a timballo?
It isn't difficult, it is slightly time consuming to put this together. You have to first fry or grill the eggplant (we grilled the eggplants to keep this a bit lighter), make your sauce, cook the pasta, assemble and wait for all the magic to bake together.
Are there different versions of a timballo?
Yes! You will find different versions of this beautiful baked dish will vary in region to region all over Italy. Some version will be wrapped in pastry and some with eggplant slices. It could even vary from town to town in a particular region. Dad sometimes even did a version where he sliced the eggplant short instead of long. He fried up the slices, and layered it around the bottom and sides of the spring form pan. More round slices were placed on top of the pasta, and the round eggplant shapes made a design like a flower…so pretty!
What are some tips to make the best eggplant timbale?
There are some tips + tricks to make this easier. Especially if you are prepping this during the holidays or for a family get together.
Ragu': I had my meat ragu' ready for a couple days. So that step was already done.
Pasta: You could have the pasta precooked and stored in the fridge until you're ready to assemble every thing. Even having it ready a couple days ahead is ideal.
Eggplant: IF you have time the day before, you could even grill up the eggplant slices and leave them in an airtight container until you're ready to use them. The only thing is that you have to make sure they're not a crumpled mess when you store them. Keep them nice and long and make sure it's in a wide storage container, which will make it easier to keep the shape. Ideally, it's best to grill the eggplant the day you are actually assembling it.
One more eggplant tip: But most importantly, I mention to grill up 4 eggplants. It's better to have extra ready on the side in case you need to cover a spot on top (like what happened to me!). And whatever grilled eggplant you have leftover will be wonderful for even a vegetarian platter or chop it up and add it to a pasta dish like this Roasted Eggplant, Tomato and Zucchini Pasta.
How long does it take to put together a baked eggplant timballo?
If you do not start 2-3 days ahead of time with making the sauce, the pasta and prepping the eggplant, it will take 3-4 hours if you're making it all from scratch that same day. A true ragu' takes a couple of hours of slow simmer. If you want a to make it with a quick meat sauce, that is fine. You could also make it with a quick tomato/pea sauce, just to cut out some time.
So my tips to make this a lot easier would be, make the sauce and precook the pasta a day or two ahead. Then the big day of making timballo, all you have to do is grill the eggplant and assemble it. And then let it all bake deliciously away!
What size eggplant should I use?
You will be using the longest eggplant you can find, and also make sure it's wide. The eggplants are sliced lengthwise, so you will want nice and long slices that will be draping over the springform pan and then flipping over the pasta to cover it all up like a nice little present.
Is this eggplant pasta dish vegan?
My version is with a meat ragu', so it is not vegan. But you could make this with just a plain tomato sauce (no meat)and the entire dish will be vegan/vegetarian.
Could I add cheese to this eggplant dish?
If you enjoy cheese and are fine in eating dairy products, yes, you can! I have seen this made with provolone, mozzarella, smoked mozzarella. If you were making this in Sicily, I've seen this made with fresh cheeses and a provolone from Sirucusa (Sicily has the most amazing fresh cheeses I've ever tasted in my life). If I had happened to have any grated vegan cheese on hand or the dairy-free mozzarella, I would have added it (I have dairy-free kids!).
I have also seen recipes in Sicily where they use a scrambled egg and fold it into the pasta mixture.
The cheese melts together and does help it bind to help also when you slice it, which is why I guess some Sicilian recipes do add a scrambled egg when they fold it all together.
What ingredients are in a timballo di melanzane?
extra-virgin olive oil
onion * you can use sweet onion or yellow onion
garlic
lean ground beef *you could do a mixture of pork/beef or however you prefer
dry white wine
crushed tomatoes *San Marzano is ideal
baby peas (don't used canned please)
cheese* you could make it dairy-free or use a combo of mozzarella and Parmigiano-Reggiano
basil leaves
sea salt
freshly ground black pepper
eggplants
extra-virgin olive oil
penne *or rigatoni or annelletti
extra salt + pepper
How do you make an Italian eggplant timbale?
The first step in making this dish is cooking the pasta until it's a couple minutes before al dente. So keep in mind, the pasta will keep cooking while it's baking in the oven.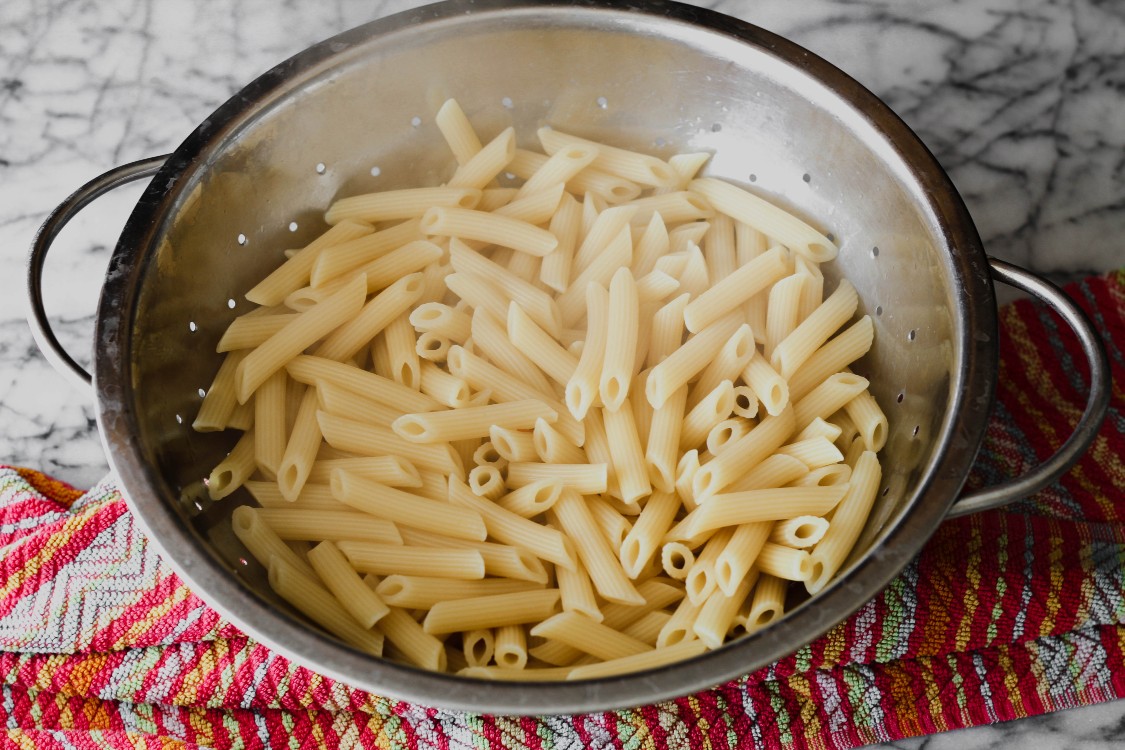 When I am cooking up the pasta, I begin to grill the eggplant slices. Either of these steps could be done the day before (or even two days before).
Brush olive oil on the eggplant and sprinkle on some salt (and pepper, if you're using).
The filling is the pasta that is cooked until before it is al dente and it is all folded together with a flavorful homemade meat sauce made the Sicilian way with sweet peas. I always make extra for big dishes like this. So I ended up having another container leftover of this delicious Sicilian ragu'.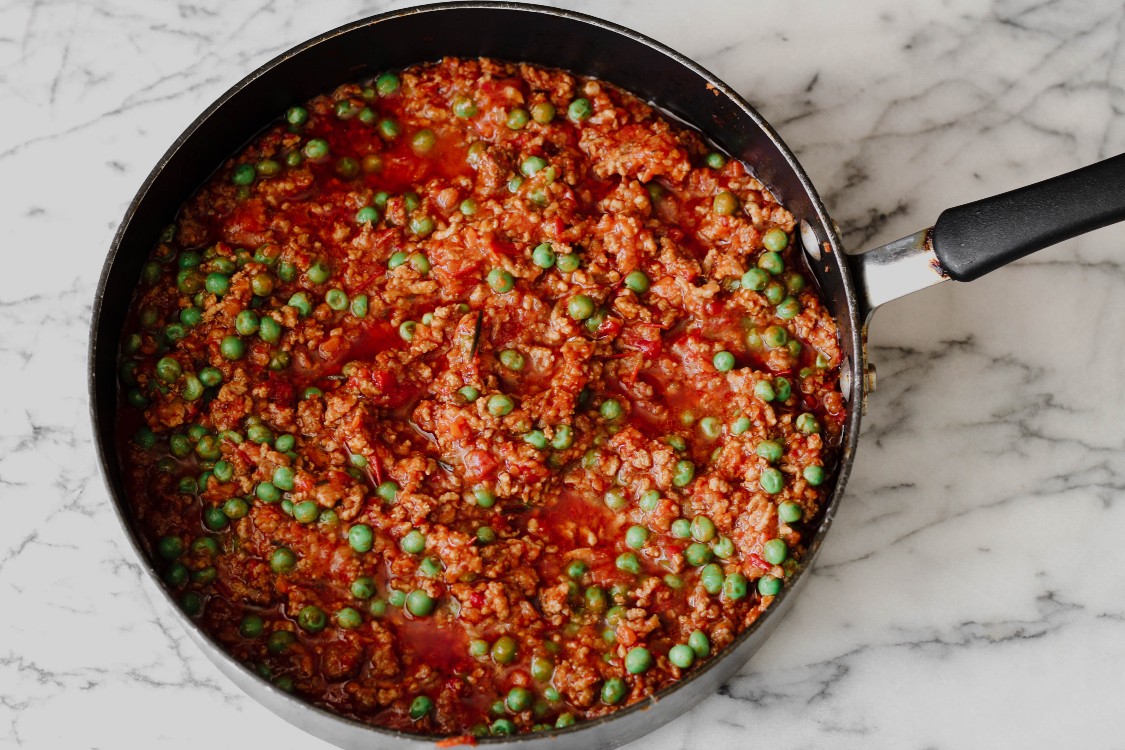 When you are ready to fill the spring form pan, fold the pasta together with the sauce. IF you are using any cheese, this is when it gets folded in. If you made the sauce a day or two before, be sure to heat it up on a slow simmer while you're grilling the eggplant slices.
Next, line the spring form pan with the grilled eggplant slices.
Be sure to have very long slices and that you hang the slices over the side. If there are empty spaces on the bottom of the pan, layer some slices around those areas.
Next step is to spoon the pasta mixture into eggplant base. Smooth it out with the back of a spoon or a spatula.
Next step is to fold the eggplant slices over the pasta, like a beautiful little gift. Use any leftover grilled eggplant slices to fill any gaps that have pasta peeking through on the top.
Be sure to place the spring form pan on top of a baking tray. It will leak into your oven if you don't, plus it makes it easy to take it in and out of oven. I had some extra pasta mixed with sauce, because I cooked a whole lb of pasta.
It all gets baked together at 350F for 30 minutes. When you have let it cool down for 10-20 minutes, make sure you have on some kitchen gloves, and carefully release the sides of the spring form pan (it will still be hot, be careful!).
You could decorate it with some fresh basil (I used purple basil from my herb garden)and a sprinkling of grated cheese, if you like.
The last step is to let it all rest for 10-20 minutes, make sure you have on some kitchen gloves, and carefully release the sides of the spring form pan (it will still be hot, be careful! Also, good luck with letting it rest a full 20 minutes …barely rested 5 minutes in my house!).
Be sure to use a very sharp knife to slice it all like a cake. IF you are using cheese, it melts together and helps to keep the inside firm. It basically helps bind it.
If you choose to not use any cheese (not even the dairy-free versions), it will not have any thing to bind it together and may not hold it's shape when you slice it. As I mentioned above, I have seen some Sicilian versions that have scrambled eggs added to the pasta filling (helps bind it all together).
And VOILA' ...this is what the inside looked like (yes, I had family members screaming at me to HURRY UP with the photos, so there was only 1 good photo!).
It is simply delectable and delicious!
How to store an eggplant timbale?
Store in an airtight container in the refrigerator for up to 5 days. Reheat any leftovers on a baking sheet or oven-proof casserole in a 350F oven until heated through (about 15 mins).
Some other Sicilian recipes to enjoy
Eggplant Timbale-Timballo di Melanzane
Eggplant Timbale-Timballo di Melanzane is made with pasta and a meat sauce made with peas. Delicious slices of grilled eggplant wrap around the pasta and it is baked together. A beloved family recipe perfect for the holidays or a special occasion.
Equipment
9-inch springform pan *You could also use an 8-inch springform pan
Ingredients
For the Meat Sauce:

3

Tablespoons

extra-virgin olive oil

¼

cup

of onion chopped you can use sweet onion or yellow onion

1 ½

pounds

lean ground beef you could do a mixture of pork/beef or however you prefer

1

cup

dry white wine

2-28

ounce

can of whole tomatoes

I use San Marzano, remove the tough inside and puree' in a blender

6

fresh basil leaves

torn into small pieces

1

cup

of fresh or frozen baby peas

canned does not work for this recipe

2 ½

teaspoons

sea salt

¼

teaspoon

black pepper

Eggplants

2

huge

or 3 medium eggplants

⅓

cup

extra-virgin olive oil

maybe more (if needed)

freshly ground pepper

Pasta

1

lb

penne

or rigatoni

a few handfuls of fresh basil

roughly chopped or hand torn
Instructions
MAKE THE SAUCE:

In medium size sauce pan or a Dutch oven heat the oil on medium heat. Add the onion and cook for 2 minutes. Add the garlic and cook for 5 minutes more. Next, add the beef and sauté, stirring frequently.

Break up any large lumps and cook until meat is no longer pink, about 10 minutes. Add the wine and stir together and let it evaporate. Add the tomatoes and basil and cook over medium low heat until the sauce thickens. Add in the peas and stir together. Season with salt and pepper and simmer.

I simmer my ragu' (Bolognese sauce/meat sauce) for about 2 hours. Add additional water if necessary for desired consistency while it's simmering to thin it out a little. You could make this a day (or two) ahead.

Meanwhile, bring a large pot of water to a boil. Salt the pasta water and boil the pasta until it's about 2 minutes from al dente.

If you cooked the sauce a day or two ahead, remove from the refrigerator and reheat it (this will make it much easier to combine with the cooked pasta).

While the sauce is simmering, prep the eggplant slices.

EGGPLANT:

Place a grill pan over medium-high heat or pre-heat a gas or charcoal grill.

Slice the eggplants vertically to about 1/4-inch thick slices. Using a pastry brush, generously brush the eggplant slices with olive oil and sprinkle with salt and pepper.

Grill the eggplants until colored with grill marks and tender, about 4-5 minutes per side. You want nice golden slices.

Set aside the grilled eggplant slices on a baking sheet or a large dish spaced out nicely.

If you are using sauce that was cooked a day or two before, heat it in a sauce pan on a low simmer while you grill the eggplant.

Once the pasta is ready, drain it and add to the bowl. Spoon enough sauce onto the pasta enough to cover and stir together to combine. If you are adding any cheese (regular or dairy-free), add it in now. Toss everything to coat (and if you're using cheese, make sure the cheese is distributed everywhere).

ASSEMBLE:

Brush a springform pan with olive oil.

Layer the bottom of the pan with the longest eggplant slices from the bottom and going over the edge of the spring form pan (so it can be folded over the top later), hanging outside of the pan (make sure there are no open spaces, should be covered with eggplant).

Spoon the pasta mixture on top of the layered eggplant slices.

Next, fold over the draped slices of eggplant to cover the pasta making sure the whole top is covered. You will have some extra eggplant slices, so use any extra pieces to cover up any open spaces.

Place the springform pan on a baking dish (this is just in case of any drips through the pan and also makes it easier to take out of oven). Bake for 30 minute.

Remove the tray from the oven and let it cool for 15 minutes or so. As soon as it cools down enough, put on some kitchen gloves, and release the side of the pan.

Next, place your serving plate over the top of the timblale and carefully flip it over (it's one swift move, so make sure you're steady when you flip).

Remove the bottom of the springform pan. Use a very sharp knife and slice into portions and serve. Enjoy!
Nutrition Disclaimer
Please keep in mind that the nutritional information presented below is an approximation and may vary depending on the exact ingredients used.
Notes
This does take some time to put together. It is elegant and it also absolutely worth all the effort. Do set aside some time to make this or make some of the steps ahead of time.
Some reminders about this delicious recipe:
Eggplants: choose longer eggplants and buy one extra (I grilled up 4). You may end up needing more to cover the bottom or the top, so better to have extra. You could use any extra for another pasta dish.
Sauce: I made the meat ragu' a couple of days before. You could make this totally meat free and just make a quick sauce to fold the pasta into.
Cheese: I made this version dairy-free, no cheese. You could use chunks of fresh mozzarella or grated mozzarella. Grated Parmigiano-Reggiano or pecorino would be nice. My dad used to fold ricotta into his filling. You could use any vegan/dairy-free cheese if you are vegan or dairy-free.