Pear and Cranberry Sticky Buns- A beautiful fall spin on your favorite sticky buns. Filled with sweet pears, dried cranberries, and warm cinnamon. These buns are so fluffy and delicious!
I love to plan ahead and surprise my family with fluffy rolls for breakfast. I love to bake cinnamon rolls and probably could have a tray each Sunday morning. But, that isn't reality! So in honor for #TwelveLoaves September Pear challenge (and to find a good excuse to bake some buns!), I baked these lovely Pear Cranberry Sticky Buns.…well, the sticky part, of course!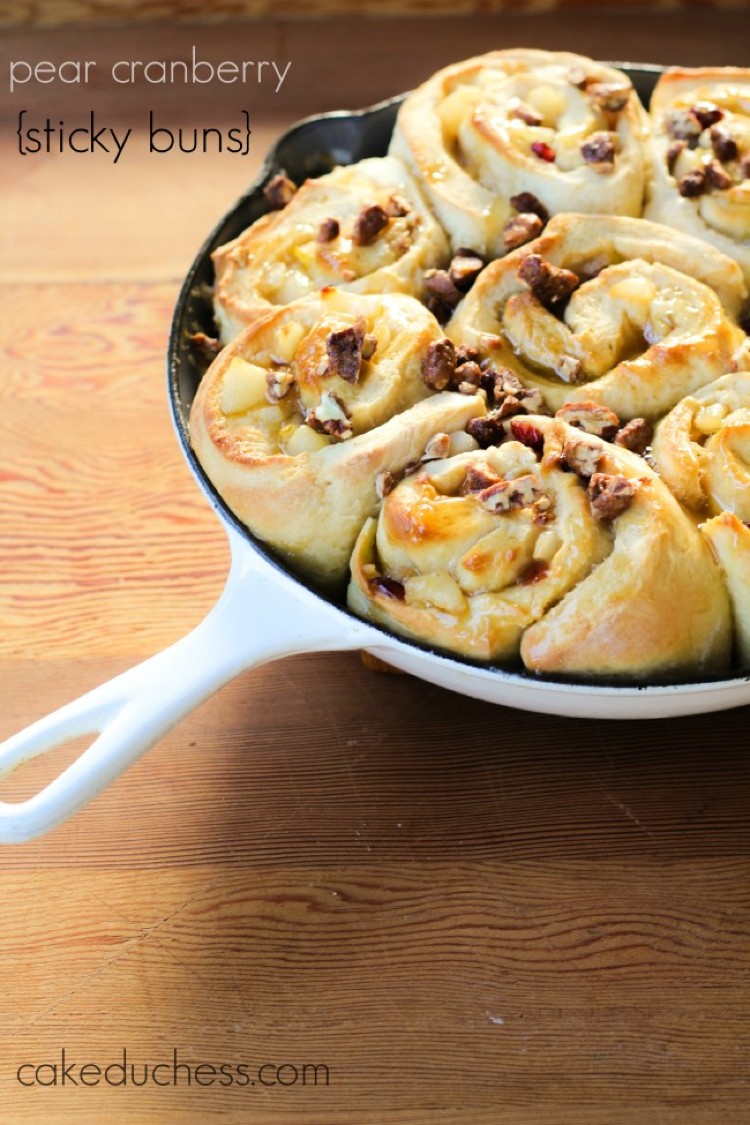 You could make these as sticky as you'd like. I always lean towards less in stickiness…but I did have extra glaze on the side to pass on to my friends that I shared these with. Because they were looking for MORE STICKINESS!
#TwelveLoaves -September: Hosted by Camilla of Culinary Adventures with Camilla. Welcome, fall baking! The month of August was all about baking with fresh, summer herbs. September is all about baking with PEARS!
Originally published September 2014 and updated October 2021. These incredible sticky buns were baked back when I used to do the monthly #TwelveLoaves baking challenge with a group of other talented bakers. They are too delicious to be forgotten and just so lovely for cooler fall Sunday morning baking! Hope you love them as much as we do!
Let's share flat breads, rolls, buns, grilled breads-whatever sweet or savory version you'd like and whatever you feel reflects summer flavors! Whatever you bake, (yeasted, quick bread, crackers, muffins, braids, flatbreads, etc) have fun and let's have a delicious month of bread for Pears. Let's get baking!
#TwelveLoaves September: Pears
Look at the wonderful pear breads the #TwelveLoaves bakers have created!
Asian Pear Muffins by NinjaBaking
Pear and Almond Muffins by Basic N Delicious
Pear and Cherry Sourdough Bread by Karen's Kitchen Stories
Pear and Walnut Sticky Buns by Kudos Kitchen by Renee
Pear, Banana, and Quinoa Muffins by Rhubarb and Honey
Pear Cranberry Sticky Buns by Savoring Italy
Pear Streusel Sweet Rolls by Try Anything Once Culinary
Savory Pear Flatbread with Gorgonzola by Culinary Adventures with Camilla
Spiced Buttermilk Poached Pear Bread by All Roads Lead to the Kitchen
I just get giddy when the temps drop a little. I have to say, they haven't dropped even minimally here and it was a challenge to get into the mood and bake a yeast type of a bread. But the smell of these sticky buns baking reminded me it was definitely worth the extra work!
The dough is such a great dough recipe…very easy to put together. I thought of adding the cranberries to the filling instead of raisins. My kids aren't crazy about raisins in my baking…they prefer chocolate chips! I didn't add chopped pecans to the filling, but if you love pecans, you could certainly sprinkle some in!
I sprinkled some on top after I added the sticky glaze. I didn't add the whole amount of the glaze, because it's too sugary for us…but I did reserve on the side and saved it for our friends that we shared some rolls with (they were thrilled for extra glaze!).
I'm thinking of this filling again…and I'm thinking of cakes and pies with pears! Oh, I love baking with pears!
Can't wait to see what you inspired bread bakers come up with! Happy baking!
Some other delicious yeast breads to try:
Pear Cranberry Sticky Buns
Pear and Cranberry Sticky Buns- A beautiful fall spin on your favorite sticky buns. Filled with sweet pears, dried cranberries, and warm cinnamon. These buns are so fluffy and delicious!
Ingredients
For the Dough:

1

cup

whole milk

1

1/2 ounce envelope active dry yeast

¼

cup

warm water

100 to 110 degrees

3

tablespoons

granulated sugar

2

eggs

¼

cup

unsalted butter plus 1 Tablespoon

reserve 1 Tbsp for brushing the rolls, melted

4½-5

cups

all-purpose flour

½

teaspoon

salt

FOR THE FILLING:

½

cup

unsalted butter

softened plus 1 Tablespoon

½

cup

granulated sugar

1

cup

packed light brown sugar

3-4

Tablespoons

cinnamon

depending on how much cinnamon you like

2

pears

peeled and chopped in small pieces

½

cup

dried cranberries

1

Tablespoon

jam

whatever flavor you like, to cook the pears in

glaze

4

Tablespoons

butter

¼

cup

cream

½

cup

dark brown sugar

¼

cup

honey

dash of salt

1

cup

pecans

coarsely chopped –optional
Instructions
Heat the milk in a small saucepan over medium heat until it just begins to

boil. Remove from heat and let stand until cooled to room temperature.

Meanwhile, sprinkle the yeast over the warm water in a large bowl.

Add 1 tablespoon of the sugar and let stand until foamy, about 5 minutes.

Beat in the remaining 2 tablespoons sugar, eggs and butter. Beat in cooled milk.

Gradually add the flour and salt, scraping down side of bowl, until a soft dough forms.

Turn dough onto a floured work surface and knead the remaining flour into

the dough, adding more flour if too sticky. Knead for about 10 minutes

until smooth. The dough will be soft.

Grease a large bowl. Place the dough in the bowl. Cover with plastic wrap and

place in a warm spot until doubled in size, about 1 1/2 hours.

Coat two 9-inch round baking pans with nonstick cooking spray. Line bottoms with waxed paper; coat paper with baking spray (or with butter or margarine).

Prepare Filling-

In a small saucepan over medium heat melt 1 tablespoon butter. Cook the pears until tender. Stir in 1 Tablespoon of jam (you could use whatever jam flavor you like…I used apricot.).Sprinkle on the dried cranberries. Stir to mix and set aside.

Mix butter, both kinds of sugar and cinnamon together in a medium-size bowl.

Punch down dough. Roll out dough on a lightly floured surface to an 18 x 12-inch rectangle. Spread the butter-sugar mixture over the dough.

Sprinkle on the pears and cranberries. Starting on one long side roll up jelly roll fashion and pinch seam to close. Cut crosswise into 12 generous 1 1/2 inch pieces.

Arrange 6 pieces, cut-side down, in each prepared pan.

Cover with plastic wrap and let sit in a warm spot until buns double in size, about 30 to 45 minutes.

Or cover tightly with plastic wrap and refrigerate until the following morning.

Heat oven to 350°F.

Uncover pans and bake buns until they are golden-brown and bubbly, 30 to 40 minutes.

Glaze-while rolls are baking, prepare the glaze. Melt butter in a small heavy saucepan over medium heat. Stir in brown sugar, cream, honey and salt. Bring to a boil, reduce heat to medium, and simmer until glaze is golden brown and glossy (3-4 minutes).

When rolls have finished baking, remove from oven and transfer to a wire rack; let cool 10 minutes.

Drizzle on glaze and sprinkle chopped pecans, if you're using them. ENJOY!
Nutrition Disclaimer
Please keep in mind that the nutritional information presented below is an approximation and may vary depending on the exact ingredients used.