Strawberry Bagels are lovely way to welcome warmer temperatures and sunny mornings. These lovely yeast bagels are bursting with fresh berries and are worth the effort
I don't know why one of my most favorite breads isn't baked more often here. Possibly because of the planning involved in making bagels. Now that strawberry bagels have been baked, this won't be the last time they will be seen in my kitchen!
Because they are AMAZING!!
I have shared a couple bagel posts here already. I used the same dough I used in my whole wheat sea salt bagels last year. If you don't want to use any whole wheat flour, just use all bread flour.
#TwelveLoaves theme was an easy decision to make. I know it may be us here in Florida that are enjoying fresh strawberries at every market. I also know that many of you are still suffering with horrible snowstorms and thought it was time to brighten up our baking a little!!
Look at all the incredible strawberry breads from our #TwelveLoaves bakers:
#TwelveLoaves March: Strawberries. February was a delicious month of Chocolate breads! We are ready for spring and chose Strawberries for our March theme! Choose a recipe featuring strawberries. (Your bread of choice could be accented with fresh or dried strawberries, strawberry preserves) Whatever you bake, (yeasted, quick bread, crackers, muffins, braids, flatbreads, etc) have fun and let's have a delicious month of bread with STRAWBERRIES. Let's get baking!
#TwelveLoaves is a monthly bread baking party created by Lora from Savoring Italy.
As it is with baking any bread with yeast, bagels are a little time consuming to put together. But they are so worth the work and the time needed to create them in your own kitchen!
You work with the dough in two portions. After cutting the dough in half (after it has risen), you cover one portion with a towel and start working with the uncovered portion
Because there were fresh berries in the dough, I had to be careful. I didn't want exposed strawberries everywhere. I tried to maneuver my individual portions of dough so that the berries would be tucked into the dough.
I was a little braver this time with making the holes in the middle. I did stretch them out more than the last time I baked them. The last time I baked bagels, the holes almost closed up. So it's OK to stretch it out more. It sort of closes up as it boils.
How long do you boil bagels in water?
It's a super quick process. They are only in there for about 40 seconds total.
Add one tablespoon of sugar to a large pot with water and bring to a boil. The sugar helps the bagels get an elastic crust that helps them rise when they bake. The adding the bagels to the simmering water is really quite simple,
Just be careful not to burn yourself. If you're unsure, don't add more than 2 bagels (or even 1) at a time. I used a slotted very wide spoon to remove the bagels one at a time and drained them before adding them to my parchment lined baking tray. I had I think 3 parchment lined trays waiting for my bagels.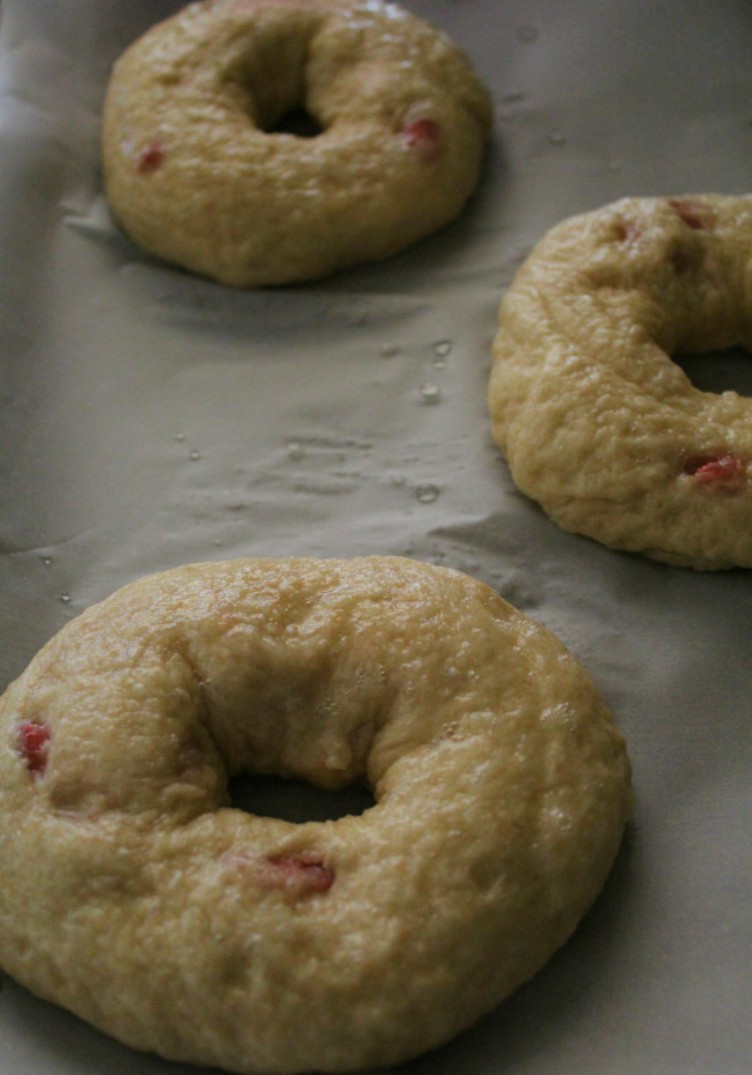 After you brush them with the egg wash, they are ready to go into the oven! I can't tell you how lovely it smells while they are baking. The flavor was incredible. It wasn't overwhelming because I only used a 1/2 cup of chopped strawberries. As soon as they cooled a little, I sliced one open and I smeared on the cream cheese and sprinkled on some more strawberries.
I am normally not a fruit bagel fan, but these homemade strawberry bagels are now my favorite bagel!!
Happy beginning of MARCH to you! Thanks for stopping by...to the bakers that bake along with us every month, THANK YOU!
Strawberry Bagels
Strawberry Bagels are lovely way to welcome warmer temperatures and sunny mornings. These lovely yeast bagels are bursting with fresh berries and are worth the effort!
Ingredients
1 ½

cups

warm water

a little warmer than your body temperature- 110 F degrees

4 ½

Teaspoons

active dry yeast

or 2 packets

3

Tablespoons

sugar

2

tsp

salt

2

cups

bread flour

1 ½

– 2 cups whole wheat flour

½

cup

strawberries-cleaned

hulled and sliced in small pieces

EGG WASH

1

egg white and 1Tablespoon water
Instructions
Dissolve sugar in water and add yeast. Let stand until the mixture bubbles, a few minutes.

Meanwhile, sift together the bread flour, 1 ½ c of the whole wheat flour, and salt. Make a well in the center and add the yeast mixture. Stir to combine. (this time I used my mixer and the dough hook attachment until it was time to add the strawberries).

Turn onto a lightly floured surface knead for about 5 minutes, adding extra whole wheat flour as needed. Gently knead in the strawberries.

Place dough in a large, greased bowl. Cover and set in a warm place- let rise until doubled size, about an hour.

Divide dough in half.

Cover 1/2 of the dough with a towel. With the other half, divide dough into small pieces with a bench scraper/knife.

Shape each piece into a ball and allow to relax for a few minutes.

Flatten each round with the palm of your hand.

With thumb press deep into the center of bagel and tear open a hole in the center with your fingers. Pull the hole open. Cover bagels with a kitchen towel and let rest for about 10 minutes.

Repeat process with other part of dough.

Preheat oven to 400.

Bring about 2 quarts of water to a boil and add 1 T of sugar. Reduce heat to maintain a gentle simmer. Put 2-3 bagels at a time in to the simmering water for about 30 seconds, turning once. Drain and place on parchment-lined baking sheets.

Brush with egg wash and sprinkle with toppings. Using a spatula or your fingers- flip bagels over and repeat with egg wash and toppings.

Bake for 30-35 mins or until browned.
Nutrition Disclaimer
Please keep in mind that the nutritional information presented below is an approximation and may vary depending on the exact ingredients used.