There is something about having a fresh loaf of bread ready for a big lunch or dinner any day of the week that is so comforting. This Gluten-Free Flax Seed Soda Bread (Soda Bread con Semi di Lino) is so easy to put together! And did I tell you this bread is gluten-free and vegan!
The reality is that when the kids are at school and there is the flurry of after school homework and activities, not much fresh bread is baking.
Gluten-Free Flax Seed Soda Bread
Baking fresh bread is usually happening on a rainy Sunday when we have more time to stay at home and relax. The recipe should have a subtitle: How to make fresh bread in less than an hour. In Italy they call this bread pane senza lievito (bread without yeast), soda bread, or pane Irlandese (Irish bread). It can be found on multiple Italian blogs. I guess even Italian mamma's don't mind an easy way to bake your own loaf of bread.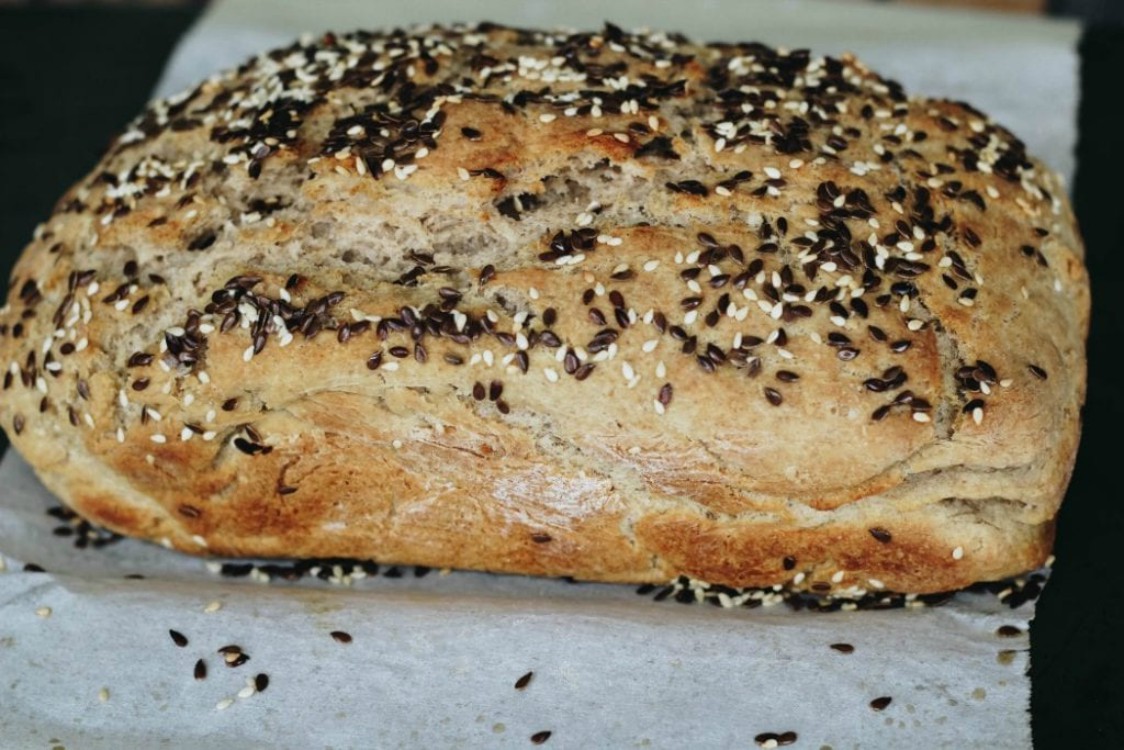 I shared an Irish soda bread (and this fantastic rye soda bread!) a few years back that I found in a Gourmet magazine (gosh, do I miss that magazine!!!). One of the articles in the magazine that was all about Ireland is by Jeanne Lemlin.
Jeanne wrote about Irish soda breads after a trip she made there with her family. Jeanne writes about the Irish bakers, "As the six women worked, silently and swiftly measuring, mixing, kneading, and shaping, McSweeney (the bakery's manager), explained, 'You must use a coarsely ground low-gluten flour.'" And did you know that there is even a Society for the Preservation of Irish Soda Bread. The author of the article explains, "the Irish have made Soda Bread theirs. Not by choice, but by a state of poverty that made it the easiest bread to put on the table." They are there to make sure you are making a traditional Irish soda bread.
I wanted to make a gluten-free soda bread and experiment with flours. The experimentation part didn't happen and I used Bob's Red Mill 1-to-1 Gluten Free Baking Flour (you could buy the flour directly from their site or even on Amazon).
It was so wonderful to receive so many Bob's Red Mill products around Christmas time and I will be sharing more recipes soon! You could experiment and find the gluten-free combo that works for you. Besides the flour, the bread has just salt, soda and buttermilk...so very easy! I had two containers of sesame and flax seeds that needed to be used for something and thought it would so nice to combine them both for this lovely bread.
The idea was to share this for a cleaner January and beginning of the year. Life got in the way, and here it is in February when most of you are searching for decadent chocolate recipes! I hope you take a break from Valentine's sweets and make this very simple and no-fuss bread recipe. If you aren't looking for a gluten-free bread, use all-purpose flour or whatever other flour combo you like (with gluten).
How do you make dairy free buttermilk?
It's really easy! All you need is:
dairy free milk (I used unsweetened almond for this recipe)
1 Tablespoon apple cider vinegar
Combine the vinegar and dairy free milk in a small bowl and let it sit for 5-10 minutes until it sours. That's your simple dairy free buttermilk.
some notes on this recipe: If you are a beginning bread baker, this is the bread for you! Each time I bake a soda bread, I bake it a different shape. When I bake it round, the slashes always come out differently and create a unique rustic loaf of delicious bread. Baking it in a loaf pan allows you to cut some very neat slices that are just perfect to slather with rich butter (preferably a grass fed butter). The bread is just perfect when it comes out of the oven sliced and slathered with rich butter (the better the butter, the more delightful the flavor). The basic soda bread is made with flour, baking soda, salt, and buttermilk. If you decide to add raisins to your bread, it will be called a Spotted Dog (I also read about that in my vintage Gourmet magazine and different websites).
Everything a delicious soda bread should be, only this one is gluten-free and vegan! Use whatever combination of seeds you like. You can experiment with different flours or use a 1-to-1 gluten-free baking flour. Add raisins for a little bit of sweetness.
Thank you Bob's Red Mill for providing me with products to recipe test!.
GLUTEN-FREE FLAX SEED SODA BREAD-SODA BREAD CON SEMI DI LINO
Everything a delicious soda bread should be, only this one is gluten-free and vegan! Use whatever combination of seeds you like. You can experiment with different flours or use a 1-to-1 gluten-free baking flour. Add raisins for a little bit of sweetness.
Ingredients
2

cups

1-to-1 gluten-free baking flour

I used Bob's Red Mill

2

tsp

baking powder

1

tsp

baking soda

1

tsp

fine grain sea salt

3/4

cup

unsweetened almond milk

2

tsp

apple cider vinegar

flax seeds

sesame seeds
Instructions
Preheat the oven to 400°. Line a 9-by-5-inch loaf pan with parchment paper and butter it. Sprinkle some of the flax and sesame seeds on the bottom of the pan.

In a large bowl, whisk together all the dry ingredients.

Make a well in the middle and pour in the buttermilk.

Stir just long enough to form a dough, then turn out onto a clean and floured countertop (or pastry board)and pat into a loaf, and put into the prepared pan.

Using a sharp knife, cut a 1/4-inch-deep lengthwise slash down the middle of the loaf leaving a 1-inch margin at either end.

Brush with more buttermilk and sprinkle with flax and sesame seeds (or whatever seeds you're using).

Bake at 400 for 45-50 minutes, or until the top and bottom of the bread both sound hollow when tapped.

Cool on a rack for about 15 minutes before slicing.
Nutrition Disclaimer
Please keep in mind that the nutritional information presented below is an approximation and may vary depending on the exact ingredients used.