These Zucchini and Corn Fritters are a favorite way to combine some of summer's delicious flavors. Serve them with the flavorful and spicy dipping sauce. These crispy fritters are irresistible served with the spicy sauce. Totally freezer friendly, this recipe is vegetarian, dairy-free and optionally gluten free.
Ready in under 30 minutes, these fritters will make a wonderful side dish, appetizer, or even as a snack!
If you follow my blog since way back in the beginning, you know what a big part my Italian in-laws are of my life. You may also know we go to Italy every summer. This summer was the first summer we were back in two years and while we there, we lost my dear father-in-law.
The last time we were all together in Italy, we celebrated his birthday and I baked him an
Italian Ricotta and Mascarpone Cheesecake
...he was so happy!
I didn't get to see him or say good-bye. The last time I saw him was at our house when they stayed a couple months with us. Teresa (my mother-in-law)is a fabulous cook and every summer, Domenico (my father-in-law)would go to their abundant garden and pick the gorgeous zucchini flowers and zucchini. And usually, that same day, Teresa would whip up zucchini flower fritters.
So this summer, my father-in-law was tragically gone, but the zucchini he planted were still there. They were waiting for us, and Teresa, in deep mourning, was not cooking as much as she typically does. But she made fritters. Every other day we had fritters. One day there was an early buzzing of the bell downstairs and it was my in-law's dear friend. In his hands was a bouquet of the most incredible zucchini flowers.
When I got back home recently, I wanted to make fritters, and of course, I do not have a bouquet of zucchini flowers (or zucchini) in my garden. But if you do, go ahead and use the zucchini flowers in this recipe in place of the zucchini. And if you do have zucchini flowers in your garden, you are so lucky!
I did attempt first to make these totally gluten-free. It was an experiment and it was not the result I was expecting. I did first cook them up a little in the skillet and then finished them in the oven. Mom said that's just the way she makes her latkes and I was expecting them to crisp up more like her latkes. It was almost 20 minutes and they were getting a nice color, almost to the point they were too dark, so I took them out of the oven.
They were good, but not that crisp fritter I wanted. And maybe I could have deep fried them in oil to get that result. But I wanted it to be a little lighter. By mistake I left a pan in the oven with some of the gluten free fritters and I turned off the oven.
I realized after we finished eating that the pan was in the oven (for about 30 minutes)and those fritters were nice and crispy. So maybe leaving the gluten-free batch in the oven after you turn it off for a little while is the secret? I'm not an expert, as I didn't make it enough times GF. But it could be done.
But the recipe I'm sharing is with all-purpose flour and it was just as I expected it would be. Teresa deep fries her zucchini flower fritters and they are light as a feather. So let's get on to this recipe!
What ingredients are in these fritters?
Zucchini: You may be fortunate to have some in your garden out back. You'll be needing total 1 cup of grated zucchini, so that's about 2 medium or 1 large zucchini. It's important to grate it on the larger hole (if you're using a box grater).
Corn: I use canned sweet corn kernels, but frozen sweet corn kernels are fine. Just be sure to thaw prior to using. If using canned corns, be sure to drain them well.
Dill: Fresh dill is so lovely with the zucchini and corn. Fresh basil or thyme would also work really well.
Flour: I used all-purpose white flour. I did try with gluten-free 1-1 flour and it was not that Flour and egg are the main binding ingredients. See below for dietary substitution tips.
Milk: I used unsweetened almond milk, but you could use whatever nut milk or whole milk.
Here are all the steps to make the zucchini corn fritters (check out the recipe are below for the full instructions).
First, use a box grater (or you could use a food processor with the coarse blade) to shred the zucchini. Let it rest for 10 minutes to sweat.
Second, use a tea towel or paper towels to squeeze the liquid out of the zucchini. Keep squeezing and trying to get as much liquid out as you can.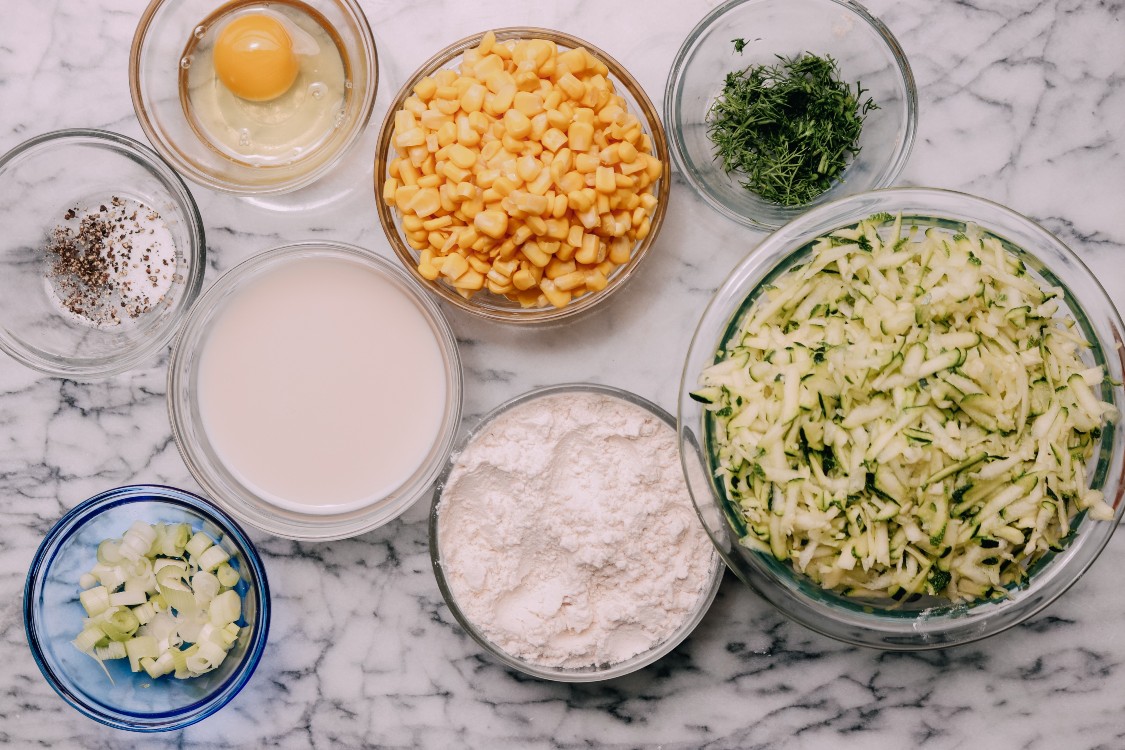 Third, in a large bowl, mix the GF flour (or AP regular flour) salt and pepper; set aside.
Fourth, in medium bowl, whisk the milk (I used unsweetened almond milk but use regular whole milk if you like) and egg; set aside.
Fifth, in a large mixing bowl, add the flour mixture, milk mixture, shredded zucchini and corn. Mix it until combined.
Sixth, heat oil in a large skillet. Once the oil is heated, scoop about 1/4-1/3 cup portions of the zucchini batter and into the pan. Fry for about 3-4 minutes on each side.
Next, once all the fritters are pan fried, transfer them to a parchment lined sheet pan and bake for about 10-15 minutes 350F oven. Baking is optional, but helps crisp the fritters further and they're all ready to serve warm at once. IF you do not bake them, cook them up longer on each side (7-8 minutes).
Last, while they're in the oven, prep the sauce or even this avocado mayo.
When they're ready, enjoy with the dipping sauce. Mom whipped up the dipping sauce and did two versions. One was with some sweet and sour sauce and the other version was the spicy one with sriracha. You could make it spicy or sweet, and if you like it spicy, adjust to make it even hotter with a splash of hot sauce!
Fritter tips and variations:
Fritter size: Use a cookie scoop or even a ¼ cup measure or cookie scoop to scoop out 6 medium fritters. Flatten the fritters slightly when you add the to the pan. They will finish cooking in the oven.
Zucchini: If you're not a zucchini fan, you can sub it out with grated carrots.
Cheese: Add your favorite shredded cheese (mozzarella, cheddar or even a spicy pepper jack would be delicious). Add your favorite dairy-free cheese if you're dairy-free.
Spice: Make it spicy by adding in some finely diced jalapeño pepper, ¼ teaspoon cayenne pepper, or 1 teaspoon hot sauce.
Serving ideas: Serve with sriracha sauce I made, or keep it simple with some sour cream or even your favorite Greek yogurt.
Can I make this fritter recipe vegan?
Yes, it could be done. Just make a flax egg by whisking together 1 tablespoon ground flaxseed with 3 tablespoons of water. After you whisk it together, let it rest 5 minutes (it thickens up). Then add it to the fritter batter.
Can I make this recipe gluten-free?
As I mentioned above, yes, you can! I have made them with a 1-1 gluten-free flour and it does need to say longer in the oven to crisp up. The batter will be different than when you're using regular AP flour. It just is a matter of crisping them longer in the oven (or even turning oven off and leaving them in hot oven, like I did (totally by mistake, but was what did the trick!).
How to store and how long do they stay fresh?
The zucchini fritters are truly best as soon as you cook them up. But if you have any leftovers, store them in an airtight container (or zipped lock freezer bag)in the refrigerator for 3 days. Just reheat on a parchment lined baking sheet at 350F for 10-15 minutes.
Can you freeze cooked zucchini fritters?
They are best enjoyed as soon as they're cooked up, but you can totally freeze them. As long as you let them cool completely, just place them in a flat layer in a zipped lock freezer bag or an airtight storage container. They'll stay fine for 2-3 months (for me, 2 months would be max). And when ready to enjoy, reheat them in the oven on a parchment lined baking sheet at 350F for 10-15 minutes.
Some other zucchini recipes to enjoy:
I hope you enjoy this simple and delicious fritter recipe – leave a review or comments below...it makes me smile to read them!
Lora XX
Zucchini and Corn Fritters
These Zucchini and Corn Fritters are a favorite way to combine some of summer's delicious flavors. Serve them with the flavorful and spicy dipping sauce. These crispy fritters are irresistible served with the spicy sauce. Totally freezer friendly, this recipe is vegetarian, dairy-free and optionally gluten free.
Ingredients
For the fritters:

2

cups

coarsely shredded zucchini ~2 medium zucchini

½

teaspoon

plus ¼ teaspoon salt divided

1

cup

frozen sweet corn kernels thawed

⅓

cup

scallions

or yellow onion small dice, about 1/2 small onion

1

cup

all-purpose flour

1

teaspoon

sea salt

½

teaspoon

fresh ground black pepper

1

Tablespoon

fresh chopped dill

or fresh basil

¾

cup

milk

nut or dairy, I used unsweetened almond milk

1

large egg whisked

1-2

Tablespoons

olive oil

for frying

For the sauce:

1

cup

mayonnaise

1

Tablespoon

sweet and sour sauce

or Sriracha sauce

1

Tablespoon

rice wine vinegar

or freshly squeezed lemon or lime juice

sour cream or Greek yogurt

(optional, for topping)
Instructions
Use a box grater or food processor with coarse blade and grate the zucchini.

Place the grated zucchini in a colander. Sprinkle with ½ teaspoon salt and toss to combine. Let rest for 10 minutes. After 10 minutes

Sprinkle with ½ teaspoon salt and toss to combine. Let rest for 10 minutes.

While the zucchini is resting, heat the oven to 350F. Line a baking sheet with parchment paper.

Working in batches, wrap the zucchini with a clean tea towel and squeeze letting it drain over a large bowl (in case you spill some of the zucchini). Keep on pressing and gently twisting to get out as much liquid as you can. Transfer the zucchini to a large mixing bowl.

Add in the corn, flour, onion, salt, pepper, fresh dill. With a large spoon, combine the dry ingredients together. Add in the egg and milk and stir until it's all incorporated.

Heat the oil in a large skillet over medium heat. As soon as the oil is hot and shimmering, use an ice-cream scooper (or a 1/4 measuring cup or a spoon)and scoop in portions of the batter (I did 4 at a time nicely spaced out). With the spatula, gently flatten slightly. Cook 2-3 minutes per side (until they get a little golden).

Line up the fritters on the baking sheet. Bake for about 15 minutes, or until the edges get nice and crispy (be sure to not get them over brown).

While the fritters are cooking up, make the sauce

In a small bowl, stir all the ingredients together.

Cover and refrigerate until ready to use.

Enjoy immediately and use the sauce I made or you could serve with sour cream or Greek yogurt.

In a large sauté pan over medium heat, heat the olive oil. When the oil is hot, reduce the heat to medium low and fry a test fritter: measure a scant ¼ cup of the fritter mixture into the pan. Using a spoon, gently flatten the fritter just a bit. Fry the fritter, flipping halfway through, about 7-8 minutes a side, or until the outside is brown and the middle is cooked through. Working in batches and watching carefully, fry the remainder of the fritters, transferring each to a paper towel-lined plate to drain as they finish.

In a medium mixing bowl, stir together all ingredients except olive oil (zucchini, ¼ teaspoon salt, thawed corn, minced garlic, all-purpose flour, paprika, black pepper, basil, whisked egg), until a wet batter forms. Let rest for 5 minutes.

Meanwhile, heat a large non-stick skillet over medium heat. Add 1 tablespoon olive oil or enough to coat the bottom of the pan. Once hot, use an ice cream or cookie scoop to portion out fritters onto the hot oil (or use a ¼ cup measure if you don't have a scoop). Pat the fritters with the back of a spatula to flatten.

Cook until browned (about 2-3 minutes), then flip and cook the other side until browned. Don't flip until one side is truly browned or the fritters may not hold together.

Enjoy immediately. Top with your choice of dairy or vegan sour cream or Greek yogurt. Sprinkle with additional paprika and basil for serving.
Notes
Zucchini: 1 medium zucchini usually yields ~1 cup shredded zucchini. Shred zucchini to hashbrown size using a box grater. Removing excess water from the zucchini is key to a crispy fritter. It also prevents them from falling apart during the cooking process.
Corn: I used canned sweet corn and I drained it before using. If you use frozen sweet corn, let it thaw out for at least 30 minutes before using. Fresh corn also works great.
Batter: When you mix all the batter ingredients together, the batter should be relatively wet and easily scoopable.
Leftovers: Fritters are best as soon as they're cooked up. But any leftovers will keep well in the fridge for a few days in an airtight container (or zipped lock bag). Reheat on a baking sheet in the oven for 15 minutes at 350F or in a skillet on medium heat until warm all the way through.
Freezing: Completely cool down the fritters and place in airtight container or a zipped lock freezer bag. Can freeze for up to 3 months and can be reheated in the oven or pan (as noted above).