This Dairy-Free Creamy Mustard Sauce recipe is decadent and so flavorful! Sweet and spicy, this simple sauce recipe is so easy to make. It comes together with 6 ingredients and you'll want to put it on absolutely everything!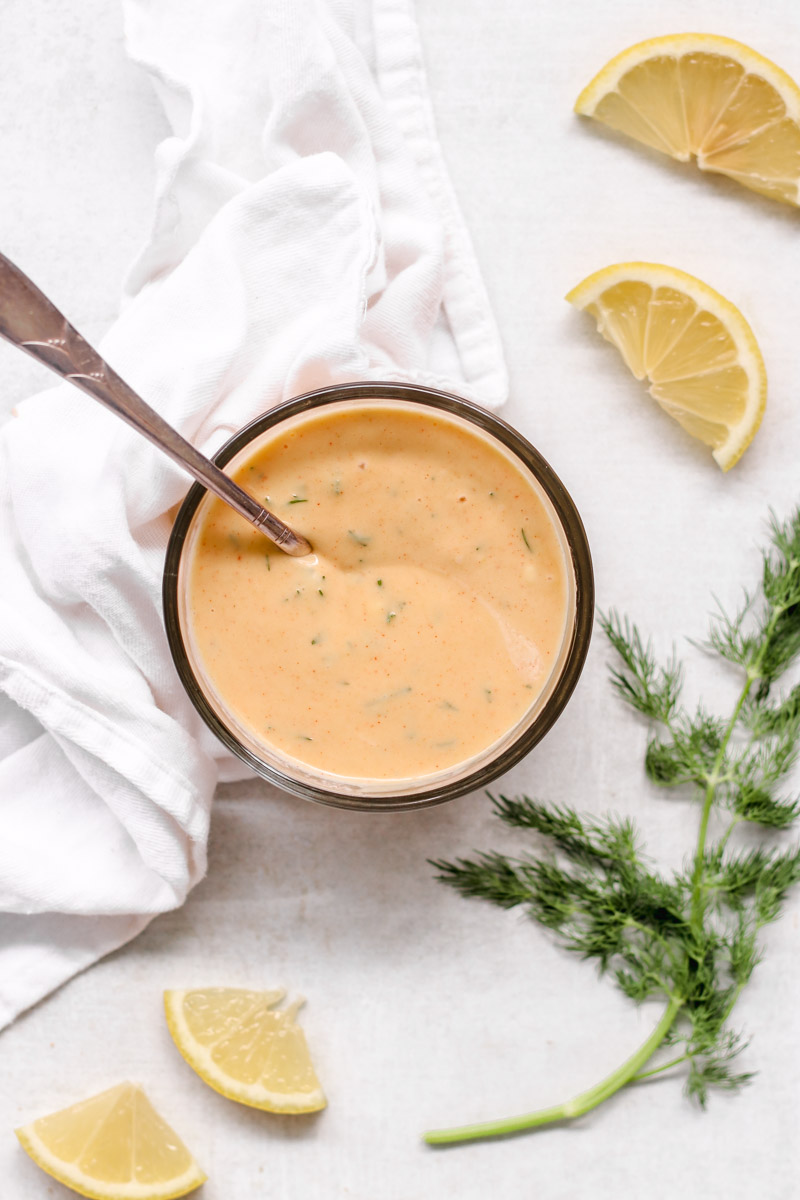 In less than 5 minutes, you will have a lovely sauce that adds tons of flavor to so many main dishes or appetizer. It's even great tossed on a salad! I just made this sauce recently to go with my easy cured salmon (gravlax recipe). It was amazing together!
It is hard to believe that it is totally dairy-free and gluten-free. There is no flour used to thicken it up. A sauce that whips up in no time at all and is so creamy and bold in flavor. You will be putting this on fish, chicken, veggies, and so much more!
My kids have always been sauce kids. They loved every sort of dipping sauce I would come up with. But I have to say that honey mustard was always there absolute favorite!
Instead of investing in expensive sauces, you could make your own. And this homemade version is free of any refined sugars, additives, and so much more economical!
I love to use this sauce for dipping, or to spread on any dish that needs a little bit of zest!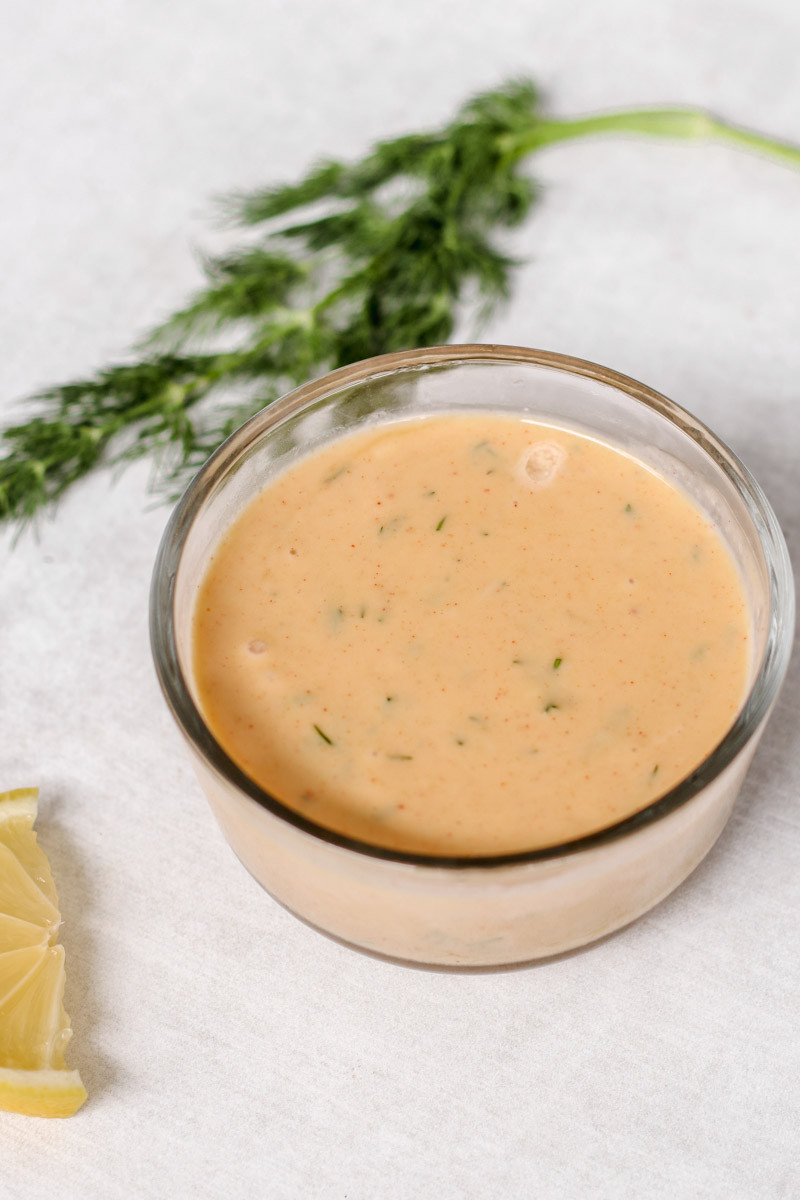 Like I mentioned, it is also really lovely to drizzle on so many things, or to use as a salad dressing. To make it a pourable dressing, you just need to whisk in a little filtered water.
What's also nice about the recipe is that you could adjust to your taste. Make it more tangy or adjust it to make it more sweet.
Jump To
A gluten-free sauce
This is a really great recipe for a mustard cream sauce to have in your gluten-free repertoire. Many sauces need flour to thicken it up. This sauce as it is is completely gluten-free. Check the ingredient list carefully of your mustard, as some are made with a little wheat flour and malt vinegar.
What ingredients are in a dairy-free mustard sauce?
Mayonnaise- Most brands of may are totally dairy-free mayonnaise. IF you need the recipe to be vegan, you'll have to get an egg-free mayo. So look out for a vegan mayonnaise.
Dijon Mustard- Dijon mustard is the only mustard to use for this sauce. Look for the best brand to get the most complex flavor in your sauce.
Extra-virgin olive oil- The better the quality of oil, the more flavor the sauce will have. Since there is no cream in this recipe, the olive oil adds richness to the sauce.
Honey- Honey is a what I used to sweeten up the sauce a little. You could sub in agave nectar.
Lemon Juice- Freshly squeezed lemon juice helps to balance out all the flavors. You could also use a bit of apple cider vinegar.
Salt- I used a little bit of sea salt to season up the sauce.
Paprika- (optional) A little bit of sweet paprika adds a little bit of flavor to the sauce and makes the color a bit more vibrant.
Onion powder- (optional) If you have some on hand, go ahead and add a dash for some extra flavor.
Herbs- (optional) I used fresh dill. You could use chives or even Italian parsley chopped fine. The herbs are optional.
How to make an easy honey mustard sauce?

One of the easiest things you could make at home.
Gather up all the sauce ingredients.
One option is to combine it all together in a food processor (a mini food processor or blender would be ideal for this sauce). Or put all the ingredients in a bowl, and whisk them all together.
Adjust the spices and the honey to your taste to get your desired sweet and tangy flavor. That's all it takes! So easy!
What's the Difference Between Dijon Mustard and Regular Mustard?
Both types of mustard are made from mustard seeds. Yet, Dijon and yellow mustard sauces look and taste completely different.
Dijon mustard is a French mustard variation that is a lighter yellow and is also typically much more creamy. Dijon is made with spicy black and brown mustard seeds and has way less vinegar than yellow varieties. Dijon is best used to make spreads, glazes, and other creamy sauces.
Then there is yellow mustard (which is also called American mustard) that has a very bright yellow color and super tangy. It's made with white and yellow mustard seeds and is most commonly used as a condiment on sandwiches and burgers.
Does mayonnaise have dairy?
Mayo does not contain milk, dairy, or lactose. So , you'll find that leading brands of mayonnaise are dairy-free, but not vegan. For a vegan mayo, look out for an egg-free brand.
What does mustard sauce go with?
The list is long. You'll find mustard sauces used often with meat. Also, fish, chicken, eggs, roasted potatoes, fries, vegetables. Basically, it goes with so many different recipes!
Is eating mustard sauce healthy?
Mustard on its own contains beneficial plant compounds and also antioxidants. So it naturally helps out to defend your body against disease.
Could I use hummus instead of mayonnaise in this sauce?
Yes, you can! Keep in mind if you do choose to use hummus, the sauce will be thicker. You may need to loosen it up with some more olive oil to get the creamy and smooth consistency. If you have extra time, make our easy homemade hummus recipe (it's so easy!).
How long can you keep homemade honey mustard?

Once you've made it, store it in an airtight container and store it in the refrigerator. It will keep for up to 2 weeks so you can use over and over again!
Can I use yellow mustard?
I do not recommend using a yellow mustard to replace the Dijon, because yellow mustard tastes completely different.
This homemade honey mustard recipe couldn't be easier to make. I highly suggest you whip up a batch and keep it on hand. You could use it for meal prep during the week. Drizzle it on your favorite salad, grilled veggies, or use it as a super flavorful dipping sauce!

This will be your new go-to condiment!!
Some recipes to enjoy with a creamy mustard sauce:
This post contains affiliate links. As an Amazon Associate I earn from qualifying purchases. See my privacy policy for details.
Easy Mustard Sauce
Best Mustard Sauce Recipe (dairy-free). This sauce is creamy, delicious, and so quick to make! Whisk it all together and it's ready in less than 5 minutes. It will be the only condiment you'll need! So versatile: use it as a dip, marinade, and more!
Ingredients
½

mayonnaise adjust to desired thickness)

¼

cup

dijon mustard

¼

cup

olive oil

¼-½

teaspoon

sweet paprika

1

teaspoon

freshly squeezed lemon juice

or apple cider vinegar

1

teaspoon

onion powder

optional

1

teaspoon

chopped fresh herbs

chives, parsley, dill, etc., optional

1-2

Tablespoons

honey or agave nectar

sweeten to your taste

sea salt

to taste
Instructions
Add all of the ingredients to the bowl of a food processor. Or whisk them all together in a bowl.

Pulse until smooth.

Check the seasoning. Adjust sweetness with a bit more honey (or agave), to your taste. If it's not tangy enough, add a bit more lemon juice or vinegar, to your taste.

Place the sauce in an airtight container (I like to use a glass jar)and store in the refrigerator for up to 7 days.
Nutrition Disclaimer
Please keep in mind that the nutritional information presented below is an approximation and may vary depending on the exact ingredients used.
Notes
Use a food processor, blender or even a mini food processor to pulse the sauce ingredients together. If you prefer, just whisk it all together in a bowl.
The sauce is totally gluten-free.
Make it vegan by using a vegan mayonnaise.
For a thinner consistency of the sauce, you could add more olive oil.
To thin it out for a dressing, use a little bit of filtered water.
Nutrition
Calories:
524
kcal
|
Carbohydrates:
5
g
|
Protein:
3
g
|
Fat:
56
g
|
Saturated Fat:
8
g
|
Polyunsaturated Fat:
6
g
|
Monounsaturated Fat:
41
g
|
Trans Fat:
0.01
g
|
Sodium:
688
mg
|
Potassium:
125
mg
|
Fiber:
3
g
|
Sugar:
1
g
|
Vitamin A:
290
IU
|
Vitamin C:
1
mg
|
Calcium:
49
mg
|
Iron:
1
mg