Sicilian Savoiardi Cookies (Lady Finger Cookies) are so easy to put together and are the perfect cookie for a coffee break! These soft and fluffy cookies are ideal for making tiramisu, trifles, and more.
What Are Lady Fingers?
Italian lady fingers are a simple cookie with a very long history dating all the way to the 1300's. They were named after the House of Savory, Italy's last monarchs. Originally from Piedmont, the savoiardi lady fingers also arrived in areas where the Savoys ruled, such as Sardegna and Sicily. In Sardegna, they make more of a flat savoiardi cookie. And in Sicily they are usually oval, and in some cities, they are round. In the town of San Fratello in Messina, Sicily they are called in dialect viscotta furrincotti or furrincozza.
Sicilian Savoiardi Cookies may seem to be a little difficult to make, but they're not as bad as you'd think. They are basically a Pan di Spagna (sponge cake) recipe in an oval cookie form. So they are little cakes that are dried out a bit with the baking and are perfect for soaking up flavors (for tiramisu) or to have them in your cookie jar to enjoy with your favorite breakfast drink. Difficult to stop at one, these Savoiardi cookies are so soft and light. Another Sicilian cookie we love are the Sicilian S Cookies!

Making These Savoiardi Cookies
These cookies bring back memories of my father's hometown in Sicily and are a traditional Italian breakfast cookie. It's a cookie that I almost forgot about eating in Sicily until my father passed away. When we went to Sicily in 2013 to bury our father in his hometown, these Italian lady fingers were what comforted me every morning with my caffe latte.
As we would walk around town on the cold January mornings that week while we were there, we would always pass by a bakery or two. Most days it was to replenish our breakfast cookies. Once or twice a day it was to buy fresh bread to have with lunch and dinner.
Originally published January 2019 and updated January 2022. This is part of my Sicilian food memories and part of my Project Sicilia, where I hope to share a recipe every month alongside a memory of my dad and his beloved island on the Mediterranean. An Italian Cake and grief is the post where I wrote a little about my dad and Sicily. So much time has passed and so many things have happened.
What's Needed for Italian Lady Fingers
Despite being a bit trickier to make, these savoiardi lady fingers have a remarkably short ingredients list. Here's what goes into these Italian cookies:
Granulated sugar
Cake flour
Baking powder
Salt
Eggs
Vegetable oil
Vanilla extract
Confectioners' sugar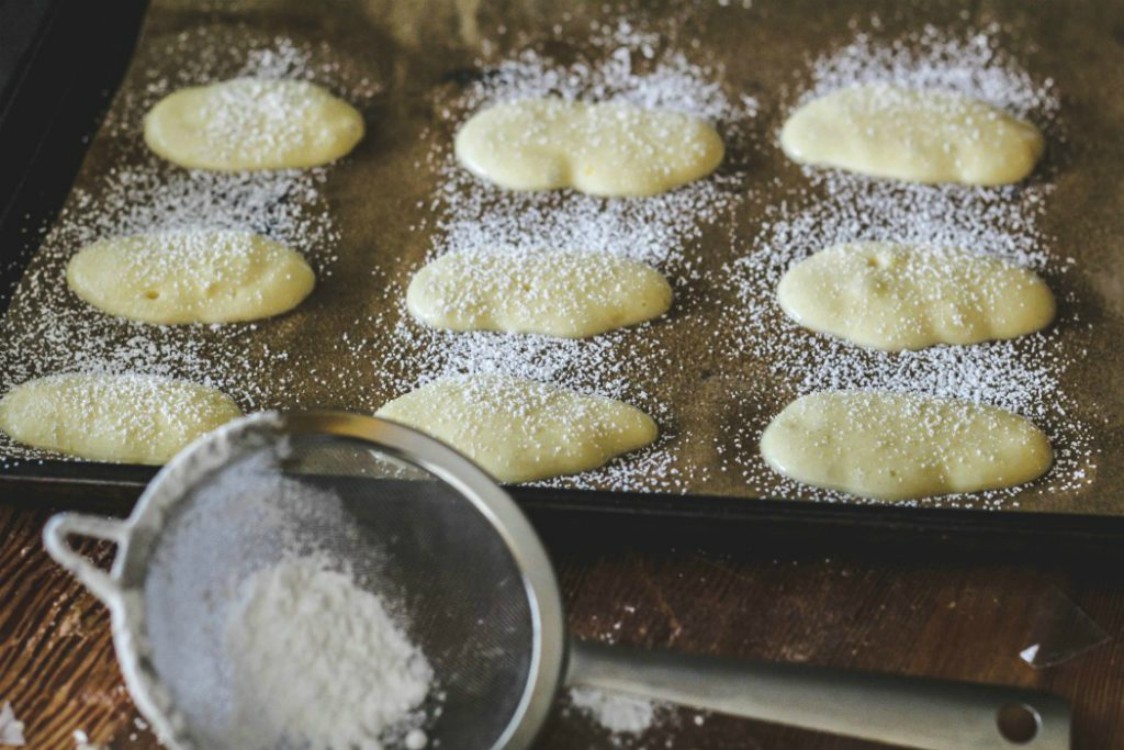 How to Make Lady Fingers
I've shared detailed instructions on how to make Italian lady fingers in the recipe card below, but here are the basic steps for making this recipe, followed by my top tips and tricks.
Add the granulated sugar to a food processor and process for 15 seconds, or until slightly powdery.
In a bowl, beat the eggs and granulated sugar together until thick and creamy./li>
Add the oil and vanilla, followed by the remaining dry ingredients.
Spoon the batter into a piping bag and pipe onto a parchment paper-lined baking tray.
Dust the lady fingers with confectioners' sugar, then wait 3 minutes before dusting them again.
Bake the Italian lady fingers until they puff up, turn lightly golden brown, but are still soft.
Can You Use All-Purpose Flour?
No, cake flour works best in this recipe.
How to Store Lady Fingers
These Italian lady fingers can be stored in an airtight container for 3 days or frozen for up to 4 weeks.
Tips for Making Savoiardi Lady Fingers
Be sure to beat the eggs and sugar together for a solid 8 minutes. It seems like a long time, but this step is very important for achieving lady fingers' delicate texture.
Don't skimp on the confectioners' sugar when dusting the unbaked lady fingers. The confectioners' sugar is what gives the cookies their characteristic crispness.
Lastly, it's important that you let the savoiardi cookies cool completely on the baking sheets before enjoying them. Again, this ensures that they crisp up perfectly.
More Italian Cookie Recipes:
One last thing…I promise!
Just a quick request: if you enjoyed the recipe as much as we did, would you kindly leave me a 5-star rating and a short (or long!)comment–the ratings are what helps get my recipes and hard work discovered, so I can keep leaving you more delish recipes!
Your comments mean the world to me….and I really SMILE when I read them. Thank you so much! XX
Lady Finger Cookies (Sicilian Savoiardi Cookies)
Lady finger Cookies are so easy to put together and are the perfect cookie for a coffee break! These soft and fluffy cookies are ideal for making tiramisu, trifles, and more.
Ingredients
1

cup

granulated sugar

4

cups

cake flour

1

tablespoon

baking powder

1/4

teaspoon

salt

6

large

eggs

, at room temperature

1

cup

vegetable oil

1

tablespoon

vanilla extract

1/2

cup

confectioner's sugar

(may need more for serving)
Instructions
Place sugar in a blender or food processor and process for about 15 seconds until a fine consistency. Sugar will be slightly powdered.

Combine the flour, baking powder, and salt in a small bowl and set aside. Using a mixer bowl, beat the eggs and sugar on medium speed for 8 minutes, until thick and pale.

Gradually beat in oil until incorporated. Beat in vanilla on low speed for 30 seconds. Stop mixer to scrape the sides of bowl.

Add flour and continue to beat for 1 to 2 minutes, until batter is smooth, stopping mixer to scrape the sides and bottom of bowl.

Grease 2 baking sheets or line with parchment paper.

Spoon batter into pastry bag and pipe 3 1/2-inch logs onto the baking sheet about 1-inch apart.

Sprinkle the cookies with some confectioner's sugar over the ladyfingers and wait 3 minutes. The sugar will glisten. Dust on another portion of confectioner's sugar. This helps to give the ladyfingers their characteristic crispness.

Bake in batches(slide the first sheet into the oven as soon as you've piped), for 7 to 8 minutes, until they puff up, turn lightly golden brown and are still soft.

Cool completely on the sheets on a cooling rack, and then remove the ladyfingers from the baking sheet with a metal spatula (or pry off the parchment, if using). Sprinkle with confectioner's sugar before serving.
Nutrition Disclaimer
Please keep in mind that the nutritional information presented below is an approximation and may vary depending on the exact ingredients used.