My in-laws and some other family members were here from Italy for a month. Most days when I'm with my mother-in-law, we discuss what to make for lunch or dinner and talk about food, in general. There was a holiday approaching and she decided to make these Nocatole (Calabrian sweet fritters).
Nocatole can also be called nacatole and nacatuli and they are a traditional recipe from Calabria in Italy. It is an ancient Calabrian recipe that originates in the province of Reggio Calabria and even other areas of Calabria. The ingredients used in Calabria to make these sweets are those usually produced locally: flour, eggs, olive oil and milk.
This is my Italian mother-in-law's very special recipe for Nocatole-Calabrian Sweet Fritters. It is a typical sweet fried dough from Calabria, Italy that is sprinkled with confectioner's sugar. Italian donuts that are enjoyed on special occasions or just because!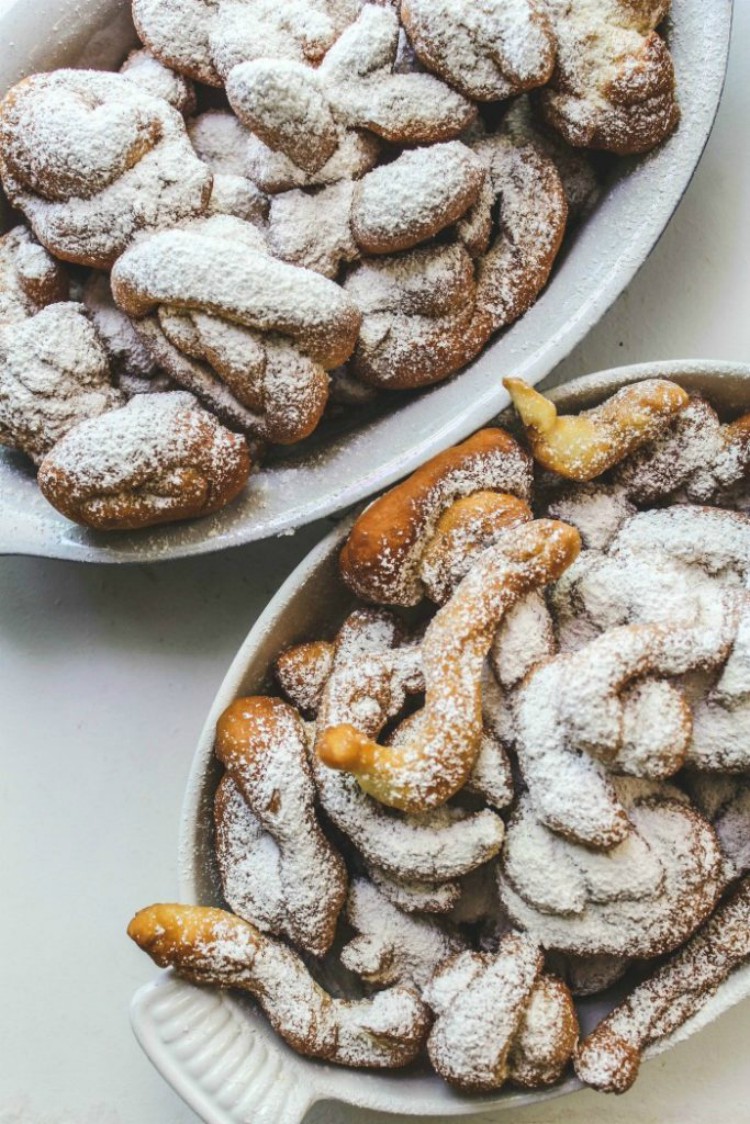 Nonna Teresa asked me that weekend if my husband was off the next day. I told her he was and she responded (in Italian, of course), "We will make a mezzo kilo (500 grams) of nocatole and un kilo (one kilo) of zeppole (a savory fritter)." I told her I definitely needed to get more flour!
Nocatole-Calabrian Sweet Fritters
On this occasion we were making them for a summer holiday. Now this is not a typical summer dessert in Italy. You are deep frying the dough, and in my humble opinion, they are best to be made on a much cooler day in December or in February during Carnevale time. But how could I say no to my mother-in-law!
If you knew my mother-in-law, you would know, it's not that easy to say no to her making something and making it her way (and I'm not complaining at all!). She's already made a few things here for us and I make quite often her pan di Spagna recipe and Teresa's crostata agli amaretti.
My Favorite Italian Christmas Desserts
Today I am sharing my Italian mother-in-law's cherished Nocatole-Calabrian Sweet Fritters recipe. She makes it for special occasions and holidays (Christmas!!). I also recently shared the recipe for Pitta 'Impigliata-Calabrian Fruit and Nut Pastries. More to come to make a sweet Italian Christmas!
What is the texture of Nocatole-Nacatole?
Nocatole (nacatole or nacatuli) are fried and have the texture almost of a doughnut and have a delicate scent from the dash of cinnamon in the dough. I don't know if the cinnamon is a typical addition to the recipe, but my mother-in-law likes to use.
When do you eat Nocatole-Calabrian Sweet Fritters?
They are made in particular during the week before Easter, Christmas, Carnevale, and New Year's Eve big dinner (cenone) and can be found in local bakeries in Calabria. You can find nonna's in Calabria making these not only for special holidays. Nocatole can be enjoyed with local sweet wines in Calabria like vin santo.
How do you shape Nocatole-Calabrian Sweet Fritters?
They are made in different shapes (braid rings, rings, rods and other shapes)and are made during holiday festivities.
Cooking with an Italian Nonna
On that hot summer day, nonna Teresa got busy with my daughter making the dough and I was making sure she could find every thing she needed to get them frying. When they come to visit us, I pretty much give my Italian mother-in-law free reign in my kitchen. And I know some of you might not agree with that. I have friends that tell me they couldn't give up their kitchen, let alone live with their mother-in-law for a month. But you see, I learn so much by giving up the control of my kitchen. I also am experimenting in my kitchen.
When my Italian mother-in-law cooks, I'm hovering next to her and helping along. It's even come to the point in our relationship where she trusts me to make one of her beloved recipes with her supervising me. And there are some days when she is tired and she already cooked something fabulous for lunch, so I take over for dinner. So you see, it's not total relinquishing of my own kitchen rights. There is so much more to gain than to lose by letting my mother-in-law feel at home in my kitchen.
An Italian nonna's recipe
Teresa's hands were zipping around so quickly. I tried to get some action shots and wish I had video taped it instead. She's not very fond of me taking photos or asking her questions while she's baking or cooking. She has to really be in the mood to want to share something with me. And God forbid I ask her twice for a recipe she's already given me.
Let's say I lost my notes or wanted to double check the dosing and am asking her once more for the ingredients. That's when she says, "You're asking me again for THIS recipe? I already gave it to you last summer. Look at your notes." How am I supposed to create a little cookbook with her treasured recipes if she isn't fully cooperative? Thank goodness on this day one May in very hot Florida she was cooperative and I could share this recipe with all of you.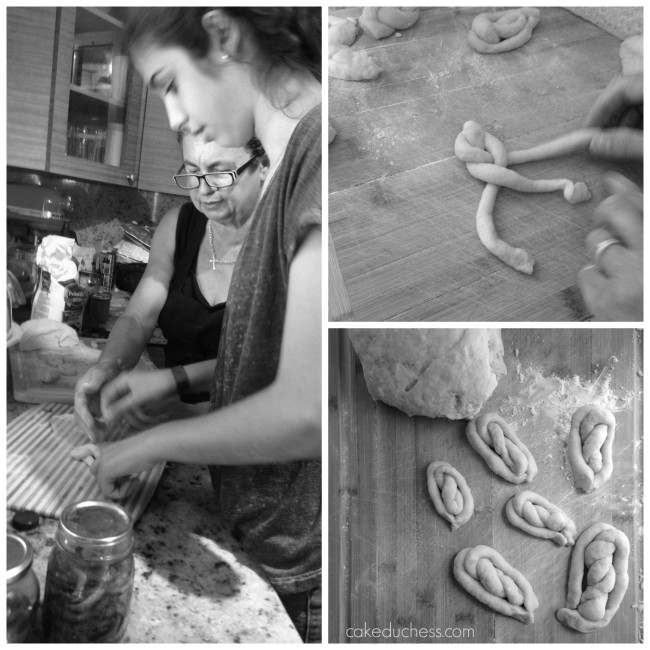 #TwelveLoaves is a monthly bread baking party created by Lora from Savoring Italy and runs smoothly with the help of Heather of girlichef, and the rest of our fabulous bakers.
Our theme this month is A LITTLE SOMETHING SWEET. For more bread recipes, visit the #TwelveLoaves Pinterest board, or check out last month's mouthwatering selection of #TwelveLoaves Mexican Breads!
Tips on making Calabrian Sweet Fritters-Nocatole
This is the sort of recipe my mother-in-law has been making since she was a little girl. As I mention above, they make it for special occasions, but not just on special occasions. My kids consider them a doughnut. I'm sharing her basic formula for nocatole.
Nonna Teresa emphasizes that while she was baking here, the flour is different and she always had to add a little more liquid to the recipes.
Nonna Teresa makes this dough with a dash of cinnamon and it is a lovely addition. If you don't like cinnamon, feel free to omit from recipe.
Nonna Teresa makes mostly every thing on a clean counter with her hands. I do prefer to use my stand mixer, but for this recipe, I'm sharing it as she makes it. It's not that hard to get the dough together and it's actually quite cool to figure out with your hands if it is needing a little more liquid (in this case, milk is what she uses as liquid).
There are other versions of this dough and it is made with yeast and also some use red wine in the dough.
The recipe could vary from town to town and province to province all over Calabria. Since it's made all over Reggio Calabria in Italy, there could be different provinces that have different versions.
She was making them to entertain us and her family that was visiting us in Florida one hot summer day. But this is perfect for Christmas or any other special occasion.
Recipe yielded about 2 dozen of the fritters. Depending on how big you make each fritter. The recipe could make even more.
Pin it to your ITALIAN FOOD, HOLIDAY, or DESSERT Board to SAVE for later!
Find me on Pinterest for more great recipes! I am always pinning :)!
recipe updated from June 2015
Nocatole-Calabrian Fritters
This is my Italian mother-in-law's very special recipe for Nocatole-Calabrian Sweet Fritters. It is a typical sweet fried dough from Calabria, Italy that is sprinkled with confectioner's sugar. Italian donuts that are enjoyed on special occasions or just because!
Ingredients
2 3/4

cups

flour

500 grams

3

teaspoons

baking powder

1 3/4

cup

150 grams sugar

3

eggs

3

Tablespoons

extra-virgin olive oil

1

tablespoon

your favorite liqueur

dash of cinnamon

1

Tablespoon

of milk

or more as needed

confectioner's sugar
Instructions
Place the flour on clean working surface. Add the baking powder to the flour and mix it around quickly with your hands. Make a well in the middle of the flour and add the sugar, eggs, extra-virgin olive oil, liqueur, cinnamon.

Stir the ingredients together. Add the milk, starting with a tablespoon. If dough needs more, add a tablespoon more at a time. Knead the dough until it is soft and smooth.

Let the dough rest for 30 minutes.

Take the dough and remove small pieces (about 100 grams of dough each piece)and roll into a log. Take the log and break into 2 pieces. Twist dough down like a rope and 1/2 way down the rope, grab two ends and wrap around the top. Press ends together gently so it won't open up.You could also make simple ring shapes.

Fry the dough in hot vegetable oil. Turn the nocatole so they're a dark golden color on both sides.

Carefully remove the nocatole and drain on paper towel lined plates.

Toss the fritters in confectioner's sugar and serve.
Nutrition Disclaimer
Please keep in mind that the nutritional information presented below is an approximation and may vary depending on the exact ingredients used.