I never knew that there was a holiday dedicated to any thing food related until I started Cake Duchess. Every day on Twitter or Facebook I will catch the national holiday of something to do with something delicious.
But today's food related holiday is one that is near and dear to my heart: National Bundt Day! YES, people. There is a holiday dedicated all for BUNDTS? The humble bundt cake does most certainly deserve its own holiday. Anuradha and I created Bundt a Month a few months back with the idea to have one day a month that is all about bundt. We found some likeminded bakers that are very talented and share this mutual love for bundts. We decided with our talented baking friends to post today. Yes, I know! You may be grumbling that you just saw a bundt here a couple of weeks ago.
I think you may forgive me once you are hypnotized by this bundt's rich caramel glaze.The sticky caramel drips and oozes off the bundts' curvy sides beckoning you to take a bite. It's too late to run and hide; you're mesmerized by its spell.
A new series from
Baker Street
and Lora from
Cake Duchess
who share the same love for Bundts. Anuradha and I are, simply put, crazy for Bundt cakes. This is a love affair that is going to go the distance. We decided to collaborate and host an event where we'll bake a Bundt cake with a different theme every month: Bundt a Month!
How can you be a part of it?
Anuradha and I will pick an ingredient and announce it the first week of every month. All you Bundt loving bakers need to do is use your imagination on how you'd like to incorporate it and bake a Bundt – mini Bundt or large Bundt – and link it up to our blogs throughout the month. It's that simple!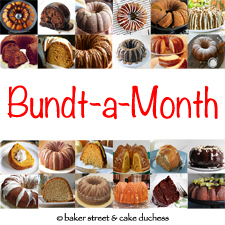 Want to see what #BundtaMonth bakers has been busy baking these last few months?
Dive into our delicious bundt recipes!
September: Zucchini
October: Pumpkin
November: Spicy
Hop over to our Pinterest board for over 300+ bundt recipes and check out our new BundtaMonth page on Facebook too.

Look at what the very talented Bundt a Month bakers created for today:
Chocolate Ganache Draped Banana Bundt Cake and Earl Grey Chocolate Bundt Cake by Laura | The Spiced Life
Chocolate Hazelnut Baby Bundt Cakes by Paula | Vintage Kitchen Notes
Cinnamon Crusted Sweet Potato Bundt with Honey Glaze by Kate | Food Babbles
Coconut and Rum Bundt Cake for National Bundt Cake Day by Carrie | Poet In The Pantry
Cream Cheese Swirled Chocolate Bundt Cake by Anuradha | Baker Street
Tunnel of Fudge Bundt Cake with Hazelnuts by Alice | Hip Foodie Mom
Vanilla Bundt Cake with Caramel Glaze by Lora | Cake Duchess

a little about this bundt cake:
You may have noticed I'm trying to keep things lighter around here. I may be sharing more vegan recipes than normal in these coming weeks. People, the holidays are coming up! Even though I share most of what I bake with family and friends, I do like to take a sample of the sweets sometimes. There were so many different bundts I wanted to share here. There was my standard vanilla bundt that is a keeper recipe. Instead I used this recipe from
Versatile Vegetarian
. This bundt cake is very moist from the coconut milk and apple sauce. It's the perfect vegan bundt cake recipe to be doctored up the way you like it. I chose a luscious caramel glaze because, well…I just LOVE caramel. So there you have it. If you aren't into caramel glazes (who isn't into carmel?!?), you can do a nice dusting of powdered sugar.
Vanilla Bundt Cake with Caramel Glaze
For the cake:
3 cups all purpose flour
2 tsp. baking powder
1 tsp. baking soda
1/2 tsp. salt
1 1/2 cup sugar
13.5 ounce coconut milk
3/4 cup canola oil
1/2 cup applesauce
1 Tablespoon lemon juice (or lime juice)
1 tsp. vanilla extract
Glaze Ingredients:

1/2 cup butter *I used Earth Balance soy free margarine
1 cup brown sugar
1/4 cup light corn syrup
1 teaspoon vanilla
1/2 teaspoon coarse sea salt
Cake Directions:

Preheat oven to 350 F. Coat a bundt pan with non-stick baking spray (or you can butter and flour the pan-I prefer baking spray).
In a medium sized bowl, whisk together flour, baking powder, baking soda, salt; set aside. In another bowl, whisk together oil, apple sauce, sugar, lemon juice and the vanilla extract. Add flour mixture and coconut milk alternately starting and ending with flour mixture. Using a spatula, scrape the sides of the bowl and incorporate all the batter. Pour batter into the prepared pan.
Bake for 1/2 on hour at 350 F then lower the heat to 325 F and bake for about another 15-20 minutes, or until a skewer inserted in the center comes out clean. Allow cake to cool for 10 minutes in the pan, then turn cake out onto a wire rack to cool completely. Cool slightly before removing to a rack to cool completely.
When cake is just about ready, make the glaze.
Glaze Directions:
In a saucepan, over medium-low heat, melt the butter. Add the brown sugar and salt. Cook, stirring frequently, for about 2 minutes. Add the corn syrup, and vanilla and stir constantly for 2 minutes. Remove from heat. Pour hot glaze over cooled cake. PS: I had about a cup of the caramel glaze leftover. I will be using it another recipe soon-it won't go to waste. 😉
buon appetito!
happy baking xo
Lora