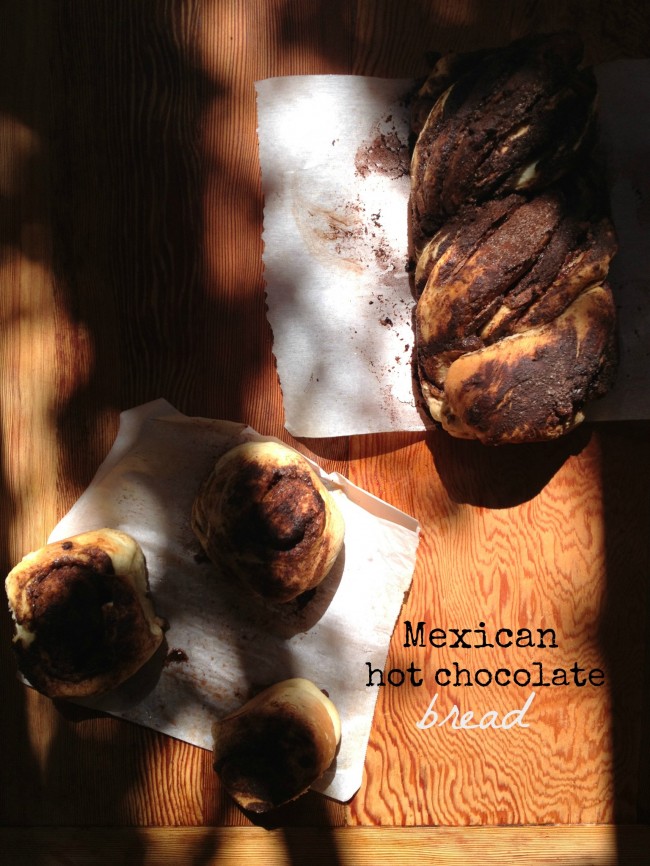 The scent of chocolate wafting through the kitchen on a relaxing Sunday morning. It doesn't get much better than that. And I'm not the biggest fan of chocolate in my baking.
I know, it doesn't seem possible. I've mentioned a few times here that I tend to prefer fruit desserts...particularly apple desserts. At this juncture in my life, I am swaying slightly towards becoming a bigger fan of chocolate and baking. I thought it would be nice to just ease into a little baking with chocolate. The perfect moment to do that was with another #TwelveLoaves bread baking challenge.
It's hard to believe that a year has passed since this bread baking group was put together last May. So many wonderful breads have been shared by our all of the very talented and creative bread bakers. The group and I decided to leave the May 2013 challenge up to everyone's imagination...bake whatever bread (yeast or quick bread) you like! I went with a very, very chocolate theme. I saw a bread in the latest Food Network magazine and my imagination got the best of me. I was dreaming of eating hot pain au chocolat just out of the oven with my coffee. I was imagining this same scenario every morning until I finally made it happen this past weekend. It was completely and utterly delightful.
#TwelveLoaves May: Bake any bread, yeast or quick bread, loaf or individual. This #TwelveLoaves May 2013 is all about May is all about celebrating bread and the one year anniversary of #TwelveLoaves. Do you have a favorite bread? We would love to see it. Think luscious quick loaves, sinful scones, delightful Danishes. Any bread recipe you'd like to bake, share it with us! Let's get baking!
You must see what our very talented #TwelveLoaves bakers have created May!
Look at what we've baked this past year!
May theme: Focaccia
June theme: Corn Rolls
July theme: Challah
August theme: Summer Fruit
September: Say CHEESE!
October: Seeds, nuts and grains
November: Autumn Fruits: Apples and Pears
December: Boozy Bread
January: Clean Slate
February: Open Challenge
March: Holiday Breads.
April: Berries
some bread notes:
( Please bear with me as I figure out my new blog and "ziplist" feature.) If you have a question about the recipe, please pop me an email. With the
dough I love
and use for most every sweet recipe, I ended up with enough bread to fit into to regular loaf pans and also 3 small rolls. I baked my rolls in a mini loaf pan. You can see some of the photos above on how I made it. This Mexican Hot Chocolate Bread method is very similar to this Estonian Kringle bread I posted here recently. You could also some directions on how to cut the bread in that post. I did find this recipe in the latest FoodNetwork magazine. There was something about the filling in their recipe that I couldn't quite figure out. It seemed to be an error, or maybe it was the way I was reading it. I thought about spreading the Nutella and not adding cocoa to the dough. For my taste, the bread was incredible with the cocoa-sugar sprinkled on top of the dreamy Nutella. If you don't like spicy sweets, you can leave out the cayenne. I happened to like the little kick it gave the bread. Even my daughter said it has a "very interesting flavor, mom". The smell while it's baking is OUT OF THIS WORLD incredible. Slight warning, this is not a light bread. There is Nutella and sugar. A little bit of butter, too. It's not something that will be good for those that are watching their weight, but it will definitely make your neighbors very happy if you decide to share a little with them. 🙂
My baking assistant went a little overboard with the cocoa-sugar on one of the breads...not that that was a bad thing.
Mexican Hot Chocolate Bread
A yeast bread with a cinnamon and chocolate filling and a touch of spice from cayenne.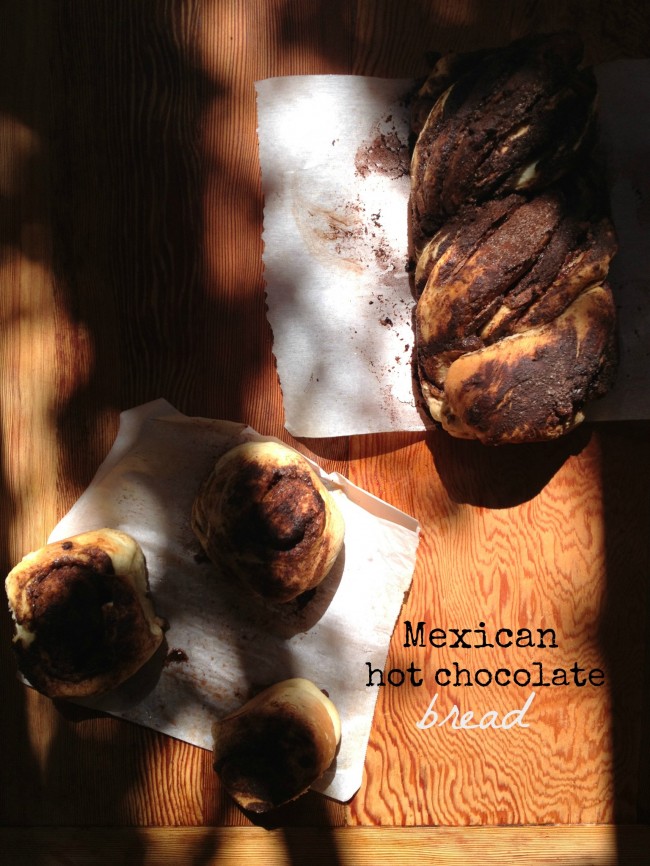 Ingredients
(two loaves and 2-3 rolls)
Dough:
1 cup whole milk
1 (1/2 ounce) envelope active dry yeast
1/4 cup warm water (100 to 110 degrees)
3 tablespoons granulated sugar
2 eggs
1/4 cup unsalted butter, melted
4 1/2-5 cups all-purpose flour
1/2 teaspoon salt
Filling:
3/4 cup Nutella
1/4 cup sugar
1/4 cup unsweetened cocoa powder
1/2 teaspoon cinnamon
pinch of cayenne (you can adjust spice to your liking)
4 Tablespoons unsalted butter, melted
Instructions
Heat the milk in a small saucepan over medium heat until it just begins to boil. Remove from heat and let stand until cooled to room temperature.
Meanwhile, sprinkle the yeast over the warm water in a large bowl.
Add 1 T of the sugar and let stand until foamy, about 5 minutes.
Beat in the remaining 2 T sugar, eggs and butter. Beat in cooled milk. Gradually add the flour and salt, scraping down side of bowl, until a soft dough forms.
Turn dough onto a floured work surface and knead the remaining flour into the dough, adding more flour if too sticky. Knead for about 10 minutes until smooth. The dough will be soft.
Grease a large bowl. Place the dough in the bowl. Cover with plastic wrap and place in a warm spot until doubled in size, about 1 1/2 hours.
Line a regular and mini size loaf pan with parchment paper. (if you don't have a mini loaf pan, you can use a muffin tin) .
In a small bowl, combine the sugar, cocoa powder, cinnamon and cayenne; set aside.
Punch down the dough.
Dump the dough out onto a floured surface, roll out the dough into a 10-by-18-inch rectangle.
Spread the Nutella over the dough, leaving a 1-inch border on the sides.
Brush the borders with water. Tightly roll the dough into an 18-inch log, rolling toward the clean border; pinch the seam to seal.
Cut the ends off.
Place the ends in a small loaf pan or (muffin tins that have been sprayed with baking spray.)
Place roll seam-side down on the baking sheet. Cut the log in half so you now have two logs to work with. Cut the first half of the log in half lengthwise with a chef's knife.
Twist the two halves together, crossing one over the other a few times. Pinch the end together, then tuck both pinched ends under the loaf slightly.
Carefully place in the first parchment lined loaf pan.
Repeat with the second log and place in the other parchment lined loaf pan (if you don't have two loaf pans, you could bake the other log on a parchment lined baking sheet)
Cover the loaf loosely with plastic wrap and set aside in a warm place until plump, 30 minutes.
Preheat the oven to 350 degrees F.
Uncover the loaf and brush butter on the loaf (and the rolls).
Sprinkle on the cocoa-sugar mixture.
Bake the bread, rotating the baking sheet halfway through, until golden brown (a thermometer inserted into the middle should register 170 degrees F to 175 degrees F), 30 to 35 minutes. (check the rolls as they may be done a few minutes before)If you have any butter left, brush some on the bread hot of the oven and sprinkle a little more of the cocoa-sugar mixture.