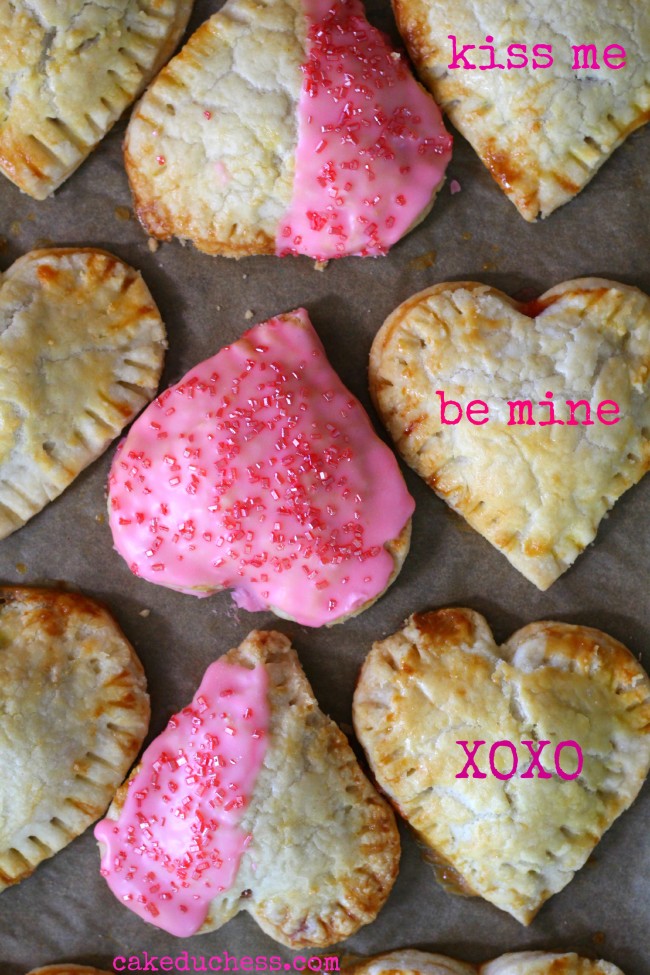 Valentine's Day is a day to remember the one you love. A card or a box of chocolates is really nice. A dozen roses is very sweet! I love to bake for my little loves. I baked them these delicious sweetheart mini pies. They are filled with their favorite strawberry jam.
I haven't been baking pies here that often. I think it's been since Thanksgiving that I baked some homemade pies. I came across these mini pies in Parade magazine this Sunday. I used my favorite dough recipe that is so easy to put together. For convenience sake, you could certainly use ready-made pie dough. Fill it with any jam you like! I had some delicious strawberry jam on hand and that seems to be the favorite flavor (besides our homemade mango jam!!). This is a fun breakfast idea or the perfect afternoon pick me up with a hot cup of tea or coffee!!
Some crazy Valentine's facts:
1. There are 3 actual St. Valentine's...it's hard to know which one the day actually honors!
2. St. Valentine of Rome was beheaded for performing secret weddings.
3. In 2012, 230 million texts were sent out! 11 million more than any other day in February.
4. 13.9 billion dollars is spent every year on Valentine's day!
5. 200 million roses are produced just for this special day.
I found this on The Frisky.
You know the drill in America; when you're little, you hand out perforated cards and hope your crush gives you one of the good ones instead of the obvious "just friends" version. And as adults, the pressure is on to have a special date night and be showered with gifts, or be forced to acknowledge that you are completely and utterly alone in the world. But, just like any other holiday, every country has its own way of celebrating. (Or not celebrating—Valentine's Day is banned in many countries because of its evil consumerist Western roots.) Here are a few other traditions that might be fun to try.
South Korea has one of my favorite traditions. On February 14th or White Day, men give candy or gifts to women. Then on April 14th or Black Day, the women who didn't get anything on White Day go to Chinese restaurants to eat black noodles and mourn the disaster that is their love life. Actually, the 14th of every month is celebrated in some love-related way in Korea. Some holidays are much more popular than others and include such gems as Kiss Day, Green Day, Wine Day, Movie Day, and Hug Day. As one South Korean woman put it, "I had a miserable time on Valentine's Day, felt even lonelier on White Day and now I'm crying over a bowl of black noodles. Things better be different next year."
Meanwhile, Slovenia celebrates February 14th with the proverb "St. Valentine brings the keys of roots." This is thought to be the day that plants and flowers start growing—so it's the day that farmers and vineyard workers plant seeds. Slovenians also believe that birds get engaged or married on Valentine's Day. Children traditionally make little boats holding candles from wood or paper and send them downstream, which is meant to symbolize the fact that they no longer need work lights since the days are longer. Meanwhile, March 12th is Saint Gregory's Day, which was traditionally the day of love and the first day of spring until Valentine started taking over the territory.
In Norfolk, Britain, someone referred to as Jack Valentine brings presents and candy to the doorsteps of children and fancier gifts for adults. He knocks on the door and disappears, which freaks out some kids. As one BBC writer put it, "I hope [Jack Valentine's] got a good lawyer. I love Jack dearly, but when Santa finds out what he's up to there's going to be trouble! Let's face it—turning up out of thin air once a year, leaving presents and disappearing without a trace—it's the same act. It's a law suit just waiting to happen." For the day, people traditionally run around town with a bad full of goodies, celebrating with their friends in the streets.
Happy Valentine's Day! Hope it is filled with lots of love and something SWEET!!
Sweetheart Mini Pies
Yields: 13
Ingredients
2 1/2 cups all purpose flour, plus extra for rolling
1 teaspoon salt
2 Tablespoons sugar
3/4 cup (a stick and a half) unsalted butter, chilled, cut into 1/4 inch cubes
1/2 cup of all-vegetable shortening (8 Tbsp)
6-8 Tablespoons ice water

filling:

1 cup strawberry jam (or whatever jam you like)

egg wash:

1 beaten egg

icing:

1 cup confectioner's sugar
2 Tablespoons milk
a drop or two of red food coloring
Instructions
Combine
flour, salt, and sugar in a food processor; pulse it one time to mix.
Add the butter pieces and pulse 4 times. Add shortening one tablespoon
at a time and pulse each time you add a tablespoon. The mixture should
resemble coarse cornmeal, with butter bits no bigger than peas. Sprinkle
6 tablespoons of ice water over flour mixture one tablespoon at a time.
Pulse once after you add each tablespoon of water. If you pinch some of
the crumbly dough and it holds together, it's ready. If the dough
doesn't hold together, keep adding water, a tablespoon at a time,
pulsing once after each addition, until the mixture just begins to clump
together.
Clean
off your counter really well or use a pastry board or a nice cutting
board. Flour your hands generously. Take the dough out of the food
processor. Tilt the rolling pin and sprinkle it with flour as you rotate
the rolling pin. Divide the dough into two balls and flatten each into a
4-inch wide disks. Sprinkle a little bit of flour on each disk and then
wrap both separately in plastic wrap and refrigerate at least 1 hour
before rolling. When you are flattening the disks, you are not working
the dough. You are just simply flattening the shape into a disk. If you
are making the tarts that day, make sure you refrigerate for at least an
hour. It can stay for up to 2 day in the refrigerator.
Preheat oven to 375 F.
When
it is time to roll the dough, I take it out of the refrigerator and I
usually let my dough sit out for about 5 minutes before rolling. It's
hot here in Florida. Doesn't take more than 5 minutes to get to the
perfect rolling temperature.
In between two sheets of plastic wrap, roll the dough out to about 1/4 inch thickness.
With
the first disk, cut out the heart shapes (I used 4-inch heart shapes)
and place them on a parchment lined baking sheet. (I cut out 12 which
made 6 filled hearts. With the other disk I cut out 14 hearts and got 7
filled cookies)
Place
about a Tablespoon of strawberry jam in the center of the heart. With
your finger, trace around the perimeter of the heart with egg wash.
Gently place a heart on top. Press down gently around the edges to seal
it. With a fork, press gently around the edges.
Repeat the process with the other disk of dough. Brush on the egg wash.
Bake for about 15 minutes or until a nice golden brown.
While baking, whisk together glaze ingredients to your desired consistency.
Let hearts cool a baking rack. Drizzle on the glaze and add sprinkles! enjoy!